Big Road DashLink
$40 monthly cost
Suitable for fleets
7.8/10
Features & Technology
7.4/10
Pros
User-friendly for the driver
Drivers can make log corrections
Easy to install
Two-way messaging
Affordable -Low cost
Cons
Easily disabled
One device at a time
Lacks many non-HOS features that more expensive products provide
The HOS eld mandate compliance is already in effect. And this means many truck drivers and fleet owners operators out there are reaching out to get the best affordable ELD compliance solution. Of course, one of these electronic logging devices, together with Motive (formerly KeepTruckin ELD), is Big Road ELD. Make sure you check these reviews!
But remember, being hasty about making such a purchase isn't the smartest thing to do. Especially when it is something you use to create your daily logs, maintain your data, and during inspections.
If you are someone who is concerned about where your money goes, then you're in the right place. Big Road DashLink provides the perfect affordable eld compliance solution for all commercial drivers and fleet owners.
The Big Road ELD device is reliable and versatile to cater to all your electronic logging needs. So you won't ever have to go through paperwork again.
Does Big Road ELD Meet Compliance Requirements?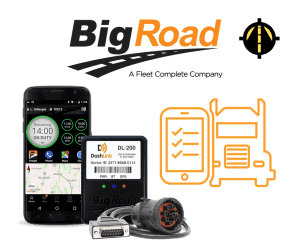 You may want to ask; is big road eld device mandate compliance?
The BigRoad Dashlink is a quick, easy, and affordable way to create compliant vehicle engine logs. This electronic logging device can be switched between vehicles and drivers, and there is no upfront hardware cost.
Similarly, you can record driver duty status, driver availability, and vehicle drive time automatically, and thus, help to prevent HOS violations.
Also, you don't need an in-cab printer or other accessories of that sort to go with your Big Road ELD device. It can be easily installed to generate inspection-ready logs, instantly.
In this post, we want to provide a complete review of the Big Road ELD and Big Road DashLink for all those who believe in making an informed purchase.
We will give you a detailed overview of all its aspects. Including usage, accessibility, benefits, and drawbacks so you can make a perfect choice yourself.
Acquisition of BigRoad by Fleet Complete
Fleet Complete announced that it had acquired BigRoad fleet management company – an hour of service (HOS) as well as a regulatory compliance solutions provider.
However, the transaction terms have not been disclosed.
Established at the tech hub of Waterloo, also known as the Silicon Valley of Canada, BigRoad was established to tackle the HOS regulations introduced on the commercial motor vehicle (CMV) industry. The company developed the Big Road ELD Mobile App, and this App is one of the first Mobile HOS apps.
The acquisition of BigRoad by Fleet Complete forms part of the improvement of the company due to its expansion into Europe in 2015 as well as Australia in 2016.
Despite the acquisition, BigRoad continues operating and also sells directly to the large fleet and owner-operator, according to the company.
And also, the integrated BigRoad Fleet Full platform is available via the North American partner networks, AT&T and TELUS.

What Makes the Big Road ELD Device the Best Option for Me?
If you're someone who needs a simple, user-friendly device that complies with all the latest HOS regulations, then this device is perfect for you.
Especially if you're a first-time user, you'll be surprised how easy it would be to use this device.
It won't take you more than three minutes to install it. And this affordable eld compliance solution is excellent for short-term leased vehicles and owner-operated fleets.
This way, taking the device out and shifting it on another vehicle will be a breeze.
Furthermore, the Big Road eld device offers a range of commendable features as well, such as two-way messaging, GPS tracking, and the latest updates on HOS compliance policies.
Also, the Big Road DashLink is designed to work under extreme temperatures and conditions. It's durable enough to endure very cold or hot temperatures.
Any negative side?
Honestly, Big Road eld device may not be suitable for fleets who are looking for a full-featured high-end telematics solution with rich ROI possibilities.
Namely, it does not have idle reports, MPG and engine fault codes, DVR tracking and alerts, Macros/Workflow, and other advanced fleet management features.
Nevertheless, the Big Road eld device works flawlessly with all the features it is currently equipped with, which is enough to get most drivers and fleet owners through their logging hassles.
We all know that the trucking industry has been on a roll lately. All sorts of new amendments and regulations are being introduced, which can be confusing.
Advantages and Disadvantages
However, this affordable eld compliance solution is tested and designed to comply with all the FMCSA ELD mandate regulations and help you follow them effectively.
To make things easier for you, here's a list of the basic pros and cons of the Big Road DashLink, before we dive into further details.
Pros
User-friendly for the driver

Low cost

Easy to install

Two-way messaging

IFTA

Document Scanning

Drivers can make log corrections
Cons
Easily disabled

Lacks many non-HOS features that more expensive products provide
Big Road ELD Device Features & Reviews
| | | | | |
| --- | --- | --- | --- | --- |
| Price | Hardware Rating | E-Log App Rating | Fleet App Rating | Support Rating |
| $ 25 per month, $1440 per year | 4 / 5 | 4.5 / 5 | 4 / 5 | 3.8 / 5 |
Big Road DashLink ELD Device – the Perfect Choice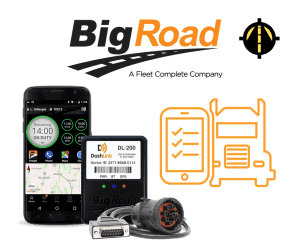 There, we said it. The question bothering you right now, is why?
The long list of products offering all kinds of features is enough to baffle, and even the most experienced drivers and fleet owners may not be able to decide which one is suitable for their business needs.
Below, we have compiled the undeniable data to back our claim. Check out the features on the Big Road ELD Device and DashLink in detail to see for yourself.
Features of BigRoad DashLink
Besides its simplicity, this e-log is admired by many truck drivers as well as fleet managers because of its capabilities and features including:
Mobile Application
The BigRoad DashLink ELD is in simple terms BYOD.
And for truck drivers, the BigRoad mobile app has been shown to offer some significant advantages to ensure compliance, safety as well as improving performance.
The big road eld app's distinctive aspect is its ability to be used as a standalone ELD system.
Alternatively, the mobile application can connect to the company's ELD mobile device, which has proved its cost-effectiveness for big fleet operators as well as small fleets.
Two of the key features you get with the BigRoad mobile app are electronic logs, which are clear to understand and view the remaining operating time of the Hour of Service.
Other features in this BigRoad mobile app that you can find useful include two-way messaging as well as different ways of creating test logs. Users can create logs in this context by fax, print, or email. Check out this video to experience the Big Road ELD features:
GPS Tracker
The incredibly simple-to-use BigRoad GPS tracking solution offers greater visibility as well as a detailed analysis of the vehicles and drivers in real time.
The solution has thus been considered being an effective solution to common fleet obligation, such as;
IFTA monitoring and distance reporting
Increasing customer satisfaction
Driver behavior monitoring
Data-based decision-making
Enhanced fleet safety etc.
BigRoad Web App
The Big Road ELD web portal is a comprehensive fleet manager supporting resource.
And through the web portal, managing the fleet as well as making the right decisions is like walking through a park.
The web-based toolkit of Big Road ELD is easy to use and offers simple solutions for fleet management.
As a result, fleet managers, as well as dispatchers, can send instant messages through their mobile devices to each fleet driver who has already installed the mobile application.
And also, to different drivers and fleet equipment, the fleet managers do have access to HOS and DVIR files.
Through big road eld login to the web-based dashboard, it enables you to identify and also regularly monitor potential driver violations instantly.
With the help of this web portal, fleet managers can quickly respond to inspection violations before the violation is discovered during the inspection.
Benefits of Using BigRoad e-Log Solution
The Big Road ELD device and fleet management system has some unique functionalities that set it apart from the competitors. The following are its benefits.
A Pioneer in the Field
The company started back in 2012. Back then, Big Road ELD was one of the first electronic logbook apps at that time, which was available on the App Store.
Since then, the innovative minds at the company have made sure that truck drivers and fleet owners who operate it are happy and satisfied.
The Big Road DashLink App is free to download. However, there is a fee for each person who can access the data, whether a dispatcher or driver.
The Dashlink connects to a truck's diagnostic port and sends information back to the Big Road App automatically. It has a separate monthly fee.
Still, Big Road's e-log App and Dashlink ELD provide an affordable eld compliance solution at a fair price when used together if you want to be compliant with the ELD Mandate.
Top-Rated Technology
The extensive research has shown that Big Road's e-log App has a rating of 4.5 – one of the highest ratings.
While it is there for all to see that other similar brands score only up to 4-star ratings, this makes big road eld one of the most popular electronic logbooks available to truck drivers at present.
Moreover, the Big Road ELD App is compatible with IOS and Android devices and can be downloaded free from the Google Play Store and Apple's App Store.
One of the reasons why this affordable eld compliance solution gets good ratings from commercial drivers is that the App is easy to use and simple to learn.
Not only can you use it as a standalone app, but also pair it with Big Road's Dashlink ELD, to make it more effective.
Managers or owners of all small fleets should consider the Big Road ELD device when switching over to e-logs since it is already popular among many drivers.
User-Friendly
The user-friendly App keeps it simple while offering essential functions.
These include easy-view Recap hours, HOS time remaining display, E-logs that you can edit on the go, and many more.
Getting to the User Interface, the big button at the top left of the screen allows drivers to set their current status, and most users love this function.
However, apart from the core features, the other functions it supports are somewhat feeble.
Although the map display does provide satellite imagery, night view, and traffic, all its other purposes are more or less decorative.
On the plus side, the two-way messaging works flawlessly, enabling drivers to communicate via text with dispatchers and other company drivers.
Users can start a new chat, upload documents that can be sent to dispatch or anyone else via email.
Also, you can check your current location and send email alerts right on the messaging screen.
Popular Stand-Alone App
Big Road is a popular standalone app to keep logs on phones. More recently, the company has added ELD hardware that allows the App to connect to the data of the truck engine.
And this system is a simple, well-priced, and user-friendly option. It doesn't have too many functions, but easy-to-use log compliance is ensured.
It works with any Apple or Android phone or tablet like many BYOD options – all you need to do is just install the free App.
There is no upfront cost unless you choose to set up some sort of mounting hardware to attach the device to your dashboard.
You'll need an Apple or Android mobile device with a data plan as well.
Besides that, you can connect the device to the vehicle and pair it with your Big Road Mobile App via Bluetooth.
The switch between DashLink equipped and non-DashLink equipped vehicles is seamless.
Big Road ELD Driver Card and Malfunction Guide
If you're a newbie, you need to have access to a copy of this big road eld driver card to get through any hassles effortlessly.
It gives you clear, step-by-step guides about how to use DashLink. Also, it offers instructions on how to carry out a roadside inspection using DashLink.
Also, it has the pointers you'll need during some common malfunctions as well.
It's easy to download the copy from the official website of the provider or request a laminated card be sent to you.
Apart from that, you can also download a guide from the website to learn how to install your DashLink DL-200 ELD in your vehicle and link it to the Big Road Mobile App.
You don't need to have a printed copy of this guide in your vehicle. But it might be a good idea to save it to your mobile device so that you can easily access it if needed.
In-App Features
The ultimate goal of the App is simple. But it does have some excellent extra features, such as a Google map showing traffic and location. You can also install a separate app for navigation.
The Big Road app also enables basic two-way messaging between the office and the driver. The driver can view their upcoming recap hours easily and print, email, or fax their logs from the device.
Also, drivers can certify that an inspection was done and comment on any defects via a basic inspection form.
Website for Fleet Managers
The dashboard/web app may look like it was designed years ago. But the user experience is pretty good, even though the interface is dated.
The web dashboard, like the Big Road e-log mobile app, is straightforward, providing the basic tools of fleet management.
The dashboard gives fleet owners, managers, and dispatchers real-time GPS location and tracking for all vehicles equipped with Big Road ELD.
The web app also lets dispatchers receive and send messages from each fleet driver using BigRoad's e-log App.
Affordable Dashcam Offers! Check Out
Here
Stress-Free Inspection
If you're using the Big Road ELD app, you don't need to be concerned during an inspection.
And that's because there are multiple tools at your disposal to produce logs from the Big Road eld device, including fax, email, and print.
In the end, simply sign off on the inspection form to certify that an inspection was done and comment on any deficiencies.
Accessible Installation and Usage
The Dashlink is a self-installed, plug n' play Electronic Logging Device. This compact device is connected to a vehicle's JBUS diagnostic port through an adapter.
Big Road ELD will provide the correct cable to connect the device, usually a 6-pin or 9-pin plug.
However, this depends on the make and model of the vehicle. The device does not have 3G wireless connectivity itself.
Data is sent to the Big Road E-log App via Bluetooth. There is no other hardware provided by Big Road – that's what BYOD stands for ("Bring Your Device") – see above for clarifications.
Users can download the E-log data that the engine transfers back to the Big Road ELD; this data can be downloaded on any Android or Apple device.
Thus, giving fleet managers and owner-operators plenty of flexibility and options.
Big Road ELD Device Pricing
The big road eld pricing for the DashLink mobile App, as described above, is an affordable eld compliance solution and available at no price.
That being said, you, therefore, need to pay a monthly membership fee for the software if you want to get access to the Big Road ELD's powerful back-office tools.
You can select the most suitable subscription package from the three plans offered by the company, depending on your budget as well as your business needs.
You'll find specific monthly subscription big road ELDs are fairly cheap compared with other logging solutions available in the market today.
Truck drivers don't pay anything to use the mobile App; however, fleet owners are required to pay $15/driver/month for access (there's also a fee of $15 per month for any office administrators who want to use it).
A $10 per month big road eld price for the DashLink system, which plugs into the diagnostic port of the truck, is also required to turn the solution into a true ELD.
Drivers may be asked to bring their own, but if the company provides the device, you will usually get a free service contract device as well as a basic data plan for around $15 per month.
Therefore, everything is approximately $40 per month.
Additional Features And Market Comparison
One of the more attractive features of the Big Road dashboard is the report showing miles per state for IFTA reporting.
On the low side, it lacks some features that other high-end ELD devices have. These include engine diagnostic fault codes, downtime reports, miles per gallon (MPG), and DVIR alerts.
Not only are these features useful tools to add to the primary function of an ELD, but also, they are great for managing large fleets and effective fuel control, etc.
Apart from that, if you need a device that does its job correctly to the optimum level, then the Big Road DashLink ELD is the one for you.
Disadvantages of Big Road DashLink ELD Device
Like every product ever created, the Big Road DashLink has some faults as well. However, they do not make it any less productive as an ELD device.
But the choice depends on the user's needs, expertise, and budget. Now, let's take a look at those downsides for an honest review of the product.
Constant Phone Charging
The Big Road ELD device runs smoothly when connected to your smartphone through Bluetooth until you get that low battery notification.
All mobile phones tend to lose some of their connectivity when the battery goes down, especially when you're on the go.
Consequently, you will have to keep your phone plugged in for charging at all times while operating the DashLink ELD.
If your phone is fully charged, the Bluetooth connection will work to its optimum level, and your device will run properly.
That's not much of a problem if you're smart enough to keep your phone fully charged at all times. Or, if your smartphone has never faced any overheating or overcharging problems.
Other than that, if you have a smartphone that doesn't retain a charge, then you might face problems with your overall ELD operation.
One Device at a Time
Well, the notion, as mentioned above, doesn't mean that you cannot connect the Big Road ELD to two devices at a time.
It will easily pair up with more than one device, but that will affect its overall function.
It's good that you sign in to the Big Road DashLink app one device at a time.
For instance, if you're connected on both your tablet and mobile device, DashLink will try to connect to both.
This way, it will cease to work properly on both devices in functions such as driver location and status logging.
However, if you don't need to sign in to two devices at once, logging your HOS on one device works just fine.
Big Road ELD User Reviews
The company only has five complaints in the last three years and three complaints during the previous 12 months on the Better Business Bureau®'s site, and the complaints are based on their refund policy.
Apart from that, there are no verifiable complaints against the company on many online review sites.
Almost all the users are satisfied with the Big Road eld device. However, a few users complain on the Google Play Store that the app crashes at random after the new update; however, the company responded that they are looking into the issue.
The BigRoad Dashlink eld customer service responded to every single negative big road eld review, and that is incredible.
Kindly let us hear your feedback if you are currently using the product, and if you have used it before, let us know your experience with the company.
The big road eld demo is available for anyone to try the system, and also, the company provides a big road eld user manual to learn how to use a big road eld device.
Big Road ELD Reviews
Final Words
Since you know all the details and in-depth information about the Big Road ELD, we need not say anything further.
The BigRoad DashLink ELD is an affordable, simple, and functional solution.
It's not fancy, but it does make it possible to have log compliance due to the big road eld price and its unique features.
However, if you or your fleet need a better return on investment or full-featured telematics, you would probably need to keep looking for a better one.
There are better fleet management systems out there, and we can help you find the right system for your fleet. Just fill out our free consultation form.
Generally, this device is a low-cost, entry-level option for owners and managers of small fleets who want to stay compliant with the ELD Mandate.
Learn the ropes, and potentially upgrade to a better, more full-featured system based on the experience.
Alternatively, you can just stay with this trusted device throughout your trucking career, and it will serve you well.
Wrapping this up, all we have to say is the best ELD device for you is not the most expensive one with a sparkly package of features.
It's the one that fits your needs precisely without stretching your budget. So choose wisely and drive safely!
Have you used Big Road Dashlink before? Kindly let us know in the comment section below.