(Last Updated On: May 26, 2022)
Federal Motor Carrier Safety Administration (FMCSA) released its rules for using electronic logging devices (ELDs) in 2015. Since then, however, there has been a noticeable surge in the marketplace.
Finding the right device for your vehicle is not something anyone should leave to chance.
Below you will find a complete ELD buyers guide.
Honestly, these ELD devices are critical; however, to understand the amount of driving time. And, also having an efficient way to report this data. Thus, these devices become acceptable.
However, since the ELD mandate is valid, it's the responsibility of fleet owners to use ELD devices. It is reasonable to say that finding the right ELD is crucial to the success of your business.
But if your ELD, however, cannot correctly communicate with the data collection devices that allow for enforcement.
Then, your business is behind the curve while other companies are ahead.
And, as we know, if your business falls behind, your competitors get an advantage; however, you get left in the dust. But no one wants this to happen, which is why we are here to help you find the right ELD device for your business.
Kindly fill our free consultation form, and you will hear back from us in no time.
For each ELD device, we will list the different pros and cons. Also, you'll notice which devices will, however, serve you best.
And also, you should know why your business should pay attention to the product you're buying.
Don't just buy an ELD to comply with the ELD mandate, but the one that serves more purpose.
What are ELD Devices?
An ELD is electronic hardware (ELD or E-Log) that is, however, attached to a vehicle's engine.
The purpose is, however, to record driving hours regulated by a set of rules known as the hours of service in the United States.  
Though, each state has different requirements for driving time. ELDs, however, provide a universal way to meet with Department of Transportation (DOT) regulations. Furthermore, these ELDs allow DOT authorities to have an easy way to enforce rules.
In the past, the manual logs were reasonably easy to manipulate; however, ELDs provide accurate information.
And this is so because of ELD record the data from the vehicle's actual run time.
According to the DOT, truckers can drive a maximum of 11 hours per day.
However, for every eight hours of driving time, there is a mandatory 30-minute break.
Where the ELD comes into practice is recording this time can ensure DOT compliance.
If a vehicle failed to comply with the ELD mandate, this means penalties and other problems for the company.
Why ELD Regulation?
Moreover, the reason for these regulations is safety, and the ELD is, however, just another step towards ensuring safety.
In the same way, if you can ensure that your drivers are getting the goods to the locations safely and quickly, that's always a positive for business.
The ELD is not just a time log, however, according to the FMCSA. The ELD captures data on the following:
Engine hours

Date and Time

Vehicle miles and

Location information

Driver identification information,

The authenticated user, vehicle, and motor carrier
As well as anything else that ensures that drivers comply with DOT rules.
How Do ELD Devices Work?
There are two basic ways that ELDs work, however, depending on your fleet's requirements.
Therefore, you must get the type of system that would best reflect the operations of your fleet. Both types of ELDs also record information that comes from the truck's engine components.
ELDs record information on an hourly basis; however, many fleet owners opt for systems that include more detailed information.
The federal regulation provides business owners with the tools needed to make their systems far more efficient. For trucking companies, efficiency equals profitability, and that's why trucking fleets find ELDs incredibly beneficial.
Dedicated ELD Units
The older system is usually the older type of unit. And function primarily to log the time and miles driven. As a result, it requires some back-up via the cloud and works the way smartphones do with a wireless network.
These are the essential devices; however, the good news is you can upgrade them and add features by using smartphones or tablets.
The key here is making sure the right amount of cloud space exists so that the data can get sent as quickly as needed.
Bring Your Own Device ELD Units
BYOD is the more modern approach that, however, allows fleet managers to bring their own device (BYOD).
And with this, Bluetooth connections, and transmitting information is much easier. And, also allows for versatility for all different types of fleets.
Thanks to BYOD systems, it is now much more comfortable and takes much less time to do the necessary reporting that the DOT expects.
Furthermore, BYOD technology enables fleet managers to use devices that are more conducive. Thus, ensuring that their drivers don't engage in unauthorized mission, but instead, work with ease.
Understanding How to Purchase the Right ELD
For many fleet managers, the tracking of driving time is, however, something that gets done with paper and pencil until recently. But now, due to the regulations, it is imperative to learn about the different systems available to properly equip your fleet. And this, consequently, allows them to work more efficiently.
To achieve this, specific considerations must be taken into account before buying this product. For example, if your rig is not, however, equipped with the dongle that allows BYOD devices to work correctly. It worth the cost to install these adaptors so to use these systems.
Also, what about your drivers? What would be more comfortable for them to use?
Below, we have several different ELDs for you to consider.
Each system, however, has cost as well as the pros and cons, and also the links to learn more from the manufacturer. We are confident that you will significantly benefit from these reviews.
Our goal is to make them, however, informative as possible while keeping them relatively brief.
Garmin eLog ELD Device
When we talk about GPS and driving assistance, few brands come to mind quickly. Garmin is one of them.
This notable brand is known for how they make getting to your destination much more comfortable than it has ever been. Thanks to their eLog, you now don't have to worry about the tedious recording of your mileage.
This e-Log system, however, proudly claims to do all of this and more with little more required from the user. Thus, make things more accessible than many plug and play installation required on most modern electronics.
Garmin eLog is designed user-friendly and compatible with your smartphone. Once you install the system, connect your phone via USB and also download the free app from Garmin.
It, however, work productively and give you the real-time data you and your drivers need. Therefore, when it comes to the FMSCA data requirements, devices make everything easier.
Attaching this device to your truck is simple, not only but also, the Garmin supports both the 9 pins and 6 pins and easily mountable.
In Garmin's quest to make things easy for you, it, however, makes it possible also to works with your Garmin dezl. And, consequently, you can easily integrate the data from both devices. Therefore, create a fully integrated system within the cab of your truck.
Pricing and App
The system itself priced at $249; this may seem like a lot, but much of the other component needed to use the Garmin is free.
For example, the Garmin eLog app for your smartphone is free. This App allows you to, however, do everything needed for compliance.
Furthermore, the display on the app lets you know exactly how many miles you have traveled throughout the day.
How many miles you have traveled during the week, and any other needed compliance statistics. Garmin is notable because of how easy it is for drivers to use the data. And also enable fleet managers to keep track of their trucks.
And likewise, know how efficient their drivers are.
Garmin, as with all their products, keeps things simple and easy by design.
What People Love About the Garmin eLog
When it comes to ease of use, the Garmin eLog is, however, enjoyed by drivers and fleet managers. And this is because the device is easy to install and functions like a plug and play device.
Furthermore, the free Garmin eLog app and seamless integration with the Garmin dezl make this system a favourite among many drivers. Also, the secure storage and transmission of data make it beyond easy to stay in compliance with the DOT.
Likewise, the Bluetooth interface makes transmitting data incredibly easy and efficient. Therefore, you can spend more time driving and less time dealing with administrative mandates.
Finally, the lack of subscription fees means that you only need to pay the $249 price for this device. Thus, giving you a one-time payment per device and means that you have fantastic cost certainty.
What People Don't Love About the Garmin eLog
Like anything, there are problems with the Garmin e-Log. One that continually comes up is:
The device starts tracking engine time when the engine is started instead of when the vehicle is moving. And this is a problem for obvious reasons.
The other issue, however, is resetting it to reflect driving time versus idle time is near impossible. Another issue is the fit issue. For trucks that have an OBD2 port, the Garmin eLog will therefore not fit.
And also, there's no adapter for it, and this creates problems if your truck equipped not with the 6 pin or the 9 pin adaptors.
Finally, though this ELD is a reasonably new product, it has several bugs. If you can endure several updates, then this will work for you, otherwise best to go with something more established.
Cost: $249.99
Pros
Cons

Easy to use with the free app for your smartphone

Works with most smartphones

Bluetooth data transmission makes DOT compliance easy

Price for the device is all you will invest in this ELD

No monthly fees

ELD compliant

Eliminates manual log keeping for HOS

Logging issues such as adding miles when the truck is idling

Switch to drive status when moving over 5 mph

Glitches in software create freezes

not compatible with OBD2 protocol vehicles (SAE J1979) New product means lots of bugs

Inaccurate data (mileage or time)
Keep Truckin ELD Device (Now Motive)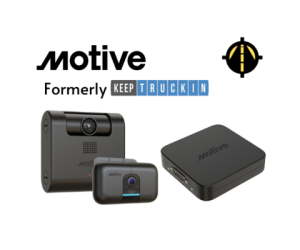 An owner-operator or a fleet manager would prefer products that are designed with their business in mind.
After all, what type of business, however, uses generic products instead of one that is designed specifically for their business?
The idea behind Motive (formerly Keep Truckin) ELD and support system is simple.
The product is designed, however, to be used with ease and not something that wrongly designed.
Motive's (formerly Keep Truckin) inspiration ended up coming to fruition when looking at the different features it offers.
First, the most significant thing people will notice is the ease of use aspect of the product.
Swiping through the different menus on your smartphone or tablet means that you don't have to work too hard. However, to make sure that your ELD is working the way it should and logging what it needs to log.
When transmitting data, it is incredibly easy. You can, therefore, tap the button to begin an inspection or send the logs right to the DOT.
Features
However, Motive (formerly Keep Truckin) functionalities that fleet managers love are in its features.
You can quickly check the fuel costs in different states. And also, figuring out exactly how much fuel is being used by drivers in idle time versus driving time.
Likewise, the diagnostics let you know in real-time if there are problems with the truck. And this features, however, allow you to save several thousands of dollars on maintenance.
GPS tracking and log auditing also keep things more straightforward and comfortable. The system gives drivers real-time alerts if you are nearing a possible violation.
As a result, you can avoid putting your company in possible jeopardy of DOT fines and sanctions.
Cost
With all these features in place, Motive (formerly Keep Truckin) expects you to pay a premium price for premium services. And, also, the electronic logbook app is free and gives you the basic compliance features.
Therefore, if you want the ELD starter, which includes the app and the device, this costs you $240 per year.
For all the great features of Motive (formerly Keep Truckin), you would have to pay $360 per year, advertised as $30 per month.
What People Love About the Motive (formerly Keep Truckin) ELD
There is a lot to love here.
The Motive (formerly Keep Truckin) ELD allows you to, however, have complete knowledge of everything that is going on in your vehicle.
From maintenance to driving time, this is a fully immersive system that will keep you on top of everything. It enables you to know what is going on within the interior of your engine compartment.
And this knowledge is worth thousands of dollars potentially in saved maintenance. The ease of use of this product is unrivaled.
Vehicle Data
Motive (formerly Keep Truckin) allows you to use simple swipes and taps to get to an assortment of information;
And, likewise ensuring that you avoid a situation where you turn on the truck, and the system starts logging miles. As a result, vehicle drivers feel very much in control of the Motive (formerly Keep Truckin) system.
And ultimately, this makes them more efficient.
Reporting data, however, to DOT inspectors is easier than ever with a simple Bluetooth connection. Therefore, your drivers don't have to be bothered by other cumbersome systems.
Instead, they have a much easier way to use the system to their advantage.
What People Don't Love about the Motive (formerly Keep Truckin) ELD
High Cost
The Motive (formerly Keep Truckin) ELD can be a hard hit on the wallet; however, for a smaller company doesn't have financial flexibility. Though the app is free, however, all the good stuff with the ELD costs at least $240 per year.
Therefore, to get the fully immersive experience, you need to shell out $360 per year,
However, for many companies, this could be a bridge too far – even after considering possible savings.
Good for Large Fleet
The next thing, along with cost, is that Motive (formerly Keep Truckin) offers discounted monthly rates to large fleets. And, also requires smaller fleets to pay upfront.
This solution is the best product if you are looking to have a system suitable for larger fleets. However, unfortunately, due to expensive packages, it shuts out the smaller fleets that could benefit from it.
Poor Bluetooth connectivity
Finally, the Bluetooth connectivity is spotty at best.
Many drivers report having issues transmitting data via Bluetooth
And this is a problem when you need to get to a destination but are stuck as the inspection station.
Cost: Free for app/$240 for app &ELD/$360 for app, ELD, and advanced features
Pros
Cons

A fully integrated system gives you fantastic information on your trucks

automatically log their HOS into the app

Reporting doesn't get easier than with this system's flexibility

The best user-friendly device on the market

Advanced features which other BYODs lack

Does not have upfront payments

High cost for a yearly subscription

Discounts available to big fleets but not to smaller fleets

Logs can only be edited by the dispatch.

Bluetooth connection can be spotty
J.J. Keller ELD Devices
When it comes to legacy brands in the trucking industry, few brands, however, carry the weight of J.J. Keller.
J.J. Keller invented the logbook for keeping your hours and staying in compliance. Thus, brand recognition within the industry is off the charts.
Therefore, when you are looking for a quality product in the trucking industry, J.J. Keller can't be left out.
Trusted Brand
However, the good thing is: Due to trust, people are often more forgiving of legacy brands flaws. But, this isn't the case if we are dealing with a brand that has less gravitas in the industry. And, this is something that works to J.J. Keller's advantage.
That said, there is something to be said for keeping things simple and straightforward. And that's precisely what J.J. Keller's ELD device bring to the table.
And also, J.J. Keller does a good job ensuring that they can, however, serve all sorts of different types of clients.
They offer different types of connections. And regardless of your driving rig type, you can, therefore, easily connect your ELD without much fuss.
Furthermore, the logging system is extremely basic and easy to use.
24/7 Driver Technical Support
There are no frills here. But precisely what drivers and fleet managers need to ensure they are staying in compliance.
With 24/7 driver technical support, the company has been there for truckers.
And, further, demonstrate yet another way to keep their promise.
Cost
The pricing, however, is quite complicated. You can have the ELD for as little as $199.
And, also, depending on the different accessories, approximately $40 per month.
This pricing system may make sense for certain types of trucking companies. However, for others, the complexity is not quite what you'd expect from such an esteemed legacy brand in this industry.
What People Love About the J.J. Keller ELD
For truckers and owner-operators in the trucking industry, the J.J. Keller logbook is the standard.
Furthermore, drivers and fleet managers know they have a partner dedicated to quality. And, likewise, ensuring that each company they partnered with is well taken care of.
And, that is the main reason why JJ Keller remains the industry leader even past the paper log era.
The 24/7 support for drivers is, however, crucial to taking care of their clients. Therefore, J.J. Keller ensures that your drivers will never be left hanging. And will, also, always have their questions answered.
Above all, this type of support is a significant stress reliever on the road.
Finally, the pay as you go system means that if you don't like your plan, you can change plans. Or opt for a new system entirely. And this is yet another way that J.J. Keller supports trucking companies.
What People Don't Love About the J.J. Keller ELD devices
Unfortunately, the pricing system is frankly, bizarre, and confusing. J.J. Keller's attempts to be a company that, however, takes care of all different types of needs. But, it seems they miss the mark and confuse the very people they intend to help.
In the same way, hardware and usability have persistent reports of not being very reliable. And this is a big issue though the company positions itself as being attentive to the needs of drivers and fleet managers.
Unfortunately, this is something they have to solve to remain competitive in this market.
Finally, the product itself is not very user-friendly. And, its not the best choice for drivers who are not very proficient with technology.
The Bottom line is: For a company that is such a legacy brand, you'd expect their products to be more comfortable to use.
Cost: $199 at most basic plan, monthly subscription plans vary and average $40 per month
Pros
Cons

A legacy brand that is the go-to for many trucking companies for decades

seamless Desktop software integration

24/7 support means your drivers will never be left hanging

Pay as you go system perfect for those not looking to commit

Automation of in-cab performance, electronic logging, and Driver Vehicle Inspection Reports (DVIRs) with the J.J. Keller EOBRs.

Confusing and complicated pricing

Hardware and usability is persistently dodgy

Dated management web software for fleets

Product is not very user-friendly

Limited telematics features
My20 ELD
If you are looking for solutions that will make your life more efficient and businesses run with more consistently.
Invariably, you need systems that cost the least while getting the most out of their features.
Fleet managers and drivers want to have systems that provide the most bang for the buck. And my20 system is, however, one of those that aim to turn this dream into a reality.
Low Cost
What attracts everyone to the my20 is the low cost of the device. And, also the relatively low per-month cost for subscribing to the service.
My20 makes no bones and aims to ensure that, however, your drivers are productive and efficient. And this device tracks everything, including how the vehicle is performing. Therefore, makes data transmission quite easy.
Furthermore, the system connects to your phone with ease via Bluetooth. And, with this, you can rest assured that you have a secure connection.
User-Friendly and 24/7 Support
When it comes to ease of use and user-friendly, my20 makes itself different from the rest. This company eagerly provides 24/7 assistance, and drivers report that the interface is straightforward to use.
The bottom line is when using My20, you don't have to worry about complex navigation of the app
However, you can just focus on driving.
Another benefit: the my20 is a small device, so once it's hooked up you will forget it's even there!
However, which isn't much, having a device that takes up so little space is one of those things that many drivers will greatly appreciate.
Why People Love the My20 ELD
The simplicity of the device and the interface is something that appeals to many drivers. However, there are simply no frills here, and at the same time, it provides exceptional functionality.
User really enjoys the size of the device. The device does not get in the way, and the reality is in the cab of a truck space is at a premium. Therefore, it's nice to have a device that doesn't add to the clutter.
Finally, the interface is extremely user-friendly. And, whether you are someone who is quite in tune with your smartphone or someone who is a technophobe;
However, using the my20 system will not be very difficult.
Why People Don't Love the My20 ELD
Inexplicably, the my20 doesn't come with an instruction manual. And his is, however, a significant issue.
Perhaps, the company may think that the device doesn't need a manual due to its simplicity; however, this is a strange oversight.
There have been reports that the device has bugs when it comes to recording data from various rigs. And, sometimes, it will record that a driver is on duty when the engine is idling, or vice versa. Either way, it seems a patch or some instruction should take care of this issue.
Finally, there are other issues with the firmware upgrades.
Some drivers are reporting that they have to, continually upgrade the firmware. And this issue is extremely annoying.
Maybe the low cost is part of the reason why these types of bugs exist.
Cost: 
$45 for device

$15 per month for a single driver

$25 per month for a fleet
Pros
Cons

A simple device that's easy to use

Small size and perfect for all cabins

User-friendly interface for users of all proficiencies

Outstanding customer service

Packed with plenty of features

No instruction manual means that you have to learn as you go

Connection issues

Buggy performance can be frustrating for drivers

Need constantly upgrade the firmware

The app tends to change status randomly
Linxup ELD Devices
When a company that, however, specializes in making GPS equipment dips their toes into the water of the ELD market. You can bet that they can, therefore, do amazing things with their product.
Thus, in the case of Linxup, there is a lot of anticipation of how well the ELDs will perform. Their GPS systems are known to be quite reliable – something that in the trucking industry is incredibly valuable.
Ease of Use
The Linxup ELD is quite easy to use as all of the best ELD systems.
Equally important, the device is plug and play – working with the 6 pin, 9 pin, and even the OBD2 plugs. And this offer versatility when connecting, and, however, don't have to purchase adaptors or any other type of system.
One thing, though, about Linxup's ELD is that it is very utilitarian. The company isn't looking to wow you with different features. However, give you what you need at what they consider a fair price.
Dedicated Support
The key features that Linxup offers are 24/7 dedicated support, along with free online resources. And many other companies that put out ELDs do not match Linxup in terms of what they offer.
However, these systems allow all involved in the trucking business to be able to log their driving time. And, also have the reports available with ease at the time of inspections.
The simplicity of this product could be its best asset. As well as the main reason why people would choose to use it as opposed to others.
Why People Love the Linxup ELD
The simplicity of the design is a good reason why owner-operators and fleet managers prefer it.
However, this ELD doesn't go out of the way with providing you tons of different gadgets.
Although, it does include, for an additional price, GPS and other features.
However, it keeps everything relatively simple.
And, also can connect via the OBD2 port, 6 pin, and 9 pin ports make it a very versatile ELD device.
You don't, however, have to start looking for the different connections as they are all ready for you to use.
Thus you have everything you need in one device– no more, no less.
And, this is something that many would like since having all the different bells and whistles can make things a bit intimidating.
Why People Don't Love the Linxup ELD
There is a feeling that Linxup released an ELD to be in the market.
And many users believe that the system has an incomplete feeling as opposed to other systems. And, also, the pricing is a bit high for a system that doesn't deliver what other ELDs do.
Therefore, this is a source of frustration for fleet managers who want to get the best bang for their buck.
Finally, though they advertise excellent customer service, many people experience high call wait times. Also, unresponsive customer care reps on the other end of the line.
Cost: 
ELD Only Plan – $29.99 per month

ELD + GPS Plan – $39.99

ELD + GPS + IFTA – $49.99 per month
Pros
Cons

Simple device secure for anyone to use

Comes with a dedicated data plan

Connects via all types of ports

Helps you better your CSA score

fuel management capability

accurate HOS logs

Pricing is high considering it doesn't do very much

Customer service is unresponsive, possibly due to high call volume
There are many poorly designed devices on the market. And finding the best one may be difficult. Kindly fill our consultation form, and we will get in touch with you in no time.
Request a free consultation:
xxx
Stoneridge ELD Devices
When you are looking to keep cost low but get excellent performance, there are many options in the market.
However, frankly, some options seem to work for a small niche of the market. But in the world of trucking, this can be problematic because, of course, not all trucks are created equal. With that said, when you have an option like the Stoneridge ELD, you can peace of mind
Your system, however, isn't just something that works for some truckers, it works for all.
Easy Connection
Perhaps the most comfortable part of the Stoneridge system is the secure connectivity of the system. Since trucks have different adapters. Stoneridge, therefore, makes sure that you have every adaptor for every type of vehicle.
And this is just the beginning of how they ensure that your ELD gives you everything that you need.
Lower Subscription
Stoneridge offers you much more. Your subscription fee includes services that are add-ons such as IFTA reporting etc.
However, other companies may charge you close to $50 per month to add IFTA function. Stoneridge doesn't do that; instead, you get a whole host of services for a low price.
Stoneridge also seeks to give you more for your price in terms of accessibility. It is easier to pair your device. And, unlike other services, you are allowed an unlimited amount of drivers.
They make sure to take care of you, and that's why Stoneridge is one of the best buys in terms of ELD systems.
What People Love About the Stoneridge ELD
The bang for your buck factor is, however, one of the high selling points of the Stoneridge system.
You get a whole suite of services for just $15 per month. And that's uncommon in terms of affordability in the ELD industry.
Another thing that is appreciated by Stoneridge users is the ease of use of the product.
And this, however, includes having different ports available regardless of what type of system your truck has. 6-pin, 9-pins, or OBD2 are all available.
Finally, the interface is so easy to use that you'll be quickly proficient in no time.
What People Don't Love About the Stoneridge ELD
There are some severe Bluetooth connectivity issues.
And, therefore, causes problems when pairing the device along with transmitting data.
Due to technical difficulties, there are logging issues with the older 6-pin connectors. And this, however, makes it hard to comply with the FMCSA requirements.
Software malfunctions are, unfortunately, something that tends to occur occasionally. Therefore, be ready to get updates and wait for those updates to get installed.
Cost: software subscription – /$15 per month or $150 annually (a $30 saving)
Pros
Cons

You get a ton of features for a low price

No contract and no hidden fees

Intuitive user interface

The system is incredibly easy to use – don't need to be techy to understand it

6-months' data storage on the device

plug-and-play installation

Serious problems with Bluetooth transmission

Older connections have a hard time working with FMCSA requirements

Software tends to malfunction more often than it should

throw multiple QR codes at once

Unresponsive customer service
Rand McNally TND 765 ELD Devices
When it comes to trusting a brand, however, you want to trust a brand with a long history. And a brand with a proven track record of exceptional achievement in a specific area.
In terms of maps, few companies have the legacy of Rand McNally. You can remember walking into the store and seeing the giant Rand McNally maps of the United States. These large maps go back to the days when you had to navigate with mile markers. And, also, the person sitting in the passenger seat was just as crucial to the journey as the driver.
They hELD the atlas; therefore, they knew where to go. Today, it's different. And of course, Rand McNally has had to get away from the printed atlas business.
However, they were smart and went into a sector that makes sense – ELDs industry.
Overview of Rand McNally Features
Since trucking companies need expertise that cartographers can provide.
And Rand McNally, however, understanding how to calculate distance and translate it into a different format. Thus, it stands to reason that this company could produce excellent ELD device. Well, they did. The Rand McNally TND 765 is an impressive product that's both easy to use and full of information. That cuts down on a tremendous amount of time.
And, furthermore harkens back to this company's legacy of efficiency. With a high definition display, you don't need to worry about apps for your phone.
The screen, however, does it all and even transmits data efficiently. The best part – updates and transmissions can be done over the air.
Therefore, you don't need to worry about things like Bluetooth connectivity. Furthermore, the system itself works with the cloud very effectively. And, there is also a lot of love about Rand McNally.
Why People Love the Rand McNally TND 765
Easy installation is, however, one of the main hallmarks of the system. You only need to install the app and syncing the device with your phone or tablet.
In addition, with the GPS option, you get a system that has been designed by some of America's best cartographers.
The company, however, understand the need to have a lot of information in a small space. And therefore know how to get it there effectively.
Finally, the Rand McNally provides updates via the over the air system. And this, therefore, saves a lot of time and waiting to connect with WiFi or Bluetooth.
Why People Don't Love the Rand McNally TND 765
The cost is quite expensive initially – it's $550 for the unit, And $30 monthly fee
And if you add GPS, then it can get up to $650-$700. For small trucking companies, this can be too expensive. The interface and tablet itself, however, seem quite outdated.
It's as if Rand McNally put all their efforts into creating an efficient product. However, sacrificed style at the same time. And this would have been really cool 20 years ago.
Finally, the Rand McNally has a buggy interface, and if you reboot it, getting it back to work can be a hassle.
Cost: $550 for non-GPS unit/$650-$700 for GPS unit/$30 per month
Pros
Cons

A legacy brand that provides excellent information to the fleet manager

Easy to Install

A respected GPS device, familiar to drivers

Feels a bit dated, not the most user-friendly

The buggy interface when rebooting, not easy to work with

Reports of software bugs and hardware problems

The touch screen can be difficult sometimes
Kindly fill our free consultation, and we will help you to find best eld device suitable for your business needs.
Omnitracs IVG ELD Devices
Omnitracs is not for the timid. And also refer to as the "Intelligent Vehicle Gateway" (IVG). With this product, they are presenting a solution that does not just log hours. But, also, a portal to understanding the vehicle in ways that few can.
Fortunately, Omnitracs backs up and make a mark with this product. And also, the IVG is one of the best devices on the market. And this, however, further bring about their brand's dominance in the ELD sector.
Features Overview
There are several different features within this device that drivers and fleet managers will love. However, the best part is it offers fantastic efficiency that almost makes you forget the upfront cost.
The features that most people enjoy are:
       

Ease of installation

       

smartphone link via cable or Bluetooth

       

Responsiveness of the company customers support.
Thus, Omnitracs make the lives of drivers and fleet managers easy.
What People Love About Omnitracs IVG
When it comes to ease of installation, this device, however, has few equals.
Installation takes a couple of minutes and very close to plug and play system.
Furthermore, instead of having to spend time putting a device in a specific spot and hoping it fits. However, the cable makes it enormously easy to get the IVG up and running. And, also, the smartphone connection is something many drivers enjoy.
Thanks to the cable connection and Bluetooth, fleet managers can monitor all the vital information provided by the ELD.
Finally, the responsiveness of the Omnitracs team is a plus.
The company, however, always seems to be rolling out upgrades on the system to make it more user-friendly to drivers.
What People Don't Love About Omnitracs IVG
The biggest problem, however, is that many people believe Omnitracs IVG is out of reach.
The company demands expensive upfront cost, however, at a staggering $799. Consequently, you would like to purchase this product if the cost isn't an issue.
Is the device worth it? Perhaps, but that may be a gamble you'd like to take. Another issue Omnitracs has is the buggy nature of the IVG.
Sure, they do a great job rolling out updates to fix problems However, you would hope when releasing an ELD that all the kinks worked out ahead of time.
Finally, Omnitracs tries to make this device user-friendly. And, however, a tutorial would be beneficial as it is a bit complex. Many drivers don't want to spend time having to learn by trial and error.
Cost: $799 upfront, and $30 per month 
Pros
Cons

Incredible ease of installation – One device, one cable

Connects to smartphone easily via cable or Bluetooth

voice commands and smartphone pairing

Responsive team looking to enhance the experience

Expensive upfront cost

Buggy device

Lacks a tutorial
EROAD Ehubo
Getting the equipment you need is often a barrier for many owner-operators when starting in trucking. However, If the driver will be okay with the upfront cost, then, the sky is the limit.
EROAD has done away with the initial barrier to market entry. And this means that your trucking business, whether large or small, can get the compliant equipment to start at no cost.
Is equipment that comes with no upfront cost worth it? In the case of EROAD's Ehubo, the answer is yes.
This particular unit is one of the most accurate on the market today. And, also, the durability of this unit and ease of use is well regarded by drivers and fleet managers.
Therefore, if you are a fleet manager of a small trucking company, this, however, is an excellent unit for you. If you are part of the bigger team, then this is a great system that provides incredible value.And likewise makes your company more efficient.
EROAD offers a win-win situation for companies of all sizes.
What People Love About the EROAD Ehubo
The price is by far the most significant selling point. Though anything can be inexpensive; however, EROAD is providing real value for its price.
Other, more expensive units, do not provide much functionality. And, consequently, it is nearly unmatched in the trucking industry.
Accuracy is critical in the trucking world.  And EROAD is one of the most accurate ELD providers. The product provides accurate data in terms of HoS, and also in terms of fuel. And the fuel data can be for tracking as well.
Finally, if you are looking for a unit that will, however, stand up to the rigors of trucking, there are few units on the market that do the job like EROAD.
What People Don't Love About the EROAD Ehubo
Though EROAD's unit is so reliable; however, the business hours' support isn't the best.
The company has a reputation for poor customer service. Thus, if an ELD devices user requires help, they will have the hardest time in the world to get their question answered. 
In other words, be ready to wait for a long time for someone to talk with you. For some, this isn't a big problem, but for others, when you've been on the road for a while, this small screen can be quite discomforting. And this makes it hard if you're trying to track your hours and see how much longer you can drive.
Finally, you have to sign a contract to use the device.
Unlike other ELD services that offer trials or pay-as-you-go options, EROAD is an all-or-nothing option.
Cost: $0 upfront and, $35 per month
Pros
Cons

The product is extremely cost-effective

PIT Group verified as fully mandate compliant

Incredible accuracy

Durability that stands up to the rough world of trucking

Best fuel tax tracker on the market

Poor support during business hours

Small screen
Finally, to find the best ELD devices that suit your business needs may be time-consuming and stressful.
We are here to help you find the best one. Just fill our free consultation form, and we will get back to you as soon as possible.