(Last Updated On: May 27, 2022)
Do I need Fleet Management Software and GPS tracking for my fleet?
Yes, that is the answer!
Whatever the size of the fleet, using fleet management software, you can save time and resources.
Let's dig into the role of fleet management in this fleet management software review, and we'll also go through some of the best fleet management software tracking solutions.
Fleet management is the system used by fleet managers to handle all information about the fleet and assets from procurement to disposal. It allows the company to keep costs down, improve performance, and enforce compliance throughout the entire fleet process.
What does a fleet management system do?
A fleet management system guarantees commercial truck safety while reducing risks involved, improving productivity and efficiency, and maintaining compliance with legislation. Thus, with various challenges – procurement of vehicles, fuel management, maintenance of trucks, workplace safety, and compliance.
Fleet management should rely on robust vehicle fleet management software systems to ensure its objectives and reduce risks associated with everyday tasks.
Why do you need a fleet management system?
Fleet management software must record all the details about vehicles purchased or leased by your company. It records its specifications, maintenance information, service and parts history, drivers as well as related regulatory documentation. This related regulatory documentation includes licenses, taxes, fleet insurance, fuel purchases, operating costs, eliminates all the administrative processes involved, and also makes more sense of everything related to your fleet.
Make sure that logistics fleet management software can create reports, warnings, alerts, and emails. Thus, things are only getting faster and more efficient for your company, something that cannot be achieved in the past.
Fleet management GPS systems provide the business with unparalleled real-time tracking of all the company assets, making the deployment of the workers involved more productive and more straightforward. And this helps the fleet manager to accurately measure when the vehicle and driver arrive at their destination as well as how the driver can drive and handle the vehicle.
Integrating the roles of technologies gives a degree of unparalleled control over any company in the past, a way to dynamically operate and maintain their vehicle fleet regardless of size.
What should I look for in a fleet management system?
Fleet management software can be merged into vehicle telematics and tracking to align driver performance with vehicle performance and specifications; however, the following will be performed at the basic level:
Reporting
Geofences
Vehicle disposal
Real-time alerts
Vehicle inventory
Additional services
Vehicle maintenance
Pool booking systems
Telematics and tracking
Insurance management
Vehicle cost management
Infringement management
Extracting data from a vehicle
Route planning and scheduling
Driver management and licensing
Most vehicles are using a standard Fleet Management System interface to provide vast amounts of data according to what the vehicle does. And also, some other Management System solutions are using their own proprietary hardware. Measured data may include:
Engine revs
Seatbelt use
Engine fluids
Journey distance
Service intervals
Weight on certain axles
Gear and clutch operation
Vehicle speed (from wheels, and GPS)
Rates of deceleration – pedal position and brake operation
Other fleet management software is integrated with Electronic logbooks.
And through this, Time spent driving could be automatically logged, and break time alerts could be set such that the driver does not breach the criteria of working time.
How does a fleet management system work?
In essence, a fleet management system utilizes 24 communications satellites to transmit data back to receivers via radio frequencies to determine the exact position and movement of the object. The GPS receiver will be mounted on the dashboard of the commercial vehicles, typically in the form of a GPS locator beacon.
A GPS is available for all fleet management systems; all of them would have either GPS or GLONASS. Then the fleet manager can track and monitor the trucks in the fleet, either by accessing the data on a computer or by connecting to the internet at any time during the day or night.
It is possible to manage the GPS information collected by each tracking device in one of two ways. It is immediately relayed to the tracker device for active trackers via the mobile phone network, which offers a live picture of where the location of the vehicle. The journey information is registered on the tracker itself with passive trackers and can be retrieved at a later point in time, typically when the vehicle comes back to base. Trackers will display a vehicle's speed and direction and location.
How much does fleet management cost?
The advantages of fleet management software aren't just about compliance with the law; it will also improve the performance, operation, and safety of a fleet due to its 24/7 real-time data tracking and analytics.
So what is the cost of fleet management software?
For a fleet of 10 vehicles/trucks, a fleet management system would cost about $35 a month, on average, per vehicle or about $3500-$6500 a year. This cost will vary considerably depending on your business needs; however, it will yield a bang for your buck that will justify your investment in a fleet management solution.
Above everything else, it is helpful to understand how much costs will vary depending on a company's size and requirements.
The top suppliers of the fleet management system will always tailor their charges to your business needs. As a result, this may make it more challenging to compare prices – to help, we would suggest using our easy free consultation form and we will help you to find a suitable fleet management system for your business needs.
How does fleet management reduce costs?
Fuel management is among the essential services offered by any fleet management service provider and the best way to save costs. Below are some of the ways that a fleet management solution helps in reducing costs.
Fuel Management
There are many tremendous cost-saving fleet management software benefits in the form of fuel savings with the ability to control fuel costs and plan efficient routes as well as monitor driver behavior. In addition, a wide range of fuel cards is provided by many fleet management providers. These cards are a type of payment card intended solely for fuel purchases.
Vehicle Maintenance
Such maintenance changes from provider to provider, but it does provide clients with access to services like 24-hour repair technicians, regular maintenance, repair of the vehicle, inspections, and access to a maintenance and repair center network.
Regular vehicle maintenance inspections can sometimes prove to be very burdensome to businesses operating a large vehicle fleet, but fleet management can significantly reduce these costs.
Fleet Security
Many fleet management systems provide customers with access to vehicle control mechanisms as an enhanced safety function. These processes in the recovery of stolen vehicles will prove to be enormously beneficial.
In particular, vehicle-based security systems will allow fleet managers to monitor and slowly slow down the speed of a vehicle within their fleet, and ultimately stop it remotely. This security measure is especially valuable for companies that operate large vehicle fleets as, if they have been stolen, stolen vehicles may cause unnecessary expenses.
What is the best fleet management software to choose?
Now, let's look at some of the best fleet management software lists. These fleet management software providers are some of our best picks in our overview of fleet management software.
Teletrac Navman Director
Teletrac Navman Manager is a fleet management program that is used by fleet managers to facilitate real-time vehicle monitoring.
The versatile visibility functions of fleet management software provide essential information like path, traffic, idle cycles, geofencing, and consumption of fuel.
Fleet managers can transfer data to their drivers and dispatchers to provide them with the best routes to use, saving on fuel expenses and time spent at work.
The Driver Management tool of Teletrac Navman Director will monitor and report instances of violations of overspeeding, extreme acceleration and braking, cornering, and stop signs.
This functionality helps to ensure drivers adhere to policies and procedures when on their own along their routes, an essential factor in ensuring compliance with internal safety standards and external fleet management software requirements.
The 'Event Viewer' helps to ensure that drivers fill in detailed reports or that the software will replay the vehicle's recorded activities.
Powerful technologies such as these enable fleet managers to address inappropriate driving habits: and drivers are either educated or are forced to leave the company after reports for such acts.
Another function, Vehicle Analytics, allows drivers, along with many other items, to test their vehicles for breaks or lights to guarantee the vehicles are safe to drive.
There is also a fleet management software online module of Director's Driver Vehicle Inspection Reports (DVIR) to allow drivers to submit their vehicle status reports and maintenance notifications without having to do paperwork.
Also, this relieves drivers from energy-consuming tasks and, therefore more time to focus on their job's most important part.
Pricing
The fleet management software pricing of Teletrac Navman Director comes at just $25/ month.
Pros
Affordable
Ease of use
Good Customer support
Ability to monitor trucks/drivers and Track maintenance
Cons
Very Basic in what it can do
Free Custom Quote
View Teletrac Full Review here >>
Motive (formerly KeepTruckin)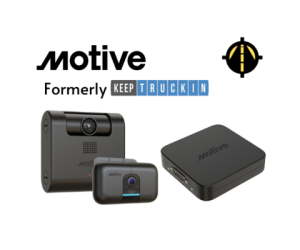 Motive (formerly KeepTruckin) fleet management software is integrated with GPS tracking, dashcams, and ELDs to move the fleet forward.
Use this FMCSA-certified solution to quickly and easily comply with regulations. Also, Fuel tax monitoring and vehicle safety inspections are among the top features of this fleet management solution.
And the comprehensive fleet management software dashboard of Motive (formerly KeepTruckin) allows you to track the activities of your fleet accurately. Through monitoring unnecessary idling, vehicle safety, and much more, you can reduce costs.
The fleet management software features include the use of trucks and real-time GPS tracking of your fleet.
Also, the video surveillance platform of this fleet management GPS software cuts down on accident-related costs and improves driver safety.
Driver scorecards and insightful dashcams are the main features of this fleet management tracking software. Likewise, the company also provides an effortless-to-use driver app that tracks inspections of trucks, HOS, and much more.
Finally, this fleet management software programs solution is a powerful system that monitors all vehicle information and seamlessly integrates with the other fleet management software app.
Pricing
Motive (formerly KeepTruckin) offers three pricing plans for the fleet management solution, including a $150 Up Front Cost.
The Free Plan comes with Electronic logs, Messaging, and Vehicle inspection features.
Starter Plan costs $20/month (billed annually) And also comes with all features of the Free plan and also includes Alerts, ELD compliance, and GPS tracking.
The Plus Plan costs $30/month (billed annually) and also comes with all features of Free and Starter plans, and also includes Driver scorecards, IFTA fuel tax reporting, Idle time tracking, and Vehicle diagnostics.
Pros
User-friendly
Easy to install
Fairly low cost
Advanced features
Cons
Strict contract
The dispatch can only edit logs
Free Hardware Promo here >
View Motive (formerly KeepTruckin) Full Review here >>
Omnitracs
Omnitracs offers a robust range of fleet management services, including analytics tools, fleet management software as a service (SaaS) applications, and advanced commercial fleet-designed apps.
This company is a leader in the software field for fleet management, and also its solutions help fleet managers boost performance and profitability.
The mission of Omnitracs is to drive revenue to both local and long-haul business owners, including fleets of all types and sizes.
Worldwide, fleets use their vehicle management solutions to track their activities, safeguard their drivers, and optimize their assets.
Fleet management solutions from Omnitracs help you meet customer demand efficiently and effectively, while fostering compliant, safer driving habits and also enhancing driver performance.
Some of the benefits of fleet management software solutions are that they will allow your fleet to plan direct routes, collect and analyze data, and comply with the law.
Pricing
Pricing is given by a quote for fleet management software solutions from Omnitracs.
Pros
Intuitive Message Notification
Intelligent Voice Interface
1024 x 600 Touch display
Web browsing and Wi-Fi
Cons
Higher up-front cost and too expensive for owner operator
Users report that the device is slow
Free Custom Quote
View Omnitracs Full Review here >>
Geotab
As a multinational telematics service, Geotab offers fleet leasing companies and businesses of all sizes who need fleet management with both hardware and software.
The company has been serving small, medium, and large fleets across the U.S. for even more than 15 years.
The Web-based hardware and software fleet management solutions of Geotab are dependable and exceptionally user-friendly.
Geotab FMS can be tailored to meet the needs and requirements of any fleet. They can work in large or small fleets for either heavy or light vehicles.
With Geotab fleet management solutions and ELD, you can reduce costs of administration and traffic violations while also increasing your CSA rating and service quality.
Therefore, you can rest assured that over the long haul, your investment in telematics will pay off.
Also, you are going to be in full compliance with the law. Be careful, though, of resellers.
Even though different third-party resellers supply Geotab's goods, there is a possibility of buying an irregular unit.
Pricing
As previously stated, this fleet management careers markets its goods through third-party resellers that intentionally set the retail price.
And this is why Geotab FMS costs and fees will vary widely. Also, some resellers add additional functionality and add-ons to the program, charging an extra fee.
The Geotab package consists of an upfront fee for the tracking unit (Geotab GO) as well as a recurring monthly service payment.
The price is not listed on their website, but the price of the product varies from $79 to $199.99, as shown in a third-party resource.
Pros
User-friendly interface and no pairing process
Prevents accidents and Minimizes violations
Real-time access to information
Compatible with many platforms
Reduces administration costs
Improves CSA safety ratings
The great accuracy of logs
Simple installation
Cons
Historical trip tracking function needs improvement
A little tricky to Set-up maintenance reminders
A bit clunky maps
Free Custom Quote
View Geotab Full Review here >>
Samsara
Samsara is a fleet management web-based software that offers features such as dashboard camera, truck tracking, routing and dispatch, GPS tracking, and much more.
And they are thus helping small business owners and medium-sized fleets to track their vehicle position and control the conduct of drivers as specified in FMCSA and ELD regulations.
As one of the best in the fleet management software industry, the GPS gadget mounted displays the quickest driver routes and provides real-time traffic reports.
It also gathers and transmits information on vehicle performance, and inappropriate stoppages, fuel waste, breakdowns, to back-office managers.
To record the driver's working hours for ELD requirement and HoS reporting; the software uses the GPS tracker as well as other mounted sensors in the truck.
Samsara offers one subscription license per device a year, which includes comprehensive mobile, email, and ticket technical support.
School buses, Delivery vehicles, and trains, vans, and more can use the platform.
Product features include:
Documents
Maintenance
Real-time GPS
Wi-Fi hotspot
Developer APIs
ELD compliance
Trailer tracking
Reefer monitoring
Reporting & alerts
Safety & dash cams
fleet management routing software & messaging
Pricing
Pricing of Samsara fleet management software is only accessible by quote. To get a customized price for your fleet needs, you have to contact the company.
Pros
Comparatively easy to use
Modern, intuitive design
Plug and Play" hardware
Cons
Driver app sometimes freezes on a tablet
As claimed by some users, it sometimes drops the data connection
Free Custom Quote
View Samsara Full Review here >>
Conclusion
Fuel and salaries together contribute to more than half of the operating costs of an average vehicle, and hence the remaining half covers repairs, servicing inspections of emissions, and other operating expenses.
The cost appears to be significantly increased, however, if a GPS and OBD-equipped telematics system reduce fuel consumption by 15 percent plus overtime by 10-15 percent, vehicle usage, and efficiency can come to a different level. As a result, it makes it much easier for fleet management companies to do more with their fleet size.
And also allow the fleet company to spend less on predictive repair and maintenance activities and pay lower premiums. Moreover, we have helped many fleets in the U.S. to achieve this result with our consultation services.
Don't hesitate to fill out our free consultation form if you need help in finding the right fleet management solution for your fleet.
The solution for smart fleet management reduces greenhouse emissions, increases vehicle and driver safety, boosts customer experience, and much more. Basically, the system will change how you manage your fleets, and also help to cut costs and get more done with less.