(Last Updated On: October 30, 2023)
Fleet Management Software and GPS tracking make the management and working of the fleet super-efficient! Whatever the fleet size, you can save time and resources using fleet management software.
Let's dig into the role of fleet management in this fleet management software guide, and we'll also go through some of the best fleet management software tracking solutions.
Fleet management is the system fleet managers use to handle all information about the fleet and assets from procurement to disposal. It allows the company to keep costs down, improve performance, and enforce compliance throughout the entire fleet process.
Understanding Fleet Management: What does a fleet management system do?
A fleet management system guarantees commercial truck safety while reducing risks, improving productivity and efficiency, and maintaining compliance with legislation. Thus, with various challenges – procurement of vehicles, fuel management, maintenance of trucks, workplace safety, and compliance.
Fleet management should rely on robust vehicle fleet management software systems to ensure its objectives and reduce everyday task risks.
The Need for Efficiency: Why do you need a fleet management system?
Here are some of the reasons why we believe you need a fleet management system:
Fleet management software records all details about vehicles purchased or leased by your company. It records its specifications, maintenance information, service, and parts history, drivers, and related regulatory documentation. This related regulatory documentation includes licenses, taxes, fleet insurance, fuel purchases, and operating costs, eliminates all the administrative processes involved, and makes more sense of everything related to your fleet.

Logistics fleet management software can create reports, warnings, alerts, and emails. Thus, things are only getting faster and more efficient for your company, which could have been achieved in the past.

Fleet management GPS systems provide the business with unparalleled real-time tracking of all the company assets, making worker deployment more productive and straightforward.

And this helps the fleet manager accurately measure when the vehicle and driver arrive at their destination and how the driver can drive and handle the vehicle.

The integration of various technologies gives companies unprecedented control over their vehicle fleet operation and maintenance, regardless of size.
Making the Right Choice: What should I look for in a fleet management system?
Fleet management software can integrate with vehicle telematics and tracking to align driver performance with vehicle performance and specifications. At a basic level, it should perform the following functions:
Reporting

Geofences

Vehicle Disposal

Real-time alerts

Vehicle inventory

Additional services

Vehicle maintenance

Pool booking systems

Telematics and tracking

Insurance management

Vehicle cost management

Infringement management

Extracting data from a vehicle

Route planning and scheduling

Driver management and licensing
Most vehicles use a standard Fleet Management System interface to provide vast amounts of data according to what the vehicle does. And also, some other Management System solutions use their own proprietary hardware. Measured data may include the following:
Engine revs

Seatbelt use

Engine fluids

Journey distance

Service intervals

Weight on certain axles

Gear and clutch operation

Vehicle speed (from wheels and GPS)

Rates of deceleration – pedal position and brake operation
Other fleet management software is integrated with Electronic logbooks which can automatically log driving time and set break time alerts to ensure drivers comply with working time regulations.
Behind the Scenes: How does a fleet management system work?
A fleet management system utilizes 24 communications satellites to transmit data back to receivers via radio frequencies to determine the exact position and movement of the object. The GPS receiver will be mounted on the dashboard of commercial vehicles, typically in the form of a GPS locator beacon.
A GPS is available for all fleet management systems; all would have either GPS or GLONASS. Then the fleet manager can track and monitor the trucks in the fleet by accessing the data on a computer or by connecting to the internet at any time during the day or night.
There are two ways to manage the GPS information collected by each tracking device. It is immediately relayed to the tracker device for active trackers via the mobile phone network, which offers a live picture of where the location of the vehicle. The journey information is registered on the tracker itself with passive trackers and can be retrieved at a later point in time, typically when the vehicle comes back to base. Trackers will display a vehicle's speed and direction, and location.
Evaluating the Investment: How much does fleet management cost?
The advantages of fleet management software aren't just about compliance with the law; it will also improve a fleet's performance, operation, and safety due to its 24/7 real-time data tracking and analytics.
So what is the cost of fleet management software?
For a fleet of 10 vehicles/trucks, a fleet management system would cost about $35 a month, on average, per vehicle or about $3500-$6500 a year. This cost will vary considerably depending on your business needs; however, it will yield a bang for your buck that will justify your investment in a fleet management solution.
Above everything else, it is helpful to understand how much costs will vary depending on a company's size and requirements.
The top suppliers of the fleet management system will always tailor their charges to your business needs. As a result, this may make it more challenging to compare prices – to help, we suggest using our free consultation form, and we will help you find a suitable fleet management system for your business needs.
Emphasizing Maintenance: Importance of Fleet Maintenance and Management
Whether running a transport company or managing a public transportation fleet, you should not ignore your fleet's preventative maintenance. Fleet maintenance maintains the vehicles in good working condition to prevent vehicle breakdown.
Fleet companies have to deal with the growing market and tightening capacity in addition to other market problems such as driver shortages, rising fuel prices, and industry regulations. It would be essential to keep companies running seamlessly and sustainably while maintaining a safe, positive environment for drivers. And this will, in turn, allow the fleet manager to be capable of managing a fleet in its entirety, from both day-to-day operations and the big picture.
Safety has always been a priority for each business, and fleet management and GPS tracking systems are integral to building a safety-first business. Fleet management and GPS tracking systems help vehicle and fleet managers to track individually across the fleet for risky behaviors. Data generated by GPS tracking systems can also be used to create driver safety programs. And then, by integrating dashcam and safety analysis innovations, relevant training for safe behavior patterns can be created to bring about a better fleet.
Below are the benefits of putting in place a good fleet maintenance solution:
Driver safety
The safety of the driver is a vital part of any service. Management will take the appropriate measures to reduce the risk of preventable accidents on the road.
Most of the major causes of accidents include damaged tires and blowouts, faulty brakes, and issues with steering. All of these could be resolved by proper vehicle maintenance. Based on your operating requirements, preventive vehicle maintenance may be time-based (once a year) or after a specified mileage per vehicle has been achieved.
Reduces Cost of Operation
Especially in comparison to reactive repairs, routine Preventive fleet maintenance, and repairs costs are much lower. Having to pay for the implications of bad fleet maintenance costs is more than the cost of preventive maintenance.
"Road accidents cost businesses $60 billion for annual medical services, related legal costs, damage to property, and loss of productivity," according to OSHA. Fleet managers should conduct safety inspections to pinpoint repair and maintenance changes before they become a serious issue. And this will help to prevent downtime and work on improving your compliance with operating schedules.
Enhance Productivity
Business unscheduled downtime can trigger a domino effect leaving your operation reeling. Trying to compensate for a delayed delivery because of the breakdown of your fleet truck can postpone the fulfillment of continual obligations in the future. Whether you fail to deliver a particular product as planned to an expectant customer, your credibility and reputation in the brand will suffer. Using fleet maintenance and tracking software solutions can help you avoid fleet maintenance delays. And also, it'll increase your profitability by maintaining your fleet in good working condition throughout the year.
As a business owner, you can't steer a lot of business variables in your favor. Routine maintenance of the fleet is not one of these. Software for fleet maintenance reduces the possibility of vehicle breakdown caused by accidents and ensures drivers' safety. Once they transform into bigger ones, this saves you money by fixing the "small issues." With regular fleet maintenance, your company becomes even more efficient and productive when you use fleet maintenance software from a reputable company. A vehicle maintenance log will allow you to monitor a vehicle's condition and repair work.
Financial Aspects: Managing Fleet Costs – Leveraging Fleet Management Solutions for Savings
One of the essential services offered by fleet management providers is fuel management, a crucial avenue for cost reduction. Here are some ways that fleet management solutions contribute to substantial savings:
Fuel Management
Fleet management software is a powerful tool for controlling fuel costs. It enables efficient route planning and monitoring of driver behavior, which can lead to significant fuel savings. Many providers offer a range of fuel cards, payment cards exclusively for fuel purchases, as part of their services.
Vehicle Maintenance
Services vary among providers, but typically they include access to 24-hour repair technicians, regular maintenance, vehicle repair, inspections, and a network of maintenance and repair centers.
Regular vehicle maintenance inspections can be burdensome for businesses operating large fleets. However, with a comprehensive fleet management solution, these costs can be significantly reduced.
Fleet Security
Fleet management systems often include vehicle control mechanisms as part of enhanced safety functions. These systems are invaluable in recovering stolen vehicles and preventing unnecessary expenses from theft.
For instance, vehicle-based security systems allow fleet managers to monitor and gradually reduce the speed of a vehicle remotely, eventually bringing it to a stop.
Recommendations: Top Fleet Management Software Solutions
Let's explore some leading fleet management software solutions:
Motive (formerly KeepTruckin)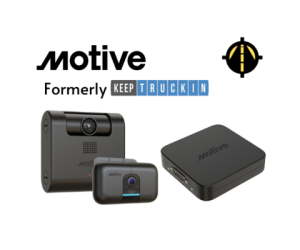 Motive (formerly KeepTruckin) fleet management software is integrated with GPS tracking, dashcams, and ELDs to move the fleet forward. The reason KeepTruckin changed its name to Motive is to better represent the vast products and services they offer in fleet management, telematics, GPS tracking and other related areas! Motive (KeepTruckin) started out as an ELD solution but is quickly gaining ground and becoming a major provider for Fleet Management Services. There are over 120,000 companies using Motive, from small businesses to Fortune 500 Enterprises.
You can use this FMCSA-certified solution to quickly and easily comply with regulations. Also, Fuel tax monitoring and vehicle safety inspections are among the top features of this fleet management solution.
Get Motive GPS Fleet Management for your Enterprise Here >>
And the comprehensive fleet management software dashboard of Motive (formerly KeepTruckin) allows you to track your fleet's activities accurately. You can reduce costs by monitoring unnecessary idling, vehicle safety, etc.
The fleet management software features include trucks and real-time GPS tracking of your fleet. Also, the video surveillance platform of this fleet management GPS software cuts down on accident-related costs and improves driver safety. Driver scorecards and insightful dashcams are the main features of this fleet management tracking software. Likewise, the company also provides an effortless-to-use driver app that tracks inspections of trucks, HOS, and much more.
Finally, this fleet management software programs solution is a powerful system that monitors all vehicle information and seamlessly integrates with the other fleet management software app.
Pricing
How much you spend on Motive's services will change based on how big your fleet is, the devices you pick, and the plan that fits you best. The Motive ELD has a price tag of $150, and you start to pay monthly fees of $25. Electronic logs can be free or cost up to $50 every month. For a tailored quote, it is necessary to get in touch with the sales department. The money you spend on hardware like dashcams and vehicle gateways can change. 
Motive also offers a Free plan, Subscription, and Free trial options. You can get the free trial and check out if it works for you or not before paying to buy it. 
Get Motive Deals Here >>
Pros
User-friendly
Easy to install
Fairly low cost
Advanced features
Cons
Strict contract
The dispatch can only edit logs
View Motive (formerly KeepTruckin) Full Review here >>
EROAD                                                                                                 
EROAD is one of the most sought-after fleet management and maintenance software that is trusted by fleet business owners. Its compliance services are top-notch, and electronic tax reporting is a great help to the transportation industry.
EROAD has the second spot because it focuses more on large institutional and enterprise fleet tracking and fleet management needs. It is outgrowing small businesses and has quickly grown to be a major player operating on a global scale. EROAD should seriously be considered by any large enterprise needing fleet management, telematics, GPS tracking, and other related services and products!
Get EROAD for Enterprises Here
While offering ELD services, the software follows FMSCA regulations. Electronic logging from the United States of America ensures the safety and security of the drivers, along with the alignment of their activities. This software offers everything from managing the drivers' hours of service to ensuring the highest possible security. 
Another great way through which this software serves the clients is by providing real-time vehicle diagnostics. It checks out the faults in the vehicles through fault code monitoring. Its software tools include fleet performance reporting in an extensive manner, giving information regarding driver behavior.
Pricing
This subscription-based software comes with a monthly price tag of $25.00 per vehicle. Upfront hardware purchase is a part of this plan. However, if you want to skip it, your plan will require you to pay at least $35 for each vehicle per month.

EROAD comes with various plans, and you can choose the one that suits you the most according to the in-vehicle hardware you will be using.  For a tailored quote, you'll need to get in touch with the sales department. It comes with varied plans for small, medium, and large fleet businesses. It also has a free trial, letting you decide whether to go for it. 
As an added bonus for our readers, we have been able to secure Special Equipment Discounts and Free Activation (usually $35/vehicle) for EROAD when you click and order from our referral link below:
Get Special Pricing and FREE Activation From EROAD
Pros
Helps save toll fee

Extremely easy to use

Offers innovative solutions to the users

Compliant with the regulations

Requires least vehicle downtime

Great customer satisfaction
Cons
Has limited geographical coverage globally
View EROAD Full Review here >>
SAP Transportation Management                                     
What sets SAP transportation management apart from other ELD software is that it provides the highest possible collaboration between fleet companies and their partners. These include suppliers, carriers as well as shippers. It aids in augmenting the efficiency and reliance in partnership. 
SAP Transportation Management also offers maximum control over logistical operations. No matter it's the planning part of the business or the execution, everything is done with the highest possible accuracy and efficiency. The software lets fleet businesses choose the best possible career for transportation. Real-time location tracking further makes it easier for the business traces the vehicle. 
Free Custom Quote
Pricing
Typically, it takes about 6-12 months to fully implement SAP TM, with consulting charges ranging from $800,000 to $1,500,000.
However, the overall cost the business would need to incur while using SAP Transportation Management depends on its scale of operations. 
Pros
Easy to use

Offers quick reimbursements 

Efficient freight management

Provides extensive functioning to the users
Cons
Too many steps make it tough to use the software.
Omnitracs
Omnitracs offers a robust range of fleet management services, including analytics tools, fleet management software as a service (SaaS) applications, and advanced commercial fleet-designed apps. This company is a leader in the software field for fleet management, and also its solutions help fleet managers boost performance and profitability.
Free Custom Quote
The mission of Omnitracs is to drive revenue to local and long-haul business owners, including fleets of all types and sizes. Fleets use vehicle management solutions worldwide to track activities, safeguard drivers, and optimize assets.
Fleet management solutions from Omnitracs help you meet customer demand efficiently and effectively while fostering compliant, safer driving habits and enhancing driver performance. Some of the benefits of fleet management software solutions are that they will allow your fleet to plan direct routes, collect and analyze data, and comply with the law.
Pricing
Pricing is given by a quote for fleet management software solutions from Omnitracs. It comes with four different plans. The EOBR plan starts at $24 per month and increases as the number of vehicles is added. The compliance plan starts at $27 per month; for the Performance Plan, users must pay at least $27/month.
The Premium Plan is all-encompassing, starting from $35 a month.
Pros
Intuitive Message Notification
Intelligent Voice Interface
1024 x 600 Touch display
Web browsing and Wi-Fi
Cons
Higher up-front cost and too expensive for owner operator
Users report that the device is slow
View Omnitracs Full Review here >>
Geotab
As a multinational telematics service, Geotab offers fleet leasing companies and businesses of all sizes that need fleet management with both hardware and software. The company has served small, medium, and large fleets across the U.S. for over 15 years.
Free Custom Quote
The Web-based hardware and software fleet management solutions of Geotab are dependable and exceptionally user-friendly. Geotab FMS can be tailored to meet the needs and requirements of any fleet. They can work in large or small fleets for heavy or light vehicles.
With Geotab fleet management solutions and ELD, you can reduce administration and traffic violation costs while increasing your CSA rating and service quality. Therefore, you can rest assured that your investment in telematics will pay off over the long haul. Also, you are going to be in full compliance with the law. Be careful, though, of resellers. Even though different third-party resellers supply Geotab's goods, buying an irregular unit is possible.
Pricing
The Geotab package includes an upfront fee for the tracking unit (Geotab GO) and a recurring monthly service payment. The software comes with four packages: Base, Regulatory, pro, and ProPlus. Each package offers different features, and the more features it has, the higher the price. There is no free trial for any of them. 
The base plan costs  $34.95/month, the Regulatory and pro plans cost $37.95/month, while PRO PLUS PLAN costs $39.95/month. 
Pros
User-friendly interface and no pairing process
Prevents accidents and Minimizes violations
Real-time access to information
Compatible with many platforms
Reduces administration costs
Improves CSA safety ratings
The great accuracy of logs
Simple installation
Cons
Historical trip tracking function needs improvement
A little tricky to Set-up maintenance reminders
A bit clunky maps
View Geotab Full Review here >>
Verizon Connect                                                            
Verizon Connect offers some really useful tools that make operating fleet businesses quite easy. This software works great when it comes to enhancing the performance of the workforce. It streamlines the communication between the managers and field workers, which are the vehicle drivers.
This software also aids in checking the behavior of the drivers as well as the maintenance of the vehicle. By identifying the unsafe practices used by the drivers and informing the management, Verizon Connect ensures the reduction of accidents and mishaps. The software tracks harsh driving and over-speeding. 
Real-time access to all data regarding the job makes it possible for the drivers to stay updated with all the information related to them. Another great benefit of this software is that it lets the clients know about the status of their service requests in real-time, which helps them trust the business easily. 
Pricing
The pricing depends on various factors, including the number of vehicles in the fleet, features selected by the user, the kind of tracking needed, and location. For its basic fleet management services, you would need to pay somewhere between $0.76/ day for a vehicle to around $40 per vehicle each month. Additional features such as fuel card integration or field service require additional payments.
As the volume of business increases, Verison lets business owners customize their plans as per their requirements. Verizon Connect also offers both a free demo and a risk-free 30-day trial. Get it here:
Pros
Real-time tracking of the performance and speed

Integrated with other apps and software easily

Monitors drivers' behavior and activities

Route optimization

Usage of advanced algorithms
Cons
A bit pricy

Sometimes there installation costs
View Verizon Connect Full Review here >>
Samsara
Samsara is a fleet management web-based software that offers features such as dashboard camera, truck tracking, routing and dispatch, GPS tracking, and much more.
And they are thus helping small business owners and medium-sized fleets to track their vehicle position and control the conduct of drivers as specified in FMCSA and ELD regulations.
Free Custom Quote
As one of the best in the fleet management software industry, the GPS gadget mounted displays the quickest driver routes and provides real-time traffic reports. It also gathers and transmits information on vehicle performance, and inappropriate stoppages, fuel waste, breakdowns, to back-office managers.
To record the driver's working hours for ELD requirement and HoS reporting; the software uses the GPS tracker as well as other mounted sensors in the truck. Samsara offers one subscription license per device a year, which includes comprehensive mobile, email, and ticket technical support. School buses, Delivery vehicles, and trains, vans, and more can use the platform.
Product features include:
Documents
Maintenance
Real-time GPS
Wi-Fi hotspot
Developer APIs
ELD compliance
Trailer tracking
Reefer monitoring
Reporting & alerts
Safety & dash cams
fleet management routing software & messaging
Pricing
Tailored pricing of Samsara fleet management software is accessible by quote. You can contact the company for a customized price for your fleet needs. According to our team's estimation, users may have to pay between $27 and $33 each month for each vehicle to subscribe to the software. As far as it's about the hardware purchase, it costs an additional payment of $99 to $148. 
Free trials are available for those who want to access this fleet management system before paying to buy it. For thirty days, the users can even install the hardware and check it's working for free.
Pros
Comparatively easy to use
Modern, intuitive design
Plug and Play" hardware
Cons
Driver app sometimes freezes on a tablet
As claimed by some users, it sometimes drops the data connection
View Samsara Full Review here >>

Teletrac Navman Director
Teletrac Navman Manager is a fleet management program that is used by fleet managers to facilitate real-time vehicle monitoring. The versatile visibility functions of fleet management software provide essential information like path, traffic, idle cycles, geofencing, and consumption of fuel.
Free Custom Quote
Fleet managers can transfer data to their drivers and dispatchers to provide them with the best routes to use, saving on fuel expenses and time spent at work. The Driver Management tool of Teletrac Navman Director will monitor and report instances of violations of overspeeding, extreme acceleration and braking, cornering, and stop signs.
This functionality helps to ensure drivers adhere to policies and procedures when on their own along their routes, an essential factor in ensuring compliance with internal safety standards and external fleet management software requirements. The 'Event Viewer' helps to ensure that drivers fill in detailed reports or that the software will replay the vehicle's recorded activities.
Powerful technologies such as these enable fleet managers to address inappropriate driving habits: and drivers are either educated or are forced to leave the company after reports for such acts. Another function, Vehicle Analytics, allows drivers, along with many other items, to test their vehicles for breaks or lights to guarantee the vehicles are safe to drive.
There is also a fleet management software online module of Director's Driver Vehicle Inspection Reports (DVIR) to allow drivers to submit their vehicle status reports and maintenance notifications without having to do paperwork. Also, this relieves drivers from energy-consuming tasks and, therefore more time to focus on their job's most important part.
Pricing
The fleet management software pricing of Teletrac Navman Director comes at just $25/ month. The free trial facility is unavailable with this fleet management and maintenance software.  However, there is no additional installation fee, which is definitely a huge benefit for businesses. Apart from this, a free demo also lets the business owner make the decision confidently. 
A 12-month warranty is also available that keeps the business owner on the safer side and lets them get great support from the company. 
Pros
Affordable
Ease of use
Good Customer support
Ability to monitor trucks/drivers and Track maintenance
View Teletrac Full Review here >>
Onfleet
Onfleet is a fleet maintenance organization that uses simple software to manage and evaluate local deliveries. In reality, they refer to and see themselves as a "delightful last-minute delivery service," embodying their commitment to excellence in the final mile of delivery.
Their wide array of services includes fleet management and GPS tracking systems that ensure efficient routing, real-time tracking, seamless shipping, in-depth analytics, and much more, all aimed at optimizing last-mile deliveries. These features transform logistics operations by integrating cutting-edge technology and data-driven strategies.
Free Custom Quote
Noteworthy features of Onfleet's software include accurate Estimated Time of Arrivals (ETAs) and real-time alerts that keep both the management and the customers informed. The software's route optimization capabilities help save time and fuel, while the color-coded status feature offers a quick overview of fleet operations. Further, Onfleet extends its support to international operations, catering to the needs of global businesses.
The software also provides key metric monitoring and boasts a robust fleet maintenance dashboard that is both fast and easy to use. For improved customer interactions, it enables the instant delivery of customer text messages. Plus, it offers a variety of integrated apps designed specifically for fleet maintenance. Onfleet's software is an invaluable tool for truck drivers, providing a straightforward means to contact delivery recipients and collect proof of delivery. This comprehensive suite of features makes Onfleet an all-in-one solution for effective fleet management and maintenance.
Pricing
Onfleet is a subscription-based software that offers a free trial to users. It comes with four plans: starter, basic, premium, and professional. For the starter package, you need to pay around $149/month; the basic plan requires a payment of $349/month; the premium plan costs around$799/month, while the professional plan asks for a payout of $1999 each month. 
There is a 14 days free trial period available for all the plans!
Pros
Accurate Etas

Real-Time Alerts

Route Optimization

Color-Coded Status

International Support

Key Metric Monitoring
Cons
Doesn't offer many customization options
View Onfleet Full Review here >>
Azuga 
Azuga is an outstanding fleet management and maintenance software that can help you manage your fleet efficiently. This powerful tool not only ensures the safety of your vehicles and drivers, but also offers a wide range of impressive features that cater to businesses of all sizes.
The best part about Azuga is its adaptability to different business scales. Whether you own a small fleet business with only a few vehicles or a large-scale operation with numerous drivers and assets, Azuga is the perfect platform for you. Its real-time tracking capabilities provide an increased level of security for your valuable assets, ensuring that your drivers and vehicles are always protected.
Free Custom Quote
In addition to its core tracking features, Azuga offers various other tools that can greatly enhance your fleet management experience. For instance, it includes advanced analytics that help you monitor driver behavior, optimize fuel efficiency, and reduce maintenance costs.
Furthermore, its user-friendly interface ensures that both fleet managers and drivers can easily access the information they need. Azuga also focuses on the safety and well-being of your drivers by providing features such as driver scorecards, which evaluate performance based on factors like speeding, hard braking, and rapid acceleration. By identifying areas for improvement, you can effectively promote safer driving habits and reduce the risk of accidents.
Pricing
Azuga has three pricing plans, and you can choose the one that suits your requirements best. These three plans are Basic Fleet, Safe Fleet, and Complete Fleet. All these plans have distinct benefits and advantages associated with them.
You can get a customized quote for yourself through the company's interactive pricing modules. The prices depend on the kind of vehicles that need tracking, the total number of vehicles in the fleet, and the main features you want to get benefit from the software. 
Pros
Real-time GPS tracking

Provides vehicle health data

Comes with an easy-to-use mobile application

Comes with the geofencing feature
Cons
Unsatisfactory customer support
A bit expensive, especially for smaller businesses
Conclusion: Summing up the Importance of Efficient Fleet Management
Fleet management gets super easy with the help of Fleet Management and Maintainance software. With regular detailed information about the vehicle-specific location and job progress from fleet maintenance and management solution, fleet managers can access the data and keen insight to optimize processes in one centralized location.
Likewise, various data points provided from fleet maintenance solutions to fleet managers enable them to leverage key metrics. For example, the use of vehicles, driver behavior and idle times, and finding answers to profitability questions. Throughout the working day and in real-time, fleet managers are, therefore, able to make changes and boost operations processes.
A more functional fleet would be a more cost-effective fleet that uses a maintenance management solution. Thus, fleet managers can detect and address inefficiencies from driver behavior to unnecessary idling or over-average fuel usage.
Please fill out the questionnaire below so that a specialist can help you get the appropriate Fleet Management, Telematics, or GPS Tracking product or service that best fits your company's needs. After you fill out the questionnaire below, a sales consultant will contact you shortly