(Last Updated On: May 26, 2022)
Fleet Management Software (FMS) is a system that allows businesses and organizations from a single data portal to manage, organize and coordinate their work assets.
The ultimate goal is, therefore, to maintain the smooth operation of the fleet by:
keeping costs down
improve performance
helping to ensure compliance with rules and regulations
How Fleet Management Solutions Can Help?
FMS's primary purpose is to track, collect, store, process, report, and export data.
Our fleet management solution reviews show that FMS is a powerful tool if your company or agency operates a range of vehicles. In this case, a fleet management tool is an essential part of your operation.
With today's growing quantities of vehicle-related legislation and the growing number of truck companies having to manage, FMS has assumed a more critical role.
Businesses with the following activities may take full advantage of an FMS system:
Field services
Companies that are providing services to the public such as utilities (power, water, cable, ISPs), professional home services (plumbing, HVAC, electrical), and engineering (trucks, construction equipment).
Transportation
Ride-booking services, drivers of public buses and taxis, car rentals, and haulers.
Cargo and delivery
Long-haul trucking (tankers, cargo trucks) and parcel/package delivery systems.
Financial institutions
Business fleet and armored vehicles.
The fleet management solution has four primary functions.
1) Fleet management
Handles and simplifies tasks, processes, and events related to commercial vehicles such as fleet inventory; maintenance; identification, licensing as well as tax; insurance of vehicles involving restrictions and dates; econometric analysis; and disposal of vehicles.
2) Driver management
This Includes licensing, fines and violation reporting, driver scheduling and booking, and driver performance.
3) Emergency management
This Includes all fines and injuries and the distribution of driver expenses.
4) Monitoring
Includes telematics, route planning, working hours, logbooks, notifications, and alerts.
How to Choose the Best Solution to Manage Your Fleet?
There are many dot-compliant fleet management software and tools currently on the market.
And also, most software vendors for fleet management will, of course, promote their service as the most suitable for your company.
No one knows better than you. You know what works best for your company.
Therefore, it is essential to pay attention to yourself when you are searching for the best enterprise fleet management technology, bearing in mind your specific needs, not those of the vendors.
We can help you in your decision by offering you a free consultation, please fill the form below to provide you quotes based on your personal needs:
Here is some relevant information providing you with an overall picture of what you need to do.
Sign-Up for Free Trial
The first reasonable, appropriate course of action is to register with famous vendors for at least a few free trial plans or demo.
With this approach, you will also have the opportunity to discover the key aspects and compare the software solutions' capabilities.
Read Reviews
Another logical step to take is to try the list of services in our enterprise fleet management reviews.
Typically, these reviews of fleet management public companies do carry input from real customers, so it's nice to hear those positive software experiences as well as downsides if any.
Another reasonable solution would be to try out many of the free FMS solutions offered by some freemium and free apps vendors.
What Are the Important Features of Fleet Management Solutions?
Businesses that rely on vehicles to distribute goods need fleet management solutions to control costs, minimize risk, boost productivity, and continue to comply with government regulations.
As we said earlier, FMS streamlines all fleet-related processes and operations and manages everything, including driver safety and vehicle quality to overall customer satisfaction and company productivity.
Our in-depth reviews show that objectives of fleet management and key features include:
Fuel Management
Fleet Maintenance
Cargo Optimization
Vehicle Information
Driver Management
Inventory Management
Inspection Management
Dispatch, Scheduling & Routing
GPS, Vehicle, Accident, Mileage Tracking
Fleet Management Solution and ELDs
GPS tracking systems mainly track fleet's vehicle locations, while fleet management software provides a range of features, typically including ELD compliance, or dot-compliant fleet management software with the primary objective of providing the fleet owner with as much power and knowledge as possible to conduct their business.
GPS tracking, in other words, is a sub-set for fleet management. Any enterprise fleet management solution should be able to monitor the location of the vehicle
Not all FMSs comply with ELD; however, most fleet management software vendors have ensured that their dot-compliant fleet management software offers the option due to the requirement that all HOS must be recorded through ELDs.
Therefore, you must ensure that your FMS complies with ELD before committing to it.
What Makes a Big Fleet?
The country's majority of vehicle fleets consist of more than 200 vehicles or less – more often than not, less than 25 vehicles.
5-vehicle fleets can gain as much from an FMS as those with thousands of vehicles.
However, some enterprise fleet management vendor's software can support larger fleets than many others.
If a fleet management solutions company is equipped with a sufficiently large group of developers and customer support professionals, thousands of vehicle fleets can be supported.
The FMS is supposed to track vehicles, such as cars, trucks, and vans; however, some companies also provide businesses with additional asset tracking technology to track various valuable items.
These may be assets such as warehouses or vulnerable hardware or may require extensive data tracking, such as refrigerated units that need to be held below a specific temperature.
Be honest and ask whenever inquiring about what fleet management software features might be appropriate for your specific vehicles or assets.
Fleet Management Software Pricing
Fleet management software pricing is varying.
Basic FMS service plans are likely to cost between $3-$25 a month per vehicle; however, comprehensive FMS plans cost approximately $30-$50 monthly per vehicle.
Some variables that may influence your offers include your fleet size, the features you demand, as well as whether the vendor needs you to provide additional hardware — you may need to purchase tablets for each one of your drivers if the FMS vendor does not supply them.
Additional cost-impact options include licensing and owning the hardware devices, purchasing the cheaper plug-and-play devices, and springing for the hardwired devices that need to be mounted.
For more information, fill out our consultation form for a range of custom quotes from top software companies for fleet management.
The FMS must pay for itself when used as fuel consumption, harsh driving accidents, and unneeded overtime could all be minimized more comfortably once they are tracked 24/7.
Reliable Brands Vs Affordable Brands – No Size Fits All
There are plenty of great choices for anyone searching for fleet management solutions.
In each of the five fleet management software companies in the USA we reviewed, we found much to like, and the bottom line is that almost every fleet management solution would be perfect for a particular audience.
Ultimately, in this fleet management public companies review roundup, we recommend you look at every resource and make your purchase decision depending on your needs.
With this in mind, some technology for fleet management is better suited for small to medium-sized businesses (SMBs) than many others.
Some enterprise fleet management providers may offer service to customers at a lower price, but it's important to remember that you get what you're paying for.
You would like to guarantee that when you implement any business software, it should solve your issues and should also provide the most accurate and reliable information.
It is therefore not recommended to choose fleet management solutions just because it's the cheapest. It may lack some key features that its expensive competitor has.
And we are here to help you if you get stuck, and can't figure out which one is suitable for your business. Kindly fill our consultation form, and we will get back to you in no time.
5 Best Fleet Management Systems That Include ELD
1. Motive (formerly Keep Truckin): best overall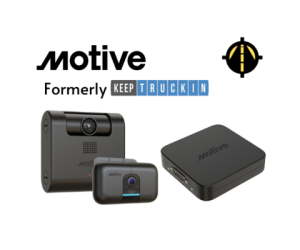 Motive (formerly Keep Truckin) is a one-stop-shop for every fleet size searching for an integrated Fleet Management System (FMS), available with ELD compliance Field Service Management and Asset Tracking add-ons.
Prices are slightly higher than the average FMS provider but appropriate for the latest features.
Motive (formerly Keep Truckin) Core Features
A live map, reporting and analytics, engine status indicators, replay capability, interactive maps, geofencing capabilities, and fleet and ELD tracking features, increased fuel efficiency, increased productivity, and lower expenses, as well as ensure safety measures and help compliance with the law.
Also, draw virtual boundaries around any geographical area and get notified when a vehicle or trailer crosses a geofence to avoid unauthorized use or theft.
User Review of Motive (formerly Keep Truckin) Fleet Management Solutions
User commended features such as geofencing, maintenance scheduling, real-time job notifications, and reports – all contained in a single platform.
One user said he received real-time vehicle updates from the tracking option. He also pointed out that the maintenance tracking feature allows him to schedule repair or check-up vehicles.
Customers that provided a negative review on Capterra reported with their inferior customer service team that cannot address their concerns.
Pros
Real-time visibility
Best for fuel savings and efficiency
Solar or cable-powered option
Comprehensive view
Easy installation
Additional features
Geofence Alerts & Report | Dormancy Alerts & Report | Utilization Report | Engine Hours Report | Inventory Report | Groups | TMS API Integration
Limited offer >>  Get Motive (formerly Keep Truckin) here and get a free ELD & Dashcam
2. Geotab: a recognized brand
As a multinational telematics service, Geotab offers fleet leasing companies and businesses of all sizes who need fleet management with both hardware and software.
The company has been serving small, medium, and large fleets across the U.S. for even more than 15 years.
The Web-based hardware and software fleet management solutions of Geotab are dependable and exceptionally user-friendly.
Geotab FMS can be tailored to meet the needs and requirements of any fleet. They can work in large or small fleets for either heavy or light vehicles.
With Geotab fleet management solutions and ELD, you can reduce costs of administration and traffic violations while also increasing your CSA rating and service quality.
Therefore, you can rest assured that over the long haul, your investment in telematics will pay off.
Also, you are going to be in full compliance with the law. Be careful, though, of resellers.
Even though different third-party resellers supply Geotab's goods, there is a possibility of buying an irregular unit.
Pricing
As previously stated, this fleet management careers markets its goods through third-party resellers that intentionally set the retail price.
And this is why Geotab FMS costs and fees will vary widely. Also, some resellers add additional functionality and add-ons to the program, charging an extra fee.
The Geotab package consists of an upfront fee for the tracking unit (Geotab GO) as well as a recurring monthly service payment.
Price is not listed on their website, but the price of the product varies from $79 to $199.99, as shown in a third-party resource.
User Review of Geotab Fleet Management Solutions
Consumers that provided a positive review to Geotab said it enables them to handle vehicles and drivers efficiently through fleet monitoring, fuel economy tracking, and guidelines for safety and regulation.
They also applauded their supportive customer support team and their onboarding procedure.
Likewise, user commended their regulatory requirements compliance monitoring tool for guaranteeing the safety of all the fleets they manage.
Pros
User-friendly interface and no pairing process
Prevents accidents and Minimizes violations
Real-time access to information
Compatible with many platforms
Reduces administration costs
Improves CSA safety ratings
The great accuracy of logs
Simple installation
Cons
Historical trip tracking function needs improvement
A little tricky to Set-up maintenance reminders
A bit clunky maps
Custom Quote
3. LiveViewGPS
LiveViewGPS Tracking has always been a fully-featured Fleet management software intended to serve small and medium-sized businesses, startups.
The company Monitoring offers Windows-based end-to-end solutions.
As one of the reliable online fleet management systems, the company provides one-place mileage tracking, fuel management, employee management, routing, and GPS tracking.
LiveViewGPS FMS allows users to see where their assets were from any Internet-connected device or telephone.
The user also receives real-time notifications massage for speed, hard braking, and hard turns.
The platform allows all vehicle-related information to be collected and transmitted for reporting purposes.
Pricing
LiveViewGPS provides four trackers for different spending plans and application needs.
G5 Live GPS Vehicle Tracker – $239.00 with monthly plans of $29.95/month
RTV5 Live GPS Vehicle Tracker- $239.00 with monthly plans of $29.95
VLS 300 Real-time GPS Tracker – $239.00 with monthly plans of $19.95
RTV20 Garmi Capable – $249.00 has various monthly plans
Pros
Asset live track anywhere via pc or smart phones
Predict and pin point deliveries
Great live reporting
Idle time Alert
Cons
Occasional lag in updates
A little complex to navigate through the reporting area
At times, even when the vehicle is turned off, it shows that the vehicle is on for the next half hour
Custom Quote
4. GPS Insight
GPS Insight is a customizable fleet-based business GPS tracking technology.
Its features typically involve dispatch and routing, maintenance tracking, and vehicle and mileage tracking.
These enterprise fleet management features typically involve dispatch and routing, maintenance tracking, and vehicle and mileage tracking.
User Review of GPS Insight
Customers that provided a favorable review to GPS Insight said it was easy to use.
Most of them also highlighted many features like their tools for regulating and customizable reporting, tracking compliance, and job scheduling.
Their outstanding customer service has also been commended. Users said that their personalized vehicle reports offer insights to reduce vehicle over-speed as well as accidents significantly.
They also said the user-friendly interface enables them to execute daily tasks efficiently.
Customers who provided a negative comment to GPS Insight recommended improvements to their maintenance features and mileage tracking.
Several customers have also complained about the glitches in this enterprise fleet management app.
Other users also complained that it is not tracking the vehicle mileage accurately. They indicated that it sometimes has a discrepancy of 2,000 miles which affects the tracking of their vehicles.
Pricing
GPS Insight pricing varies from $19.95 to $29.95 depending on course on your tracking needs ' level of complexity.
The tracking of assets starts at $14.95 a month.
Installation takes place at an extra cost, the average per vehicle installation varies between $75-$100 based on the type of vehicle how hidden the GPS solution needs to be, and whether there are other add-ons to be added like ELD.
Pros
Ease of use
Reports are easy to generate
Functionality as well as customer service support
At any time, you can check the progress of any drivers in your fleet
Cons
GPS asset tracking devices Batteries need improvement
Custom Quote
5. Fleet Complete
Fleet Complete offers solutions for fleet management for fleet leasing companies and businesses of all sizes.
The features have included the management of dispatch and driver vehicle tracking, mileage monitoring, and more.
With this fleet management solution, you can keep track of your truck, supplies, driver, and cargo throughout the day with both the full range of features Fleet Complete provides.
The unparalleled vision tool of the solution streams feeds to your screen from the dashboard camera.
It helps you to track the actions of your drivers on the road and sometimes even allows them to make the right driving decisions.
The company also fine-tunes your workflows for delivery and distribution. It gives you electronic forms that can be presented to customers by your drivers and digitally signed.
With this, on-site reporting can be reduced, and field productivity improved.
You can guarantee the safety of your employees, and keep your customers happy.
Fleet Complete User Review
Customers that provided a favorable review to the company said it helps them to track their fleets accurately including their respective job assignments.
Likewise, some users stated that the customer notification system enables them to improve their business operations.
They gave Fleet Complete a positive review on Software Advice and said it helps them to track their fleet in real-time and track all processes.
They also praised fleet complete field staff management tools which enable them to track and assign jobs more effectively.
On the other hand, other customers that provided a negative comment to Fleet Complete complained of mobile app crashes and bugs that trigger job completion delays.
They also mentioned inaccurate route forecasts disrupting their schedules of delivery.
Others said their GPS tracker is unreliable and has problems logging mileage as well.
Also, they stated that the issue could not be addressed by the fleet's complete customer support team.
Pricing
Fleet Complete pricing on its website is not generally available.
Pros
Fast response
Accuracy of GPS
Simple user-friendly dashboard to get all the info you need
Cons
Reporting times were very long and annoying
Custom Quote
Conclusion
For functions such as route planning, mileage recording, and fuel monitoring, fleet management solutions were primarily a pen and paper operation in the not-so-distant past.
For those who need fleet management solutions, it eliminated manual methods that consumed time, money, and resources, except giving business owners barely adequate control over fleet procedures.
Big business and many startups know what is fleet management in logistics means; it automates most of the operations, simplified related procedures, and even offered real-time insights to enhance driver and vehicle management.
We have summed up Today's 5 Best Fleet Management Solutions and clarified some of the key features.
The next logical step would be to know which fleet management solution will be suitable for your company.
You can use our simple consultation form to get quotes to make things easy. It requires just a couple of minutes to work out the details of your business ' size and needs.