(Last Updated On: September 23, 2023)
Imagine a world where technology doesn't just simplify our lives but also sustains our planet. Picture this: a dash cam, poised perfectly on your windshield, drawing energy from the sun and recording life's journeys, all without a tangled mess of wires.
It's like combining the sleek aesthetics of a wireless future with the green promise of renewable energy. Sounds fascinating for any modern driver, right?
The Quest for the Perfect Solar Dash Cam
The auto accessory especially the dash cam world is buzzing. Brands like Motive, Peoplenet, and Samsara are racing ahead, always inventing to fit the ever-changing desires of today's drivers.
But, in the glittering array of offerings, a genuine solar-powered dash cam is oddly missing. Why?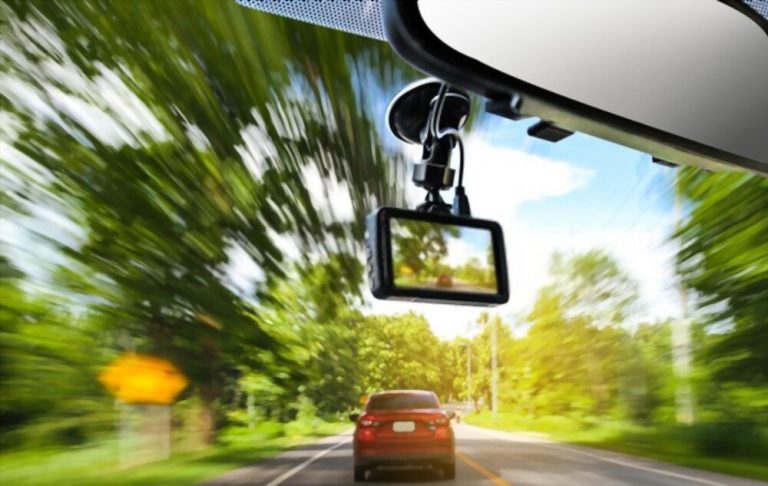 At first glance, a solar dash cam seems like the dream combo of high-tech and green living. As people become more eco-aware and tech-hungry, you'd think this gadget would be on every dashboard.
Drivers dream of a setup where the dash cam, once installed, takes care of itself — charging during the day, recording during their journeys, and conserving energy at night.
It paints a picture of a harmonious blend of utility and sustainability. But, as we dive deeper, we discover some hurdles that might just explain this noticeable absence in the market.
The Solar Dash Cam Dream: What's Holding It Back?
The concept of a solar-powered dash cam is a nifty idea, but there are a few bumps on the road to making it real. Let's delve into why.
Solar Efficiency & Size Limitation: The first hurdle is the relationship between the size of the solar panel and its efficiency. For a dash cam to function effectively, it requires a constant power supply. To generate adequate power, the solar panel would need to be considerably large. However, increasing the size isn't feasible for a compact device designed to discreetly fit in a car.
Finding the Right Spot: Dash cams usually sit snugly behind the windshield, capturing the road ahead. But here's a twist: many car windshields are designed to block some sunlight to keep us safe from harmful rays. This means they can unintentionally prevent a solar dash cam from soaking up all the sun it needs to function.
Battery Challenges: The inconsistency between power consumption and solar charging is another vital issue. A dash cam, especially those with advanced features, can consume a significant amount of power. Even if we assume a solar panel's optimal performance, it might still struggle to charge a battery as quickly as the camera drains it, especially during nighttime or cloudy days.
Alternative Solutions and Workarounds
While the dream of a pure solar-powered dash cam remains elusive, some enthusiasts haven't given up. The DIY community has explored ways to merge solar technology with dash cams, albeit with separate components.
For instance, using solar trickle chargers or auxiliary batteries. These chargers can be placed in areas with maximum sun exposure, like the rear parcel shelf, and connected to the dash cam. They work to top up a car's battery, indirectly supporting the dash cam's power needs.
While this isn't a direct solar solution for the dash cam, it's a step towards integrating solar power into the vehicle's ecosystem, suggesting that the quest for the perfect solar dash cam isn't over; it's just evolving.
Our Top 3 Recommendations
The dash cam market is flooded with options, which can make selecting the right one a daunting task. While there aren't any true solar-powered dash cams available as of now, some innovative users do pair regular dash cams with separate solar panels. But, let's not let solar be the sole deciding factor.
The following three recommendations aren't solar-powered, but we've selected them based on their battery life, reliability, and overall performance. Their battery-powered mechanism ensures longevity and consistent recording, making them ideal, especially for truckers keen on safeguarding against false accusations and mishaps. Here are our top 3 picks:
Vantrue X4S Dash cam
Blueskysea 4K Dash Cam
PAPAGO! GoSafe S780 Dash Cam
Best Overall: Vantrue X4S Dash Cam
When diving into the realm of dash cams, the Vantrue X4S Dash Cam effortlessly claims the top spot on our list. With options for both dual and single dash cams, its offerings are not just about capturing visuals, but also about an immersive technological experience.
Its sleek design is tailored for the passenger's side, exuding modern elegance. Beyond its looks, it shines with built-in 5GHz WiFi and a dedicated "Vantrue Cam" app for both iOS and Android.
This enables live video streaming right to your phone. With impressive 2160p and 1440p resolution, loop recording, and an optional GPS for location data, it doesn't miss a beat. Plus, the user-friendly app allows easy sharing on social platforms like YouTube and Facebook. While it might not be solar-driven, the Vantrue X4S Dash Cam perfectly marries quality with connectivity, landing it our top spot.
Best Design: Blueskysea 4K Dash Cam
The Blueskysea 4K Dash Cam by AODE stands out in the crowded dash cam market with its impressive array of features. Though it doesn't truly use solar power, this model compensates with top-tier attributes: crisp 4K resolution, night vision, a 3.16″ IPS widescreen, built-in GPS, and Wi-Fi. It's designed for the driver's side and has optional rear cams, coupled with advanced buffered parking mode and loop recording. Notably, its emergency lock feature ensures crucial moments, like sudden impacts, are securely saved.
The compact design ensures the camera doesn't block the driver's view, while the 120° wide-angle lens captures 4-lane traffic without the common fish-eye distortion seen in some cams. Its robust technical specs, including a Sony STARVIS IMX415 8MP sensor, solidify its place as a top choice.
In essence, the Blueskysea offers a compelling blend of quality, tech sophistication, and ease of use, even without solar capabilities.
Best Value: PAPAGO! GoSafe S780 Dash Cam
If you're on the hunt for a dash cam that nails both affordability and performance, the PAPAGO! GoSafe S780 should top your list. This dual-channel marvel captures both front and rear views with clarity, ensuring every angle of your drive is covered. Its front camera shines with the Sony STARVIS Sensor, known for brilliant low-light recording, while the rear camera, powered by the Sony Exmor sensor, offers a vast 180° view and comes with an IPX7 waterproof badge.
Other stellar features include loop recording, motion detection, and a generous storage capacity, supporting up to 128GB microSD, with a 16GB card included to get you going.
But the GoSafe S780 doesn't stop at recording. Prioritizing driver safety, PAPAGO! equips this model with unique driver assist tools, from recognizing stop signs to alerting fatigued drivers. Its sharp visuals from the SONY Starvis sensor combined with a 150° ultra-wide-angle lens ensure you miss nothing on the road.
Amidst a sea of dash cam options, the S780 stands out, reflecting PAPAGO's dedication to blending top-notch quality with innovation, all without breaking the bank.
Things to Consider When Purchasing a Dash Cam
Solar-powered dash cams sound like the future, but as of now, they haven't quite arrived on the scene in a big way. Still, if you're in the market for a dash cam, here's what you should focus on, even if sun-powered models are not quite a thing yet:
Many dash cams, especially the newer models, might have limited internal storage and lack SD card support.
Continuous recording can quickly fill up the memory, requiring cloud storage solutions or frequent manual data transfers. It's vital to regularly delete unnecessary footage to free up space or consider investing in cloud storage options if your device supports it.
Dash cams can suffer from overheating. Traditional lithium batteries are susceptible to heat, with potential risks like explosion if they exceed safe temperatures.
Opt for brands that offer capacitors instead of regular batteries or include safety features like temperature sensors that automatically shut off the device in excessive heat.
The lens of the camera should provide a large field of view with the great video quality. This is the first and foremost purpose of a dash cam to provide a detailed recording of the surroundings and inside of the car. So if an unfortunate event happens, it becomes clear who was responsible. 
Along with large storage, battery, and other features, good video quality and wide angle of the camera is also necessary so that no blind spot remains around the car.
Always check local regulations concerning dash cam installations. Some areas might have restrictions on mounting objects on your windshield, including potential future solar panels for dash cams. Familiarize yourself with these laws to avoid potential fines or legal complications.
Putting It All Together
Dash cams have become a pivotal tool for safety and accountability on the road.
The idea of a solar-powered dash cam holds promise for sustainable and continuous recording, but while we wait for technology to catch up with our hopes, it's crucial to find a dash cam that meets your needs. This means prioritizing video quality, storage options, safety features, and compliance with local regulations. When these boxes are ticked, you're on your way to a safer and more secure driving experience.