(Last Updated On: April 13, 2023)
Are you frustrated with the complicated installation process of your dash cam and all the wires attached to your car? Most of the people are. But the good news is that there is a way around it with Solar Powered Dash Cam.
Solar Powered Dash Cam is completely wireless. Its design is simple and easy to install. The solar-powered dash cam comes with a solar panel that will attach to your car's windscreen along with the camera with the help of double-sided tape or some other mounting material.
Solar Powered dash cams are becoming popular because of their simple setup and large battery capacity. Many brands like Alkie, Auto Vox, and Aukey are offering good deals for solar-powered dash cams.
Components of Solar Powered Dash Cam
The solar-powered dash cam consists of a battery or power bank. A solar panel is attached to the battery or comes separately, depending on the brand. The camera is attached to the power bank with a small wire which is the only wire you will see with this dash cam.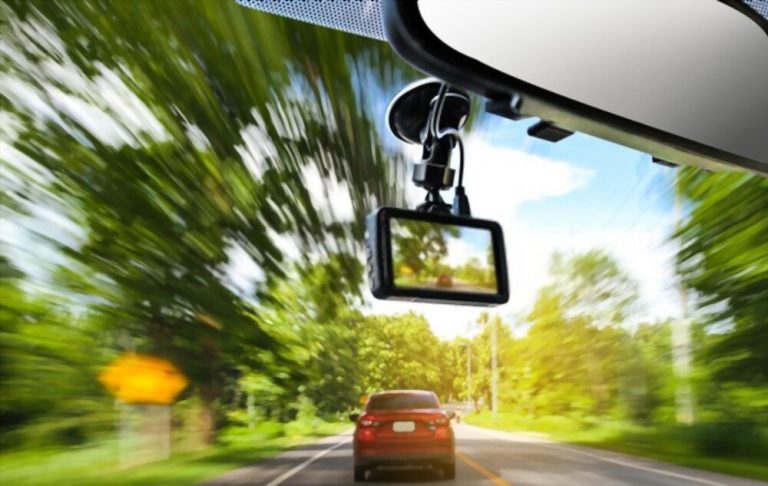 Double-sided tape and a suction cup are present to attach the solar panel and camera to the windshield, respectively.
The battery capacity of the solar-powered dash cam is quite large, and this is why more people are opting to buy it. Due to the large battery and night vision, the camera works perfectly during nighttime and while parking. 
So the battery life will never be an issue for this dash cam, but you do need a spacious SD card to save all the data.
Technical Specifications
| | |
| --- | --- |
| Feature | Specification |
| Battery | 18000 mAH |
| Video Resolution | 480p |
| Night Vision | Yes |
| Parking Assistance  | Yes |
| Dual Camera | Yes |
| Solar Panel | External or Built-in |
| Built-In GPS | Not present |
| Waterproof | Yes |
| Wireless | Yes |
How Does it work?
The working of the solar-powered dash cam is simple and easy. The photoelectric cells in the solar panel absorb sunlight and charge the battery of the dash cam during the daytime. The battery gets charged enough to work smoothly during the night and when the car is parked.
The power bank or battery of the dash cam has many USB ports and allows you to charge your phone even when the engine is turned off. Mostly the solar panel is attached to the battery, but in some cases, they come separately. 
You can set the solar panel anywhere inside or outside your car where abundant sunlight is shown. Some solar panels can be attached to the car's number plate instead of the windshield. The solar panels come fitted in the shape of the car's number plate.
Cost
The price of a solar-powered dash cam offered by most brands is $100 to $200. And considering all the features that a standard solar-powered dash cam provides, the price is more than justified. This dash cam single-handedly solves the problem of complicated installation, wires, and battery capacity. 
The price can vary with additional features. Some drivers add or redact some components of the dash cam to modify the design according to their needs. This will change the price automatically.
Is Solar-Powered Dash Cam Worth It?
At first glance, a solar-powered dash cam is the best solution to many problems drivers face related to dash cams. For instance, features like installation, reasonable cost, long battery life, camera recording during parking mode, night vision, etc., all are present in a solar-powered dash cam.
But still, it may not be for everyone, and there are some things that need to be considered before buying a solar-powered dash cam. Because this technology is relatively new, there are some technical issues that a driver may face with this dash cam. Following are the advantages and disadvantages of using a solar-powered dash cam.
Advantages
Clear-cut view of the surrounding with high-quality video

Both cameras are adjustable.

Mono-crystalline photoelectric solar plate.

Waterproof design so that heavy rains are not an issue to the components of the dash cam.

The battery capacity is large, so it works even when there is no sunlight. 

Clear night vision and parking assistance. The camera works even when the engine is turned off.
Disadvantages
Mounting material might not work. Most cameras are attached to the screen by suction cups that get loose, so securing the camera can become a problem.

The battery gets overheated. Lithium batteries might explode due to prolonged exposure to sunlight.

Signal transmission gets slowed down in larger vehicles.
Our Top 3 Recommendations
With so many dashcam models available, it can be overwhelming to choose the right one. Our top 3 recommendations for the best dashcams based on their features, reliability, and affordability. These are especially useful for truckers who want to protect themselves from false claims and accidents. Whether you are a trucker or an everyday driver, these dashcams are sure to provide you with a high-quality recording of your journey.
Vantrue X4S Dash cam
Best Solar-Powered Dashcam
Blueskysea 4K Dash Cam
PAPAGO! GoSafe S780 Dash Cam 
Things to Consider
Most solar-powered dash cams have low storage capacity and no SD card. Because the battery works long time, it records long videos which need to be saved on the cloud automatically. If they are not saved, the data will be deleted by the system because of no space.
To solve this additional problem fee has to be paid to buy cloud storage so that long videos and recordings can be saved. Useless recordings should be deleted constantly so that extra space can be spared.
The battery gets overheated even if it is not being charged from the solar energy. The lithium battery (a commonly used battery) has the tendency to explode when heated beyond a certain temperature. With a solar-powered dash cam, this is a major problem.
Make sure that your panel is not overheated. There are also different brands of dash cams in the market which offer capacitor batteries that do not have the overheating issue. Some batteries also have a sensor that allows the battery to shut down in case of extreme temperature. So invest in a brand that provides these features.
The lens of the camera should provide a large field of view with the great video quality. This is the first and foremost purpose of a dash cam to provide a detailed recording of the surroundings and inside of the car. So if an unfortunate event happens, it becomes clear who was responsible. 
Along with large storage, battery, and other features, good video quality and wide angle of the camera is also necessary so that no blind spot remains around the car.
The traffic rules vary from area to area. So before installing your solar-powered dash cam, make sure there is no law against mounting a solar panel on your car. You can check this online or go to the local auto department to get complete information on the subject. Once you are aware of the laws, buy the type of dash cam that is allowed by the traffic police department.
Conclusion
Buying a dash cam is essential, and most of the state's traffic laws have made it mandatory. The whole purpose of a dash cam is to provide safety and security to you and your car, so it should be of the best quality. 
A solar-powered dash cam is one of the best quality dash cams that come with many features and do not cost much. Plus, the camera works continuously to record everything that happens around the car. 
A good dash cam should have a good video quality, wide-angle lens camera, large battery capacity, and parking mode, among other features. A solar-powered dash cam offers all these features and more which makes it one of the goods and most functional dash cams.