EROAD EHUBO
from $35 monthly fee
Suitable for fleets
8.7/10
Features & Technology
9.2/10
Pros
Compliant and certified
Tracks fuel consumption
Effortless installation
Economical and powerful
Multiple price plans
Cons
There are no substantial, verifiable issues with this solution.
Customer support only available during business hours
EROAD ELD is not a new fleet management solution provider, and people are already familiar with the company's products.  This fleet management solution provider's history is in tax compliance, which means that they know what it takes to make sure fleets are compliant with tax regulations.
If you want your fleet to get equipped with surveillance cameras, EROAD is one of the best options available.
EROAD was the first system to be independently tested by the PIT Group and passed with flying colors. According to PIT (along with many EROAD customers), the ELD is a 100% compliant solution. So from a compliance and regulatory point of view, EROAD is better than the other ELDs.
A thorough inspection proves it an appealing tool. In particular, it's affordable, with many features and various monthly subscription plans. Basically, EROAD can suit just about any trucker or trucking fleet.
In this review we are going to see:
Overview of EROAD ELD
EROAD ELD is a fleet management solution hosted on the cloud and packed with a lot of unique functions such as safety compliance management, fleet tracking, tax compliance management, as well as electronic logging devices (ELD). Transportation companies use this cloud-hosted solution to track and manage their fleet and also enable them to maintain digital compliance.
Many essential priority functions include reporting for audit and tax purposes, providing real-time notifications, as well as the automated collection of truck data. Also, the software integrates with the EROAD ELD touchscreen system to help drivers record in-vehicle information.
Buy EROAD here and get a special discount!
Features
The ELD system can be mounted in fleet vehicles, and synchronized with the engine to record service hours, violations, mileage, and much more. All data collected by the software is automatically registered and stored in the cloud.
Features include:
Fleet Management
Safety and Compliance
Driver Management
Tax Reporting and IRP
Fleet Health
Asset Tracking
Fleet Management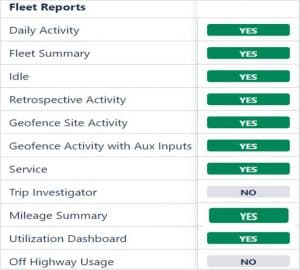 EROAD has proved itself over the years in providing reliable and user-friendly reports and data. And this not only helps minimize costs, but the system also reduces downtime and boosts customer support in your fleet company.
Many of the attractive features and capabilities you'll find in the EROAD fleet management suite comprise site geofence activity, historical everyday fleet activity, messaging, as well as fuel management. You can also get asset tracker integration API, precise vehicle tracking capabilities, idle reports as well as reporting capabilities for highway fuel use with the EROAD fleet management solution.
Safety and Compliance
The Federal Motor Carrier Safety Administration (FMCSA) HOS mandate makes it necessary for truck drivers as well as fleet owners to keep records of vehicle safety on any occasion. The EROAD ELD allows the user to regulate all activities entirely, so you can keep your fleet of truck and drivers safe.
The ELD Safety and Compliance features are:
daily speed alerts
EROAD Inspect
driver tips for safe and stable driving
To keep track of how your drivers perform behind the wheel; the EROAD system has a virtual speed camera as well as a dashboard and notifies you during any poor driving behavior. All of those features assist in reducing the fleet's liabilities and risk factors. It also enables fleet managers to deal with issues, and even take action against them.
New EROAD ELD Feature
The new Smart Short Haul feature from EROAD helps fleet companies by adjusting rulesets automatically whenever truck drivers exceed either the on-duty or air-mile limits of the short-haul exemption. The new addition to EROAD's ELD requires vehicle drivers to maintain and create logs for roadside inspections, and also provide reliable reporting for audits.
This is a useful feature for fleets with drivers who may regularly reach short-haul exemption limits.
EROAD aims to bring compliance to cruise control, enabling vehicle drivers to maintain accurate logs whenever needed without stressing about it, thus taking the stress out and ensuring drivers have logs when needed for operations.
Features of the Smart Short Haul include:
Its accurate and consistent HOS counters help drivers to monitor the duty-hour limits
The system creates reports detailing which criteria each driver had exceeded
RODS are produced over the days monitoring for breaches of short-haul limits
Switches to the default inter- or intrastate ruleset automatically
It automates the identification of the starting location of each driver
It trains vehicle drivers to take the necessary breaks
Prompts are audible and provide visual notifications
EROAD Asset Tracker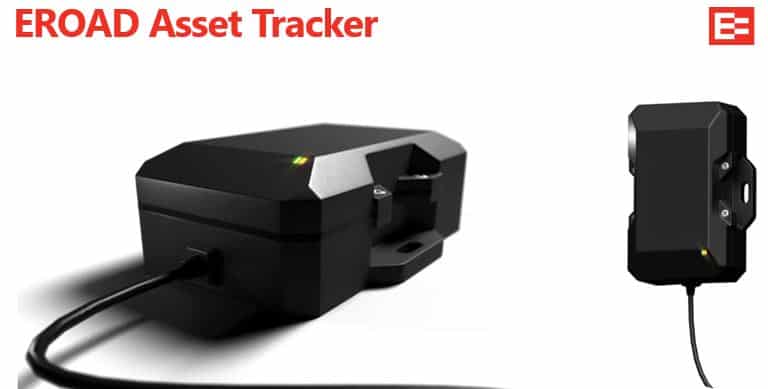 EROAD Asset Tracking device ensures safety and compliance are convenient to manage when tracking all of your heavy equipment (and all powered assets) on the very same dashboard. By integrating the EROAD ELD and fleet management software with asset monitoring, the device makes all your vehicles and equipment visible, regardless of where they're deployed.
EROAD Asset Tracking comes with the ETrack Wired device. The device is rugged and durable and supports 4 G connectivity. It also comes with a weather-resistant IP66 box, GPS, as well as internal wireless antennas, and an integrated accelerometer. The asset tracker uses A 12- or 24-volt power source to run the device and charge the battery; the battery power lasts for up to 6 months.
Features of EROAD Asset Tracker
Poof of service when a truck arrived at and departed from a customer's location
Preventive maintenance alert
Track asset utilization
Automate Yard Checks
Trailer Tracking
Theft Recovery
Installation
Users can install EROAD ELD by themselves; however, EROAD also has 3rd party installers. Costs for expert installation vary and depend on the area of the installation as well as the proximity of the installer to the customer.  The EROAD ELD user manual Installation Guide offers simple step-by-step instructions that can be used by the customer to do their own installations.
The device must be installed on a trailer or asset at the appropriate location- with the cable facing DOWN. Moreover, here is the EROAD ELD manual with a sample from a non EROAD affiliated installation guide. The company also has some useful EROAD ELD training videos to get you started.
What Sets EROAD About Others
Here are the benefits that the EROAD fleet management solution brought to the market and enabled the product to stay ahead of competitors.
#1. Easy to Learn and Use
This fleet management software features an intuitive interface as well as user-friendly features that drivers and other customers can quickly master. The device safely transmits truck data and complies with strict safety regulations. Data is processed, delivered, and securely stored, and also remains the property of client businesses.
#2. Impressive Actuality
The device's hardware accurately records distance, as well as locations, and also transmits the location data up to the second. EROAD ensures an outstanding service uptime of 99.99%, which means you don't have to stress about disruptions in your operations. And thus enabling you to concentrate on providing quality products and services without any hassles.
#3. Easily Accessible Portal
The Depot is an online platform that can be securely accessed from anywhere. It makes monitoring the location of the truck, driver behavior, and other reporting needs simple for you. EROAD provides a single approach that incorporates several modules allowing the company to manage a fleet, safety as well as compliance without having to switch between various solutions.
#4. Effective Hardware and Software
The easy-to-use EROAD ELD device makes it easier for your business to cut costs, save time as well as stay compliant. EROAD ELD solution technology helps improve productivity by eliminating the risks associated with manual spreadsheets and paperwork. And with its safety compliance features, you can conveniently abide by safety requirements to minimize liability and costs. Also, this will help streamline processes and create a safer work environment.
Finally, the fleet management functions of EROAD help the fleet company minimize costs and downtime while meeting customer service expectations.
#5. FMCSA Compliant
The fleet management solution provider is proud that its product complies 100% with the FMCSA requirements.
The product is the very first commercially available ELD to have been subjected to any rigorous independent testing regimen. The company submitted the device to PIT Group for validation. The PIT Group is an independent evaluation agency for the transportation industry.
The EROAD ELDs were thoroughly tested in trucks by the community and used by professional drivers to ensure compliance.
Therefore, the third-party evaluation ensures assurance to the owners that the products easily satisfy the specifications of the FMCSA.
#6. Connectivity – Coverage Cellphone
The EROAD ELD Connectivity – Coverage Cellphone is a low-cost solution for your company to comply with federal regulations. It provides real-time location information and other data to the driver and creates an electronic log of their driving hours.
Most carriers find ELDs to be expensive. Reliable ELD solutions, however, are about more than just the price per unit – these products represent an investment in your fleet.
Loss of connection could likely result in HOS violations amounting to thousands of dollars. Compliance potential problems may be raised, or business ventures hindered when resolving connectivity issues without a reliable connection.
Many carriers bought the most affordable ELD they could find, only to comply with the mandate deadline ahead of time but later regrets their action. Reliable, hardwired ELDs, such as EROAD, make these issues clear right up.
When there is no reliable and robust mobile service, the company uses Vodafone's global SIM service for local coverage. And through using an in-cab system that connects to several carrier networks, you can ensure coverage where there is spotty coverage.
Plus, there is no need for extra data or the purchase of third-party devices to run these solutions.
EROAD's ELD offers fast location readings to guarantee consistent data for compliance, tax, as well as coaching.
Also, the company's multi-carrier SIM service means continuous coverage, even in rural communities where other devices are failing. This feature is an exceptional function. Other Bluetooth-connected ELDs are not totally reliable because they are vulnerable to sudden unpairing.
#7. Eliminates Coverage gaps
For communication, most phone and tablet-based ELDs rely on a single carrier network. This unfortunately sometimes leads fleet team members to carry several mobile phones because one may work in one area, while another does not. Coverage gaps can vary from a mild nuisance to a severe problem affecting compliance, safety as well as operations. In some situations, getting back within connection range doesn't entirely ensure that an ELD mobile device can fire back up and continue to keep a driver in compliance.
EROAD prevents unexpected out-of-range Bluetooth connection drops with one unit in hand. This is particularly useful during roadside inspections. It also eliminates the hassle of needing to continuously concentrate on making sure their device is charged/powered in order to view their logs during the inspection process.
Tax compliance – IFTA
EROAD has transformed the record-keeping process of IFTA (International Fuel Tax Agreement) – totally removing such a need to track down every driver record and sift through paperwork- as well as eliminating entering details manually.
With EROAD's in-vehicle device, you are assured that the data of your entire fleet is appropriately collected and transmitted safely.
And with EROAD 's Fuel Management feature, you can easily store and process the accurate fuel receipt information required to meet record-keeping requirements for at least four years.
To satisfy IFTA distance tracking requirements, EROAD's IFTA automatically generates necessary trip information, including precise distance, location… as well as state line crossing information.
So, no need to depend on manual data entry by your drivers. And daily trip sheet data is automatically transferred to EROAD's secure web-based application, called Depot.
Therefore, all information is ready to be accessed at any time. Thus, ensuring an incredibly simplistic view of traveled distances, locations, routes as well as operational data.
Why a 3rd Party Certified ELD?
EROAD is the very first ELD provider that has allowed for independent verification with PIT while other ELD providers may use the ruling itself or the test manual to self-certify their products.
However, a lot of inconsistencies have been found between the ruling and the published test manual, leading many self-certified ELD to err on the safe side and in such cases, use the rule itself.
Because of this inconsistency, EROAD needed to enlist the aid of a well-recognized third party for testing procedures, test evaluation results, and final assessment. EROAD wanted to be sure that its product was fully compliant. And to do so, they engaged the PIT group to test their fleet management product.
PIT is one of the big accounting/auditing firms. And during every single test, they'll review every single process, and also checked every single result, too.  PIT Group confirmed within days of thorough and rigorous testing and verification (according to the FMCSA test procedure) that EROAD ELD meets the system requirements of the FMCSA. For EROAD, it has been a lengthy process, but it means they can stand by their solution no matter what. Also, it means that the company's customers can have complete peace of mind.
CVSA Workshop – EROAD training on roadside inspections
The CVSA Workshop aims at training government officials, and EROAD is the only company that has equipment used to train at the FMCSA National Training Center law enforcement on how roadside inspections are to be done.
EROAD is built to be user-friendly and also features an intuitive platform that allows users to get started quickly.
Data is transmitted safely and meets strict safety criteria which are checked by independent testing. The data is safely collected, distributed, and stored, yet remains the property of fleet companies.
The hardware is intended to record vehicle locations and distance accurately and to transmit location data second-by-second. The service uptime of 99.99% minimizes costs associated with unnecessary interruptions and lets companies concentrate on providing reliable services without hiccups.
EROAD ELD Price
Regardless of your chosen monthly payment plan, you will pay $35 to activate the EROAD ELD.
EROAD ELD-only Plan
This plan is the most basic and therefore most economically priced EROAD ELD cost subscription plan. This plan provides you with basic ELD capabilities as well as fleet management tools for just $35.
EROAD TotalTax Plan
This plan offers virtually all features as well as capabilities of the most advanced fleet management functionalities for a monthly subscription fee of $45.
EROAD SafeDriver Plan
This plan comes with robust fleet management, HOS, DVIR compliance, usage monitoring, maintenance resources, and a range of driver management tools. It also provides reports to improve driver safety, risk reduction, and speed control.
EROAD TotalFleet Plan
Customers can consider getting the TotalFleet subscription plan to enjoy all the features plus some additional functionalities not provided in the package mentioned above. The TotalFleet plan costs $60 a month.
All plans come with:
Reliable customer EROAD ELD help
Customers get unlimited EROAD Web portal users
In-vehicle hardware that could be mounted easily in any truck regardless of make, year, or model
User EROAD ELD Reviews
EROAD ELD reviews given to the company are fantastic because the user not only logs but can also transmit records as PDF documents.
Email options are provided via the web portal. Its application is straightforward, and the back office can easily manage it.
The app can store the driver's, manager's, and fleet owner's data.
The owners may configure custom geofences for monitoring and delivery purposes.  These settings enable the fleet manager to track their drivers' physical routes.
The DVIR record helps shipping companies promptly find vehicle problems, so they can fix them with minimum downtime. The system doesn't discriminate and sends alerts when it finds errors of all types, small or large.
Pros
Compliance and certified
Tracks fuel consumption
Effortless installation
Economical and powerful
Multiple price plans
Quick data access
Includes warranty
Accurate reports
Durable and easy to use
PIT Group verified as fully mandate compliant
Highly accurate and reliable
Best fuel tax tracker on the market
"Smart Short Haul" feature automatically handles short-haul exemption
Cons
There are no substantial, verifiable issues with this solution.
Smaller screen
Conclusion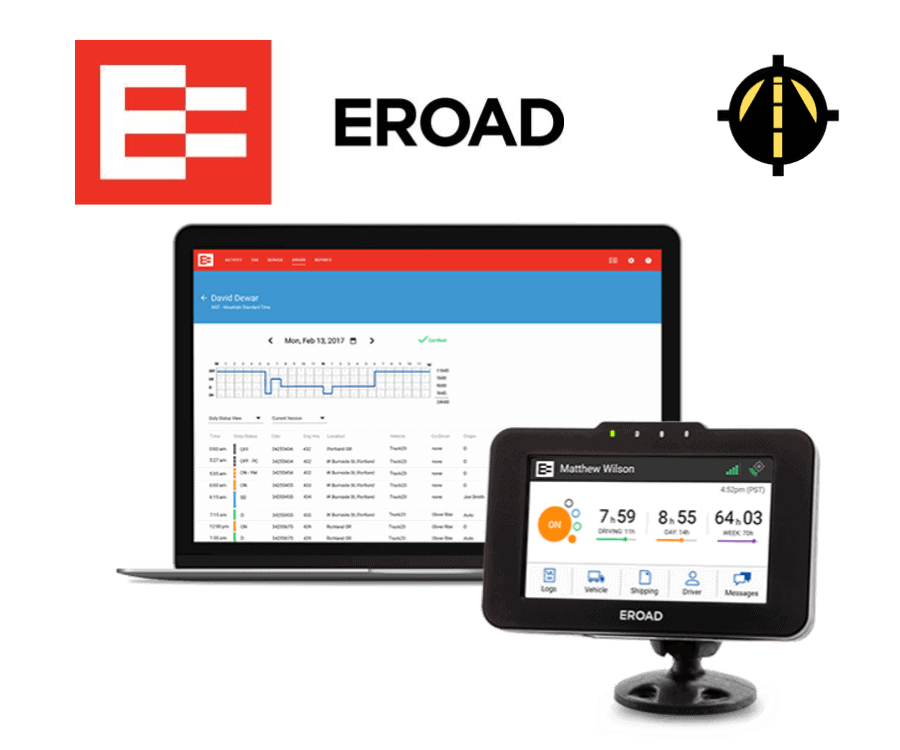 A capable ELD makes the job much easier for drivers and fleet managers. And ELD devices should be convenient and innovative, in addition to meeting FMCSA requirements.
Thousands of users- company drivers, fleet managers as well as truck owners- testify that the EROAD ELD and fleet management solution is one of the best today. This system has everything you'd like, from reporting and compliance features to a rich and diverse back-office application suite.
With such outstanding features and robust hardware, EROAD ELD is undoubtedly one of the leading industry players.