Eroad EHUBO ELD
$35 monthly fee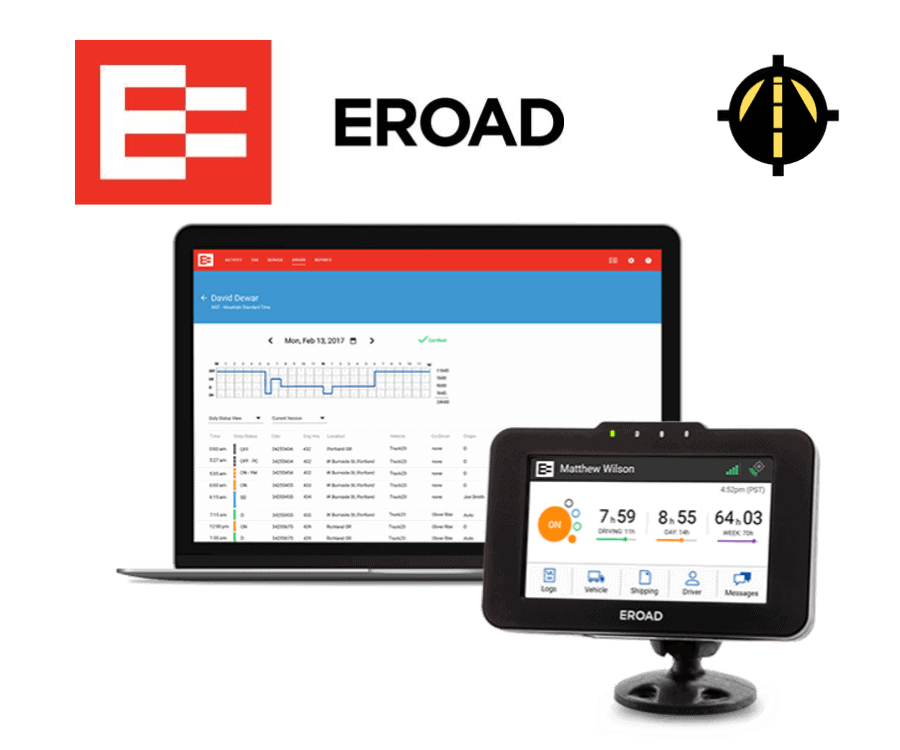 Attributing to the latest HOS Mandate 2019 imposed by the US government, all commercial drivers and fleet owners have to record their Hours of Service digitally. Which means, everyone needs to take a step forward to be more tech savvy because paper logging days are over. This is why today we review EROAD EHUBO ELD today.
The mandate caused people to rush to the closest electronic logging devices they could get their hands on. However, not all ELD devices are up to the mark and have the features to keep and maintain your records effectively.
Enter, the Eroad Ehubo. We've been through a lot of Eroad ELD reviews, to bring you the ultimate product from the wide range of options. If you're someone who's confused about the product they want to buy, your search has ended.
This Eroad ELD is currently one of the most popular ELD device, and for a good reason. It's high quality and versatile, and most importantly, it offers everything you'll need in the perfect logging device.
However, before you make a purchase, you might want to know all the features, details, and anomalies involved in its operation. This Eroad Ehubo review has got you covered. Just read along, and you'll have everything you need to know from setup to operation. That's what we are here for, you can check a bit more about us here. Let's get started.
Brand Overview
Whether it's your clothes, shoes, home appliances, or other utility items, the first thing you're bound to look at before making a purchase is the brand name. The higher the stake, the higher the scrutiny. Don't worry, with this product, you're placing your trust in one of the forebearers in the ELD industry.
The Eroad ELD industries based in the USA is one of the pioneers in the field. This means that their products have got considerable time to deal with the trial and error process, so they're completely refined to optimize electronic logging for professional drivers.
In addition, the Eroad ELDs have the features to help massive fleet owners manage their businesses on their fingertips. They can save money by claiming yearly fuel tax exemptions. Also, they can tackle mishaps or accidents effectively by cutting edge communication options.
The brand supports one of the best IFTA reporting systems, has amazing safety monitoring and surveillance abilities, and many other cost-saving features to give you the complete value for your money.
FMCSA Compliance
The Eroad Ehubo is 100 percent compliant with all the FMCSA mandates. The product is verified and certified by the PIT group, an individual transportation evaluation firm.
The electronic logging device was attached to an experienced fleet of truck drivers to check the extent of compliance in the product. And needless to say, the device was a proud receiver of a 100% rating.
The best part is, you'll find lots of other brands claiming to be FMCSA compliant, but only a few will have certified verification for their claim. Also, the brand is not self-acclaimed but has passed inspections of extensive research led by a third party, which makes the Eroad Ehubo ELD a reliable option.
Monthly Costs
According to our thorough deductions, the Eroad Ehubo ELD is the most cost-effective device in today's market. But what would this Eroad ELD cost you?
Basically, this electronic logging device comes at no upfront cost, with affordable and manageable subscription charges. Also, you can choose the package you want according to your needs and budget to make optimum use of your investment.
Basic Plan
It has an ELD-only plan for commercial drivers or individual truck drivers who don't need any of the fancy fleet management features. In this package, you will get the essential required ELD services, with some fleet management tools as well at only $35 per month.
Mid-level Plan
It also has a mid-level plan which we recommend for more seasoned drivers and business owners. It has almost all the features offered by the product, only excluding the most advanced fleet management tools. This plan is priced at $45 per month. Which is pretty reasonable considering the number of features and compliance you'll get.
Advanced Plan
The ELD also comes with the most advanced plan for large fleet and business owners. Bus subscribing to this one you'll get all the bells and whistles missing in the above two plans. You can easily operate your fleet from your computer screen by installing these in your trucks. For this, you'll need to pay $60 per month.
In addition to these plans, you will have to pay a basic $35 activation fee to the provider, to start with your electronic logging system. This fee is payable on the installation of any plan from the three.
Furthermore, all the Eroad ELD hardware comes with a substantial warranty. And if you're new to this technology, customer support is always there for you no matter which subscription you take up. Also, you can watch their free online tutorial videos to get the ropes when you start off.   
Functional Aspects
When it comes to functionality, the Eroad Ehubo is the best you can get. Mainly, it's easy to operate and set up, so it'll save your time and resources at the same time. The physical device and interface are designed in an intuitive way. This means you'll have to trouble to navigate through the software, or figuring out which keys to use for certain commands.
Similarly, this is a device you can trust when it comes to your data and details. It boasts secure, bank-grade software security to make sure only the electronic logging device owners have access to the data they store.
Basically, if you're a driver, this ELD makes life easier for you. It has unique features which you won't find in most other devices.
These include transferring logs in PDF form through email, and the 60/70 hour clock monitoring to make the count easy for you. It's great for both teams and individual drivers that make it highly functional.
Back Office System
The back office system is essential because that's where the data and logs will be stored, managed, and used. Therefore, the software controlling this data should be clear and easy to use. In the Eroad ELD, this system is known as Depot. It has tools that help you make log edits and assign driving times.
The device has up to the mark IFTA reporting tools. This means it's easy to track vehicle distances and fuel consumption. The amount of savings fleet owners muster from the fuel consumption, and tax exemptions are so much, they can practically pay for the device with that.
In addition, the fleet owners can assign their own Geofences to monitor the areas and destinations for their drivers. They can also add loading and shipping spots to schedule their tasks properly. Through these functions, driver behavior can be monitored easily so you can take action against any misbehavior on your watch.
Similarly, the device software store the DVIR data. Through that, you can decide when you want your vehicles to be fixed or maintained. It saves any minor or major defect reports so you can tackle potential problems before they become difficult to solve.
However, you will find many ELDs that have GPS navigation and engine diagnostic systems as well. These qualities are not included in the Eroad ELD back-office system, but will soon be added to the software.
Features of EROAD ELD
Now that you know that overall perks of the ELD system, you'll need to know it's complete features in detail before getting started.
So let's dive in.
Compliance and Reporting Systems
The main benefit of getting an Eroad ELD is compliance and IFTA reporting. If you've done your research, you know that Eroad is one of the few devices which offer this feature. The Eroad Electronic IFTA helps you in your daily record keeping and tax filing operations.
The device fixed in your vehicle transmits flawless mileage and fuel data to the ELD's back office system. This in turn, quickly saves the information in the ELD's IFTA section so you won't have to rummage through a pile of paperwork when you need to fill your tax returns.
High-tech Design
Who wouldn't love a high-tech modern looking device sitting there on their dashboard to make their work easier? The Eroad Ehubo device is just the gadget for you. It looks sleek and smart and is constructed with a compact design that can fit easily in your vehicle. This means you won't have to move things around to fix it.
The device then records all your data and transmits through a cellular network to the system back office. After that you can retrieve your data through the web Depot we discussed earlier, which is highly secure and encrypted.
Safety Features
The latest HOS mandate 2019 makes it important for truck drivers and fleet owners to keep track of vehicles safety on all occasions. The Eroad ELD helps you fully regulate all events so you can keep your vehicles and drivers safe.
The ELD features for safe and secure driving are regular speed alerts, Eroad Inspect, and driver insights. Apart from that, it also has a virtual speed camera and over speed dashboard to keep track of how your drivers are going and alert you during any misbehavior.
All these features work together to keep the liabilities and risk factors minimal in your fleet. So you can tackle problems and take action against them as well.
Team Management
You can find fleet management features in almost all ELD devices nowadays. Then why choose this one? It's the unique features and attributes that make it stand out among the crowd.
Firstly, the system is designed to help the user. Therefore, you won't find it difficult to operate, even with bulk data and logs at hand. Also, it tries to minimize costs at every level, so fleet owners have an affordable solution for their HOS needs.
Secondly, it helps you browse through your fleet activity history and geofence site activity. This helps you report and condemn drivers during any mishap or accidents. You can view your truck in a traffic satellite map layer as well. Apart from that, you can contact your drivers through the Ehubo device to give alerts or instructions along the road.   
Most importantly, the fleet tracking data is always accurate, and you get fuel management reports and asset tracker integration as well.
Precision
Without precision, an electronic logging device is of no use. Fortunately, your logging services are in the right hands. It helps both owners and drivers to maintain the logs easily.
The device offers useful tips and guidance to the drivers, to keep them compliant to the HOS regulations while they're on the go.
Cellular Data Compatibility
As mentioned before, all the data collected from the logging device is transmitted through a cellular data connection. While most providers required that drivers use their own data subscriptions for the ELD, this became messy as it meant managing multiple sims and was expensive as well.
Nowadays, providers give their own cellular connections with their device to make things easy and affordable. So you only have to pay your ELD provider.
Reporting HOS
The HOS mandate is a law passed to make things easier for truck drivers. This means if you try to go beyond the restrictions in any way, you'll only make things difficult for yourself. So to make a safe earning, it's important to work with the way of the law.
This ELD device will give out alerts when you seem to be noncompliant with the HOS requirements. These HOS violation reports not only save you from any penalties but help you learn and avoid future mishaps as well.
Easy Inspections
With the Eroad ELD, you can be ready whenever an inspection comes your way. Here's where the FMCSA compliance comes in. You need to show the compliance details of your ELD during an inspection as a requirement.
Apart from that, the ELD helps you take out and present all the needed details easily. Even if you're not a tech-savvy person, the easy operations will get you through an inspection better than paper logs any day.
Accessible Data
The Eroad ELD services include a timesheet feature. The timesheet shows you the miles traveled as well, alongside the hours of service.
The logs are designed in a CSV format for easy navigation so you can assign payments easily when required.
Exemptions
There are many exemptions to the HOS mandate 2019 regarding long and short hauls for passenger and cargo vehicles. Your device should have inbuilt knowledge of all these anomalies to give out alerts and tips accordingly.
To cater to these needs, the Eroad ELD can deal with exemptions such as the 30 minutes break exemption and the 16-hour adverse condition exemption.
For a more honest representation of the product, here are some benefits and downsides to the product, so you can make an informed decision when making a purchase.
Pros
Accessible use

PIT verified

Certified accuracy

Great fuel tracking ability

Cost-effective

Time-saving

Real-time monitoring

Warranty backed
Cons
Small screen

Customer support only in business hours

No GPS tracking
Final Words for EROAD ELD
Wrapping this review up, we claimed at the beginning that the Eroad ELD device is the best in the market, and we've provided considerable proof for that since. The device is compliant to all the required regulations, is easy to use, and helps you keep track of all your vehicles through one Depot.
Apart from that, it helps your drivers stay on track and give prompt answers during inspections, to make sure there are no mishaps and your fleet moves smoothly. While the Eroad ELD costs you less compared to other logging devices, it helps you save money through the fuel tax monitoring as well. This means it benefits you more than it costs you – definitely worth a try.
Please share your review below, so other truckers can have more information, thanks!