(Last Updated On: July 15, 2023)
Calculating the Hours of Service in the commercial vehicle set-up is important. However, the extensive process of tracking and calculating the service hours is tricky.
Various factors make this calculation tricky, including the paper logbooks, compliance regulations, modifications in the duty status, and many more.
However, paper logs and manual record-keeping have become outdated for quite some time now. This is when the hours of Service ELD make things easier, less complicated, and highly accurate. It follows the regulations of the Department of Transportation (DOT).  
All businesses and drivers have to follow the rules the federal government sets for commercial motor vehicle (CMV) carriers. 
This article will go through the basics of the FMCSA hours of service regulations, and mandate DOT compliance with all its exceptions.
Also, you will get a detailed insight into the top Hours of service ELD devices you can use to follow these hours of service rules effectively. So let's begin.
What Is DOT Compliance?
Dot Compliance is mandatory for fleeting businesses to have a legal course of action in their regular activities. Suppose you are wondering what Dot Compliance is; its explanation is straightforward. It is simply the standards set by the government of the United States of America that are applied to businesses connected to transportation.
Dot Compliance includes everything from environmental protection to the safety of passengers and from the security of the driver to the real-time location detection of the vehicle. To regulate commercial vehicles, it detects the performance of the drivers, the Hours Of Service, and their qualifications.
Fleet businesses must maintain proper records to prove their compliance with the Dot regulations. If this is not done, they may have to pay heavy fines.
DOT Compliance Checklist
Dot compliance is an extensive list of rules that the transportation and logistics companies have to follow. These list includes the following points:
Driver Vehicle Inspection
International Registration Plan
International Fuel Tax Agreement
Hours of Service rule
Drug and Alcohol testing
CDL Endorsements
Driver qualification file
Getting To Know About an ELD
ELDs are electronic logging devices that help drivers record the dot hours.
These devices were created to make truck drivers' hours of service easily accessible, organized, and accurate.
The device connects to the vehicle's engine itself and transfers correct information of the driver's hours of service.
Here's an overview of the different statuses, rules, and exceptions in the dot service hours log that drivers are required to fill.
The HOS DOT (Hours of Service ELD) Status
A driver's total time spent is divided into four basic categories or statuses. These statuses indicate whether they were driving or doing other activities during those hours.
First, there is the off-duty status. As the name suggests, it indicates the hours when the driver is not driving.
Second, the sleeper's berth status. It shows that the driver is not driving, and isn't off duty as well, but is probably resting.
Third, driving status. It shows that the vehicle is on the go.
Fourth comes the on-duty status. And this denotes that even if the driver is not driving, he's busy in some other work-related activities such as inspections, fueling, and unloading.
Understanding The 10-Hour Break – Sleeper Berth Vs Off Duty
At around 8 a.m., a driver starts his day and spent 1 hour without driving. That starts the driver's 14-hour clock and therefore only takes up one hour from the time.
The driver may start driving at 9 a.m. through 2 p.m. Thus; the driver has now been using the 5-hour drive time for a maximum of 11 hours.
The driver had used a total of 6 hours of his 14-hour clock. This very driver, at this point, should take an 8-hour break in the sleeper berth.
As the driver is in the sleeper, the 14-hour clock stopped.
Then, the driver starts driving again at 10 p.m. and has an allotted driving time of 6 hours and an 8-hour clock left of 14 hours.
Then the driver proceeds with his journey for another 6 hours, taking him to 4 a.m. And he goes on for 2 hours to the off-duty status.
A 10-hour break is known to be the combination of both rest periods.
The HOS Rules
The FMCSA hours of service helps a driver to adhere to the dot service hours rules properly. These DOT hours rules are different for both property-carrying and passenger-carrying drivers.
Property-Carrying Drivers

Drivers can drive for 11 consecutive hours only after 10 straight hours off duty.
The driver may not drive more than 14 consecutive hours following 10 hours off duty.
The driver has to take at least eight hours of rest time, or spend time on the sleeper berth before driving again.
If a driver has spent more than 60-70 hours on duty in the last consecutive 7-8 days, he may not drive further.
Passenger-Carrying Drivers
The driver may drive up to 10 hours only after 8 consecutive hours off-duty.
Also, he may not drive after being on duty for 15 consecutive hours without taking 8 consecutive hours off-duty.
The driver must, at least, take eight hours on the sleeper berth before going on duty again.
The Exceptions for Hours of Service ELD Rules
Similar to all the hours of service rules ever created, these Hours of Service ELD rules have some exceptions as well.
Having some knowledge about these FMCSA hours of service exceptions is essential as well if you're planning to follow the HOS Mandate.
Although these exceptions might not be known by some commercial truck drivers, there are many other exceptions to hours of service laws. The exceptions to all of these regulations you need to know are listed below:
The 30-minute Break Exemption
Short-haul drivers who are qualified for the 100 or 150 air-mile provisions and operate a non-CDL vehicle are exempted from the 30-minute break.
16-Hour Short Haul Exemption
With this dot hours of service 16 hour rule, qualified drivers can extend the 14-hour drive limit through this exemption to 16 hours once every 7 days.
Adverse Weather Conditions
During adverse weather conditions, commercial vehicle drivers can exceed the 11-hour driving time limit.
These circumstances allow drivers to extend their driving time by two hours. This means in this kind of scenario, only up to 2 hours would allow the driver to exceed the 11-hour limit.
Emergency
During emergencies, the basic HOS DOT regulations are subject to an exemption.
Retail Drivers
From 10 December to 25 December, retail drivers who normally travel less than a 100-mile radius can exceed the limit of 11 hours.
And this is to enable them to make festive season delivery demands.
100-mile radius
Truckers traveling from their workplace only within a 100-mile radius are also not obliged to keep a log of their operating hours.
Drivers in Hawaii
Drivers in Hawaii may not keep hours of service logbooks. That's because their employers are required to provide every vehicle's driver with the total number of hours per day along with their start and end times.
Commercial Alaskan truck drivers
Commercial Alaskan truck drivers can work for up to 15 hours and take 10 hours off-duty consecutively. And this is due to this state's size.
Personal Conveyance Exception
That's when, during his off time, the driver uses the truck, perhaps for personal transport. Such a timeframe is not meant to be logged as driving hours but regarded as off-time.
The hours of service ELD mandate guidelines, however, necessitate the truck driver to be visible on the logging device throughout the personal conveyance period.
During personal conveyance, the driver ought not to perform work-related chores, such as taking the truck for fuel maintenance.
This exception to hours of service rules may only be used in certain circumstances, including:
Driving the truck to restaurants from en-route lodgings
Driving the vehicle to the nearest parking area if you run out of time at a receiver or shipper after a delay
Traveling between your home and the reporting station for your job
Driving the vehicle to a safe parking place when the law enforcement officer told you to move the vehicle
Yard Moves Exception
Yard move is yet another special status of dot service hours exception recently approved by the hours of service rules.
The general idea for this status is that rather than driving status, driving on a limited-access yard or lot can be done on-duty status.
The FMCSA hours of service rules about how and when to use the status of Yard Moves are still not precise, though.
FMCSA proposed hours of service changes
On Aug. 14, the U.S. Department of Transportation's Federal Motor Carrier Safety Administration announced long-awaited recommended hours of service rule changes.
Some of the five crucial dot service hours changes recommended are how drivers would use the 30-minute rest break rule and the option to split the 10-hour off-duty time into two parts.
The newly FMCSA proposed hours of service rules changes introduces five significant revisions to the current federal hours of service regulations, which are based on extensive public comments shared with the agency since last year.
30-Minute Break Rule Flexibility
The dot hours of service changes allow 30-minute break flexibility by adding the break requirement to 8 hours of driving time for at least 30 minutes without interruption.
Thus, the 30-Minute proposed hours of service rule changes thereby enabling a driver to satisfy the break using on-duty, not-driving status, instead of off-duty.
Sleeper-Berth Exception Modification
This dot hours exception allows modifying the sleeper-berth to enable vehicle drivers to divide their required Ten hours off-duty into two phases.
The driver may spend one cycle of at least 7 continuous hours in the sleeper berth. And also, spend the other period of a minimum of 2 consecutive hours in either sleeper berth or off-duty.
Neither period will go against the 14-hour driving window of the driver.
30 Minutes – 3 Hours One Off-Duty Break
The 30-minute dot service hours exception would pause the 14-hour driving window of a truck driver, given that at the end of the work shift, the driver takes 10 consecutive hours off-duty.
Adverse Driving Conditions Exception Modification
Changing of dot hours' exception to the adverse driving conditions will extend the maximum window at which driving is allowed by two hours.
Short-Haul Exception Changes
Changing to the dot hours short-haul exemption applicable to some commercial vehicle drivers by increasing the maximum duty time of the drivers from 12 to 14 hours.
And also increasing the distance limit under which the driver can operate from 100 air-mile radius log sheet to 150 air-mile radii from me.
Purpose of The Proposed FMCSA Hours of Service Changes
The proposed Hours of service ELD mandate amendment would still not increase trip length.
Also, this dot service hours amendment would keep going to prevent CMV operators from driving over eight hours without needing a change in duty status of at least 30 minutes.
Finally, this fmcsa hour of service proposed rule aims to improve safety by providing more flexibility to America's commercial drivers while retaining the driving time safety limits.
Top ELD Devices to Follow HOS (Hours of Service) Rules
Now that you have a basic overview of the dot service hours' rules and exceptions, you must also know the hassle that fleet owners and drivers must go through when the data is manually operated.
Hours of service ELD devices, you won't ever misplace your paperwork, or get confused while calculating your working hours. But, don't just rush out to buy your dot service hours device just yet.
While a long list of approved FMCSA Hours of Service devices is available, you must find one perfect for you.
For that, you'll need to look at some features such as accessibility, compatibility, and configuration that fit your needs.
If you need help in finding the best dot hours eld devices that suit your business needs, kindly fill our consultation form, and we will help you out in no time.
Our Top Hours of service ELD devices list will help you through your ordeal so you can make the best purchase, quickly. Remember, the mandate is already in effect.
We've rounded up the most acclaimed Hours of service ELD by fleet owners and drivers all over the world, and narrowed the list down to the few we love the most. You can also check our article on the best eld devices.

1. Motive (formerly KeepTruckin) ELD
The Motive (formerly KeepTruckin) Hours of service ELD device is a versatile solution for today's truck drivers.
This certified fmcsa hours of service device is easy to use, and perhaps the best bring-your-own-device (BYOD) for any fleet owner.
Most importantly, it ticks all the boxes on FMCSA's updated regulations and Hours of service rules.
This Hours of service ELD device comes with an accessible app.
You just have to pair the device using Bluetooth or a USB cable with your smartphone, to get real-time data and updates.
Also, Motive (formerly KeepTruckin) Hours of service ELD device has a $25 per month plan, which includes logs, messaging, location tracking, and useful alerts as well.
It's practically everything you would need to adhere to the rules.
Furthermore, what makes it an all-rounder is that it can be used for a vehicle of any size.
And It also t comes with six-pin and nine-pin diagnostic ports that enable it to be installed on large vehicles.
However, for smaller ones, you can simply hardwire it to the OBII port.
Pros
Customer support
Fuel tracking feature
Versatile
Reasonable price
Cons
Small vehicles may have to pay the annual bill upon purchase.
2. EROAD
In terms of offering ELD services to truck businesses, EROAD is a winner in the industry. This company originates in New Zealand and is one of the most sought-after ELD service providers globally. 
EROAD has extensive features, so it's the first choice of most trucking business owners. It offers everything from fuel management, GPS tracking, and vehicle maintenance tracking.
The company keeps in check Dot Compliance and offers the users real-time data that are extremely accurate and extensive. It gives information about the vehicle's speed, location, and the driver's conduct. The HOS regulations and Hours of Service rules are followed strictly, which is why it's super safe 
Pros
Training videos make things understandable

Efficient customer care services

Free trial lets the user benefit from it without paying anything
Cons
Extensive steps and actions required from the drivers 
3. Omnitracs ELD

This certified fmcsa hours of service truck device is not only a productive one but an aesthetic one as well.
It complies with all FMCSA requirements, Hours of service rules, and looks great sitting there on your dashboard!
It is also great for first-time users, as the setup is straightforward. All you have to do is plug it in and start using it.
Furthermore, dot driver hours eld has pretty useful features as well. You can program your Omnitracts device to automatically record HOS data, track your fuel, and deliver safety reports.
It also has a two-way messaging feature that allows you to communicate with other drivers if something goes wrong.
Moreover, this dot service hours device can track your vehicle and monitor its driver, which is a handy feature for emergencies.
The price starts at about 23$ per month, and it's versatile enough to fit vehicles of all sizes.
Pros
Multiple services plan to choose from
User-friendly interface
Customer support
Wifi connection
Touch screen and voice interface
Leases available
4. Samsara

This compact hours of service rules device package come with a great fleet management system.
It complies with FMCSA regulations andHours of Service rules and has unique sensors and GPS technology to help you manage your vehicles more efficiently. You must plug the device directly into the vehicle through its OBD port.
Also, you can pair the device with your smartphone through the free mobile app to view your data in r
eal-time.
Furthermore, the fleet owner can monitor the dot service hours for all his drivers through the dashboard data management system.
Additionally, all the data can be stored in one central location to be accessed easily when needed.
Most importantly, the device works accurately. It has precise HOS, Wifi, and GPS systems to keep you in control of all your vehicles and dispatch data collectively.
Once you install the ELD, the trucks can manage their own HOS, while the fleet owners can manage violations from their dashboard to keep full control.
Pros
Great user interface
Easy setup
Versatile
Safety features
Fuel tracking
Useful alerts
Cons
Expensive
Lacks features for large fleet operations
5. Garmin eLog

This small and compact Hours of service FMCSA ELD device gives you compliant logs at an affordable price.
It comes with a mobile app that's compatible with any smartphone. Just connect your phone and start getting real-time updates.
Also, if you want to access the system locally during an inspection, you can do so through the USB connection.
Besides, these commercial Hours of Service device apps also allow the driver to enter data manually.
So you can check your remaining drivers' hours of service for the entire month.
Moreover, if you're a beginner, you'll find the Garmin dot service hours ELD very easy to install. Plug it in, and you're ready to go.
The dot hours ELD also has fuel tracking devices and useful alerts to help the driver along his journey.
Most importantly, you just have to pay once, and the Garmin Hours of service truck ELD device is yours, without any monthly or yearly subscription.
Pros
No monthly payments
Easy data storage and accessibility
Great for beginners
Cons
Not recommended for vehicles with OBD2 protocol
Software glitches cause the device to freeze at times
6. Gorilla Safety ELD 7 initial 12 monthly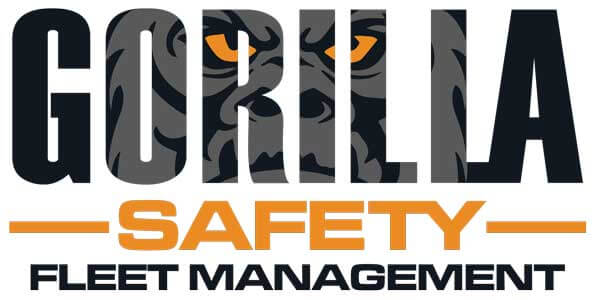 Gorilla is one of the first companies to produce dot service hours ELD fleet management systems.
So there isn't a question of whether it complies with hours of service rules regulatory requirements or not.
The installation and use of this device are relatively straightforward, even for first-time users. It comes with six-pin and nine-pin diagnostic pins which can be directly attached to your vehicle.
Apart from the mobile app connection, which allows you to view updates on your smartphone, Gorilla has a website where fleet managers can easily track their vehicles.
You can turn document tracking on while driving and scan and file them on the go.
And this is the only company to offer this feature, allowing fleet owners to comply with e log trucking mandate regulation and avoid paperwork completely.
Furthermore, the accurate driver tracking system can locate your driver, while the communication services help you keep in touch in case of an accident. And it also help you comply with dot logging rules and regulations.
Pros
Cheap
Good for record-keeping
Accident management
Useful notifications
Can be used as AOBRD or ELD
Versatile
Cons
Cannot allocate un-logged driving
Online support only on working hours
Factors to Consider Before Buying Hours of Service ELD
The dot hours eld devices you liked best don't need to be the ideal ELDs for you.
Every driver and fleet owner has his requirements according to their vehicles and set up.
And here are some essential factors you should keep in mind before making a purchase.
Versatility and Accessibility
Most dot hours eld is programmed to fit all sizes and types of vehicles. But that's not the case for all of them.
If you buy fmcsa hours of service truck ELD device that is only made for your vehicle type, you might have to buy a new ELD when you change your truck.
To avoid such inconvenience, choose one that will last you long term. Or fill our Consultation form if you need help in selecting the right one.
Maximum Configuration
All dot hours ELDs have the basic logging systems available. If you want to manage your fleet properly, you'll need more configurations and upgrades to stay updated.
Choose dot service hours ELD that offers automatic updates as well along with the usual RODS reports. Otherwise, you will have to look for a new ELD before long.
Cloud-based Models
These models are highly beneficial. If you buy a dot-hours device without cloud storage and data transfer, logging will become arduous if you manage a whole fleet or save your history.
These models are more reliable and allow drivers to save logs more accurately.
Safety
If your dot hours ELD records safety violations effectively, it will benefit your business during inspections.
You already know the fine for driving out of hours, and with safety in place, you can easily manage violations beforehand.
As a result, your fleet company will continue to attract brokers and insurers when you avoid hours of service violation penalties.
FMCSA Registration
Quite obvious, you have to get a device that meets dot hours of service regulations.
There's a list of registered brands available so you should play safe and check it thoroughly before parting with your money.
Brand Reliability
Lastly, choose a reliable brand that enables you to comply with the dot driving regulations.
The best option is to go for brands that have been operating in this field for a considerable time.
Also, check for hidden charges and make sure to ask for the payment plan upfront to avoid future inconvenience.
Hours of Service Violation Penalties
According to CVSA President Capt. Christopher Turner of the Kansas Highway Patrol, "the reason many drivers were put out of operation in 2017 is due to hours of service violation penalties.
"He continued, "Although the law on electronic logging devices that came into force on Dec. 18 does not modify any of the underlying hours-of-service laws or exceptions, the ELD mandate plays a role.
Therefore, it would be a great opportunity to improve on the value of the regulations on hours of service.
Now let take a minute to look through some of the major hours of service as well as other driver violations to help you prepare.
The safety score of a carrier may be downgraded to a violation pattern
The fines may be assessed by state and local law enforcement officials

Depending on nature, civil penalties may be imposed on a driver or carrier by the FMCSA, ranging from $1,000 to $11,000 per violation.

Drivers might be put on shut down (on the roadside) until after they have accumulated sufficient off-duty time to return to compliance
Federal criminal penalties may be imposed on carriers who intentionally and knowingly permit or require violations; or on drivers who intentionally and knowingly break the regulations
Conclusion for DOT Compliance & FMCSA HOS Mandate
Winding up this article, it can be said that the Hours of Service regulations apply to all drivers, no matter where they are operating. Alongside this, for safety and security to the maximum level, mandate DOT compliance is followed by the service providers. I hope this information will help you adhere to the rules and manage your fleet and vehicles effectively by complying with the dot driver log requirements.
In this article, we have comprehensively sketched the FMCSA Hours of Service Mandate, incorporating its provisions, exceptions, and a list of top-dot hours Electronic Logging Devices. For more updates or information, fill out our questionnaire or contact us!