(Last Updated On: December 8, 2021)
In this Keep Truckin Dashcam Review, were going to examine one of the best global fleet management solution providers that serve over 500,000 truckers and 50,000 fleets – Keep Truckin.
Integration of an easy-to-use electronic logbook with its Ai-powered dash cam – the Smart Dashcam – makes fleet management smoother.
In this Keep Truckin Dashcam Review, we're going to take a look at every aspect of the dashcam and how it benefits drivers, fleet companies, and owner-operators.
Limited offer >>  Get Keep Truckin here and get a free ELD, Dashcam, and Asset Gateway hardware!
What Exactly is the KeepTruckin Smart Dashcam?
The Smart Dashcam is a driver and road-facing camera from KeepTruckin, and it has a resolution of 1920 x 1080.
The Smart dashcam shoots at a rate of 15 frames per second and has an angle of vision of 150 degrees. It also features a driver-facing camera with a resolution of 1280 x 720.
The driver-facing camera records video at 15 frames per second and has an angle of vision of 150 degrees.
The Smart Dashcam use Ai Technology to identify and detect risky driving behaviors such as overspeeding, following other vehicles too closely, high accelerating, harsh braking, harsh cornering, and reckless driving behavior, etc.
The Keeptrukin software contextualizes video data with the DRIVE risk score.
As an industry-standard model, this is a one-of-a-kind model that utilizes high-frequency telematics data and Artificial intelligence insight gathered from the Smart Dashcam to evaluate driver risk.
The video is then relayed in real-time to the Safety Hub, allowing the fleet manager to take action to prevent accidents.
Software
KeepTruckin offers software to help the recording platform. The system comes with capabilities such as two-way texting to help drivers and fleet owners communicate more effectively.
The app is available for download on a smartphone or tablet for both iOS as well as Android platforms.
KeepTruckin smart dash cam also offers a cloud-based solution that is free of any operating system.
Types of Keeptruckin Dashcam
This efficient and user-friendly driving safety technology installs in less than 10 minutes and is ready to use right away.
You won't need to waste so much time charging batteries, inserting SD cards, or manually recording over previously recorded footage. The system is also impenetrable to manipulation.
KeepTruckin offers three different types of Smart dashcams:
DC-34: Road and driver-facing dashcam
DC-33: Road facing dashcam
DC 2: Road facing dashcam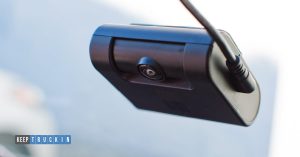 The Smart Dashcam allows fleet managers to keep up to date on what is going on the road and even with their trucks at all times.
All videos are saved to the cloud and published to the KeepTruckin Safety Hub. Alongside video footage, fleet managers can obtain safety data such as each driver's safety score, and this describes behavior in all areas of safe driving, such as deceleration, distance, braking, and more.
When the Keeptruckin Smart Dashcam identifies a dangerous activity, DRIVE analyzes the occurrence to determine the cause. DRIVE assigns a risk rating to each situation.
With DRIVE automatically monitoring your fleet's most essential driver safety events, you can concentrate on what is important – avoiding accidents and running your business smoothly.
Storage and Download
Wi-Fi and Bluetooth are used to link the ELD device to the dashcam. The dashboard camera works in tandem with the KeepTruckin ELD device.
When the smart dash cam device captures a crucial event like as hard cornering, acceleration, a breaking, or a collision, it records a 10-second-high quality video during the incident and adds the footage into the driver's 'Scorecard' area.
To see the recording, the driver must go to the dashboard and choose the 'Events' option.
A driver or fleet owner can pick the appropriate video from the list of recorded events to view the event information. These contain information such as the driver's as well as vehicle's data, and also the time, location, speed, intensity, and so on.
The Location History Page
The vehicle location history page provides information on where a certain event happened as well as other relevant information. This information covers things like time, bearing, speed, and so on.
Moreover, if the dashcam is connected and functioning, the fleet manager may see the videos. The fleet manager can access dashcam video content that has been saved locally.
However, the footage should not be connected with a sudden acceleration, braking, or cornering incident.
The videos are automatically labeled based on the context of the incident. These assist fleet managers in selecting and prioritizing occurrences during a review.
Only video evidence from the preceding 35 hours of driving can be retrieved by the fleet manager or administrator. The fleet manager gets alerted if the dashcam is removed or tampered with.
Here's an example of video captured by a KeepTruckin dash cam:
KeepTruckin's Dash Cam's Features
The Keeptrucking Dashcam has many one-of-a-kind features and benefits that make the device one of the best in the market.
The following and the features and benefits of the solution:
GPS Tracking
One of the most essential aspects of fleet management is keeping track of your fleet drivers.
KeepTruckin, in addition to dash cameras, offers a GPS monitoring system that collects the driver's locations once per minute, anytime the vehicle is in motion.
On the other hand, the GPS tracker is a separate plugin that must be tethered to the dashcam.
Tamper-Proof
Dashcams could only safeguard your drivers and promote safe driving if they are attached to the truck.
As a result, the KeepTruckin Intelligent Ai-Powered Smart Dashcam will give you an alert once it becomes disconnected, allowing you to observe who was driving at the moment the dashboard camera was unplugged.
Event Notifications
When the ELD identifies a crucial event, such as hard braking, overspeeding, or harsh cornering, the Smart Dashboard camera records 10 seconds of HD video before and after the incident.
The recording is then instantly uploaded to the KeepTruckin platform for fleet manager assessment.
Remote Video Access
Remote Video Access is a service that allows you to watch videos from anywhere in the world.
If you want to see any video at any moment, you may do it with a few clicks from the KeepTruckin dashboard.
This offers you more flexibility while assessing a driver's journey.
Installation
The setup of the KeepTruckin dashboard camera is pretty simple.
The dashcam may be simply placed on the windshield by utilizing the adhesive pad.
Once installed on the windshield, connect the dashcam to the KeepTruckin Vehicle Gateway via the USB connection.
It has a 'plug-and-play capability, which means that after installation, the dashcam begins automatically capturing HD footage and uploading it to the KeepTruckin video camera dashboard.
Memory
KeepTruckin's Smart dash cam lacks a memory slot.
The dashboard displays the videos taken by the dashboard camera.
A fleet owner or manager may see the videos when the camera is connected in and turned on.
Dashboard
The dashboard features a straightforward and easy-to-understand interface.
The choices that one could need are clearly presented on the dashboard's left side.
The middle area contains important information such as graphs, charts, and so on.
Customer Support
Users may get sales support from KeepTruckin in a variety of ways. It includes step-by-step installation instructions online.
The website also has a blog area to assist users.KeepTruckin also provides email help 24 hours a day, seven days a week.
Companies who choose the Custom package receive premium support as part of the package. While that's well and good in idea, KeepTruckin falls short in this area.
Dash Cam Pricing
To begin, you must enroll on the KeepTruckin Plus fleet management plan, which currently costs $30 per month to use the dashcam.
KeepTruckin's website does not clearly state the price of its pricing plan. Including a lot of Verified users have raised concerns about the lack of transparency.
Each unit of a road-facing dash cam costs $300, with an extra $30 each month for the subscription.
The dual-facing dash cameras cost $400 each and have a $40 monthly fee. All monthly costs must therefore be paid in advance each year.
Furthermore, the dashboard camera would only operate if the truck driver also used KeepTruckin's ELD system.
Limited offer >>  Get Keep Truckin here and get a free ELD, Dashcam, and Asset Gateway hardware!
Frequently Asked Questions (FAQ) on Keep Truckin Dashcam Review
Many things must be considered when selecting a dash cam provider for your fleet. Also, these would include the fleet size, the budget scale, as well as the types of reports required for your company.
In this part of Keep Truckin Dashcam Review, we'll address some of the most often asked questions or concerns about choosing a dashcam provider.
Is The Keeptruckin Smart Dashcam Good for Me?
Dashboard cams provide several benefits that are not limited to truck drivers.
Fleet managers, Long-distance fleets, Taxi companies' fleets, delivery vehicles, private and commercial fleets, Fleets of construction vehicles, Limousine fleets, and Ride-share fleets, can benefit from this AI-Powered Dashcam.
Any company that relies on a regular commercial truck for the most basic parts of their operation should consider using the Keeptrukin dashcam.
Can I see videos of Critical Event Immediately?
The Keeptruckin Ai-powered Dashcam features 'plug and play capability, meaning ensures that whenever the dashcam is turned on, HD footage is instantly captured and quickly uploaded to the KeepTruckin dashboard.
Is The Smart Dashcam Working with The Older Model of The Keeptruckin ELD?
When you buy the new Dashcam, Keeptruckin will upgrade your ELD system for free to the new Cellular ELD (LBB3ca).
And this implies that if you are currently a KeepTruckin ELD customer, you will not have to pay any additional fees to update your ELD.
Keep Truckin Dashcam User Review
The Keep Truckin Dashcam Review would be incomplete without a look at general user feedback.
While there are many positive Keep Truckin Dashcam Review for this product, some are also unfavorable.
One of the Keep Truckin Dashcam reviews that stands out is the requirement to pay for KeepTruckin's Plus fleet management to use the dashcam.
Verified users emphasize the unreliable customer service and also the lack of clarity in the price plan.
This requirement to use the KeepTruckin ELD system makes this a less flexible choice for truck drivers.
Especially considering KeepTruckin's Pro ELD package that costs $35 per month.
One of the things that boost Keep Truckin Dashcam Review is the slew of useful features that will help to enhance the efficiency of your fleet.
These features include GPS monitoring, automatic fuel tax reporting, HOS compliance tracking, and many more capabilities available to you.
Finally, KeepTruckin is entirely ELD Mandate compliant, making audits a snap and keeping your total expenditures low.
KeepTruckin might not be for everyone, of course. The dashboard camera lacks status tracking capability; thus, you can't tell if a truck is idle, in the garage, or out of operation.
The smart dash cam needs a separate GPS plugin to track location.
Furthermore, several online Keep Truckin Dashcam reviews claim that the company's customer care could be improved.
Assuming all of the aforementioned information is still correct about Keep Truckin Dashcam Review.
We have graded this platform a C in terms of pricing owing to the hefty monthly fee and the necessity to integrate with a separate Keep trucking GPS plugin and ELD system.
Pros
Customizable reports and data
Wi-Fi and Bluetooth are both enabled
Annotations to videos with relevant tags
Robust dashboard providing critical event data
Installation of hardware and software is simple
The dashboard cam and the ELD device are integrated
It is available on the Android platform, iOS platform, and the cloud-based portal
Cons
The pricing plans lack transparency
Only works with cellular-enabled gateways
The GPS tracking device is an additional plug-in that must be tethered to the dashboard camera.
Unreliable customer service
There are no built-in status monitoring capabilities in the dashboard camera. A fleet owner will be unable to determine if a vehicle is inactive, parked, or out of service
To use a KeepTruckin dashboard camera, one must subscribe to KeepTruckin's Plus fleet management plan. This makes it one of the most expensive dash cams available in the market.
Expert Verdict for Keep Truckin Dashcam Review
As said earlier in this Keep Truckin Dashcam Review, the company has the world's largest trucking network, with over 500,000 truckers and 50,000 fleets.
However, why would a fleet company like to install KeepTruckin Ai-powered Dashcam?
It all boils down to these major elements.
To begin with, both the software components and hardware are fast and easy to deploy.
This ensures you will not have to take your foot off the throttle due to installation issues. Also, the fleet drivers will be able to concentrate on their daily tasks. Furthermore, if you'd like to employ the Smart Dashboard camera package.
You will also need to pay for KeepTruckin's Plus fleet management plan – which may be difficult if you don't want a comprehensive management system or already have a strong fleet management system in place.
That is why, when it comes to dashcams, it is important to keep your choices open. There are several good dashcam companies available, and we can assist you in finding the perfect one.
Simply fill out our simple consultation form, and you'll receive personalized estimates from a variety of reputable dashcam providers who can satisfy your company's specific needs.