Switchboard ELD
From $20 per month
Suitable for fleets
8.9/10
Features & Technology
7.9/10
Pros
Sturdy platform for a fleet to work with
Pricing
ELD Operation On Personal Devices or Dedicated Tablet
Possibility to switch to personal conveyance
Log editing & Messaging
Cons
No built-in navigation
Log edit system can become confusing if used in a large fleet
Not as many features as leading ELDs
(Last Updated On: November 8, 2023)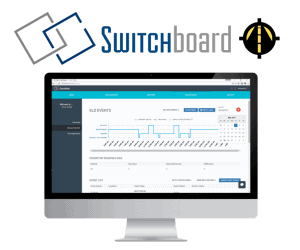 An ELD device is a hassle-free solution as compared to your paper logs. However, with the plethora of brands emerging with the technology, which one to go for? The Switchboard ELD might just be the choice for you. 
Switchboard is a relatively new brand when it comes to electronic logging devices. Despite that, it comes at par with big ELD names such as Motive (formerly Keep Truckin) and Eroad ELD in terms of quality and features. 
Grab EROAD special offer here>
Earn up to $200 signing up here
Simple enough for you, it is a device that's easy to use and helps you comply with the newly formulated regulations. Specially designed for fleet owners, it's also an accessible and affordable option for owner-operators. Let's dive into this review to give you all the necessary details. 
Switchboard ELD – The Company
As mentioned, Switchboard is a newer, small-scale, Canada-based company in the ELD market. Switchboard ELD has created the best solution after observing the drawbacks and undoings of the ELD companies preceding it. 
Our in-depth review of Switchboard ELDs reveals the company's commitment to crafting user-centric devices. In an era where many truckers are skeptical about the recent mandate, preferring traditional paper logs over digital ELDs, Switchboard stands out as a game-changer.
Furthermore, the company has made its device affordable. This means you can use the app, the web portal, and the device combined with all its features at a market-competitive price. Summing it all up, this company is promising enough for any fleet owner to give it a try. 
Let's look at some of its salient features so you can judge yourself.
FMCSA Compliance
When purchasing an ELD system, FMCSA compliance is crucial. Switchboard ELD ensures adherence to both HOS Mandate and IFTA regulations, offering features that maintain accurate logs and fuel records, and is certified by FMCSA for both Canadian and US regulations.
Devices And Compatibility
The Switchboard ELD gives you clear options according to your budget and needs. 
Switchboard ELD Dedicated Tablet
Firstly, if you want to equip your fleet with dedicated electronic logging gadgets, then you can go for the high-tech tablets provided by the brand. These tablets work flawlessly at displaying the Switchboard ELD App and have a user-friendly interface. This means your drivers will become pros at recording their daily logs and presenting them during inspections. 
ELD Operation On Personal Devices
Secondly, you can choose to go with the driver app only. While some brands include their own devices as a mandatory purchase in their ELD packages, the Switchboard ELD brand is flexible to your needs. If you are sure that all of your fleet drivers have a fully functional device, or you're an owner-operator who wants to cut expenses, you don't have to buy the ELD tablet. 
Instead, you can purchase the highly compatible app, which you can run on almost any Android tablet or phone. You can connect your phone through Bluetooth to the vehicle engine module and watch your phone record your driving details through the app. 
However, to maintain a certain amount of uniformity and avoid mishaps due to inconsistency, it is recommended that fleet owners buy the Switchboard ELD devices. This way, you'll be at lesser risk of any vehicle going missing, and you'll be able to deal with accidents and driver misbehavior immediately. This won't be possible if all vehicle drivers have different devices. 
Secure Bluetooth Connection
Besides that, the Bluetooth connection on the Switchboard ELD works impeccably. If you've used an incompetent ELD before, you may already know the pain of constantly reconnecting the device to ensure it's recording everything as it should. 
With the Switchboard ELD, that's not the case. Once you've connected the device to your vehicle module through Bluetooth, the connection remains secure. You don't have to keep checking if your device is keeping a record of your logs. This keeps your drivers at ease and helps you locate your vehicles with their status any minute.  
App Interface Features
As discussed above, the device you operate your Switchboard ELD software doesn't matter. That's because the app has a great interface design to help you maintain your logs on any device. Apart from the basic logging functions, the app interface has many other useful features that come in handy while running a fleet or vehicle.
Accessibility
The best and most notable aspect of the app is that it is easy to understand. As ELDs are mostly used by truckers and drivers who aren't tech-savvy as other people, choosing an app like this for your fleet is a great option. 
The design is highly intuitive. The app will explain step by step what the driver has to do, to begin with, the logging process. Also, the most important parts are located in visible parts of the screen. Therefore, you can access them easily and start working in no time. 
Weekly Recaps
Drivers have to maintain a 60-70 hour cycle each day. If you're an owner-operator and have been switching from status to status in the past week, you likely have no idea how many hours of service you've gone through or how many you need to put in to complete your required cycle. 
With the Switchboard ELD, that's not a problem. You can revise your complete weekly logs at the touch of a button. The app shows these details like a summary on your screen so you can stay well informed about your hours of service and make amendments if required. 
Driver Convenience
The Switchboard ELD app is specially designed to help users in every way. That's why you'll notice many features which make driving and logging easier for the drivers. 
For instance, drivers can comment on their statuses while changing them. These comments will be displayed at the main office. This way, a driver can keep everyone informed about the reason for the change in status if it's out of the norm.
Similarly, there's an option for drivers to switch to personal conveyance mode. Most fleet drivers seldom use their vehicles for personal trips, but if you're an owner-operator, these trips might end up on your logs. Switching to personal conveyance gives you an accurate representation of your time, especially during inspections. 
Log Editing
There'll be times when you need to edit your logs. If the data is not presented clearly, this job might become tedious for you. The Switchboard ELD app shows your hours as a visible red grid line. This way, you can see the changes you are making in real time. 
DOT Mode
Let's face it, police officers can be overly inquisitive sometimes. To deal with such situations, this app has a special DOT mode. You can switch to the mode during inspections, and the app will only show what the investigator needs to see. This will protect your personal information and fleet details which you wouldn't like to disclose publicly. 
Messaging
Furthermore, the app has a chat-style messaging system. The driver doesn't have to operate multiple devices and can connect with the back office, dispatchers, or the destination through the ELD itself. 
Pre and Post-Trip DVIRs
Before beginning the day, the driver needs to give in some details about his personal and vehicle conditions. This is known as the pre-trip investigation, while the post-trip goes vice versa. Saving your time, fleet drivers can complete these inspections on the app itself and get going.
New Features of Switchboard ELD
Engine Diagnostics
Switchboard has now implemented engine diagnostics algorithms to allow drivers and fleet managers to tell how their vehicles are performing on the road easily. Fleet Managers get alerts as to which vehicles are throwing error codes and how frequently they have a certain diagnostic error.
Switchboard also provides a unique feature that allows fleet managers to translate error codes into human-readable forms. Users will no longer have to go to their mechanic to determine what their engine lights mean, saving massive amounts of time and money.
Speeding Alerts & Driver Analytics
Switchboard has released its Driver Analytics feature, which provides monitoring and reporting of speeding and idling by driver and vehicle. Switchboard Driver Analytics provides easy-to-understand reports allowing users to see how their vehicles are performing and which drivers are causing unnecessary wear and fuel usage on the road.
Document Capture
Switchboard has released its fleet management features which allow drivers and office users to send documents like Bill of Landings and Proof of Deliveries through Switchboard. Switchboard allows drivers to get consignees to sign the document on the Switchboard application, simplifying the entire job process and optimizing fleet management.
Updated Log Editing
Switchboard has simplified the log editing process by minimizing the information users have to enter, reducing the risk of error. Users can edit in two methods – editing a section of time or changing a single ELD Event. No more entering location details such as distance from the nearest city or compass direction!
IFTA Reporting
Switchboard has overhauled its IFTA reporting to be best-in-class for the transportation industry. Switchboard uses intelligence calculation technology to determine mileage calculations per State and Province accurately. Instead of taking hours, IFTA should only take minutes.
Ease of Installation
With its updated hardware, Switchboard's installation is now plug-and-play, allowing drivers to get set up and ready to go in less than five minutes. Switchboard installation requires no special tools or wiring to get set up. Due to its proprietary BT connection technology, Switchboard's Engine Module can plug into the engine diagnostic port, and the Switchboard software will recognize the device immediately.
Updated Support Team
Switchboard has overhauled its support process and team, so drivers and staff can get their issues resolved in minutes. Switchboard's Expert Team is online and on-call 24/7, so any questions that occur on weekends or in the middle of the night are handled efficiently. Switchboard understands the stress of transportation, and we make it easier to manage.
Built-in Weigh Station Bypass
With Switchboard, drivers no longer need to have a transponder or other hardware in the vehicle to skip the weigh station. Switchboard Bypass is built into the Switchboard application and allows drivers to skip the scales, saving time and money.
Comprehensive Fleet Management Features
If you've been through its app features, you must be convinced about buying the Switchboard ELD. If you're still in doubt, here's a detailed description of its fleet management features. 
For a fleet owner or manager, the Switchboard ELD provides an easy-to-use web portal to help you keep up with the multitude of data at hand. You can easily correct, track, and view your drivers' logs from the backend. 
Similarly, the edits you make to driver logs will be presented to your in real time by a visible red line. This helps you make out your changes and easily identify any mistakes. 
Furthermore, from the management backend, you can also control the edits you've proposed to your drivers. This is a unique feature that you're unlikely to find in any other ELD portal. You can see all the
submitted logs edits, and additionally, you can view if your proposals have been rejected, viewed, or accepted. 
This helps you keep track of your drivers and maintain uniformity in your driver logs. 
With a whole team of drivers at hand, management can get difficult. Through the Switchboard ELD device, you can monitor your drivers' activities. Most importantly, the web portal alerts you when any unidentified activity is detected. 
In such situations, you can switch from one driver to another. You can use the proposed edit system mentioned earlier to inform your divers of the changes to keep the fleet moving without disturbance. 
You can locate any driver you need to through the GPS tracking feature. You can view the whereabouts of your desired vehicles in real-time and observe their movements as well. 
Besides that, you can trace the routes of your vehicles if you're suspicious at some points. This will help you regulate whether your employees are effectively using their work hours for you or simply if they're where they should be at that time. 
Fuel reports are essential to maintain for the International Fuel Tax Agreement returns. The fuel tracking system on this management portal is amazing. You can see the individual fuel breakdown for each of your trucks easily. As the IFTA regulations vary from state to state, keeping proper track of them is tricky. 
Also, you can trace the exact route of travel, along with the jurisdictions your driver passed through. You can upload fuel purchase transactions as well. When it's time to turn in an IFTA report, you'll be ready with the exact miles traveled and the fuel gallons used. 
Pricing
Compared to other ELD brands from its league, the Switchboard ELD has a reasonable price range. The pricing is flexible enough to facilitate all budgets and fleet sizes. 
Switchboard ELD offers Starter, Fleet, and Enterprise plans.
Owner-operators who want to maintain compliance without effort can consider the starter plan, which is free (0$ per month). It contains Add-On Switchboard Tablet 24/7 Support (3, Hours of Service Compliance, Log Editing, and Add-On Weigh Station Bypass.
Fleet managers who want to streamline business operations to concentrate on growth may consider a fleet plan. In addition to GPS Fleet Tracking & Geofencing, Driver Behavior & Log Editing, Automated IFTA Reporting, and Vehicle Diagnostics, this plan includes everything described in the starter plan.
Fast-growing businesses that require cutting-edge solutions to keep scaling up may request a custom quote for the Enterprise plan. Switchboard Vision, intelligent Asset Tracking, and Weigh Station Bypass are all included in this plan and everything discussed in the Fleet plan.
Other accessories like filters, cables, and tables can be ordered online. Overall, the basic price for an ELD engine module that you can plug into your vehicle is $200 upfront. Additionally, if you want to purchase a dedicated tablet, you must pay $250 extra.
Moreover, you will have to pay for your data plan as well. The price will vary according to your data plan if you operate the ELD system on your device. If you're purchasing a tablet, the inbuilt data package costs $15 per month.
What Does It Lack?
No device is completely perfect. We've found a few bugs and minor operating errors in the Switchboard ELD system, which should be discussed to provide an honest representation of the product. 
The Switchboard ELD does not have some useful features that you will find in other well-known high-end ELD devices. These features include engine diagnostics, built-in navigation, speeding alerts, and document capture. Although a fleet can easily survive without these features, they do come in handy if you're ELD device is equipped with them.
Similarly, reviews have reported some problems with the operation of existing features. These include unidentified driving tools. They're not always entirely accurate and therefore need some improvement. Besides that, the log edit system can become confusing if used in a large fleet and needs to be improved. 
FAQs about Switchboard ELD
What is Switchboard ELD?
Switchboard ELD is a comprehensive electronic logging device solution designed for fleet managers and owner-operators to ensure compliance with FMCSA and IFTA regulations.
Is Switchboard ELD compliant with both Canadian and US regulations?
Yes, while Switchboard ELD is a Canadian company, it is compliant with regulations mandated in both Canada and the US.
How does Switchboard ELD help with FMCSA compliance?
Switchboard ELD offers features that adhere to the HOS Mandate, ensuring accurate recording of service hours, statuses, and exemption points. It is also certified by the FMCSA.
What is IFTA, and how does Switchboard ELD assist with it?
IFTA stands for the International Fuel Tax Agreement. Switchboard ELD keeps precise fuel track records, simplifying the process of maintaining tax reports in compliance with IFTA.
Does Switchboard ELD offer engine diagnostics?
Yes, Switchboard has integrated engine diagnostics algorithms, allowing real-time insights into vehicle performance and translating error codes into layman's terms.
How does the Switchboard ELD app help with document management?
The app facilitates the transmission of essential documents like Bills of Lading and Proofs of Delivery. It even allows consignees to digitally sign documents, streamlining the job process.
Is the installation process for Switchboard ELD complicated?
No, with its updated hardware, Switchboard ELD offers a plug-and-play installation, allowing setup in under five minutes without the need for specialized tools.
What kind of support does Switchboard ELD offer?
Switchboard has a dedicated support team available 24/7 to address any queries or issues, ensuring efficient resolution even during weekends or late hours.
How does Switchboard ELD's pricing compare to other ELD solutions?
Switchboard ELD offers competitive pricing with flexible plans catering to diverse needs, making it a cost-effective solution in the ELD market.
Conclusion
In a nutshell, Switchboard ELD emerges as a comprehensive solution for both owner-operators and fleet managers. While there's room for improvement, its current offerings, coupled with competitive pricing, make it a worthy contender in the ELD market. If you're scouting for an efficient yet affordable ELD solution, Switchboard deserves consideration.
For tailored advice, don't hesitate to fill out our consultation form. We're here to guide you every step of the way.