Suitable for fleets
8.5/10
Features & Technology
7.5/10
Pros
No long-term contract requirements
FMCSA & DOT Compliant Solution
GPS Trackit is a low-cost, reliable solution
Outstanding tracking capabilities and a good track record
Fuel tracking included
Cons
ELD compliance costs extra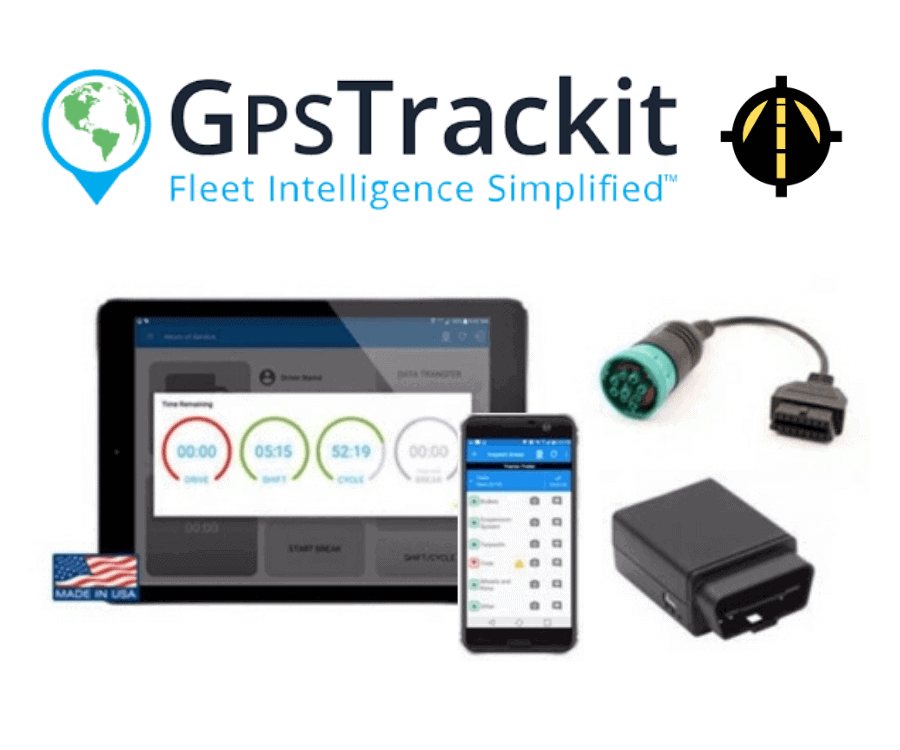 GPS Trackit developed an Electronic Logbook app for iOS and Android devices called ELD Fleet. With the app, you can have access to powerful fleet management tools that are easy to use and compliant. It's easy to comply with the eld mandate when using ELD Fleet. However, to reap the maximum benefit of this software, make sure to use it in combination with an ELD device.
Everything You Need To Know About The GPS Trackit
GPSTrackit is one of the GPS tracking companies in the USA offering GPS tracking services. The company offers a highly integrated fleet management software suite that allows companies to track and control fleets of vehicles. Its eld fleet is basically a mobile device app that you can easily use through your Android and iOS device, regardless of the trucks or drivers.
Fuel control, driver monitoring, accident reporting, truck tracking, and so much more are the essential features of this software. All these features collectively facilitate robust real-time collaboration, tracking, and reporting.
It is ideal for commercial truck tracking devices and the use of small vehicle fleet companies. This software features GPS tracking software, necessary navigation tools, charts, history tabs, alerts, and feedback tools. And the GPS Trackit app is also easy to use.
Overview Of The GPS Trackit service
GPSTrackit has been used by thousands of customers, including fleet vehicle tracking companies, to streamline fleet management operations, which can include small and large numbers of vehicles. By using this fleet management GPS solution, fleet companies and owner-operators can establish a collaborative environment in which it gets easier to track every vehicle and driver in terms of location, timing, and performance.
Alongside this, it also helps to create cohesiveness between the company's operations and could also be aligned according to vehicle or driver availability. Also, transparency would result when the fleet management procedures have been synchronised perfectly with the GPSTrackit fleet management software.
What Makes GPS Trackit Distinct From Others?
Several fleet telematics companies are on the market; however, what makes GPS Trackit different is the easy interface that somebody without previous knowledge could use. Even if the user lacks previous knowledge or training, GPS Trackit's Fleet Advisor feature provides excellent customer support and training.
The fleet team members are, therefore, trained to make the most out of the technology to achieve goals associated with fleet management activities. Therefore, fleet companies can focus on reducing costs and increasing profitability by streamlining the planning, implementation and tracking processes.
Thus, detecting and evaluating safety and risks associated with fleet management becomes possible before they become a barricade in smooth workflows becomes possible. It also tends to help with smartphone app integration to take control of resources and protect assets 24/7 from unexpected events.
Acquisition of TSO Mobile, InTouch GPS, and Fleet Trax
With GPSTrackit Roswell GA headquartered, the company has become an industry leader in the telematics and fleet management technology industry for almost 20 years.
The fleet GPS tracking no monthly fee company plans to extend its portfolio of asset tracking tools with the acquisition of complementary telematics brands – TSO Mobile, InTouch GPS, and Fleet Trax, completed in 2018.
Such acquisitions represent a significant step forward for GPS Trackit, with the major benefits of the combined service platforms. Alongside this, it provides the company with an extra scale of tripling its customer base as well as the talented staff at each of the acquired companies.
With the implementation of the whole acquisition phase, GPS Trackit strengthens its robust telematics services with an innovative approach to customer satisfaction and product quality. The company also strives to stand out, focusing on its experience and ability to concentrate on fleet-specific solutions.
HOS Made Easy With ELD Fleet
The ELD fleet's electronic logbook software solution goes beyond compliance with a powerful suite of HOS logging and DVIR recording features. They are thus helping drivers to avoid violations and streamline everyday logging operations.
The ELD fleet app is user-friendly, driver-approved, and fully compliant with FMCSA. Fleet managers and owner-operators know how to handle an ELD solution, putting them in place for success and not interfering with their processes.
And this fleet management software system has been developed to be as comfortable and fleet-friendly as possible. Therefore, vehicle drivers can be assured their HOS logbook is accurate and compliant. As we all know, the Federal Motor Carrier Safety Administration's mandatory ELD usage requirement permanently changes the transportation industry.
However, with the eld fleet solution built to keep your fleet comfortable, compliant, and heading forward, you can stay ahead of the game. 
Choosing the best ELD device for your business need might be confusing. Please fill out our consultation form, and we will help you in this situation.
Benefits Of The ELD Fleet APP
With ease, the FMCSA-licensed, user-friendly electronic logbook will free your fleet from the hassle and unavoidable errors involved in manual HOS logging.
Therefore, keep the momentum going with a platform aimed at helping drivers handle inspections and produce detailed reports that are compliant. ELD Fleet Supports Driver Vehicle Inspection Report (DVIR) creating and sending of electronic HOS logging.
The following are the benefits of using the eld fleet app by GPS Trackit.
Driver Alerts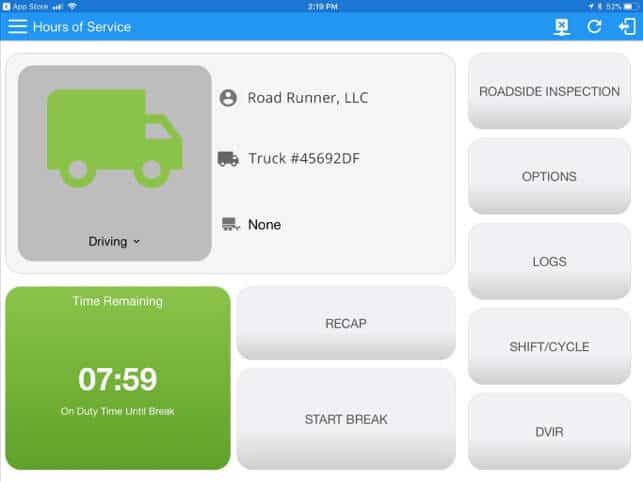 Practical notifications keep drivers updated, thus reducing violations.
It also helps in setting up personalised alerts and provides drivers with a wide range of triggers and notifications unique to the industry.
The fleet tracking app offers enhanced safety features such as driver scorecards, safety warnings, and predictive technical safety information.
And thus monitors the drivers ' hard braking and speeding as well as acceleration and unnecessary idle time.
And also, to keep you up-to-date on repairs and maintenance and security marquee incidents, you can set up notifications and alerts.
If you are bringing heat-sensitive items, you can even track the temperature in the vehicle.
Minimizes Error
If a logbook error can result in a DOT violation, it's all about accuracy. Automation and potential error alerts reduce the possibility of errors.
Ditch the Paper Logs
As the eld fleet app helps in getting compliant, it also helps to reduce the waste of paper. Greener and smoother, the paperless process reduces the need to keep track of paper logs.
Minimizes Audit Risk
The fleet management GPS tracking helps to keep one step ahead of the DOT to avoid penalties.
The eld fleet vehicle tracking app is designed to make it possible for every company to handle HOS compliance.
Easy log transfer
With this best GPS fleet tracking for small businesses, drivers can use the eld fleet app to quickly and effortlessly upload their logs on request with a simple roadside inspection mode and various electronic data transfer options.
Authorized drivers
As one of the best fleet GPS tracking systems, the eld fleet app offers the tools your drivers need to confidently navigate DOT inspections and logbook reviews.
The fleet tracking app solution for the electronic logbook is self-certified and licensed with the FMCSA.
Why Choose a Product from GPS Trackit?
1. No Minimum Fleet Size
GPS Trackit has no minimum requirement for a vehicle.
And this enables companies of all sizes to reap the benefits of the services provided by one of the top telematics companies 2018 – GPS Trackit.
Coupled with the truck GPS tracking system price and features of the eld fleet app, this makes it a perfect solution for small businesses or startups.
This eld solution could also be ideal for new small vehicle fleet business owners that are new to fleet tracking.
A user could also use GPS Trackit to understand how fleet tracking can make a difference in their company without having to engage in a long-term contract.
2. Low Pricing Plan
The operation of GPS Trackit is structured on a month-to-month plan without a lengthy-term contract.
And therefore, the user has the freedom to work on a short-term basis with GPS Trackit GPS tracking service.
Another advantage for fleet companies would be that the pricing model allows GPS Trackit to provide you with the absolute best support and service, as a long-term contract does not bind you.
It also provides all of its product pricing information directly online, which shows that it is a transparent company. GPS Trackit appears to offer a 30-day cash-back guarantee.
Therefore, the fleet vehicle has a month to try out the service, and they will get a cash refund when they are unhappy with the product.
The whole plan structure is distinctive in the GPS fleet tracking business sector; however, the services offered by GPS Trackit distinguish it from competitors and set it as a great value.
3. Transparency
On its website, the GPS companies list their pricing. This provider of fleet management apps offers multiple plans and continues to work to execute the program with the right functionalities for fleet companies.
And through live chat, phone, and email, users can come into contact with GPS tracking. The company sales support has helped explain what the GPS fleet management partner company offers without ever being pushy in any situation.
4. Reliable Reporting
With a fleet management solution, you gain access to all the data-rich and customisable reports that matter most for your business. With detailed insights into your entire fleet or individual driver scorecards, it's never been easier to stay on top of important numbers like miles driven per state to track fuel taxes more effectively than ever before.
5. Personalized Automation
With our GPS Trackit fleet management software, you can automate the things you do regularly with a few easy clicks. Our fully-loaded reporting feature helps save time by regularly delivering reports directly to your inbox. With detailed daily information and data-rich custom reports, we give managers more of what they need without any clutter that tends to get in their way.
Pros
No long-term contract requirements

FMCSA & DOT Compliant Solution

Free GPS units included

GPS Trackit is a low-cost, reliable solution

Outstanding tracking capabilities and a good track record

Fuel tracking included
Cons
ELD compliance costs extra
Features of ELD Fleet by GPS Trackit
With the ELD fleet e-logs of GPS Trackit, the drivers can record their hours and get on the road more efficiently than ever before.
Features of the eld fleet app include:
Easily Generate and Transmit Reports

Smooth GPS Trackit installation process

Automated Hour of Service (HOS)

Reduces Errors and Saves Time

Simple Storage and Retrieval

Customised Driver Alerts

Real-Time Vehicle Tracking

Unser-Friendly Interface

Asset Protection & Management

Recover Lost or Stolen Vehicles

Minimum

Violations
Pricing
GPS Trackit's eld fleet is one of the few GPS tracking services we checked that publicly lists all its pricing information on its webpage. It has no requirements for long-term contracts, and the user can partner with GPS Trackit on the monthly basis. The GPS fleet tracking pricing costs $23.95 a month, along with the products.
The GPS track pricing has no activation fee and provides a cash-back guarantee of 30 days so new users can try the services before subscribing. GPS Trackit stands out from a value perspective as a company offering reliable products at an affordable price.
Customers' Review of GPS Trackit Services
In this GPS fleet tracking review, only about half of the GPS track reviews come from fleet vehicle owners and fleet managers, with the rest coming from drivers using GPS Trackit as an application for logging.
Although drivers typically have no say in what electronic logging system they will use, it is important to keep in mind that most driver comments were still very positive about this product. Many vehicle drivers considered the fleet eld logs simple to fill out.
As the elf fleet app operates with both Google Android and iOS phones, it appears that some drivers have downloaded it on their phones. Some other drivers commented that while their company gives them mobile devices, they appear to be bulk-purchased phones with little power.
Drivers with this issue wrote that GPS Trackit has become so lean that this didn't make a difference. They have also not encountered any delays, except that logs sometimes have to be filled out during shortstops, which is useful.
Evaluations from management staff sometimes tended to focus on how impressed they were with the tracking software. Understanding where a truck is makes the time it takes for a delivery to arrive much more comfortable to predict. And they also reported that the product helps fleet managers and small fleet companies take care of FMCSA compliance.
What Can We Learn From User Reviews?
The reality is that GPS Trackit is a practical solution for electronic logging. It seems to help most fleet managers avoid many issues with reporting regulations. With the ELD fleet, IFTA fuel tax reports are often automatically created. Which sometimes helps to reduce the amount of bookkeeping that needs to be done.
However, some critiques focused on the issue of the software-licensed maps from Alphabet being approved by the company rather than using their own. At the same time, this implies that the app has to use Google Maps to keep a vehicle record, which may cause some concern for those with license agreement issues.
It may also cause some delays if Google has an outage.  Now that most drivers are likely already using a Google Maps version anyway, it wouldn't be too much of a problem for most businesses.
As a result, GPS Trackit is an inexpensive GPS tracking system that small fleet company owners can use from any phone to keep a close eye on their vehicle fleet.
Conclusion For GPS Trackit
Without doubt, the eld fleet app has a great platform; and can be used on mobile phones, enabling you to use GPS to track its fleet login from anywhere. The dashboards feature maps, statistics, and your fleet's relevant information.
And this also breaks down performance metrics and provides insight into clear graphs and dashboards to obtain the most valuable data from your analysis. Overall, the eld fleet is perfect for owner-operators and small fleet companies with many different drivers but is limited in other personnel's ways.
If you are confused about choosing the best suitable fleet management solution for your business, kindly fill out our consultation form, and we will get back to you in no time.
You can also check our review of geotab GPS reviews, fleet tracker Verizon, in our us fleet tracking reviews.