If you're wondering how to use ELD logs, then worry not, we have got you covered. Every new technology has its own learning curve, same is the case with E-logs or Electronic Logging Devices (ELDs). Also, you can check here FMCSA approved ELD list. We'll teach you how to use elogs perfectly.
As per the ELD Mandate, all truckers and fleet owner-operators are required to install ELDs on their trucks. The implementation deadline for both the US and Canada is by the last quarter of 2019.
So in case you haven't purchased yours yet, go ahead and take a look at the list of the top ELD devices in the market to weigh in your options.
Granted that none of them cut in terms of budget, here are some affordable options as well.
However, assuming that you have already made your purchase and want to know how to use elogs, like a new gadget, then this blog is the right place to get educated about FMCSA approved ELDs.
Here we will share basic knowledge regarding ELDs and when and how to use elogs. We'll also talk about HOS, different types of E-log devices, and how to install them in your CMVs. Finally, we'll introduce "BYOD" and the top software and apps for E-Logs.
So, let's get started!
What is an ELD?
An ELD, also known as E-log, is a device (electronic hardware) that is attached to Commercial Motor Vehicles (CMVs) to record their duty hours automatically.
You should start using Electronic Logging Devices if you haven't started using them yet. They can solve a lot of significant issues that fleets face on a daily basis. Some of these include:
Lack of communication on the road

GPS tracking

Inefficient routes

Driver log errors

IFTA reports

Vehicle maintenance issues

Idle time tracking
Top ELD devices help drivers to manage, track and share data during their drive accurately. An FMCSA approved ELD works by keeping the vehicle's engine under observation. By capturing whether the engine is operating or not, it automatically records the location, time, date, engine hours, vehicle miles, motor carrier, and user authentication.
Following are some of the primary functions of an FMCSA approved Electronic Logging Device:
Recording driving time and details automatically

Recording location automatically

Transfer electronic data

Internal synchronization

Tamper prevention

Driver records certification

User manual

Controlling audio

Report displaying for security officials on demand
When Do You Need to Start Using an E-Log? How to use elogs?
According to the new rules, FMSCA approved ELDs need to be installed in all trucks (model year 2000 or later) engaged in interstate commerce.
Yet, many truckers in the US and Canada have not installed an ELD device on their trucks although the ELD Mandate is already enforced and the use of ELD devices is mandatory now.
So there is no "When" anymore. The FMCSA estimated that approximately 3 million truck drivers still use paper logs. If you are also a user of paper logs, you need to switch to ELD unless you are a trucking company that currently uses automated onboard recording devices. If that is the case, you have four years to change to ELDs.
However, there is an exception, though. Any truck driver who is exempt from the Hours of Service rules, such as the short-haul drivers, don't need to use an E-log device. So, if you are a commercial driver who falls under this category, then you don't have to obey the ELD rule.
HOS (Hours-Of-Service):
Hours of Service is a set of rules that aim to prevent accidents caused by driver fatigue. It limits the number of weekly and daily hours that drivers can drive and work. Along with that, it also specifies the minimum duration of time drivers must rest between their shifts.
Overall HOS helps commercial vehicle drivers by regulating their maximum number of duty hours, specifying mandatory break times and off times, and duty cycles.
These rules and regulations were issued by The Federal Motor Carrier Safety Administration (FMCSA) in December 2011, and are applicable to commercial truck drivers driving CMVs in the US and Canada.
A Brief Overview Of HOS:
A typical HOS log provides the following information about the working hours of the driver:
Off Duty: The driver is not on duty/not working.
Sleeper Berth: The driver is resting in the truck's sleeper area.
Driving: The driver is actually driving the vehicle.
On Duty: The driver is performing some work other than driving (uploading, inspection, fuelling, etc.)
The HOS Rules:
Following are the basic rules that must be strictly followed by drivers to uphold the Hours of Service regulations:
11-hour driving rule: According to this rule, a driver may drive up to 11 hours in total before he takes a 10-hour break. The 11 hours are only calculated during the time the driver is actually driving the truck.
14-hour on-duty shift rule: As soon as the driver resumes work and converts his status to "On duty," the 14-hour clock starts ticking. This clock does not stop ticking even when the driver switches back to "Off duty." As soon as the 14 hours are up, the driver must take a 10-hour break.
70-hour in 8-day rule (or 60 in 7): Total time spent while driving and on-duty must not exceed 70 hours during an 8-day period. Similarly for seven days, adding up the total duration for time spent on duty and driving cannot be over 60 hours.
8-hour, 30-minute break rule: When the driver is on break and changes the status to "Driving" or "On duty," an 8-hour clock starts ticking. Before the eight hours are up, the driver must take at least a 30-minute rest break stating "Off duty" or "Sleeper."
10-hour break: If the time on the 11-hour or 14-hour clock has expired, the driver must take a minimum break of 10 consecutive hours in "Off Duty" or "Sleeper Berth" status to reset the clocks.
34-hour restart: If the driver is running low on time on his 70-hour in eight days clock or 60-hour in seven days log, he can complete a 34-hour restart to reset the 70-hour clock.
Different Types of ELDs:
Even though many variations are available, there are two basic types of ELDs:
Dedicated Units: These primarily comprise of the older forms of e-logs, which were popularly known as Electronic Onboard Recorders (EOBRs) or Automatic Onboard Recording Devices (AOBRDs).
These units come in a single device package that is directly connected to the ECM (Electronic Control Module) using a cable and plug, hence the name "dedicated."
Data is stored using a combination of back-office servers, cloud storage, and the device itself. In order to provide ELD functions like recording location, engine hours, and mileage, AOBRDs use cellular network and GPS functionality.
BYOD: BYOD stands for "Bring Your Own Device." These types of E-log devices are currently the most prevalent in the market.
Their units allow truck drivers to run e-logging software on their own smartphones or tablets, thereby eliminating the need for Vehicle-Installed/Dedicated ELDs. We will discuss BYOD in detail in a later section of this blog.
Guide to Choose the Best ELD
A top ELD device should be one that fulfills all the current industry standards and the regulations for owner-operators. While purchasing E-log devices for your fleet, you must consider the following essential aspects:
It is necessary to ensure that the selected product is within your budget and its features are according to your need.
You also need to ensure that the device you are about to buy is relatively easy to install and user-friendly.
Also, the device must be such that your drivers can quickly learn its operation and are comfortable using it when on the road.
Many products in the market barely fulfill the above considerations. But, if you remember these three factors, it will save you from future losses.
Similar to other electronic gadgets, it is crucial to select an E-log device that is up to date and obeys all the federal rules and regulations. Some ELDs come with warranties and manufacturer guarantees so that users (the drivers) can be sure the product they have purchased can be updated if the need arises.
If you need some help in choosing the ideal E-log device for your fleet, here are the top 10 FMCSA approved ELDs that are garnering rave reviews from the trucking community.
How to Install an ELD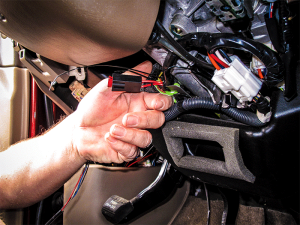 The first part you have to learn about how to use elogs after purchase the product is the installation method.
To make the installation process easier for the users, we have summarized the whole process step by step below. You can follow these steps and get your E-log device installed quickly:
Step 1: Finding Truck's Diagnostic Port
The position of the diagnostic port may vary as per the vehicle make and model. You might find the port at any of the following places:
•  Under the dash or the wheel/steering column to the left or right
•  To the left or right of the pedals or above the pedals
•  In the fuse box
•  Above the footrest
•  Near the clutch pedal handbrake or the handbrake
In some trucks, you may also have to remove a plastic cover to find the connector.
Step 2: Attaching Device to Diagnostic Port
You have to fit your ELD device to the 9-pin or 6-pin connector, rotate the collar to align the collar tabs with the matching slot on the diagnostic port. Press firmly until the ELD is fully connected. Then turn the collar clockwise until it clicks.
If the E-log needs to be fitted to the OBDII connector, line up the device connector so that it exactly matches the diagnostic port in the vehicle. Then firmly press until the ELD device is fully connected.
Step 3: Device Is Nearly Installed Now
It is recommended to always install your E-log device in a place that will not:
block or interfere with the safe operation of the vehicle pedals;
obstruct the driver in any way;
Also, try to avoid installing the ELD under metallic surfaces. This is because Electronic Logging Devices need proper ventilation to work efficiently.
If the place/space is a closed one, use the extension cable and double-sided sticky pad in the kit to place the ELD device in a better position.
Using Your Own Smartphone, Tablet, GPS: BYOD
The "Bring Your Own Device" or BYOD refers to the phenomenon in which employees bring their own hardware devices (smartphone, tablets, GPS, etc.) to the workplace, and use them to work on company projects.
In the trucking community, drivers use ELD software on their smartphones or tablets to keep their HOS and duty status on a track. A typical BYOD-configured ELD consists of a "dongle". On one hand, it links with the driver's device using Bluetooth, while on the other hand, it connects to the ECM using the truck's onboard diagnostic port.
Benefits of BYOD:
Familiarity: By letting your drivers bring their own smartphones, you are actually providing them with hardware that they are already familiar with. This creates a level of comfort that may help minimize errors and simplify the onboarding process for drivers that do not know how to use an ELD device or have never used one before.
Easy to install and uninstall: ELDs that do not depend on hardwire are very easy to install and uninstall. The ability to easily install and uninstall comes in handy if you are a large carrier or you have many owner-operators around.
Portability: It is apparent that you cannot take a hardwired ELD unit outside the truck you are driving. But in the case of BYOD ELD, you can just grab your smartphone or tablet and go out of your vehicle to take pictures and stuff like that. Your data will always remain with you, even outside the vehicle.
Disadvantages of BYOD:
Expensive: Even though you might not be paying for the individual devices, maintaining real-time data of the location and duty hours of the truck drivers requires a high-speed internet connection. If your company has to pay for every driver's data plan, then the costs will quickly add up.
Limited device options: All smartphones or tablets operate on either Android or iOS platforms. This potentially limits the choices available to vendors since the BYOD ELD applications have to run on either of the two operating systems or not at all.
Best Software and Apps For ELD
Below we have listed the best software and mobile/tablet applications for FMCSA approved ELDs:
Motive (formerly keepTruckin) Electronic logbook: Motive (formerly keepTruckin) is the highest rated Electronic Logbook App and ELD system. It helps you record your Hours of Service using either your smartphone or your tablet.
Transflo HOS: This app helps the user to track and access HOS, electronic logs, duty status features, and more from their mobile device or tablet.
Gorilla Safety: The PRIME8 mobile app is designed to offer an easy-to-navigate portal using which you can access all the features and capabilities of the PRIME8 ELD device.
Garmin eLog: The app for the device automatically tracks and records Hours of Service. It also allows you to manually set driver duty status and lets you see the remaining driving hours by day or week.
Switchboard ELD + AOBRD: Switchboard combines the best features of AOBRD and modern-day ELD. Like the other apps, it can also be used by truck drivers on their smartphones and tablets.
E-Logs with Easy Installations
Here is a list of some of the best E-logs that are easy to install and user-friendly:
Rand McNally – ELD 50: To install the ELD 50, all you have to do is to plug it into the diagnostic port and then follow the on-screen instructions.
My20 ELD by Konexial: It is the most affordable eLog Device for fleet owner-operators.
Garmin eLog Compliant ELD: This ELD is easy to install. After plugging it into the diagnostic port of your vehicle, you'll just have to download and install the Garmin eLog app on your Android or iOS device to get started.
ThinAir ELD: Again, this device is also effortless to use, and the installation process is equally hassle-free.
Stoneridge EZ-ELD: This E-log device stands out for its relative ease to move from one vehicle to another. It comes with multiple adapters so that it can be effortlessly installed on different trucks.
If you are a truck or fleet owner in the US or Canada, then ELDs are indispensable. Having the right e-logging device installed in your vehicles will ensure that you remain compliant with FMCSA requirements. It will also give you access to an assortment of features that will effectively keep track of your HOS.