(Last Updated On: August 24, 2023)
Are you looking for GPS Tracking systems to manage your fleet?
There are many out there, but are all of them also ELD compliance? If so, which has the most reliable features?
If you are asking yourself all these questions, you've come to the right place…
We are going to give you an overview of what GPS Tracking Systems are about and which are our picks to be fully compliant.
What is a GPS Fleet Tracking System?
The Global Positioning System (GPS) enables fleet management professionals to track their vehicles and enhance the value of their assets, reduce costs, and improve productivity.
There are many ways in which GPS fleet services benefit commercial vehicle operators. These include routing, fuel efficiency, reduced maintenance costs, and higher safety and security. If you are wondering how GPS fleet tracking works, you would be amazed to know that it's pretty easy!
GPS fleet tracking helps to know exactly where your fleet is at all times to get the most efficient use out of the vehicles.
Issues like whether there is heavy traffic are also crucial. Exact location tracking gives your fleet more flexibility — it can serve unplanned customer requests, locating the nearest vehicle for response in the shortest possible period.
Costs of GPS Fleet Tracking
Implementing a fleet GPS tracking system involves both upfront and ongoing costs. The initial cost includes purchasing and installing the hardware and software required for the system. Ongoing costs may include monthly subscription fees, data storage, and software updates.
However, the benefits of GPS fleet tracking often outweigh the expenses, as it can significantly save fuel, maintenance, and productivity.
What Are the Advantages of Using GPS Tracking Systems?
More efficient routing decreases fuel consumption by avoiding heavy traffic and shortening distances.
The capability to change routes based on real-time information, weather, and traffic patterns can reduce maintenance costs by limiting exposure to conditions that promote excessive amortization.
This can extend the useful life of the fleet and the time between service intervals.
Employing GPS fleet tracking, you can collect data such as:
speeding
rapid acceleration
harsh braking
sudden cornering
This information can be used to assess driver performance, lower the risk of accidents, and help drivers maintain good practices.
Best GPS Fleet Tracking Companies – 2023
#1   TSO Fleet Pro
TSO Fleet Pro is a mobile app offering a new and innovative way of accessing fleet data and tracking it while on the road.
The app features a list of all your vehicles, and you can select the units you want to track. The map offers three views – street, satellite, and hybrid – in real-time.
Click on a vehicle's icon and get instant access to the most current information on that vehicle.
Pros
TSO Fleet Pro is made for Apple users who want to track their fleets on the go and pull up a detailed history of fleet activity.
It is easy to view historical locations on the map – just choose a date range. Multiple vehicle selection in the Units list is possible.
The sensor system features a history, filters, and notifications.
You can chat and send messages through Garmin devices, manage work orders, control your units remotely, and access all your fleet's location information from your smartphone.
The app lets you maximize productivity, optimize scheduling and routes, save money on fuel costs, monitor fuel usage, lock and unlock your vehicles remotely, and improve drivers' communication.
All this will culminate in a higher turnover and increased profits.
Cons
The company requires that you have a contract with them to use the app, i.e. you need to be an existing customer of TSO.
#2   Teletrac Navman Mobile
Fleet managers can control their workforce on the go with this app's fleet GPS tracking, available on both Android and iOS.
This unique technology provides insight into where your fleet and other assets are and their activity and state, and easy, cost-effective communication with your mobile workforce is a given.
Whether the fleet manager is in the office or on the road, Teletrac provides them with the fleet intelligence they need to track and manage the whole fleet.
Pros
Real-time location tracking to find a vehicle or asset anywhere, anytime is possible.
A simple query will suffice to get instant statistics about a certain vehicle's status.
The maps accessible with this app are integrated with Google's standard or satellite maps.
Fleet operators can send messages to make communication with one or multiple vehicle operators easier.
Finally, the routing feature lets you send a destination address with navigation instructions to a driver with turn-by-turn directions instantly.
Cons
There have been complaints about having to wait too long for customer service, in some cases over a week. The company has apologized and given assurance that they are working to employ and train more staff.
#3   GPS TrackIt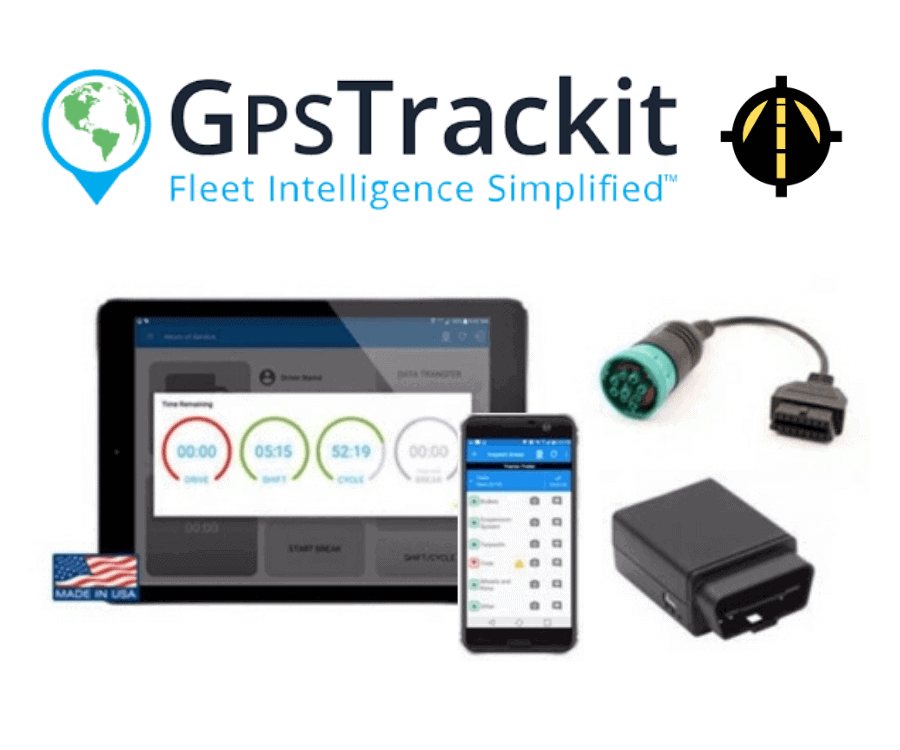 GPS TrackIt's products are affordable, easy to use, and full of amazing features.
Their vast array of devices and software offers everything you need to monitor vehicles and drivers at all times and from anywhere. This company also doesn't have a minimum entry requirement.
Straightforward And Easy To Use
The company has iOS and Android apps with intuitive navigation and very user-friendly layouts. The apps feature simple arrows and menu tabs, making it easy to access different functions.
The main features – Vehicles, Maps, Vehicle History and Geofences — are clearly labeled and highlighted for one-click access to the most relevant and frequently accessed data.
The software and hardware are also easy to install.
The fleet tracking GPS system is equipped with plug-and-play hardware.
GPS TrackIt's mobile app comes with basic fleet and driver monitoring features.
This includes the capability to keep track of vehicle conditions such as maintenance and fuel consumption, locate vehicles, and monitor driving behavior.
However, the app is not limited to just these features. It incorporates both fleet management software and GPS hardware data so it is possible to operate your entire fleet straight from your mobile device.
You don't need to log in to the web or desktop version of the software to set alerts.
The mobile app lets you set up all kinds of real-time notifications, including maintenance alerts and bad driving alerts, like speeding and making unauthorized personal stops. You can also set up driver arrival and departure alerts to make sure your drivers are adhering to their shifts and schedules.
Remote Dispatching And Management
While many companies require you to log in if you want to manage drivers remotely, GPS TrackIt lets you contact and dispatch them, send directions, re-route vehicles, and offer your drivers assistance if they are late or need help from anywhere.
This feature is also handy for providing faster response times to improve customer service.
Maps are mobile-optimized, so the user can view more than one map simultaneously. It is also possible to view each vehicle's speed and the direction it is moving in on a single screen.
The company uses Google Maps to reflect the most accurate locations, including satellite views and addresses.
The company places no limit on the types of reports you can run or view. Whether you're accessing driver profiles and histories, vehicle maintenance reports, event summaries, or custom reports, it is possible to view them all in detail on your smartphone or tablet. Emails are sent with a single click.
Data Sync And Storage
The company's cloud-based fleet tracking GPS app allows you to sync data and any changes made across all devices and users in real-time.
Whether you're on a tablet, computer, or smartphone, you'll always have access to the most current information.
You get access to all of your data right from the get-go. The company holds data permanently, so you always have a record of everything going on with your fleet.
Great Customer Support During Business Hours
GPS TrackIt's customer service can be reached by phone using a toll-free number, email, or live chat via the company's website. You can also connect with them on social media. The staff is friendly and helpful.
The company's website also has an FAQ page, a blog, a collection of resource articles and free demo videos.
Pros
GPS TrackIt offers affordable, customized pricing solutions, giving you the freedom and flexibility to adjust the software and hardware to your fleet's unique needs.
You don't have to pay for features you won't be using. This can save you a lot of money and help you create the perfect GPS fleet tracking software for your establishment.
The company's fleet GPS tracking software comes with a free 30-day trial, so you can test it before making any commitments.
Cons
On the downside, GPS TrackIt requires a long-term contract. You can choose a one-, two- or three-year contract, and there is no fee if you decide to terminate early.
Limited customer-support hours are an additional drawback. There is 24/7 support by email, but you won't always be able to contact a real person if you need immediate help outside of business hours.
#4   InTouch GPS
InTouch GPS is a great fleet tracking company with top-quality software, especially for small businesses.
It is inexpensive, features free hardware, and you don't have to sign a long-term contract or have a minimum number of vehicles in your fleet.
Top Features
InTouch's GPS software features:
24/7 tracking
location and dispatching
Google Maps integration
customized alerts
You can watch your fleet around the clock. The company gives you access to a live view of vehicles and vehicle data at all times, so you always know where your fleet is.
It is easy to find and contact vehicles from your dashboard – just enter an address and you can locate the nearest vehicle available to take an order.
This GPS tracking fleet management feature also helps you inform drivers of any urgent changes.
Using customized alerts, you can monitor your fleets even when the software isn't being used.
InTouch GPS lets you set up custom text and email alerts for a vast number of events, so you'll always know what's going on.
These include:
bad driver behavior, such as excessive idling, speeding, and going off-route
maintenance reminders at specific dates or mileage
geofencing and landmark notifications
driver arrivals and departures
beginnings and ends of shifts
when reports are created and sent
and more…
On-Demand ETA
When you enter a vehicle's endpoint in the "Destinations" category, the company will automatically update ETAs until the vehicle arrives.
Using the mobile app, you can track your fleet and drivers wherever you are. There are iOS and Android mobile apps for mobile access to fleet and driver data.
Among the fleet tracking GPS features available are: live views, alerts, vehicle status, reports, and more.
InTouch GPS lets you generate all types of fleet and driver reports, including customized reports based on your organization's unique needs.
You save time by generating all types of reports automatically, whenever you need them – daily, once a week, or once a month. They are forwarded to your email or multiple recipients based on their roles and departments.
Maintenance Scheduling
If you are wondering what is GPS fleet tracking and what it does, it is an automatic tracking system that helps prevent costly repairs. It sends notifications when service is coming up or when it is overdue so that you can prepare accordingly.
You can create driver profiles and compare their performance, assess them based on safety, work completion, and other metrics to identify issues that need to be addressed, top performers, and whether further training is needed.
The company also offers a buyer's guide, how-to guides, step-by-step video tutorials for GPS tracking fleet management, a FAQ section, hardware and software documentation, and ongoing training.
Pros
InTouch do not charge any installation or maintenance fees.
There are no hidden costs, and the price includes phone support.
Their software has one of the easiest user interfaces you can imagine, with a clearly comprehensible menu system.
Installing their device is also easy.
You can use plug-and-play hardware – all you need to do is plug it into a port in the vehicles you want to track.
It connects to the software automatically and starts transmitting data almost immediately.
Cons
The company's customer service and tech support take calls only during business hours – 8 a.m. to 5 p.m. US Eastern time. This means that if you need help or have an emergency and are located on the West Coast, you might have to wait until the next business day.
The company offers several hardware and service options, so it can be a challenge to try and figure out which combination is right for your fleet.
There are also different GPS fleet tracking devices and separate plans for asset tracking, such as non-vehicles.
There is a one-time $20 hardware activation fee, which is a bit of a downside.
Moreover, the company requires the first and the last month's payment upfront. This information is made clear right from the start, so you won't be in for any unpleasant surprises when the bill comes.
#5   Advanced Tracking Technologies
With ATT's vehicle tracking devices, you can closely monitor driver behavior and find ways to improve fleet efficiency.
The company's sophisticated software lets you set up automated alerts to track speeding and idling. Tracking vehicle usage, reducing negative driving behaviors, and optimizing driver routes can help minimize fuel costs.
Maintain Accurate Records
Drivers are kept accountable during the workday by maintaining accurate driving records.
Users of ATT's software receive updates every 10 seconds, thereby being afforded the opportunity to monitor employee activity throughout the day.
More accurate accounts of hours worked are possible thanks to the digital timesheets.
GPS tracking isn't just for truck fleets; it can be used for tracking mobile assets as well, including heavy equipment, boats, bulk containers, and more.
The GPS software provides location information for enhanced security and accuracy when you can't ensure someone will be on site to monitor your assets.
Pros
ATT's products enable fleet operators to adjust routes to reduce driving time, thereby enabling fleets to run more efficiently and drivers to focus on providing better client services.
The GPS tracking software helps companies across the United States to manage mobile assets more efficiently and limit fleet operating costs.
Cons
The company does not offer any representation outside of Texas.
#6   MyCarTracks
MyCarTracks makes having your own fleet tracking solution easy and affordable.
This mobile app enables you to track your staff, vehicles, drivers, routes, and destinations.
It has been downloaded more than 80,000 times, and currently has tens of thousands of active users.
Pros
The Auto Start feature helps you save your battery. Just start the app and it will record your tracks for the entire day.
You don't need to install a separate GPS unit for your vehicles. Your Android smartphone can replace this.
You can get amazing reports and view your fleet's location on a map.
The cloud saves all of your data.
The app also makes it possible to watch the fleet run in real-time. This way you can dispatch the closest vehicle to the client in no time.
The app is free.
You can get up to 15 days of data history for up to three vehicles and several monthly reports for free as well.
For $7 per vehicle per month, you get unlimited data history storage, reports and vehicles and API access.
Cons
You need to keep your phone in a visible place, ideally near the front window. Alternatively, you would need to get a phone with an optimal GPS module to get better tracking results.
GPS Fleet Tracking FAQS
How does GPS fleet tracking work?
GPS tracking for fleet vehicles uses the Global Positioning System (GPS) to provide real-time location data of vehicles. This data is transmitted to a central system, allowing fleet managers to monitor the location, speed, and route of each vehicle in their fleet.
This information can be used to optimize routes, improve driver safety, and enhance overall fleet performance.
Is GPS fleet tracking easy to install?
Yes, GPS fleet tracking systems are generally easy to install. Most systems involve installing a GPS device in each vehicle and connecting it to a central software system.
Some GPS trackers are plug-and-play, meaning they can be easily connected to a vehicle's port, while others may require professional installation.
How does the GPS fleet tracking system help business owners?
The GPS fleet tracking system aids the drivers and fleet managers in better communication, eventually leading to a higher profit margin in the future.
Can GPS fleet tracking help improve driver safety?
Absolutely! GPS fleet tracking can monitor driver behaviors such as speeding, harsh braking, and rapid acceleration, allowing fleet managers to identify areas for improvement and provide targeted training.
Additionally, real-time tracking enables managers to provide assistance to drivers in case of emergencies or breakdowns.
How can GPS fleet tracking help reduce fuel costs?
GPS tracking for fleet vehicles can help reduce fuel costs by optimizing routes and minimizing idling time.
Real-time traffic data and route planning can help drivers avoid traffic jams and choose the most fuel-efficient routes. By monitoring driver behaviors like speeding and rapid acceleration, fleet managers can address these issues, leading to improved fuel efficiency.
What additional benefits do the GPS fleet tracking systems come with?
The GPS fleet tracking systems offer extensive customer care, higher safety for drivers and vehicles, lower maintenance costs, and lower fuel bills.
Can GPS fleet tracking assist with route planning and optimization?
Yes, GPS tracking fleet management can be used to optimize routes and improve overall fleet efficiency. By tracking vehicle locations in real-time, fleet managers can identify the best routes, taking into account factors like traffic, distance, and fuel consumption.
This information can be used to improve route planning, minimize delays, and enhance customer satisfaction.
Which industries use GPS fleet tracking systems the most?
The GPS fleet tracking systems benefit various industries, including the transportation, manufacturing, construction, and utilities industries.
Which GPS fleet tracking system is the best for a particular company?
Different GPS fleet tracking systems come with different features. The fleet managers can choose the right one by considering the features and specifications that suit the business the most.
Our Final Say On GPS Fleet Tracking
One crucial aspect of GSP fleet tracking is asset monitoring. Maintaining control of significant assets is perhaps the most important part of managing a business fleet.
This includes not only the vehicles but the cargo and other equipment as well.
GPS tracking fleet management can afford a constantly updated position for every item and reveal when a stationary object starts moving. This way, a fleet operator can detect theft immediately and take action to avert the loss.
Many insurance providers offer lower rates to fleet operators who install GPS tracking, which reflects its value in protecting these assets.