(Last Updated On: November 23, 2021)
It's possible to think that "trailers can't go anywhere on their own, so why tracking them with Trailer GPS Tracker?"
However, stolen trailers are often in the news, therefore, trailer tracking may be tremendously helpful in addressing this scenario.
Trailer GPS trackers can provide safety for both the trailer and its contents.
It helps you to monitor their locations, confirm drop-offs and pick-ups, and so much more.
A trailer GPS tracker, in short, allows for transparency, compliance, safety, and enhance performance in the fleet company.
Furthermore, a trailer GPS tracker helps you to keep track of preventative maintenance on all of your company's trucks, as well as other mobile assets.
And you will instantly get a notification for the maintenance when a trailer's maintenance deadline is approaching, due, or overdue. This will also ensure that repairs are undertaken by using fleet maintenance reports.
What Is the Function of a Trailer GPS Tracker?
Trailer GPS tracker technology makes use of GPS and cellular or satellite networks. And this enables them to provide real-time data.
They provide data such as historic location, as well as time spent at a particular location for drop-offs and pickups.
This data helps a driver to avoid making unauthorized stops or diversions of the trailer.
Trailer GPS tracker must also be either externally powered or powered by batteries or solar cells.
To monitor your fleet's trailers, perhaps the only thing needed is an Internet-enabled smartphone, tablet, or computer to access the trailer GPS tracker app.
A manual ping can send you an estimated location of a trailer depending on the refresh rate setting of the installed trailer GPS tracking system.
Usually, refresh intervals are updated multiple times a day, if not once daily.
Some trackers may also be based on motion. And this depends entirely on what type of device: while some are functional in one configuration; Even though, they can be customized to fit any specific needs.
How to Choose a Trailer GPS Tracker?
Portable Trailer GPS trackers are the best choice when it comes to choosing a vehicle tracking device.
They're designed to be tucked away on smaller properties.
Since these vehicle trackers are designed to be mounted and discarded; Battery life is usually the most critical factor for any trailer GPS tracker.
Furthermore, portable vehicle GPS trackers are typically designed with a battery life that is expected to last approximately two weeks of moderate use.
The need to recharge a GPS tracker regularly will wreck its usability or even make it unsuitable.
If you're not thrilled with the 2-week battery life; You'll want to check for trackers that can be driven by a vehicle's electrical system or by vehicle adapters.
Ease of Installation
Making minor modifications to the vehicle can appear impossible to most people.
And, it's reasonable that several people prioritize ease of installation when choosing a Trailer GPS tracker.
Fortunately, a reliable Trailer GPS tracker should be compact and lightweight enough to be mounted on a vehicle.
Using the best GPS tracker needs to be as easy as hiding a plastic full of pencils in your boot.
Unless you want to do some sort of extra advanced installation.
Price of Best GPS Tracker
The Trailer GPS tracker you buy might be just half the cost of monitoring a vehicle.
You'll need GPS service after you've installed a tracker.
Besides, a subscription to a GPS satellite network is comparable in price to a mobile carrier subscription. And, much like with a mobile phone provider.
You'll want to compare providers and figure out why you have to sign any agreements. And check if any extra subscription payments might be tacked on along the way.
You won't be concerned with the scope of your GPS coverage.
Some GPS satellite networks cover the entire planet, while others cover almost every developing world.
However, if you plan to use the Trailer GPS tracker in a remote area, you can consider the network's coverage. The response time of a vehicle GPS tracker varies greatly from that of a generic tracker.
You may like to get an alert on a vehicle's location every 10 seconds. Whereas, a lot could happen within ten seconds in a truck. Some trackers offer alerts in a matter of seconds, while others want you to wait more than a minute.
What you need must be balanced against what you can pay for.
Ease of Use
Finally, there are obvious concerns about how the tracker is used.
Is it necessary to use their mobile app? Is there a website? Can you control several trackers at the same time? And how does the system notify you of the truck's status?
Essentially, every trailer GPS tracker can have data about the asset's location and distance, however, a perfect tracker gives you more power about customizing those reports.
For instance, you might be able to set notifications based on a truck exiting a geofenced area at a certain time of the day.
If you're aiming at monitoring negligent workers, safeguard the insurance claims, or keep an eye on loved ones, you should be able to set up unique monitoring criteria that are acceptable for the task.
Trailer GPS Tracker: Top 5 Best Systems
Here are our top 5 Trailer GPS Tracker.
1. GPS Insight Trailer Tracking Solution
GPS insight trailer tracking solution helps in managing the trailers on a preventative maintenance plan.
And this is essential to reducing the amount of downtime the fleet faces once they're out of service rotation.
GPS Insight trailer tracking helps the fleet manager to prepare for a trailer's downtime.
As a result, the trailer could be replaced by another until the truck will be ready to hit the road again.
When truck maintenance is not scheduled, it causes trailers to be off the road for longer than expected.
And, consequently, it results in less business for the company.
Using GPS Insight's Trailer GPS tracker as a preventative measure helps you to plan updates, and also receive updates with enough flexibility to prepare around the trailer's downtime.
Companies often use GPS Insight trailer GPS tracker to schedule repairs depending on a fixed date for safety checks.
GPS Insight's trailer GPS tracker makes the process easier.
As a result, you won't have to think about the company being charged for failure to conduct these checks, or worse, having the trailer forced out of business.
Features of GPS Insight Trailer Tracker
The GPS Insight trailer tracker comes with many features. Below are a few of the benefits of using the device.
Reduce downtime to increase productivity
Eliminating downtime is important for companies that use trailers to keep them on the road as long as possible. And this help in boosting revenue
As we've seen, lost time and ineffectiveness have a wide-ranging impact on a fleet company. GPS Insight vehicle tracker helps you solve these challenges and give returns on your investment.
Organized Maintenance Schedules
Companies are using GPS Insight trailer GPS tracker to help reduce lost time in all three major areas, allowing them to become more effective in their workflow and, as a result, serve more clients.
Pricing
The GPS Insight Trailer tracker comes in 3 types:
Powered trackers
These trackers have the most data, such as run time, detention time, and proof of operation tracking. As a result, powered trackers and their sensors are necessary for Food Safety Modernization Act compliance.
Solar trackers
These trackers are ideal for non-powered containers that would be exposed to a lot of sunlight. The GPS Insight ST-1200 solar tracker is designed to report every 15 minutes when driving, and four times a day when static.
Satellite trackers
These trackers allow fleet managers to keep an eye on facilities in remote locations. Based on your service tier, the GPS Insight satellite trackers will ping up to 6 times a day. Standard accounts for GPS Insight trailer tracking begin at $21.95 a month.
For a $150 hardware charge per unit, solar-powered alternatives are available.
Score: A
2. Samsara Asset Gateway
The Samsara Asset Gateway is a Trailer GPS tracker that operates in tandem with Samsara's entire sensor system.
And this provides truck tracking, fleet management, safety measures, and a single platform compliance solution.
Samsara offers an advanced Internet of Things fleet managed service.
And this integrates internet-connected devices and cloud-based applications to assist fleets of all sizes too:
Improve operating performance
Increasing trailer utilization and
Prevents theft
Samsara provides fleet companies with the resources they need in making data-driven decisions. As a result, it helps to boost operating efficiencies by taking trailers and other main resources into view.
Samsara's AG24 for trailer and fleet's powered-assets is weatherproof and ruggedized. The system is relaying GPS data through the cloud and can also be used in the toughest climatic conditions.
Therefore, ensuring fleet managers get the most bang for their buck with their trailer investment.
Features of Samsara Asset Gateway
Samsara Asset Gateway tracking system is real-time, unlike other asset tracking solutions that offer "breadcrumb" location alerts every few minutes.
Also, with the advantage of live trailer tracking, the fleet has more freedom.
And this helps in changing the connection rate for the trailers to the interval that's best for the market – all the way to the second tracking.
Samsara's Asset Gateways provides valuable data for both powered and unpowered trucks.
If you're trying to find ways to collect trailer data; Or a tracking solution to keep a close watch on vehicles.
Samsara Asset Trackers is one of the best solutions for you.
And the device may also be attached to just about any truck or equipment due to its small size.
Features
Each unit contains the following components:
Trailer trip data powers dispatch workflows
Fully wireless accessory sensors
Robust reporting on utilization
Dormancy and detention
Maintenance scheduling
4-year battery life
Pricing
Pricing for the Samsara trailer GPS tracker, like that of every other Samsara product, is not transparent. The prices of the items are not listed on the website.
To find the price options for any item, contact the company's sales staff to determine the best pricing plan for your business needs.
For an additional fee, a two-way control option is provided for refrigerated trucks. And this price covers just the hardware.
However, the license needed to use the asset tracker must be obtained separately.
Score: A
3. Logistimatics Micro-420
The Micro-420 is the perfect all-around tracker.
There are a few distinguishing features that establish it in a class of its own.
The device is one of only a few 4G trailer GPS trackers on the market and operates on the Verizon network.
And this enables its users to use the tracker in places that other trackers may not work.
Users were satisfied with the device's performance and the device got about 9 days of battery life.
Its monitoring software is quick to use and operated admirably on our Android tablet and iPhone.
If you plan to use it on the outside of a vehicle, you will need to invest in a waterproof or magnetic shell.
Pricing
Logistimatics' monthly subscription fee is $14.95, and there is no contract involved.
Users suggest this one for general use since the 4G connectivity made it so reliable for users.
Score: C
4. Vyncs GPS Tracker
Vyncs GPS tracks a vehicle's location, careless driving habits, engine diagnostics, battery life, repair conditions, recall notifications, and fuel levels.
It will even lead to significant savings on vehicle insurance.
Vyncs assess your driving and assigns you a Tip Performance Index (TPI) score.
And this helps the company to grow and save money on vehicle insurance.
VyncsMiles (Its companion app), is Alexa-compatible and can log and classify mileage for business and personal use.
Pricing
Vyncs offers one-year contracts rather than the monthly plan.
This method of pricing will save you money if you're committed to monitoring your vehicle's location for a long time. Vync's Basic, Premium, and Pro plans provide perks such as roadside assistance.
The device also offers a Fleet service for commercial clients who would like to track their staff during deliveries.
The OBD plug-in GPS costs about $75 and includes a one-year simple plan payment (along with a $30 one-time activation fee).
Yearly renewal expenses are roughly the same, equating to around $6 a month, making it one of the least expensive GPS on our list.
The default refresh period is three minutes, and the shortest refresh time (15 seconds) is only accessible for a fee.
However, its interface is also a bit challenging to use.
Score: B
5. Geotab GO9
Geotab's GO device is a telematics device that can be extended.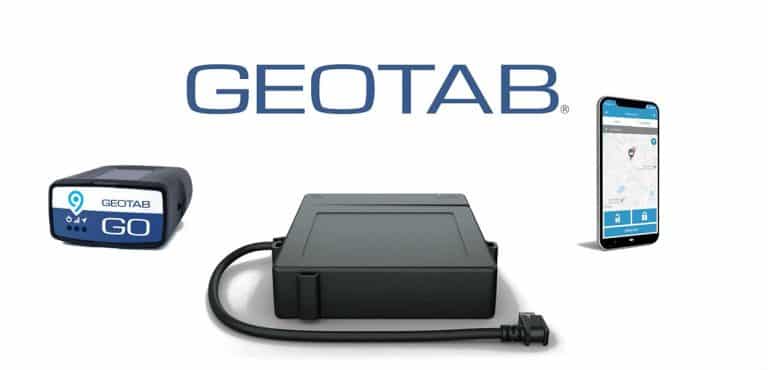 The Geotab GO1 platform was first manufactured in 1997. And Geotab has continued to evolve and improve various facets of the system since then.
Quite recently, the company releases the GO9 edition. The GO9, which was launched in March 2019, is meant to help companies properly manage their fleet.
It has a 32-bit CPU, 4x the memory, and 5x the RAM of the GO8.
And this makes it Geotab's most efficient trailer GPS tracker to date.
Features
Global Navigation Satellite GNSS module
improved over-the-air software updates
Gyroscope and enhanced accelerometer
Real-Time GPS Vehicle Tracking
Hours of Service Integration
Maintenance Reminders
Audible Driver Alerts
Satellite Integration
Vehicle Diagnostics
Garmin Integration
The Geotab GO computer cryptographic library also received FIPS 140-2 validation in 2019.
Geotab leads an international community of world pioneers in data encryption, including Microsoft, Apple, Google, and Cisco, in gaining FIPS 140-2 validation.
Pricing
The GO9 is a sophisticated device that tracks not only rpm, idling, and geofencing.
But also track mileage as well as seatbelt use.
The GO7 is another exceptional unit, as it can spot not only crashes but also in-vehicle reverse accidents.
Yeah, if a vehicle collides with someone when backing up, you'll have data about it as well.
If you're worried regarding compliance matters, the GO7 will even assist you with hours-of-service requirements and DVIR inspections.
The estimated retail price for the GO7 is $99.
Score: A