Logistimatics
from $49.95 and $14.95/month
Suitable for fleets
7.5/10
Features & Technology
6.0/10
Pros
User can change tracker settings on the fly
Good customer support
Friendly user interface
Live Audio Feature
Easy to use
Cons
The Car tracker is a 2G tracker
At times, updates are slow and glitchy
(Last Updated On: July 15, 2023)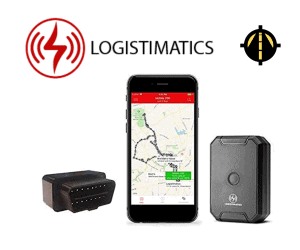 Without a doubt, we'd all be very much out-of-line if we never discuss the Logistimatics GPS Trackers.
And, explore the unique feature that distinguishes it from the other GPS trackers we've reviewed: its audio capability and Logistimatics app.
In this Logistimatics review, we are going to explore the following topics:
Logistimatics Tracker

Overview
Logistimatics GPS Trackers

Mobile-200 GPS Tracker
Micro-420 4G Tracker
Auto-325 GPS Car Tracker
Overview
To individuals and businesses, Logistimatics offers GPS tracking devices and services. The company provides real-time GPS tracking for vehicles, fleets, property, and people.
The Logistimatics GPS trackers are easy and straightforward for your assets with no contract fee. Just buy the Logistimatics trackers and pay an inexpensive monthly subscription fee.
Logistimatics GPS Trackers
Logistimatics offer 3 leading GPS trackers, namely:
Mobile-200 GPS Tracker
Micro-420 4G Tracker
Auto-325 GPS Car Tracker
Therefore, in this Logistimatics GPS tracker review, we will examine them one after the other.
Logistimatics Micro 420 GPS tracker
With nearly universal coverage, the Logistimatics tracker Micro 420 GPS is suitable for commercial vehicles, individuals, and asset tracking.
And this 4G tracker continues to work on the Verizon network and presents a more dependable tracking experience.
The features of the Logistimatics 420 GPS tracker include:
A SIM card

View battery level in the

Logistimatics app

With the help of Verizon, it ensures maximum coverage
Track vehicles everywhere in the US, Mexico, and Canada from a web browser, iOS, or Android device with Logistimatics app
View assets Location History
Depending on the report frequency, the Logistimatics battery life is 7-10 days
Geofence – Receive e-mail alerts or texts when your company assets enter and exist in a predefined location on the app notifications when events happen
Vehicle Tracking From Anywhere With The Use of 4G Verizon Network
The Logistimatics micro 420 tracker works on the 4G Verizon network and is therefore not limited by range.
Many other trackers are 4G or 3G but operate on the T-Mobile network that is unavailable elsewhere.
Ease of Use
Real-time

location of vehicle tracking

No installation or wiring is required!
The Micro Logistimatics 420 can be used just about anywhere
Very Small and inconspicuous and only 3 long x 1.59 wide x 1 high

The

Logistimatics tracker

can be hidden inside a vehicle, or placed inside of a bag or purse
Pricing
Compared to other providers, the Logistimatics 420 GPS tracker only costs $83.00 with a monthly fee of $14.95.
Mobile-200 GPS Tracker
The Logistimatics mobile-200 GPS tracker is among the hottest GPS trackers ever engineered, a Logistimatics car tracker with such a car microphone. This Logistimatics mobile 200 GPS tracker with voice tracking offers real-time GPS tracking data for roughly 14 days, and its compact size makes it much easier to hide in any vehicle.
The first and most notable thing about this audio-based Tracking device is that it can record voice interactions within the vehicle cab and provides real-time GPS tracking data! Consequently, this voice Logistimatics mobile-200 GPS solution is definitely the best monitoring solution on the market to catch cheating workers or partners.
With live audio of the Logistimatics tracker solution, all you can do is text the GPS tracker, which will instantly give you a call while offering one-way audio in real-time! It means that you can observe every single sentence inside the vehicle to determine if your partner is cheating or whether employees are now on the job.
Features Overview of Logistimatics mobile 200i
Magnetic Mounting Case
Audio Recording Microphone
Every 30 Seconds Updates of Live GPS Tracking
Other salient features of Logistimatics mobile 200i GPS tracker are as follows:
The Logistimatics mobile 200i GPS tracker with real-time live audio is a GPS tracker allowing you to hear what's going on there at the location of your company assets.
The Logistimatics 200i tracker will reveal to you where your driver or company assets are right now.
The fleet manager can listen to the tracker by calling the stealth audio monitoring device. The GPS logistimatics app has a phone number you're calling to know precisely what's going on.
It is user-friendly and straightforward. And The tracker is silent and makes no sounds at all.
The Mobile-200i is fitted with a detachable magnetic backplate and can be mounted under a truck. Also, it could be attached for incognito tracking to a car's frame.
If the microphone hole is covered, the Mobile-200i GPS tracker can withstand un-extreme weather conditions.
The device has a waterproof rating of IP67. And also, has a rechargeable Logistimatics mobile-200 battery between charges lasting 2-3 weeks.
Once in motion, the tracker reports its location every 30 seconds. And the device can be used to monitor your vehicle, property, or assets at any time.
This device can view your tracker's historical locations (route playback) for the past 90 days.
Setting Up the Logistimatics Mobile Tracker
The Logistimatics mobile 200 GPS tracker is designed for a discrete vehicle tracking optimal solution for those seeking to keep a close watch on valued Assets. And it comes with a magnetic enclosure to be mounted under a car.
However, the GPS Logistimatics tracker doesn't need to use the magnetic enclosure; it might work almost as well inside a glove compartment and a vehicle. It's also pretty durable. And It can bear -4F to 158F temperatures.
Listen in to Live Audio
To open an audio channel, simply call the transmitter. Live audio provides 2 hours of monthly GPS tracking support. Extra audio hours are available through the app for purchase.
New Dashcam Offers! Check Out
Here
Pricing
The Logistimatics GPS tracker is an easy and inexpensive product. Tracking service provided monthly with no contract regarding the duration of the contracts. The Logistimatics GPS tracking service has no contract regarding the subscription duration.
Should you need their service? You can stop the service and reactivate it when required. A SIM card is also included, and no other hardware is required to be purchased.
It's quick to start, and then you can activate your tracker instantly when you receive it. And you can use it to track from any web browser or smartphone.
The Logistimatics mobile 200 GPS tracker cost only costs $54.95 and $14.95/month.
Long life of the battery
The battery life of the Logistimatics mobile-200 battery is long. It will operate on one charge for about two weeks, and in the app, you can track the battery life.
By changing the reporting frequency in the app, you can prolong the battery life. The predefined report rate is every 30 seconds.
Auto-325 GPS Car Tracker
The Wired-325 GPS Logistimatics tracker is efficacious and reasonably priced for any vehicle application or equipment monitoring. You can also use the devices to track with your cell phone or a web browser in real-time.
And the device fits in your hand's palm comfortably. The small device size makes it much easier to locate a place to mount it.
And the built-in Logistimatics battery helps the tracker to keep reporting even when the cable is disconnected. Once the tracker steps into or out of a designated place, you will get instant location data and notifications.
2-wire installation
The device contains a modular connector with a wiring cable. Connect the red and black cables directly to your vehicle's power and ground, and the device will keep reporting its position automatically.
To track engine running time, you also have the option to connect the orange cable to the ignition switch. And this function is useful for equipment maintenance by capturing engine hours.
Auto-325 GPS Dashboard
Through its simple, easy-to-use dashboard, you can view all your trackers. And you can also see whether the trackers had recently moved and customized alerts.
See color-coded timestamp based on recently moved trackers
Manage tracker names and change its location report frequency
Using API, you can integrate tracking data with existing software
Share trackers or one-click tracking links with team members or outside parties
Pricing
The Logistimatics Auto-325 GPS Car Tracker GPS tracker costs only $49.95 and $14.95/month.
Logistimatics App
The Logistimatics app for vehicle tracking feasibility is straightforward and easy to use.
The

Logistimatics app

can be downloaded from the Google Play Store or App Store. And you can also track from any web browser with a Logistimatics tracking website.

Thus, you will be able to see the tracker in map mode or satellite and get real-time notifications whenever a tracker enters or exits a specific area.
You may receive a message, email, or phone call through the app, and invite others to monitor data tracking.
You could also see where the tracker stopped and get updates for all the tracker's positions.

The GPS

Logistimatics app

shows the history of the trip, a list of notifications, and settings for general options.

You can also get new reports every five minutes or if the unit moves (every 30 seconds) at any time.
The Logistimatics map uses Google Maps for trip history, and also any address can be found.
Also, previous trips and how frequently the unit has been stopped have a backlog.
Also, look out for different options for GPS trackers.
Using the Live Audio Feature
To set up and configure the Logistimatics live audio calling feature, you need to set up a mobile phone number as an "SOS Number" inside the app.
You can use up to three phone numbers, but you need only one to use the Live Audio feature.
When setting up a live audio feature, these are all the mobile phone numbers that will connect to the unit.
And when you call the unit from a number that is not a number you set up in SOS, it will not connect.
You should see two categories when navigating to the "commands" section within the GPS Logistimatics: Report mode and Alert numbers.
You should select "Set SOS Numbers" below the alert numbers. And here's where you can add numbers to the live audio of the device.
Fill in the number from which you would like to call from. And the tracker is going to respond with "OK!
"The SOS telephone number followed. That's it – to use the live audio feature you're good at!
Now, if everything is done correctly, all you need to do is call the unit, and you are connected instantly.

With

Logistimatics tracking

, anybody in the device's location is not notified that the device is paying any attention to their discussion. Please remember – it's not a recording machine; it just listens.
User Experience
The Logistimatics GPS trackers are Global Positioning Systems, and the company earns a good reputation among its tracker's users.
The company scored an A+ rating on Better Business Bureau, though not accredited by them.

Many users who used the GPS

Logistimatics app

trackers testify on

google play

and other online review sites that the product is good. And they also commend Logistimatics' customer service.

Users also laud the micro-sized of the

Logistimatics tracker

, ease of use, and excellent user interface, and the tracker is praised for how it becomes helpful in achieving their goals.

However, users who gave negative Logistimatics reviews complain about hidden fees they would pay if they wanted the voice feature. And that will cost an additional $3-$5 over the other costs!
Another user on the App Store said that the app doesn't appear to have a way to delete prior trip data, thus leaving it bulky and not easy to conceal.
Other users complain on AppGrooves that it takes too long to recharge the Logistimatics battery. When placed on the car seat, it peaks the engine noise of the vehicle, which makes it not easier to hear the conversation clearly.
Overall, the vehicle tracking with Logistimatics GPS tracker has overwhelmingly positive reviews from its users due to the availability of the customer's care unit to solve any issues that users might have concerning using the product via Logistimatics' phone number.
Pros
User can change tracker settings on the fly
Good customer support
Friendly user interface
Live Audio Feature
Easy to use
Affordable

Multi-purpose Logistimatics app
Cons
At times, updates are slow and glitchy
Magnetic mounting case sold separately
Limited offer >>  
Conclusion
The Logistimatics tracker is versatile and functional, weighing only 7oz and only 3.6′′ in its largest dimension.
You may call the live audio tracker with your phone number. It picks up automatically and sends one-way signal audio to your mobile device from the device. The Logistimatics tracker is powered by a rechargeable battery pack of lithium-ion, which could be charged on the unit via a micro USB port.
And also, the Logistimatics trackers are suitable for individuals, owner-operators, and fleet managers looking for a way to keep an eagle eye on their assets. Moreover, we are here to help you find a suitable GPS and eld solution for your business needs. Kindly fill out our free consultation form, and we'll be happy to help you out.