Businesses use ELD fleet management services to organize, monitor, and retain their vehicle fleets.
A fleet tracking system will, therefore, assist companies in ensuring the health and safety of drivers as well as complying with the law.
Is There Any ELD with A Complete Fleet Management System?
Yes, typically, a fleet tracking GPS should have a hardware element — like vehicle trackers — and a software component. This fleet tracking system enables drivers to keep their records updated.
Similarly, it also provides an easy way for fleet managers to see at a glance how well their fleet performs.
If your firm uses a fleet of vehicles, investing in fleet tracking system service is well worth it. Particularly, now that the Mandate has come into effect.
If you want to decide which ELD fleet tracking services are suitable for your business, you can use our simple consultation form below to obtain quotes.
Owner Operators Most Requested and Used Tools
The following and the crucial tools that owner-operators usually need in one device, software, or platform. This way, the fleet managers don't need to have separate systems.
And therefore, incorporate or connect the eld data to their accounting system.
As a result, the fleet managers do not need different systems and can integrate the eld data into their management system.
Maintenance and Vehicle Diagnostics
These features can, however, manage basic vehicle diagnostics and management of vehicles such as airbags, brakes, cruise control, ignition, oil pressure, etc.
GPS Alerts
Alerts for idle time, speed, ignition, reminders of maintenance, and driver behavior could be set.
Therefore, you may also customize your driver conduct alerts to keep you updated on your fleet's most relevant information.
IFTA Fuel Tax Reporting
Basically, for each jurisdiction, the unit will calculate; however, the distance traveled against the bought fuel.
You can therefore readily create reports to understand the maximum distance the vehicle operated in each area or state within any period,
Likewise, it helps to generate mileage exemption reports, and also allows you to claim exemptions.
Vehicle Diagnostics
You will also be able to track the health of your vehicle accurately with this tool mounted in your vehicle.
Smart Dashcam
A road-facing HD camera on the vehicle to capture what happened.
Usually capture a critical event such as hard acceleration, cornering, or braking.
Once this occurs, after the critical event, the camera will capture what happened.
And the video will then be, however, sent to where it can be viewed by the driver or fleet manager.
Other features include:
Messaging

GPS tracking

Electronic logs

ELD compliance

Vehicle inspections
Which ELD fleet Devices Are Best for Fleets of Different Sizes?
Below you can see our selection for the best ELD that include GPS tracking systems and Management tools to connect and supervise your fleet:
1. GPSTrackit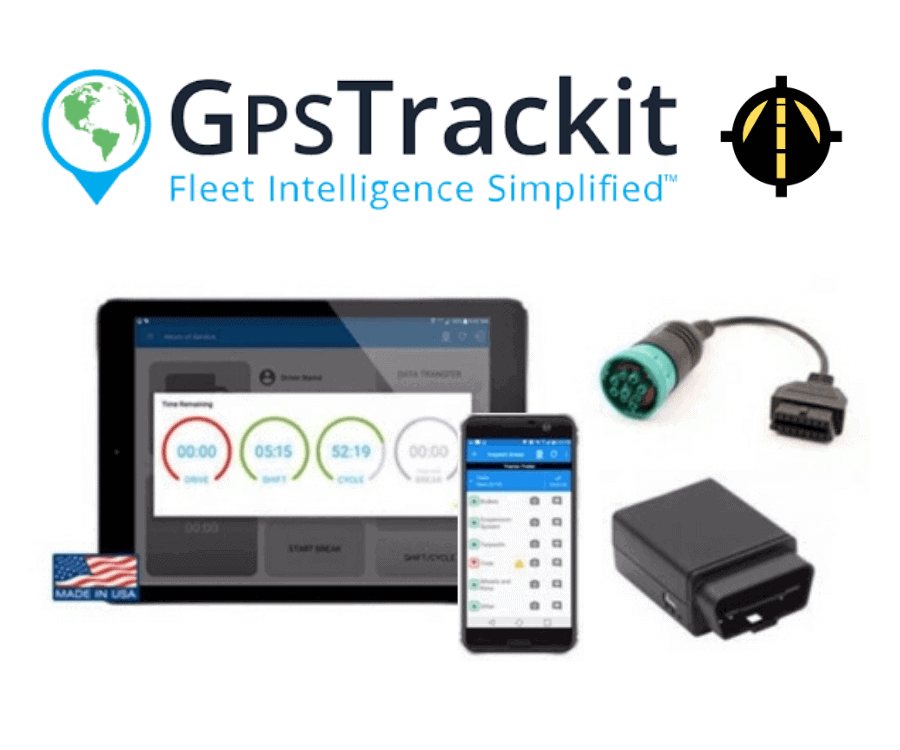 GPSTrackit is a low-cost, ELD fleet telematics platform with excellent features to track your truck.
It provides monthly services, a money-back guarantee, and web transparency regarding its pricing and contract framework.
This fleet tracking GPS is a great value pick due to its low price and flexible service offering.
However, just because the fleet tracking system is valuable doesn't imply that in terms of its features, it sacrifices anything. This Tracking solution provides complete compliance with HoS mandate, safety functionality, and diagnostics of vehicles.
And it also has excellent reviews with the Better Business Bureau.
Pricing and Contract
GPSTrackit is a transparent company. Many fleet tracking company has been trying to conceal their data.
And therefore, you may have to go through the sales process to know what their plans are.
GPSTrackit is among the few companies that directly listed on its website its pricing and contract structure.
It has no requirements for a contract. Instead, you pay $23.95 a month to start using its services.
There are also no activation charges, and this company also offers a 30-day money-back guarantee.
And this is a trademark feature not provided by many competitors. Most of the fleet tracking GPS providers give no money-back guarantee whatsoever.
And has become one of our highest value picks, and also one of the very few other providers we evaluated that offers a cash-back guarantee.
Best Solution for Lager fleet and Owner Operators
GPSTrackit is one of the most versatile solutions we have reviewed for fleet tracking.
Depending on your plan, it also has a robust platform with refreshing times varying from 30 seconds to one minute.
There is no minimum vehicle, and therefore, you can start using the fleet tracking solution to track your truck even if you have only one vehicle in your fleet. And, therefore, this is the best choice for a more extensive fleet and owner-operators.
Moreover, the flexibility of GPSTrackit does not sacrifice quality. It also has very robust compliance that supports ELDs.
And this can assist in ensuring HoS and therefore, better understanding the hours of your driver.
Ease of Use
There is a reliable platform in GPSTrackit. And, an app to use the fleet tracking system on mobile devices and pc.
And, as a result, allowing you to check in from anywhere on your fleet and track your truck.
Its dashboards also include maps, metrics, and all-important fleet information.
And It also breaks down essential metrics and analytics into easy graphs and dashboards.
And, consequently, to obtain the most appropriate insights from your data.
Features
Fuel management, driver management, accident monitoring, vehicle tracking, and much more are its essential features.
Therefore, these fleet tracking GPS capabilities enable extensive real-time communication, tracking, and reporting.
Again, it is ideal for a small fleet, but for the use of big companies, it can be scalable.
With simple navigation tools, maps, history tabs, updates, and feedback tools, the GPSTrackit interface, however, is easy to use.
Other features include;
       

Maintenance Scheduling

       

Inspection Management

       

Inventory Management

         

Dispatch Management

        Maintenance Tracking

       

Driver Management

       

Vehicle Information

       

Parts Management

       

Fuel Management

       

Tire Management

       

Accident Tracking

       

Mileage Tracking

       

Vehicle Tracking           

       

Tool Tracking
Final Overview of GPSTrackit 's Fleet Tracking GPS
This fleet tracking GPS solution is a low-cost platform with robust functionality perfect for small enterprises.
And, also, its reputation online and safety features are remarkable.
GPSTrackit enables small fleet owners to have the same useful ELD fleet features that have been enjoyed for years by larger companies.
Thus, this implies that this type of technology, however, can benefit smaller fleets.
And It is also the best way to satisfy the criteria of the ELD mandate.
Thus, this solution is a comprehensive small business solution and platform to track your truck.
And It, therefore, offers access and insights to fleet managers that are competitive in this sector.
2. GPS Insight
GPS Insight offers robust GPS fleet tracking for companies and a customizable interface ideal for companies of any size.
The company provides light- and heavy-duty vehicle hardware and software solutions.
And likewise, several other non-powered types of equipment.
Depending on the plan your company needs, you can choose a plug-and-play device or one that requires more advanced installation.
Its client dashboard can be fully customized to allow you to control what you want to see at a glance.
And, also and create driver safety information right on the dashboard.
GPS Insight Features
Free APIs

Unlimited users

Custom reporting

Custom map icons

Driver scorecards

Engine diagnostics

Garmin integration

Custom hierarchies

Fuel card integration

Maintenance module

Google Earth integration

Unlimited historical data

Messaging to/from drivers

Customer/partner facing maps

Categories & attributes filtering

Mobile app for iOS and Android

GIS/Mapping overlays integration

Dispatch (Closest to/ETA/Distance)

PTO monitoring (switches & sensors)

Data connect & data dump integration
Price and Contract
If you want to start using GPS Insight, you are likely to be on the hook for a contract of two or three years.
The amount depends on your needs, and also varies in installation or setup charges.
However, there is also no minimum vehicle.
 And therefore, a small fleet can register without worrying about having a certain number of vehicles when using GPS Insight.
It also expected that businesses with small fleets would receive a secure plug-and-play device.
And they will also get a contract structure that represents their company requirements with this fleet tracking system.
If you're searching for an FMCSA-approved all-in-one device to enhance the driving experience and boost earning potential. Look no further. Kindly fill the form below for a free consultation.
All-in-one Solution for your Business
Moreover, each contract is directly tailored to the needs of a company.
GPS Insight also provides email and telephone help.
The eld solution software has an average refresh time of two minutes.
And this solution, however, can also support all your requirements for compliance, including FMCSA, ELD, HoS, and DVIR.
And with their YouTube channel, without scheduling a demo, you can see what the software looks like.
Note that So many of these videos might not even be completely up-to-date.
Therefore, if you are keen on having a complete view of the software, setting up a demo with the is worthwhile.
GPS Insight Pros and Cons:
PROS
CONS

The flexible service plan for both large and small fleets

Data connect & data dump integration

PTO monitoring (switches & sensors)

Categories & attributes filtering

Unlimited historical data

Google Earth integration

Great online reputation

Ideal for Fleets of 26+

All Standard features

Garmin integration

Driver scorecards

Unlimited users

Driver ID

GPS Insight may not provide short-term or monthly contracts
Final Overview
GPS Insight offers excellent fleet tracking services with a versatile design that fits any size of the fleet.
However, to use this service to track your truck, it needs a two- or three-year agreement.
Partnership with the company is an excellent choice for companies of all sizes, as it can, however, track your truck from a single vehicle to over 500.
The business also has an excellent social media reputation as It gained strong ratings on both Facebook and Google.
3. My20 ELD
Konexial team dedicated to manufacturing technology that makes the lives of drivers much more comfortable.
They also assist owner-operators in enhancing their company with their appliances and devices.
This easy solution is connected to the vehicle engine and recording driving time automatically.
This all-in-one solution, however, can improve the driving experience in addition to ensuring compliance with HOS criteria.
Actually, this solution is intended to function as a truck driver's co-pilot.
Its ELD fleet device automatically records Hours of Service (HOS), available capability, and location of the driver.
And, thus, fulfilling the requirements of FMCSA compliance.
This solution, in reality, comprises telematics software and hardware for recording the activity of the driver.
Therefore, this device not only saves you time but also enables you to generate more income without driving more miles.
Features
You must always look for an ELD solution as a fleet manager that comes with a plethora of features.
My20 brings together productive, comfortable, and robust features to create a comprehensive tool that improves the earning potential of a fleet.
Features include:
Time

Maps

Log Auditing

GPS Tracking

MY20 rewards

Fuel Information

Two-way messaging

Engine Info (faults, MPGs, etc.)

Dynamic Load Matching (DLM)

Driver Vehicle Inspection Report (DVIR)
Best Suited for Fleet of all Sizes
The intention here, however, is to provide the best data to dispatchers and drivers, and therefore they can do a reasonable job on shippers.
Millions of trucks upgrade their current logging devices. Therefore, this solution goes head to head with large fleets.
My20 is suitable for independent owner-operators and fleet managers as well as drivers and carriers.
Consequently, this solution fulfills all the fleet management requirements.
My20 App
The My20 app, powered by GoLoad, uses GPS information and custom cloud computing to assist individuals in making the most of their e-logs.
Also, no need for extra hardware because any Android or Apple smartphone can install and use the app.
My20 ELD Pros and Cons:
PROS
CONS

Inexpensive

Simple to install

User-friendly app

Works like a charm

Outstanding customer service

Packed with plenty of features

Connection issues

The app tends to change status randomly
Final Thoughts of this ELD Solution
Overall, this ELD fleet solution is an option worth considering for both independent owner-operators and fleet managers in the United States.
Dynamic Load Matching is what makes it unique.
Equally important, it enables drivers to check for HOS-based loading opportunities on their smartphones.
Similarly, thanks to this essential function, shippers can set the right price and discover capacity.
4. Verizon Telematics ELD
Verizon Connect
offers a variety of solutions to track your truck.
And this solution is best for a small and medium-sized fleet.
Connect is perhaps the pinnacle of three leading players in the sector: Fleetmatics, Telogis, and Verizon Network fleet.
Verizon operated and merged all three companies into one service. And A feature of this service is its scalability:
Connect can, however, provide a service plan tailored to the requirements of your business with assistance from three reputable companies.
Furthermore, it also provides, depending on what you need, plug-and-play devices, and much more advanced hardware.
Ease of Use
The number of hardware and software you are using with Connect relies on the type of plan you want.
Connect's technology, however, is intuitive and contains all the standard functionality of fleet tracking GPS software that you would expect.
Thus, most small fleet and owner-operators are using the Fleetmatics software.
All three of the GPS offers are backed up by Verizon's map technology, leaving so many other businesses using Google.
In this fleet tracking system software, you may overlay traffic and weather data and directly create geofences.
There is a refresh duration of 30 seconds, so you can always remain up-to-date on where your riders are.
Location Tracking
With GPS tracking, Verizon ELD allows fleet managers to track vehicles.
As a result, every time they want an update, fleet managers don't need to call their drivers.
Therefore, you can effectively track your truck location.
Compliance Management
CFR, IFTA, IRP–take your pick of regulations of fleet management.
Verizon Connect meets all of these requirements, including the ELD Mandate requiring all US motor carriers to use eld on board.
Service hours (HoS) paperwork does not conflict with the primary responsibilities of you or your drivers because it does not exist.
Verizon Connect electronically captures the data and provides it in reports ready for FMCSA.
Cost

Verizon, like many other fleets tracking GPS companies, however, provides an on-lease vehicle tracking solution.
Therefore, that implies there are still no heavy overheads applicable, however, to your balance sheet.
Leasing the Software-as-a-Service (SaaS), however, enables you to take advantage of the Verizon product.
Verizon Confect's cost depends on the duration of your contract, the size of your fleet, and the specific features you need.
Prices start as low as a few bucks per vehicle per day on average.
Benefits of Verizon Connect
You can benefit from the Verizon Connect fleet tracking system in so many respects, including:
       

Fuel costs Reduction

       

Improved fleet productivity

       

Faster stolen vehicle recovery

       

Reduces unauthorized uses of vehicles

       

Leads to Higher customer retention rates

       

Easier compliance with fleet reporting regulations
Verizon Telematics ELD Pros and Cons:
PROS
CONS

Verizon Connect's size provides a variety of fleet tracking GPS services for your company.

This ELD fleet tracking solution needs a somewhat complicated installation.

And due to this, the company has a few bad reviews online.
Our final View on Verizon Connect
Verizon Connect is the merger of three reputable services for GPS fleet tracking.
And It provides excellent services in every geographical area we reviewed.
And, due to its scalability, it's one of our best choices for owner-operators and big fleet companies.
Comparison table for Features of Best ELDs
In this comparison table, we have listed some of the key features offered by GPSTrackit, GPS Insight, My20 ELD, and Verizon Telematics ELD.  By comparing these features, fleet managers can quickly decide on the best GPS tracking and telematics solution for their business.
| Feature | GPSTrackit | GPS Insight | My20 ELD | Verizon Telematics ELD |
| --- | --- | --- | --- | --- |
| GPS Tracking | Yes | Yes | Yes | Yes |
| Electronic Logging | Yes | Yes | Yes | Yes |
| Driver Behavior Monitoring | Yes | Yes | Yes | Yes |
| Fuel Tracking | Yes | Yes | Yes | Yes |
| Maintenance Tracking | Yes | Yes | Yes | Yes |
| Vehicle Diagnostic Monitoring | Yes | Yes | Yes | Yes |
| Real-Time Alerts | Yes | Yes | Yes | Yes |
| Mobile App | Yes | Yes | Yes | Yes |
| Geofencing | Yes | Yes | Yes | Yes |
| Route Optimization | Yes | Yes | No | Yes |
| Asset Tracking | Yes | Yes | No | Yes |
| Integration with other software | Yes | Yes | Yes | Yes |
| Customer Support | 24/7 | 24/7 | Business Hours | Business Hours |
| Remote Vehicle Shutdown | Yes | Yes | No | Yes |
| Two-Way Messaging | Yes | Yes | Yes | Yes |
| IFTA Reporting | Yes | Yes | Yes | Yes |
| Driver Scorecards | Yes | Yes | Yes | Yes |
| Vehicle Idling Reports | Yes | Yes | Yes | Yes |
| In-Cab Camera | Yes | Yes | Yes | No |
| Driver Vehicle Inspection Reports (DVIR) | Yes | Yes | Yes | Yes |
| Electronic Work Orders | Yes | Yes | No | No |
| Dispatch Management | Yes | Yes | No | No |
Do you want to know more?
To get more information, you can check our articles Best ELD Devices for owner-operators and our ELD Guide 2019.
We are here to help you in deciding which ELD fleet system is suitable for your business needs to track your truck. Request a free personalized quote for a more accurate idea by filling our consultation form: