Geotab Drive
Upfront Cost + Monthly Fee
Suitable for fleets
7.7/10
Features & Technology
8.1/10
Pros
Geotab services support almost any fleet
Stellar online reputation
The driver can use any smart device to log in to the Geotab app
The reporting is pretty powerful and most importantly spot on accurate
Cons
Geotab isn't transparent about its pricing and requires going through the full sales process to understand the cost
Time-consuming login procedures
GEOTAB Drive is an exceptional industry telematics solution that caters to a wide variety of companies with its comprehensive range of vehicle tracking hardware and software. Designed to meet the needs of large fleets and scaling companies which need to scale up the telematics software services, GEOTAB offers a diverse selection of products, including hardware and software, to address the requirements of small businesses as well. Their GPS fleet tracking systems, consisting of the Geotab GO7 unit and the cloud-based MyGeotab software, enable efficient fleet management.
With a focus on enhancing performance, driver safety, and vehicle optimization, Geotab's fleet management software tackles various challenges, such as real-time monitoring, identifying unexpected stops, risk detection, in-vehicle coaching, accident alerts, safety reporting, seatbelt enforcement, speed reduction, improved average MPG, and engine diagnostics.
What is GEOTAB Drive?
Geotab Drive is a mobile application designed for recording vehicle inspections, driver identification through Geotab driver ID, and messaging features. It is an integral part of the Geotab Cloud ELD system, which is compliant with FMCSA regulations for electronic Hours of Service (HOS) logging, in combination with the Geotab GO telematics device. Geotab Drive is approved by the FMCSA and listed eld devices on their official website, ensuring its reliability and adherence to industry standards.
This comprehensive solution for driver compliance simplifies ELD compliance, DVIR (Driver Vehicle Inspection Report), driver identification, and more. By seamlessly integrating with the Geotab GO telematics device, the GEOTAB Drive smart mobile app helps meet regulatory requirements, enhances fleet efficiency, and ensures driver safety.
Effortlessly record HOS status and perform vehicle inspections using either a smartphone or tablet. As the trucking industry shifts from paper logs to e-log for HOS, it is essential for affected companies to integrate an ELD system into their fleet. Combining fleet management solutions provides numerous advantages in this regard.
The GEOTAB Drive app is user-friendly and allows drivers to save time by simplifying the documentation process for daily tasks. It connects with the Geotab GO device, automating the creation of detailed records regarding the time spent in various duty statuses, including On Duty, Sleeper Berth, Not Driving, Driving, and Off Duty. By leveraging the GO device, the app facilitates a smooth transition between Drive and On Duty statuses, leveraging motion detection through the connected smartphone or tablet.
Also, there is a display in the vehicle displaying the current status of a driver as well as the remaining hours for the other duty times (Driving, Rest, Duty, and Cycle).
These are the advantages of having two solutions incorporated into one system.
Feature includes:
DVIR (Driver Vehicle Inspection Reporting)
Automatic duty status changes
Hours of Service reporting
User-friendly dashboard
HOS (Hours of Service)
Driver Identification
FMCSA compliance

Onboard accelerometer/gyroscope 

 

Asset Tracking and Management
Driver Safety Reporting and Coaching
Services Overview
Geotab offers a GPS fleet management system that captures real-time data on vehicle position, speed, fuel consumption, and idling. The system provides fleet managers with a comprehensive solution to stay informed about their fleet and drivers.
Through the GEOTAB Drive MyGeotab dashboard, fleet managers have access to all the features of the GPS fleet management system. This integrated fleet management portal offers a convenient way for administrators to view key metrics related to vehicle and driver performance.
One notable feature is the driver scorecards, which allow for a side-by-side comparison of driver safety and productivity. Fleet managers can easily evaluate and track the performance of their drivers in these crucial areas.
The system also offers flexible reporting capabilities. Users can arrange reports using drag-and-drop and resize features, making it easy to customize and display relevant information. Fleet managers can create personalized reports that highlight fuel consumption and other important trends.
Geotab provides comprehensive support to its users. Resources such as the Geotab Drive user manual, installation assistance, and detailed documentation are available. Users can also participate in customer forums and receive real-time support alerts.
Furthermore, Geotab Marketplace expands the available resources and allows for integration with various third-party management systems. This integration enhances the capabilities of the GPS fleet tracking software and provides additional functionalities to fleet managers.
Lastly, the MyGeotab GPS fleet tracking software solution supports multiple languages, including English, French, Portuguese, Japanese, Polish, German, and Spanish (Geotab Drive en español). This multilingual support ensures accessibility and usability for a diverse user base.
GPS Tracking Hardware
Geotab Go
The Go device is really a plug-and-play system, which means it can be mounted in seconds via the regular OBDII port of a vehicle. The collected data encompasses various essential aspects, including ignition, engine idle duration, route time and distance, as well as the vehicle's speed.
A standout feature exclusive to the FMS industry is the Go device's ability to precisely detect reverse collisions within the vehicle. Moreover, the Go unit possesses the capability to gather information from satellite tracking and temperature monitoring by utilizing supplementary add-on software modules.
These additional add-ons may also encompass hardware enhancements, like incorporating cameras into the vehicle.
Geotab Go Rugged
Geotab Go Rugged telematics device is also called Go; however, it is "rugged," which means it can cope with extreme conditions. It could even endure a commercial vehicle's installation on the exterior. Its requirements meet the standard of IP67, a global standard for safety against forces of nature.
Ease of Use
For small business owners and owner-operators, Geotab's MyGeotab software is a powerful platform. It offers an excellent map for monitoring and evaluating your fleet, and it also has a great dashboard.
And the geotab drive website has many screenshots of the MyGeotab software. Although there are many other more user-friendly and sleeker software solutions, Geotab is indeed a service that provides its users with a robust platform.
How Does It Work?
Do you want to know how to use geotab drive? The primary function of each part of the cloud platform is to ensure a stable, dependable, and accurate data flow.
On the MyGeotab server, GPS, as well as Geotab GO unit engine data, are processed.
The server transmits them to the Drive app together with location and engine data when the Duty Status logs are created.
The Geotab GPS Tracking Hardware transmits the location and engine data to MyGeotab.
The Drive App sends the vehicle driver's duty status to MyGeotab.
To create RODs, the MyGeotab cloud server combines data from both sources.
The updated data is then returned to the GEOTAB Drive App.
All these happen every time you drive the vehicle.
Easy Installation
The GEOTAB Drive and Geotab GO9, as form-factor tracking devices, are easy to set up, so you won't need expert installer support like some of the other e-log devices.
No need for wire splicing or antenna. And no special tools required for the installation. All you can really do is connect it to the vehicle's OBD II port.
For vehicles that would not have such a port, there is also an adapter provided with the device. And this enables you to use this ELD solution in almost any vehicle.
Geotab Cloud ELD
Geotab Cloud ELD runs on a cloud-based platform that allows users to register, manage, and also share their RODS.
And the geotab drive eld secure interface links MyGeotab technology with a smartphone or tablet running the GEOTAB Drive app to the Geotab telematics network.
Cloud ELD is generally considered more stable and secure than hard-wired eld methods that are using Bluetooth to operate or download records and data via USB.
It contains geotab drive hos, which plays a significant role in commercial fleet business operations, just like all other types of ELD solutions.
In particular, Cloud ELD does have some distinct advantages over standard electronic logging solutions.
Cloud-based ELD reduces consumption of power to increase the device's battery life, needs no pairing mechanism, and supports various platforms.
GEOTAB Drive App
The GEOTAB Drive app offers seamless functionality through a cellular connection or Wi-Fi, ensuring synchronization with the MyGeotab system. What sets it apart is its ability to function offline, making it a reliable solution even in areas with no network coverage. The app continuously collects data, which is stored in the GO device's internal memory.
When a cellular connection is established, the GEOTAB Drive app transmits the stored vehicle data to the cloud server. This ensures that all the valuable information captured during offline periods is not lost but securely uploaded to the central system. The app efficiently coordinates the data transfer process, ensuring that no aspects go missing.
The GEOTAB Drive app offers convenient features for drivers, such as the ability to easily change duty status. This functionality simplifies the workflow and enhances productivity. Additionally, the app collects crucial data for both Driver Vehicle Inspection Reports (DVIRs) and fuel International Fuel Tax Agreement (IFTA) management forms, streamlining administrative tasks.
The GEOTAB Drive app prioritizes driver safety by providing timely alerts for upcoming Hours of Service (HOS) violations. These push notifications give drivers sufficient time to pull over and complete their shifts safely, helping to prevent any compliance issues or potential risks.
To support drivers in understanding the GEOTAB Drive app's features and functionality, the company provides a comprehensive Geotab Drive HOS Driver Instruction Guide. This resource serves as a valuable reference, ensuring drivers can make the most of the app's capabilities and navigate its various functionalities effectively.
In addition to its data collection and transmission capabilities, the GEOTAB Drive app empowers users to download vehicle information and duty status logs.. It also offers the option to manually upload generated logs, providing a flexible approach to managing and maintaining essential records.
Pricing and Contract
Geotab does not list information on its website about prices or contracts.
Following two discussions with sales staff from Geotab, they did not provide any additional information about pricing, contract structure, or if there is a minimum requirement for a vehicle.
To get more information, you will need to contact the sales department of Geotab and get through all the buying processes.
Services and Features
International Fuel Tax Agreement (IFTA)
Across all companies operating commercial vehicles in the united states, tracking the distances traveled, and fuel costs make much difference.
By completely removing the necessity for manual tracking, Geotab ELD will help increase accuracy and also save management time. And this makes things much more comfortable.
Safety
GEOTAB Drive offers driver scorecards to make you understand drivers that require coaching and which rewards for excellent performance might be provided.
In-vehicle driver input is also available, meaning your drivers may get on-road coaching. You can learn much more concerning the safety features of Geotab here.
Driver Vehicle Inspection Reporting (DVIR)
Geotab drive workflow also enables full inspection. Faults can be detected, review inspections, add comments, and so much more.
Documents can be sorted to reveal either those with defects or all DVIRs. And this provides a detailed insight into the safety of the fleet.
Installation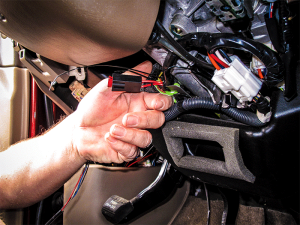 Geotab provides a geotab drive installation manual for setup, and then you can learn more about installing your devices once you've got them.
Many fleet monitoring companies, as part of their business model also provide free installation. However, If Geotab does this or not, is not clear.
Here you can learn more about installation as well as hardware.
Fleet Maintenance
GEOTAB Drive enables you to inspect engine diagnostics as well as other vehicle resources to help you make the most of your fleet.
The fleet maintenance feature can make a difference in letting you detect problems and help you plan maintenance; such as changes in oil or tire before you get on the road.
Alerts
You can also use Geotab to add multiple alerts, such as instant updates of incidents.
The company already has a feature that can provide drivers with in-cab notifications to enhance their safety.
Fuel performance
The GEOTAB Drive platform has many other reporting features for fuel performance. To eliminate counterproductive miles, and thus letting you should understand all facets of your fleet.
And, to take advantage of your fleet, you can monitor and control routes, speed, idle time, and maintenance of the vehicle.
Also, there are fuel cards that enable you to track the purchase and consumption of fuel quickly.
App Customizability
It makes a lot of sense that Geotab highlights their GEOTAB Drive customizable attributes. Even though the fleet management solution is intended for resellers to sell, any one of them can append their unique programs.
MyGeotab, therefore, developed with such an open API with a software engineering kit.
Its reporting mechanism is editable, making it possible for a wide range of parts and fleet management options and personalized dashboards.
GEOTAB Drive is probably one of the most personalized FMS commercially available on the market.
The geotab drive mobile app is available for iOS and Android.
Bring Your Own Device (BYOD)
MyGeotab ensures that those who do have their own vehicle tracking devices could easily connect to MyGeotab and run the program on hardware already in operation.
In other words, just about every fleet operator that has bought their in-vehicle systems from another vendor can, therefore, terminate their contract and swap quickly and make MyGeotab their preferred SaaS.
ELD Compliance
Geotab complies with ELD, however, depends entirely on the choice of service options.
Owner operator and Fleet managers will need to have the MyGeotab software, which runs the geotab drive cloud eld and GEOTAB Drive, a driver app that could also run on a tablet and synchronize with  Geotab Go hardware device.
The GEOTAB Drive app features automatic changes in duty status, sends notifications if a breach occurs, and collects data for IFTA fuel management as well as Driver Vehicle Inspection Reports (DVIRs).
Customer reviews
Geotab accredited by the Better Business Bureau and received an A+ from the rating agency.
The company also has positive geotab drive reviews that speak to its overall quality on many other telematics review websites.
Overall, Geotab's credibility online is high. However, some potential users complain about the lack of geotab drive support to provide customer support.
The company would not publicly mention any geotab drive customer service contact number that users can call for help, unlike many other FMS companies.
Instead of geotab drive contact number, the company provides contact details for the Approved Geotab Reseller, who will provide technical geotab drive training and geotab driver instruction guide.
By navigating to "Get Started & Help" while clicking the "Support" button, customers signed into their MyGeotab account will find reseller details. They also provide geotab driver training.
That being said, Go devices are simple to set up, and a lot of software and geotab drive driver instruction guide is available on the official geotab drive login.
Likewise, other people complain about the lack of transparency in the pricing and contract structure of the products offered by the company.
Although this is not generally a drawback, however, if you're interested in collaborating with Geotab, you must go through the entire sales process before you could even realize what it's going to cost you. N
Also, although not a negative, when you're looking for services, lack of transparency is something to take into consideration.
Pros
Geotab services support almost any fleet
stellar online reputation
The driver can use any smart device to log in to the Geotab app
The reporting is pretty powerful and most importantly spot on accurate
Cons
Geotab isn't transparent about its pricing and requires going through the full sales process to understand the cost
Routing can be glitchy and at times unrealistic
Time-consuming login procedures
Conclusion
We have thoroughly reviewed Geotab and its telematics solutions for owner-operators and small businesses in this article. However, we have noticed a lack of online transparency.
To obtain valuable information about the company's offerings, you will need to go through the entire sales process.
While Geotab's operations and services are extensive, gaining insight into their pricing, plan structure, and other details is challenging. Unlike other telematics services, they do not disclose information such as software refresh time, contract length, and minimum vehicle requirements.
We recommend reaching out to Geotab directly to gather more information about their products, services, and associated costs.
On the positive side, Geotab's cloud-based software and hardware options for fleet tracking are robust and user-friendly. Their services can be tailored to meet the specific needs of your fleet, whether it's large or small and consists of heavy or light vehicles.
With this kind of ELD solution, the fleet will reduce the costs of management and traffic violations while simultaneously working to improve CSA score as well as operational efficiency.
And you can take comfort in knowing that over the long haul your investment in telematics will pay off. In fact, you are going to be in full compliance with the ELD mandate law.
Be careful, though, of resellers. Since separate third-party online retailers supply Geotab's products, there seems to be a possibility of purchasing an irregular device.
However, if you need help in finding the best suitable ELD devices for your business, kindly fill our free consultation form, and we will provide support in no time.