Which devices are the best ELD for owner-operators in 2023?

Let's agree that deciding the best ELD device might be different for different fleet owners especially small fleet owners according to their business's needs.
Here are some questions they need to ask to make the decision process easier:
Which ELD devices are suitable for your fleet needs?
What is the price range for an ELD device that the company can afford?
Is the ELD device compliant with the ELD mandate?
What are the prominent features that make this ELD device stand out from others?
How reliable is the ELD company?
After asking these questions, you should carefully analyze the pros and cons of each option before you make a final buying decision.
We understand that it seems overwhelming when you begin to research the multitude of options available.
That is why we have made a list of the best ELD devices for owner-operators in this article to help you make the right choice.
Buyer's Guide: Important Factors While Choosing an ELD Device
Before getting into the detailed list of best ELD devices. Here are some factors to consider before investing in ELD devices for your fleet because it is better to make an informed decision.
First, you'll want to ensure the product is within your company's budget and has the features you desire. Also, make sure the device is relatively easy to install and use. This will enable your drivers to learn the ropes quickly and help them to stay on the road and in compliance at all times.
Therefore, you'll need to purchase an e-log that complies will all current industry standards and regulations. It is paramount to select a device that is up-to-date with all federal regulations.
Some products include warranties and manufacturer guarantees. And this enables users to be sure that the product stays in compliance as updates are needed.
Technical Support
As said earlier, if the drivers encounter technical issues while on the road, the device should have 24/7 customer support.
Therefore, the support function of the eld is quite important.
The customer service team will be able to promptly troubleshoot the issue so your trucks can get back on the road.
Limited or no technical support will mean a waste of time attempting to log drive time manually.
Therefore, you need a device that connects effortlessly and stays connected.
You wouldn't want to use a device that disconnects frequently or loses data.
Also, you don't want to worry about capturing inaccurate information, which you may or may not be able to overwrite
Data Storage On Device
Fleet owners prefer to invest in an e-log that stores an adequate amount of relevant data for a long period.
This way, the device won't overwrite data that could still be needed because it reached
maximum capacity.
As a small fleet owner, you'd want to be able to access all the needed information quickly and easily.
As a result, you can keep up with your reporting procedures.
Features of the E-logs Device
ELD, with the most robust back-office features, is a must for all fleet owners. It helps you analyze a multitude of reports and keep track of your team.
You'll also be able to print these reports and share them when necessary.
Some devices come with advanced features that others don't. However, you should select the features that are useful to you.
Compatibility
Your preferred ELD device should be compatible with the equipment installed in your trucks. Occasionally, an adapter and a cord will be needed to be purchased separately to use the device.
It is also advisable to take some time and do some thorough research, so you know you're buying a product that is compatible with the devices you will be pairing it with.
For example, if your fleet used Android devices, you'll need to purchase ones that will work with this operating system. You also need to ensure that the e-log works with the recent device models that your drivers are using. Some of the newer devices will not pair properly with older operating systems.
You wouldn't want to have to replace all of the drivers' devices along with the product you chose before they're able to get on the road.
If you are not sure which system is better for you, you can get free expert advice by filling out our consultation form below.
Check the Policies!
Lastly, you'll want to know if the device manufacturer has a return policy on their ELD products. So, you can return the device if you encounter unsolvable issues or discover that it doesn't pair well with your vehicles or devices. You don't want to be left hanging on to an unusable product. Again, some products also come with a one-or two-year service warranty, which may be included in the initial purchase price or may require an additional fee.
If the product you are considering comes with a warranty, make sure you understand it.
Some brand names have stood the test of time, and others are newer to the market. Sometimes the reputation of the longer-standing brand warrants a higher purchase price. However, this isn't always the case.
Many newer brands have comparable features at a lower fee because the brand is still building its reputation. When deciding to choose an ELD, consider the size of your operation, the number of trucks you have on the road, and the overall distance traveled. And also, consider the data you'll need your drivers to capture as well as your budget for ELD expenses.
Above all, purchase the product that works best for your company's needs and one that will allow you to stay in compliance.
Now that you have a basic idea of ELD device compatibility, affordability features, and more. Let's look at the best ELD for owner-operators list.
Best ELD for Owner Operators
1. Motive (formerly keep Truckin) ELD Device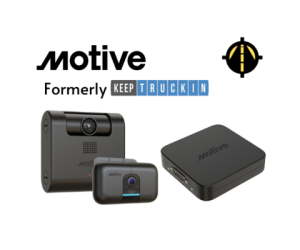 Motive (formerly KeepTruckin) ELD gives owner-operator maximum benefit for their money.
Making E logs for owner-operators should be:
Affordable

User-friendly

having features that will help the business grow
There is a reason Motive is always on top of the list when it comes to ELD devices. Motive ELD provides all the mandated features and more at a reasonable price.
One of the main features is the easy-to-install hardware that does not even require a mechanic. The device can be set up in less than ten minutes. Or else the Motive tech support team is ready to offer services 24/7.
Not only that but owners can track their fleet in real-time and inform the customers beforehand if there is a change in delivery time or date. This system provides transparency and keeps the customers in the loop with the whole delivery system.
With the Wifi option, it's easy for fleet managers to upload schedules automatically while owners can upgrade their ELD with the help of a dashcam.
Pros
Includes geofencing and fuel monitoring
Come with the ability to send photos through the app, if desired
Advanced engine diagnostics
Automated compliance management
Real-time fleet tracking
Easy to install
Monthly subscription for as low as $25
24/7 technical support
Cons
Long-term contract required
Software service not included
Upcharge for using a tablet
Get Your Motive ELD Here!
Check our Motive (formerly keep Truckin) ELD full review for further information…
2. EROAD EHUBO ELD (most reliable)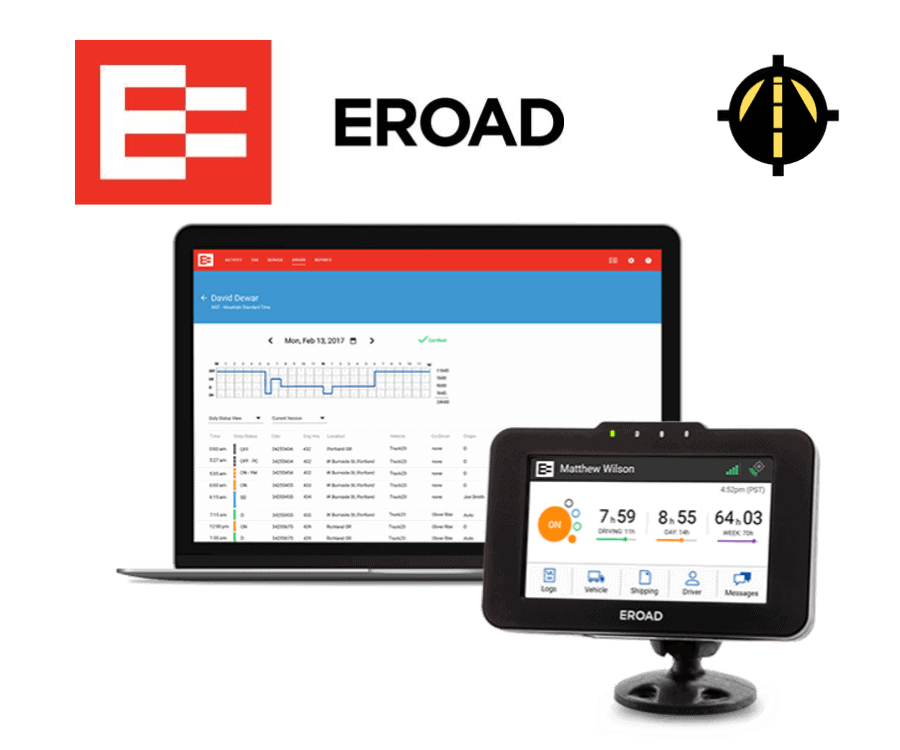 EROAD Ehubo is FMCSA compliant and has a full-packed IFTA reporting feature.
Also, you can easily log your "personal conveyance" time without worrying about HOS requirements.
Fleet maintenance is another key feature that EROAD brings to the table. And without a doubt, the company prioritizes safety and compliance over everything else. EROAD is the first ELD device that has been 3rd party certified.
With the help of their GPS tracking system, you can make sure all your driving data is adequately collected and stored safely.
EROAD Ehubo offers all of the features you need to stay compliant with HOS at an affordable price.
The pricing package is flexible and offers a monthly subscription fee from $25 to $35.
The hardware is free if customers agree to pay $35 per vehicle monthly. Otherwise, you can pay for the hardware upfront and register for a $25 monthly subscription.
Pros
The easy installation process (under 2 minutes)
PAYD or "Pay as you Drive" pricing plan
Flexible prices
DVIR Reporting System
GPS Tracking
Easy To Use
Reliable
Cons
Non-satisfactory customer service

A basic monthly subscription starts from $25 to $35 per vehicle which is expensive for some businesses.
Grab EROAD special offer here>
Check our EROAD EHUBO ELD full review for more info.
3. Garmin eLog ELD Device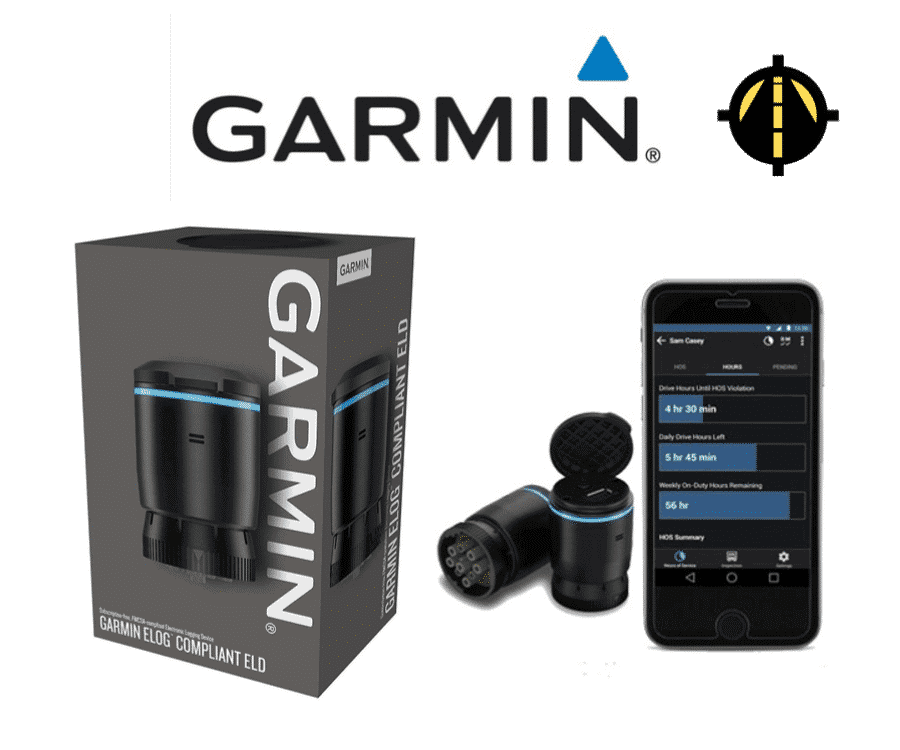 Many small fleet companies prefer ELD devices that do not come with high monthly subscriptions for every vehicle. This is exactly what Garmin brings to the table. Customers pay for the hardware and have no monthly costs.
Without a doubt, this is a great deal for small fleet owners who need their e-logs available at a lower price that does not involve a monthly subscription.
Moreover, the Garmin app is a compliant ELD among the best e-log solution in the market. It's compatible with both Android and iOS.
The eld solution is simple to set up and integrated with both 6-pin J1708 and 9-pin J1939 installations port.
And this makes it simple for every truck in your fleet to use the device.
Pros
Trusted brand name
No monthly fee
Low start-up costs
Will fit any standard 6- or 9- pin data port (adapter not required)
Cons
Limited and basic functionality

Not compatible with vehicles using OBD-II protocol (SAE J1979)

No separate cables for vehicles with Volvo engines and 16-pin J1962.

Upcharge for using a tablet

Limited functionality and features may not be worth the affordability.
Check our Garmin ELD full review for more info.
Buy it HERE!
4. GPS Trackit ELD Device
GPS Trackit ELD is also a good option for owner-operators who do not want to be tied down under a contract. The hardware is simple plug-in-play and FMCSA compliant and comes with a software application that can be downloaded on the device of your choice.
With GPS tracking ELD e-logs, you can:
Generate and Transmit Reports
Saves Time and Reduces Errors
Store and retrieve data easily
Track HOS Status of All Vehicles
Minimize Violations
The software allows managers to customize alerts and highlight important details in a report, making it easier and faster to make crucial decisions. The GPS Trackit ELD comes at a starting monthly rate of $23.95, with no contracts.
Pros
Customizable alerts make it easy to highlight important details
You can supply your own hardware if you want
No contracts needed
Cons
Doesn't include a huge feature set
Check our GPS Trackit ELD full review for more info.
Free Custom Quote
5. My20 ELD Device
If you feel that eld devices have become too pricey for owner-operators, you haven't heard of the Konexial My20 ELD.
Konexial is one of the major ELD providers in the U.S e-log market.
This ELD provider's monthly subscription service packages are affordable at $25/mo per driver.
At time of updating this article, buying the device costs $149.99
The My20 ELD, while inexpensive, is a useful and right solution for electronic logging. Why?
The device is loaded with essential features for productivity for the fleet company.
And the apps are intended to streamline work processes and increase business efficiency.
For example:
GoLoad — One of the My20 eld app features is a vibrant load service provided by the company to match the driver with available loads in real-time.
GoFuel —  Likewise, the unique feature of GoFuel is also intended to improve your vehicle with fuel economy.
All these unique features make it possible for the fleet to spend less while making a lot of money.
The device also has functionalities such as Messaging, GPS tracking, Maps, My20 Rewards, Real-time dynamic load matching, and reports.
There are two main pricing options for the My20 ELD device. Customers either pay $300 for 12 months period or $600 for 25 months. There is an additional fee for adapters and their installation. 
Pros
Quick install and easy to use
No contract required
100% FMCSA approved
DOT certified
Only ELD with GoLoad –  direct shipper loads.
No additional hardware needed to operate
One-year warranty available
IFTA mileage included
Konexial will repair or replace your ELD as long as you maintain your monthly service
Logbook editing can be done easily
The app provides ELD supporting documents
Cons
No support for 6-pin adapter
No exterior USB port
Subscription service required and must remain current for updates to install properly

Some users have reported connectivity issues.
Check our My20 ELD full review for more info.
Buy it HERE!
6.Omnitracs Intelligent Vehicle Gateway (IVG)
Omnitracs had been a renowned provider of SaaS fleet management and groundbreaking transport technology solutions.
The Intelligent Vehicle Getaway (IVG) is a clear demonstration of Omnitracs' desire to offer a competitive edge to its customers.
As such, Omnitracs' e-log approach aims to;
Reduce costs
Streamline processes
Improve driver efficiency etc.
This ELD system is compliant and improves the fleet's performance, safety, and reliability.
Even though some of the industry's leading ELD implementations may only be successful at logging and compliance:
However, everything is handled by the Omnitracs IVG.
The Omnitracs best eld for owner-operators is designed primarily to improve safety, performance, and ease of use.
And this system is clearly a trendsetter in the industry.
It comes with ease of installation, user-friendly Intelligent Voice Interface, intuitive feature scope, and intelligent alerts.
Basically, the omnitracs eld is the right, budget-friendly, and useful e-log solution.
Pros
Completely stable connection through the state-of-the-art gateway
Black 9-pin, type I harness
Hardware complies with ELD mandate requirements
Intelligent Voice Gateway (IVG) allows drivers to access key features by voice-activated commands. And this allows them to use the features without taking their eyes off the road.
Backward compatible with coexisting seamlessly with legacy Omnitracs platforms
Comes equipped with dash cams
Comes equipped with in-cab scanning
Includes tire pressure monitoring
Cons
Expensive upfront cost
Requires some time to set up

Frequent updates are needed for the device to work properly
Check our full Omnitracs ELD review.
Buy it HERE!
7. Rand McNally ELD 50® E-Log Device
The Rand McNally ELD 50 provides you with a massive selection of features for less than $200. This also includes the monthly subscription to DriverConnect. 
The monthly starter pack costs almost $19.95 to $29.99. But the price may vary depending on the number of services and the size of the fleet. 
After affordability, a small fleet company needs to have an easy-to-install ELD solution to avoid paying for installation.
Yeah, that's what McNally gives you.
To mount the device, all you need is to plug it into the diagnostic port.
This ELD is capable of creating comprehensive DVIR reports in addition to the standard ELD functionality.
Also, the device can collect logs when you are out of wireless network coverage.
In such a situation, the logs are kept in internal storage, holding logs worth 2 days' logs.
And the stored data can be transferred to Rand McNally's web interface for processing when connected to the internet.
Also, the database comes with the capacity to store up to 6months of data.
.
Pros
DVIR stores a lot of information, so users don't have to worry about data being overwritten
Use gauges feature to show current engine stats in a customizable dashboard and allow drivers to diagnose engine problems quickly
Easy to install
Simple to operate
Cons
May not work with older Android devices
Works best with smaller fleets
Users report it can be unreliable and disconnects at times
Users report no technical support when needed
Doesn't fit all trucks
Cannot change drive time with the time is recorded inaccurately
Requires monthly subscription fee
Hold up to one day's worth of data at a time
If an Android phone does not connect within that one-day window, then the data does not back up, and earlier data is deleted
Check our Rand McNally e-Log review.
Buy it HERE!
8. Samsara ELD Device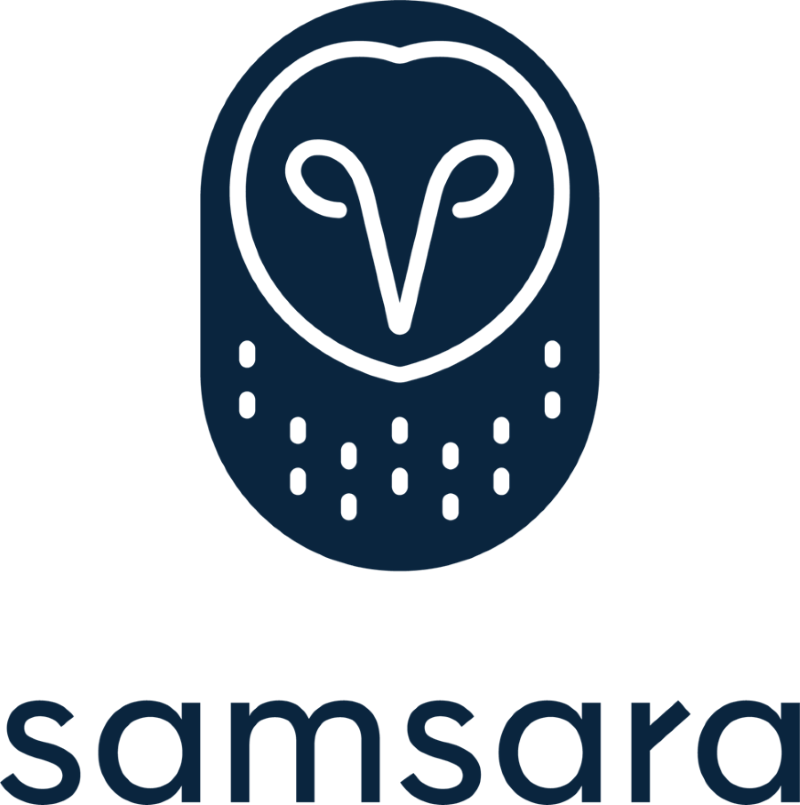 The Samsara ELD is a great option for fleet managers who are also interested in a complete fleet management service. It is one of those players who come late to the field but become popular in a very short time. Samsara ELD has made its name in the industry fast and rightfully so.
Samsara is easily competing with older players like Garmin and McNally. It provides affordable offers, and smartphone apps and is certified by the FMCSA. These are the main features new and small fleet owners prefer when looking for an ELD.
While you won't need to purchase a full FMS (field management system) to buy the ELD-compliance hardware/software package, it's easy to upgrade to one, and Samsara offers one of the most comprehensive FMS services available.
Intuitive Interface
Easy Installation
Upgrading to FMS is simple
Free Trial
24/7 Support
Serves fleets of all sizes
Samara's ELD solution is a unit that plugs directly into a vehicle engine via its OBD port and is paired with a mobile app that a driver can use to track and log their vehicle data in real-time. Also, dispatchers can use a dashboard to see the HOS for all of their drivers in one central location.
The devices are easy to connect and set up, and managers can easily upgrade to Samsara's full fleet management service while retaining the ELD-specific software's dashboard and app infrastructure.
Pros
Easy learning curve
Easy to upgrade
Strong support options

Easy-to-use software

A modern and intuitive design
"Plug and Play" hardware
Easy to install
24/7 U.S.-based phone support service
Cons
Frequent software updates can be tough to keep up with

Sometimes data recovery gets tricky after updates

As the company is growing fast, customer support gets delayed

When being used on a tablet, the driver app sometimes freezes
The durability of the actual hardware leaves something to be desired
Check our Samsara ELD Device review
Free Custom Quote
9. J.J. KELLER Encompass ELog Electronic Logging Device
The J.J. Keller's eld solution, in combination with the Encompass program, will standardize critical functions such as;
Driver qualification
Hours of Service (HOS)
Driver habits monitoring and licensing etc.
With J.J. Keller's electronic logging device, you can store and access user data for six months in the cloud. Not only is it easy to use but also adapts to different fleet sizes. 
As the performance of the fleet operator is optimized, the profit that the fleet makes will increase automatically. 
This ELD solution can be inserted into your vehicle's diagnostic port as a black box. Not only that;
The device provides effective legal compliance and management of performance.
Also, the unit logs DVIR and HOS data for compliance purposes.
Therefore, the device is suitable for the owner-operator that wants to enhance compliance and move beyond logs.
The device comes with an upfront fee of $199; and a Keller e-Log box plus a monthly total of $25.5.
There are several other pricing options as well.
For instance, JJ Keller's official display tablet costs $349. So if you buy the JJ Keller tablet, the monthly cost will be $59 including the Verizon data plan.
When selecting a JJ Keller e-log version, I would like to advise you to evaluate the pricing plan carefully.
Pros
Free easy-to-use e-log app
Simple installation
Proven driver interface
Works with iPhone, iPad, and Most Android devices
One-touch e-logging for better time management
Online dashboard to view and store past logs
Service plans include e-logs with optional automated fuel tax reporting
Compatible with all vehicle classes (1-8)
15 Different Hours of Service (HOS) rule sets
Cons
Users have reported an inability to print daily fuel purchases

Connection issues

Poor customer service

Users have reported it will switch to drive when they are stopped
Check our J.J. Keller ELD review.
Free Custom Quote
10. Stoneridge EZ-ELD Device
The Stoneridge EZ-ELD is an excellent choice for an owner-operator.
First, this best eld for owner-operators is certified by FMCSA.
And, therefore, provide the fleet with full control over compliance requirements.
Also, transferring the device from one vehicle to another is comparatively easy.
And the solution comes with several adapters for installation on various trucks.
Therefore, many Stoneridge EZ-ELD customers at the moment shown satisfaction with its ease of use and installation.
Pros
Easy to use and install
FMCSA-certified to provide total control of federally mandated compliance obligations
Multiple adaptors connect to it and can be easily switched between vehicles
Capable of storing up to six months of data
Allows users to view timesheet calendars for up to thirty days at a time
IFTA & vehicle inspection are included in the package
Cons
The company is still building its brand's reputation
Users report poor instructions and support
Users report the device frequently disconnects
Faulty devices cannot be returned (no return policy)
Check our full Stoneridge EZ-ELD review.
Buy it HERE!
Other Notable ELD Devices for Owner Operators
While our main list highlights the top ELD choices, there are other devices in the market offering unique features and benefits.
These alternatives are worth considering for owner-operators who have specific needs or preferences. Here's a closer look at five such noteworthy ELD devices:
PeopleNet ELD:
A leader in fleet management solutions, PeopleNet's ELD stands out for its comprehensive suite of features tailored for efficiency and compliance.
It integrates advanced telematics with robust reporting capabilities, making it an ideal choice for owner-operators who need detailed analytics and performance insights. PeopleNet's e logs for owner operators are known for their reliability and scalability, adapting to the growing needs of a fleet.
Despite being on the higher end of the pricing spectrum, the device offers significant value through enhanced fuel efficiency, safety features, and compliance management.
Geotab ELD:
Geotab stands out for its integration and customization capabilities. Ideal for fleets that require a robust telematics solution, Geotab's ELD provides comprehensive reporting, real-time tracking, and advanced data analytics.
It's not just an ELD device or e-logs for owner operators; it's a full fleet management tool that helps in optimizing operations, improving safety, and reducing operational costs. Geotab's marketplace offers numerous add-ons and apps, enabling fleets to customize the solution to their specific needs.
Gorilla Safety ELD:
Gorilla Safety stands out for its focus on safety and compliance. It offers a user-friendly ELD solution that integrates well with its fleet management software, providing features like real-time GPS tracking, automated compliance updates, and effective risk management tools.
Gorilla Safety's ELD is particularly beneficial for fleets prioritizing safety and aiming to streamline their compliance processes efficiently.
Zonar ELD: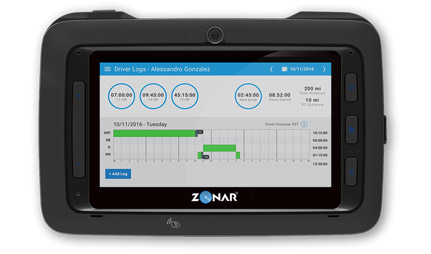 Zonar's ELD solution is known for its emphasis on safety and accuracy. It offers advanced diagnostic features and robust compliance tools, making it ideal for fleets looking to enhance operational safety and efficiency.
Zonar ELDs are recognized for their precision in data logging and ease of use, catering to fleets that need reliable and comprehensive compliance solutions.
Each of these ELD systems brings something unique to the table, whether it's in-depth fleet analytics, safety prioritization, or comprehensive fleet management capabilities.
For owner-operators and fleet managers looking for reliable and efficient ELD options, these devices represent some of the top alternatives in the market known for their quality and comprehensive features.
Pricing Plans of ELD Devices
When it comes to selecting an ELD device, understanding the pricing plans is crucial. These plans can vary significantly from one provider to another, and it's essential to consider both upfront costs and long-term expenses to find the best value for your fleet. Here's what you need to know:
Initial Investment: Some ELDs require an upfront purchase. Assess if the features justify the cost, especially if you're a small fleet owner or an independent operator.
Monthly Fees: Many ELDs come with a monthly subscription. These fees vary and typically cover software access, data storage, and customer support. It's essential to weigh these ongoing costs against your operational budget.
Beware of Hidden Costs: Always ask about additional costs like installation, extra hardware, or premium features. Transparency in pricing is key to avoiding surprises.
No-Monthly-Fee Options: If your needs are basic, look for ELDs without monthly fees. They are straightforward and suitable for compliance without extra bells and whistles.
Long-Term Contracts vs. Flexibility: Some ELD providers might lock you into long-term contracts, possibly offering lower overall costs. However, consider your business's growth and potential changes before committing.
Value for Money: Cheaper options might be tempting, but consider the long-term benefits and ROI. An ELD that offers comprehensive features might help you save money in the long run by improving efficiency.
Remember, the right ELD for you balances affordability with the features you need. Don't just go for the cheapest option; choose one that aligns with your business goals and helps you stay compliant without breaking the bank.
Reliability Perhaps is More Important
Some devices are more reliable than others, and some brands have stood the test of time, while others are new in the industry.
Sometimes, it is worth paying for a brand's reputation, but that isn't always the case. Newer products may prove to be just as reliable as the older ones.
The fact is:
You don't want to sink your funds into a product that doesn't work as expected.
Also, you wouldn't want to overpay for features that you can find in a similar device for less.
You'll want to ensure your preferable eld device is easy to install and use.
And this will enable your drivers to learn to operate it efficiently and quickly.
Technical support is also vital. Why?
If the driver encounters unforeseen issues while on the road, you'll like to be able to troubleshoot and get back to business quickly. And this is why the reliability of the device you choose to buy is important.
ELD tracking is a crucial part of your fleet company's operation.
Return on Investment (ROI)
The best eld for owner-operators will help to reduce the cost and increase productivity.
Everyone needs a device that meets the HOS requirements.
Therefore, a solution that integrates with software features like vehicle monitoring, two-way communication, improved routing, etc. is important.
Be positive and try to get the most out of your ELD choice. If you find the right ELD for your needs, you will find out that they can be very powerful and help to reduce costs in your operations.
What Makes the Best ELD for Owner Operators?
What makes an e-log the best eld for owner-operators depends on many factors.
As we said earlier, the best eld devices for small fleets need to be accurate, inexpensive, and easy to use.
Below are the key factors you should consider before purchasing an ELD device:
Cost
As we all know, those who object to the ELD mandate base their claims on the price of the solution.
However, not all eld solutions are expensive.
But, for small fleet owners, some of the ELD options available today are relatively inexpensive.
Here are some points related to costs that you have to take into consideration:
1) UP-front Costs
Although ELD systems seem to be very simple pieces of technology, some are too expensive. And small fleet owners may not have the cash to spend on an expensive solution.
However, to get the eld devices that are more complex and often costly, you can think about buying the devices that offer to finance.
In such a situation, at a cheap upfront cost, you will have the device you desire.
And, according to your preferred monthly service plan, you will start paying for the device gradually.
2) Installation Fee
The complexity of various ELD implementations varies.
Likewise, the mode of installation can range from more straightforward approaches to the most complex ones.
As an owner-operator looking to save some money on e-logs, it is best to go for the eld solution you can install by yourself.
Alternatively, you may go for an ELD provider who offers to install the device free of charge.
As a result, you would be able to save some money.
3) Monthly Subscription Cost
Depending on your eld solution provider, you may have to commit to a monthly subscription plan to use back-office tools.
However, this fee varies from provider to provider.
While affordability has become an important factor, I will prefer a provider that offers cheap monthly plans.
FMCSA Approval
Best eld for owner-operators is FMCSA certified and complies with the ELD mandate. Therefore, you must first check if the device is on the FMCSA list.
If you do not find the ELD system mounted in your truck(s) on the FMCSA list, replacing it with an approved eld solution is a wise decision.
Uncertified ELD will eventually cost more money, and you will also be penalized.
Dedicated E-Log or BYOD?
As you decide on the best eld for owner-operators, remember that requirements vary from business to business.
Therefore, depending on your business needs, choose either BYOD or Dedicated ELD systems.
So, which of these two e-log systems is right for your business?
Dedicated ELD
A dedicated electronic logging provider offers everything that you need.
And this includes ELD software and viewing platforms such as mobile devices or tablets.
Many ELD providers are believed to provide the equipment free or discounted or on agreed payment terms.
And if you choose a dedicated eld, it is recommended that you first read the terms and conditions before making a financial commitment.
Therefore, if you want to get a good return on your investment, you need to choose a robust dedicated device with the features you need.
BYOD e-Log Device
The Bring-Your-Own-Device (BYOD) ELD systems allow you to use your own devices, like tablets or smartphones.
Therefore, all you need is to purchase the system and link it to your mobile device.
The BYOD e-log solution is versatile and, if you have a mobile device, it will save you some money.
This ELD system's drawback is that you would have to pay an additional fee separately for cellular connection.
And drivers will use their mobile devices to access the ELD, resulting in distractions when driving.
Features
The best eld devices for owner-operators should provide extra features for enhanced versatility.
Therefore, you need to choose a brand that provides the functionality you need as an owner-operator.
And this primarily depends on the number of trucks you have as an owner-operator.
For example,
If you don't have more than one vehicle, you may not really need GPS tracking.
Also, the e-log provider should provide the right back-office software for your company in addition to the ELD apps.
A few of the standard features of best eld for owner-operators include:
HOS logs
Messaging
Geofences
Navigation
Signature capture
Document scanning
Tire pressure tracking
Real-time GPS tracking
Dashboard video camera
Dashboard for a fleet manager
Maintenance and diagnostic reports
Conclusion
There are advantages and disadvantages to each ELD device in the market. The key to choosing the best eld for owner-operators is your fleet's needs. If you manage a fleet, it's worth considering other Fleet Management Systems such as Verizon (known as Fleetmatics Reveal) or GPS Insight. Some work great for smaller fleets but aren't equipped for larger ones. However, others work well for all sizes. Therefore, you should make a decision based on price and available features. The product should be easy to install and use. It also needs to come with competent, readily available customer support if a driver encounters technical issues.
The key is to get drivers up and running quickly and keep them on the road. Do your research first, and compare and contrast models to find the best fit.
We hope this guide on the best eld devices for the owner-operator has made your research less overwhelming and helped you make an informed decision.