(Last Updated On: July 23, 2023)
Many fleet owners have turned to ELD reviews to find the best electronic logging device for their fleet. The ELD mandate was pushed into law in 2015, and its role has been slowly changing ever since. It requires fleet owners to replace their paper logging system for tracking hours of service with electronic devices registered with the FMCSA. These devices automatically track the statistics by connecting to a vehicle's engine.                                                                           
The reason behind the ELD mandate is to more accurately track the hours that drivers are driving and to ensure that they are not driving beyond their limits. This can be a daunting task for fleet owners, as it requires replacing the entire logging system. That's why we bring you a list of ELD device reviews to help you choose wisely.
Now that the ELD mandate is in full effect, it's time to take action. We recommend checking our post about cheap eld devices to make sure you choose the best option for your fleet.
The Top Six ELD Devices Reviews (for Small Business) 
As a team of experienced professionals in the commercial trucking industry, we have firsthand experience with the benefits of ELDs. Our team has used a variety of electronic logging devices and seen the reduction in accidents and the protection of employees from fines. We have also witnessed the positive impact on workplace culture, as employers are no longer pressuring their drivers to exceed their hours of service limits. With this knowledge, we have carefully selected the top six ELDs that will not only benefit your business, but also make the transition to electronic logging as seamless as possible. Trust us, we know what we're talking about.
Take a look at our six reviews and consider the following when picking out your electronic logging device:
Does the company that made it have industry experience?
How intuitive is the new logging system?
Are you able to try the solution before you buy it?
There are hundreds of factors to consider before purchasing an ELD for your fleet – take baby steps!
Start by reading below to check out our top six picks for ELDs that might work best for you and your commercial freight business.
How to Compare One Device to Another and What to Look for
To conduct a good electronic logging devices comparison, you need to do your homework and consider the following;
The reputation of electronic logging device provider
When it comes to electronic logbooks for owner operators, there are numerous providers on the market. Each has its own unique features that could make it more appropriate for your company. To ensure you invest in a high-quality product, it is best to run a background check on your chosen electronic driver logs provider.
The first factor to consider is the length of time the business has been providing this service. Providers with years of experience are likely to be more knowledgeable in the field. Additionally, checking the feedback the company has received in the past from clients is a wise move. This can give you the best understanding of what to do.
Finally, you can purchase from reputable suppliers to ensure that you are getting a quality product. By considering these factors, you can make an informed decision about which electronic logbook provider is best for your company.
Consider Pricing Plan
It is reported that some companies charge hidden charges for their subscription fees. Try and avoid it while searching for trucking electronic logs.
There are also several things that you need to remember when searching for the right electronic logs for truckers, as you'll discover in this guide.
When you're searching for an electronic logbook price solution and also want some of the best feet management solutions from the back office, these electronic logging devices reviews will help you determine which eld devices are ideal for you.
Electronic driver logs Criteria
The following are critical criteria a capable electronic logbook device must have
Off-grid Logging
Prevents tampering
GPS location tracking
Enhanced Safety Features
Compatibility and Ease of Use
Robust Cloud-Based ELD Models
Separate accounts for Admin and drivers
Requires annotation and certification of the driver
Auto records vehicle motion status and engine power
Allows e-log to transfer via Bluetooth, email, USB, and printout
Records engine hours, truck miles, date, time, location, and driver ID
Contains complete emergency procedure and user manual
Our Top Six ELD: Reviews & Ratings
We have reviews most of the top electronic logbooks for truck drivers on the market, and here are some top Six ELD devices for 2023
And due to advanced feature sets and ease of use, these electronic logging devices (elds) are above the others on this list.
Every one of them is equally capable of serving small and large fleets, keeping them valuable no matter what kind of business you do.
1. Keep Truckin ELD (Now Motive)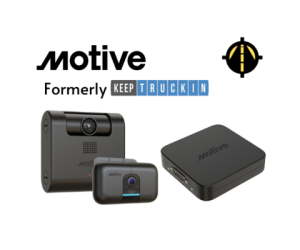 We've chosen the Motive (formerly Keep Truckin) ELD as our top choice for our Top Six List. Why? It's a user-friendly device that is easy to use and affordable. In fact, it offers almost too many features to count.
With a cost of only $35 monthly and a $1,260 total cost for three years of use, it's a reasonably low-cost device. The basic service plan costs only $25 monthly, which includes the hardware. However, new and upcoming features boost it further to $35.
This ELD is an app for commercial drivers that is modern and easy to pair with and connect to your vehicle.
It also provides features like two-way messaging, room for a 3rd party navigation app, paperwork photography, accident damage reporting, and GPS.
Furthermore, this ELD allows drivers to recap the hours that will be gained over the next week – a secure method for driving log editing! This ELD also allows employees to send images through the app, which keeps everything in one place, making it a one-stop shop for hours of service compliance.
Motive (formerly Keep Truckin) even offers a convenient "DOT inspection Mode" for showing off your log history to enforcement officers. Additionally, logs can be sent right from the app, making it a seamless process for everyone.
In conclusion, the Motive (formerly Keep Truckin) ELD is an excellent device for commercial drivers. It's affordable, user-friendly, and offers many features, making it an easy choice for our Top Six List.
Get Your Motive ELD Here!
2. EROAD Ehubo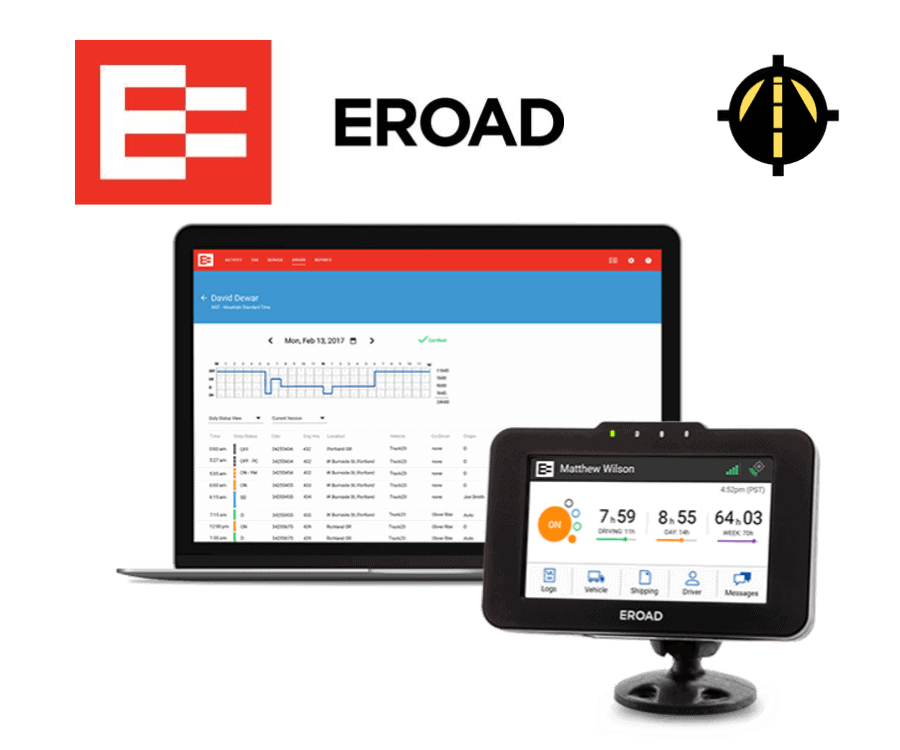 Our second pick for the top ELD in the industry is EROAD Ehubo.
For just $45 monthly (with a total of $1,620 for 3 years), E-road is one of the most reliable and accurate systems that's been invented for the business.
It's intuitive, relatively affordable (though more expensive than our No. 1 pick), and has been independently tested for ELD Mandate compliance by the PIT group research firm.
It claims to be one of the most all-around high-quality devices on the market with sturdy, reliable hardware and easy-to-use software.
The information it captures is highly accurate, in addition to the system's intuitive nature.
It also has a ton of bells and whistles, not quite as many as other systems, but it is recognized as an all-in-one device that plugs into your vehicle's diagnostic port.
Using a 3-wire install, this ELD is one of the few that can record information at the level of accuracy that the ELD mandate requires.
But what sets this device apart?
The verification procedure. While any device can be verified with the ELD mandate, EROAD has set itself apart by being 100 percent up to code and having a transportation technology testing firm confirms its accuracy and compliance.
Grab EROAD special offer here>
3. Omnitracs IVG
This third pick is one of our all-time favorites.
The Omnitracs IVG is the latest offering from Omnitracs with an overly-simple installation process, tons of features, and a much more affordable price tag.
For only $30 monthly, that's $1,879 annually, and an upfront cost of $799, Omnitracs' latest ELD can be yours!
This electronic logging device markets itself as an all-in-one system. It has new features like voice commands and smartphone pairing, with the simplicity of a one-device-one-cable set-up.
The newest system includes features like logs, DVIR, messaging, navigation, engine diagnostics, and even in-cab scanning, tire pressure monitoring, and dash cams.
Omnitracs is in it to win it with the latest technology, offering smartphone linkage to the IVG via WiFi or Bluetooth, letting your drivers perform tasks even when they're away from their trucks.
For example, your drivers can update trip information, and progress, and capture signatures and documents when they're away from their trucks!
But what do we like best about the new Omnitracs system, you ask?
With the new access to voice commands, 'by simply saying' "Hello, Omnitracs," you can turn on the system and give the software a variety of commands.
Many companies are looking for ELDs that will make their fleet run smoother. This eld device is one of our top recommendations for those companies.
It also helps you comply with e-logs mandatory regulation if you are not exempted from the electronic logs mandate exemptions
Buy it HERE!
4. Blue Ink BIT ELD Reviews
This new ELD is something else in many ways. For starters, this particular ELD is one of the most affordable, lowest-priced devices that we've ever seen on the market.
It comes with no monthly fee; the Blue Ink BIT ELD is only $295 upfront. You heard us right. You pay $295, and then you're done.
Your annual cost? $295. Second-year? That same $295. You'll never pay another monthly fee again.
While the affordable price tag makes it an attractive choice, the Blue Ink BIT ELD is also a better option for it's a simple, easy-to-use app and its installation process.
It's one of the few devices that makes this price a possibility.
In addition to that, it is ideal for independent drivers and small fleets that want to avoid ongoing contracts and service plans.
However, those are required by a lot of electronic logging device vendors.
Your blue ink gadget will plug straight into your diagnostics port, and can pair easily with your smartphone or tablet.
What we like about Blue Ink is that it offers you the basics, without frills or fancy gadgets. You may make edits to your log.
Also, it allows you to accept the suggested correction from fleet managers. Finally, it automatically records when the truck is moving.
Overall, this is a sensible fmcsa approved eld devices choice for small fleets that don't need one million features for their drivers.
Free Custom Quote
5. PeopleNet Display
PeopleNet is one of the top eld providers, and it's no secret that the PeopleNet ELD is the cream of the crop when it comes to electronic logbook devices.
However, the user should be willing to pay the price. This device is considered the Cadillac of ELDs.
You might not find a better-created product out there; the cost may not be worth it to your company.
With an up-front cost of $1,199, followed by a monthly fee of $43, the PeopleNet price tag is steep. The three-year total cost for this bad boy is over $2,700!
That being said, this is truly one of the most reliable, full-featured ELDs on the market. It comes with great support and a familiar interface and platform for many experienced drivers.
PeopleNet has been the premier trucking telematics company on the market since the early 90s.
This one of the best eld companies offered ELDs with updated features before ELD was even a real term. Their platform, packed with features, remains easy and intuitive, making it a premier pick for your fleet.
This new system has all the great features to back up the price tag; for example, You may monitor your engine status, fuel consumption, fault codes, and tire pressure.
You can enable a built-in ALK CoPilot navigation and integrate multi-directional video cameras, too.
Free Custom Quote
6. Rand McNally ELD
Rand McNally is our final choice for the top six electronic logging device manufacturers. It has all the features you'd hope to expect from an ELD.
Also, it comes with a giant bonus of being (probably) the easiest to install on the ELD market nowadays.
With an upfront cost of $550, the monthly fee, at $30 per month, is relatively low.
Furthermore, with the additional features, you are looking at about $1630 for your 3-year total cost.
With a single device and a single cable, your ELD is plugged in and complete — no problems.
This device runs on the same hardware that drivers already know and use for navigation. And also, it makes the transition to ELDs much smoother.
The advanced plan can include things like driver scorecards, critical events reporting, leasing options, and electronic logging!
We recommend this device for all fleet owners or managers, including those who are looking for an easy-to-install device with no fuss or frills that gets the job done!
Buy it HERE!
Check out Best ELD Reviews
Now, that you have already seen the top Six e-log devices in this eld buyers guide, there are more than enough approved eld vendor lists that may be probably more suited for your business ' long-term needs.
For example, Samsara's ELD product plugs directly into the OBD port of a truck, and also provides real-time data to fleet managers along with GPS tracking, artificially intelligent dash cams, and even more.
Fleet management vendors such as Samsara will provide the most significant long-term returns on your investment and ensure ELD compliance.
Here are other best ELD devices for 2023
Coretex ELD – Comes with a low monthly price, intuitive software, and vehicle inspections. Coretex was acquired by EROAD in Dec 2021
Garmin eLog – No upfront charges, plus fuel tracking, which makes it the best investment over time. Check our full review of garmin elog eld
Samsara – A right solution for an entire fleet management program. Check our full samsara company reviews here as well as samsara dash cam cost, samsara fleet management reviews, and samsara eld cost
JJ keller eld – A robust ELD that is well priced. Here is our review of jj keller eld reviews
Gorilla Safety ELD – A fantastic choice for document management. Click here to read our full review of how to use gorilla safety in our review.
my20 eld – easy setup and comes with an impressive set of features, with two different models. We provide a review of my20 eld app here
Transflo eld – One of the available easiest ELD to set up. Check our full transflo eld review
BigRoad's Dashlink ELD – An easy solution with a pay-as-you-drive choice. Click here to read our full big road eld reviews
Stoneridge eld – An ELD built on the most feature-rich solution. Check our full review of stoneridge eld reviews
Zed eld – ELD with two-way messages and GPS tracking features.
We suggest you also check our post on eld price comparison, Top 25 Best ELD Devices, where you can find an overview of the Top 25 elogs in the market right now. You can also check out our list of the main FMCSA Approved ELDs to have an idea of what's out there.
It is good to know which ELD exemptions and Requirements as electronic logs mandate takes effect, as well as HOS Rules.
If you are an owner-operator, you might like to find interesting our article Top elogs for owner-operators.
We hope you find helpful information on this site, please leave a comment and share with other truckers your suggestions or questions.
Fill this form out to get a Free Consultation