Gorilla Safety ELD
$175 + $22 monthly fee
Suitable for fleets
7.1/10
Features & Technology
7.4/10
Pros
Reasonable price
Durability
Risk Management Services
Unique management tools
Cons
Users report issues with customer service
Incomplete Applications and Web Portal
Lack of Basic Tracking and Logging Features
Gorilla Safety Fleet Management is one of the most popular devices in the fleet management and Electronic Logging Device (ELD) industry. And this is the reason it is included in our Best ELD devices selection.
Gorilla Safety was founded in 2013 as a risk management and fleet safety company. The company took advantage of the establishment of ELD legal requirements to get ahead of the other ELD manufacturers by producing one of the best eld devices for owner-operators.
This gorilla safety review shows how the company successfully integrates full fleet management solutions with gorilla safety AOBRD technology. Also, in this complete gorilla safety eld review, we will list all the features as well as the pros, cons, and costs of the ELD solution.
Gorilla Safety ELD Review and Risk Management Services Overview
Gorilla Safety PRIME8 is inarguably one of the best in the market. The device is built in compliance with the latest FMCSA regulations and employs the latest technology for advanced logging and tracking capabilities.
The PRIME8 ELD device by gorilla fleet safety LLC is designed as a small black box that is installed into the truck through the diagnostic port. However, it lacks some of the basic features of other ELD devices, but it still ranks among the best.
Features of the PRIME8 ELD device will be discussed, and before that, it may help to familiarize yourself with the services of Gorilla Safety.
Its services include the followings:
Driver Training
The safety of your truck is just as good as the skills and competence of your driver. A skilled driver should be able to drive defensively and exhibit integrity in his/her work.
To help in this case, Gorilla Safety has an entire department dedicated to training truck drivers to master the American roads and conform to the laws and regulations and offering them gorilla safety eld instructions. There is also another gorilla safety video to watch on gorilla safety.com, and the company also provides the user with a gorilla safety manual.
With the gorilla safety training video, users can quickly learn and master how to use gorilla safety eld. Trainees also enjoy complimentary services such as licensing, documentation, and even employment opportunities through the company's networks.
CSA Scores
The Compliance, Safety, and Accountability (CSA) score is used by the FMCSA to determine risk levels for vehicles and drivers. A poor CSA score will get your trucks and drivers listed in the high-risk category, and this will open a flood of legal, ethical, and professional issues.
It is also frowned upon by third parties such as insurers. And Gorilla Safety takes several measures to help its clients maintain good CSA scores. For starters, it offers educative materials about complying with road safety regulations. It also trains drivers to the highest standards to avoid petty issues in the future.
Accident Investigations
Accidents involving trucks are common on American roads. In most cases, the blame lies with the truck driver.
Gorilla Safety does not make assumptions when its clients become involved in accidents.
The company dispatches a team of investigators to find out what transpired and determine the exact causes of the accident.
And this goes a long way in helping with the legal and insurance paperwork, among other things.
Repair and Maintenance Programs
Trucks are prone to mechanical problems, especially when transporting heavy loads. Breakdowns are liabilities as they cost money and lead to the loss of vital time. As such, it pays to have a dedicated repair and maintenance team.
Gorilla Safety has a team of mechanics and technicians who are always ready for deployment when any of their clients' trucks break down.
Gorilla Safety ELD Device Features
The Gorilla Safety's ELD device packs a host of features in spite of its small size and plain design. It has several features that set it apart from the competition. These features are designed for functionality, convenience, and comfort.
Here are insights into some of its most notable features:
a) Vast Logging Capabilities
The services highlighted above should not be mistaken for Gorilla Safety ELD device features – they are complementary features from the company's risk management department.
The devices themselves have a different set of capabilities that mostly have to do with tracking and logging.
b) Document Management
Paperwork is one of the undesired tasks in many industries, including transportation. It is, however, indispensable.
Documents management is one of the features of this ELD device. The program breaks down documents into four categories: truck files, driver qualification files, company files, and patent-pending ELD supporting documents. It also offers simple solutions for transferring documents between drivers and management and obtaining digital signatures, among others.
c) eDVIR & Mechanic Inspections
Many of the common maintenance inspection violations are easily avoidable. However, you cannot fix what you cannot see. And this is why Gorilla Safety includes the eDVIR and mechanic inspections option in the company's app.
This option is used to evaluate the truck's fitness as well as maintain records of emerging mechanical problems.
By keeping the driver and truck owner updated on the truck's fitness, this gorilla safety app enables users to fix problems early.
Hence, it helps drivers avoid tickets, fines, time wastage, and many other inconveniences.
d) Alerts
There are many things to remember in the fleet transportation industry. One needs to keep track of inspection and maintenance schedules, collect driver signatures, and do so much more.
However, this can prove difficult without the proper organization measures. Gorilla Safety helps to bring some organization into the business using its "Alerts" functionality.
This "Alerts" feature automatically reminds users to get things done on time.
All users have to do is schedule their tasks and specify the time
Alerts are sent to their phones and computers when the time comes,
Hence, Alerts help organizations avoid the hassle of keeping up with scattered schedules.
e) Accident Investigation
Accidents are a transporter's worst nightmare. They lead to hefty losses from mechanical damages, legal fines, and lawsuits in some cases. As such, it pays to have the upper hand on facts when an accident occurs.
Gorilla Safety helps shield its clients from these inconveniences by offering a comprehensive investigation tool.
Using this tool, the driver can:
Collect the other party's statement
Record witnesses' testimonies,
Take pictures, and collect all the necessary information to establish the cause of an accident.
This data comes in handy in cases of lawsuits and other legal measures.
f) Mobile Documents for ELD
The mobile document feature makes it easier for drivers to keep up with paperwork. It provides a consolidated space where drivers can:
document dispatch records, delivery receipts, and communication records, among other documents.
save time and avoid the hassle of paperwork, hence allowing them to concentrate more on driving and meeting deadlines.
g) Plug-and-Play Installation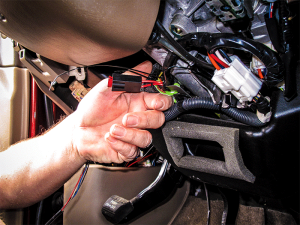 Installing the gorilla fleet safety ELD device is easy.
You do not need technical skills to do it.
Ease of connectivity: The devices are designed to connect to a truck's diagnostic port using 6-pin and 9-pin adapters.
Quick installation: Gorilla safety eld installation takes minutes, and registration and logging are almost instant thereafter, thanks to its plug-and-play design.
h) Comprehensive GPS Tracking
Gorilla Safety uses advanced GPS technology to keep close track of trucks and other company assets.
These GPS systems collect vital data such as the amount spent on the road, the number of inspection stops, speed, and so much more. Clients use this data to streamline their services and avoid waste of time and other valuable resources.
i) Mobile Application
The PRIME8 mobile app is designed to offer an easy-access portal to both the driver and fleet managers.
The e-log app is designed to be compatible with both Android and iOS mobile devices.
These apps have a user-friendly interface that is designed to offer easy access to diverse commands.
However, the app also has some shortcomings.
It does not offer a messaging platform to keep drivers in touch with their managers and other third parties.
Its scheduling capabilities are also not good enough. However, the company says that it is always working to improve its mobile applications and other programs.
j) Web Access Portal
In addition to mobile applications, Gorilla Safety also has an entire web portal dedicated to fleet management.
This portal for fleet managers contains vital databases to store and retrieve documents such as drivers' qualifications, maintenance inspection dates, and so much more.
It also enables managers and drivers to exchange documents and signatures digitally in real time.
However, this portal features one major shortcoming – it does not have solutions for allocating unlogged driving tasks to individual drivers, thus making it difficult to maintain some records.
k) Affordability
Gorilla Safety is popular for its affordable services. It charges lower fees compared to other fleet management service providers. What's more, considering the quality of products and services offered, it can be argued that this company's services are cost-efficient.
Other Features include:
Real-time reporting
GPS Tracking capability
Sharing of relevant data
ELD Mandate compliance
Insurance claims cost reduction
Auto Hours of service (HOS) recording
Closed-loop inspections Implementation
Developing and storing critical documents
Vehicle maintenance and fuel use Tracking
Advantages of Gorilla Safety Fleet Management
Gorilla Safety has many advantages and some shortcomings like every other company.
Advantages of using Gorilla Safety's services include:
Affordability
Gorilla Safety ELD devices and services are more affordable and cost-effective.
Their devices have cheaper price tags with the same quality of services compare with competitors.
When taking into consideration the risk management services offered, these devices are worth every penny.
Durability
These devices are designed to last for years, even under duress conditions.
They are small and compact enough to withstand the adversities of trucking.
And also, they come with warranties that guarantee replacements for sub-standard ELD devices.
Good Customer Support
Gorilla Safety scores better than average when it comes to customer support.
The company's customer care department is always open to providing a solution for clients.
Then there is a dedicated gorilla safety customer service number to call anytime.
Clients can voice their queries via several channels through gorilla safety phone numbers, and instant messaging, emailing, among others.
Ease-of-Use
Gorilla Safety's products and services are easy to use for everyone, including drivers and managers.
For instance, installing the ELD device is quick and does not require any technical knowledge.
Mobile apps and web platforms are also easy to navigate, and also, any hitches can be addressed by the company's customer care agents.
Risk Management Services
As mentioned, Gorilla Management is more than an ELD company.
it also doubles up as a risk management service provider.
The company offers a wide range of risk management services, including document management and accident investigation, among others.
Thus helping to keep clients' trucks and employees safe, thus safeguarding their businesses.
Saving Time
Transporters run on fixed schedules and are often pressed for time. Late deliveries come with many consequences including poor reputation, fines, and, in worst-case scenarios, loss of clients.
However, by offering complementary services and automatic tasks through its mobile applications, Gorilla Safety saves its clients a lot of time allocated to other important tasks. And this goes a long way in boosting their business's performance.
Disadvantages of Gorilla Safety Fleet Management
Incomplete Applications and Web Portal
As highlighted earlier, Gorilla Safety's mobile applications and web portals lack some functionality. The lacking features compromise the platforms' entire functionality, and this compromises their quality and utility.
Lack of Basic Tracking and Logging Features
Gorilla Safety's ELD devices may be sophisticated, but they are at fault for dismissing some basic yet important features and capabilities. For instance, these devices do not capture data about engine fault codes.
Pricing
As one of the highest possible performance ELD, it is regarded that ELD systems are cost-effective and inexpensive by this company.
You will find Gorilla Safety ELDs to also be fairly cheaper to purchase and manage, particularly in comparison to other ELD solutions of the same quality.
Expect to pay $175 in advance to get the ELD installation equipment.
You also have to pay a subscription fee monthly of between $24 and $30, depending on the features of the premium ELD system you'd like to get.
When you evaluate the tools and functionality provided by this solution for fleet management, risk management, and ELD compliance, you would consider it worth every cent.
User Reviews of Gorilla Safety ELDs
Gorilla Safety Fleet Management scores A+ on Better Business Bureau website. And on other review sites, the company earn a good rating for its Fleet Management services and ELD solution.
Users who gave Gorilla Safety Fleet Management a positive review on google play store and appGroove commends the affordability, user-friendly, Ease of navigation, and Awesome customer service experience that this company offers through gorilla safety contact channels.
However, some user was annoyed due to some difficulties they experience in using the app. For example, many users argue that the app was slow to respond, sluggish at best, and froze up often.
Another user complains that no off-duty and pre/post-trip options are available in the app. And also, others said that they have issues with the logbook from no connection or mileage being recorded. And still can't get IFTA miles right, and annoying adds way more than it should be.
Pros
Integrated Fleet Safety Features
Easy to Install and use
Low Monthly Cost
Cons
Editing Driver Logs is Confusing
Lack of Engine Diagnostics
No Messaging
Conclusion
Gorilla Safety Fleet Management is undoubtedly one of the best companies in its Fleet management technology industry.
It is popular for its superior-quality products, risk management services, and affordability, among other factors. This Gorilla safety eld reviews show you how the fleet management system offered by Gorilla Safety is also quite unique in many ways.
It has some very unique monitoring and management capabilities further than the basic electronic logging functionality that we haven't seen in many other systems.
The ELD solution itself feels simple for anyone familiar with electronic logs, and in its enhanced tools, the system really shines to track everything including maintenance to support documents required by FMCSA.
Gorilla had already expanded its features and functionality rapidly and provides a highly developed compliance management software package. It is also giving customers, independent drivers, and small companies an easy and inexpensive way to comply with ELD.
The pricing and easy usability may be appealing to everyone. However, the unique advanced gorilla safety features make it incredibly fascinating to grow fleets. It is in search of the perfect approach to managing the many processes and documentation needed to stay compliant.
Its benefits far outweigh any shortcomings, and it is worth every dime.
Moreover, kindly get in touch with us by filling out the consultation form if you need help in finding the best suitable ELD solution for your business needs.
Please share your review below so that other truckers can have more information, thanks!