Suitable for fleets
5.7/10
Features & Technology
7.5/10
Pros
No Monthly Subscription
No Contracts
Easy Installation
No Third Party Involvement
Easy To Operate
Cons
Hefty Initial Cost
No Help From Third Parties
May record idea time as driving time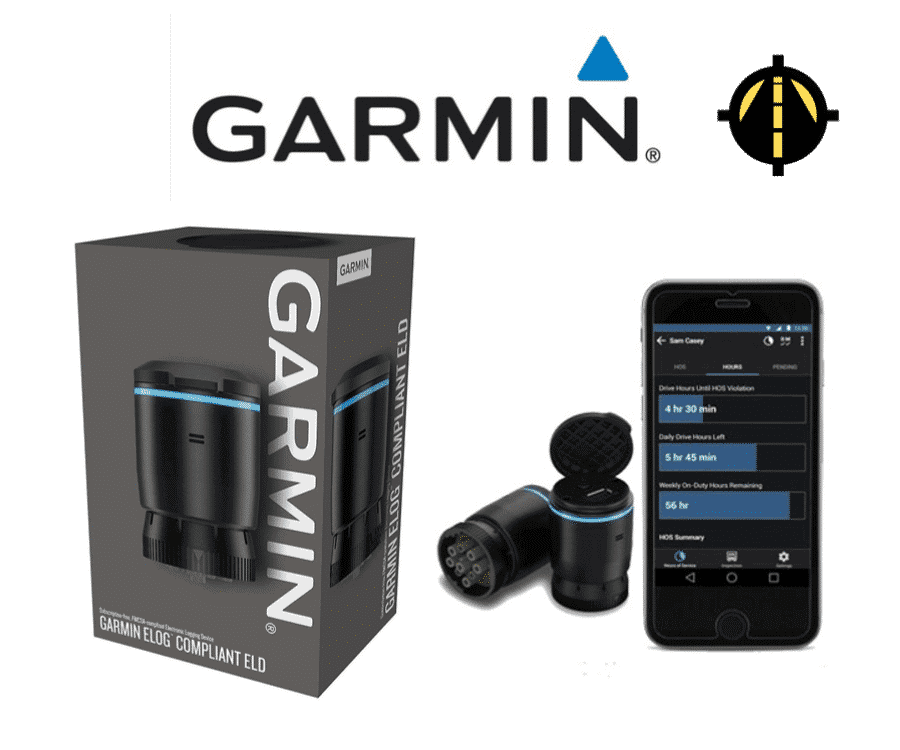 The Garmin GPS unit has been a staple in the trucking industry.  That's why we bring you this Garmin ELD review. 
Garmin e-log was one of the first units on the market. And this device is currently one of the very few eld solutions available without the monthly subscription.
Further, we have provided answers to many questions posed by drivers regarding the Garmin electronic logbook in the extensive FAQ section. The questions were directed to our staff by truck drivers from across the country.
Easy to Operate
The Garmin e-Log is very easy to operate. And the driver who sign-up for a profile is up and running within minutes.
Furthermore, there is no need to contact customer service to activate the device. Unlike the other elds, once you pay the initial purchase price, you don't need to keep a credit card on file.
As you can see in the video below, the setup is straightforward.
Garmin Logbook Price
Garmin ELD Cost:
The price for the Garmin Electronic Logbook itself is $249.99. 
And as you'll read below, this includes the ELD device, an adaptor, as well as the manual.
Although it is a bit more expensive than the price of other ELD devices, Garmin's unsurpassed reliability makes the initial investment worth every cent. If the initial cost is off-putting, keep in mind that many of the other ELD providers in the USA offer their devices for free- with paid subscriptions or recurring fees.
Rember that over time, the price can be a significant difference between the Garmin ELD device and the devices of their closest rivals.
Garmin you pay once, whereas other ELD providers tend to charge a recurring monthly fee for using their device. With monthly fees, you essentially rent the device for as long as you may need it.  Garmin doesn't charge you a cent for their ongoing monthly services.
In other words, by purchasing the Garmin device, you outrightly wipe out the monthly subscription fee. However, the only thing you should consider is the initial investment. 
Furthermore, If you manage a more massive fleet, you may ask Garmin for a bulk discount on the retail price of their ELD Device.
Overall, the Garmin eLog is worth the price.  I've been using it personally in one of my trucks, and the experience in convincing.
Couple with feedback from other owner-operators, I think the device is worth purchasing, though the initial cost of $250 may be considered expensive.
But, overall, it helps to avoid recurring monthly payment in addition to other monthly commitments such as IFTA reporting, ongoing fuel, load board fees, etc.
Pros
No Monthly Subscription
No Contracts
Easy Installation – No Third Party Involvement
Easy To Operate
Cons
Hefty Initial Cost @ $250
No Help From Third Parties
May record idle time as driving time
FAQ
Without any further delay, let's dig into the most frequently asked questions about the Garmin Electronic Logbook and its ELD Review.
#1  Is the Garmin Electronic Logbook compatible with the ELD mandate?
Yes. The Garmin Electronic Logbook records hours of service (HOS), and, therefore, it is compliant with the ELD mandate.
Garmin Electronic Logbook also called (e-log) is an ELD device that is fully compliant with the FMCSA rules.
Therefore, installing this device will spare the truck driver for more than one headache. The device stores ELD records securely on your compatible smartphone.
And the records are accessible for inspection via the device's USB port or the FMCSA web services over Bluetooth. To be able to take full advantage of this ELD device, you should have a GPS and Bluetooth-enabled smartphone or tablet.
We are here to help you if you need help in finding a suitable solution that complies with the eld mandate. Kindly complete the form below and we will get in touch with you shortly.
#2  Is the Garmin Electronic Logbook accurate?
Yes. All Garmin GPS devices are world-famous for their accuracy, and this one is without exception.
We are happy to report that the Garmin Electronic Logbook shares the same level of quality. And thus, accurately records a driver's hours of service.
And also, it makes it easy to retrieve information as everything is sent right to the driver's phone or device via Bluetooth technology.
Therefore, with the Garmin eLog, this information can also be quickly and easily shared for inspections and stored in the company's archive.
#3  What other features does the Garmin Electronic Logbook have?
Currently, the features list is not very long. The main features include recording HOS and RODS (Records of Duty Status). However, other features are:
Inspection of Driver Vehicles Report (DVIR). This feature enables you to record your vehicle equipment's condition and certify it.
And another feature is the International Fuel Tax Agreement (IFTA) logs.
These features are excellent additions that provide the ability to use convenient Bluetooth technology to transfer RODS to other devices.
And one feature that the Garmin ELD currently offers, and that many fleets will find useful, is a USB port that allows users to download information directly from the ELD device. It's a little bit old school, but it works and you can still get information from the ELD device even when not connected via Bluetooth.
Using one of these two options, all necessary information is downloaded onto another device in a matter of seconds.
Other Features
Keep in mind that the device not designed as a state-of-the-art product, but rather as a simple logging device that enables drivers to satisfy the FMCSA ELD mandate.
You shouldn't expect to get an e-log unit loaded with the latest features.
These are all the primary components of the device:    
Rubber cap – The USB port and pairing button revealed by lifting

this cap

        

Pair button – You'll activate pairing mode by holding this button

USB port – This allows files to be transferred to your storage device

Lock ring – This ensures the unit is attached to the truck diagnostic port or the adapter cable

Light ring – It illuminates light blue as long as it powered by the device.

If you switch to pairing mode, this will flash dark blue

The dark blue flashlight will light up once you connect via Bluetooth to your device.
The green light shows that there is a ready USB transfer.
And when an error is detected, it will flash red.
#4  Which diagnostic ports are the Garmin Electronic Logbook compatible with?
The Garmin Electronic Logbook is compatible with nearly every type of diagnostic port of the truck or semi-truck.
And this includes the 6-pin J-1708 and the 9-pin J-1939 diagnostic ports, of course, but not compatible with OBD2 protocol vehicles (SAE J1979).
When it comes to compatibility, the device makes life easier for fleet managers who may have a variety of trucks.
And those who aren't quite sure which electronic logging device is right for them.
Installation of Garmin Elog
Installing the Garmin Electronic Logbook is easy.
However, to be able to function, you'll need to download Garmin's free e-Log app onto your smartphone or tablet. A nice benefit of the app is to store the information and retrieve it upon request.
It's that easy! Many will let out a great sigh of relief because they've dealt with other types of ELD devices in the past that require the user to be an expert to install. Anyone can install the Garmin 🙂 Below you'll find a little more info on that.
Installation Process
The unit should always be connected to a vehicle diagnostic port. There are two options:
Option 1 – J1939 Port
Turn off your vehicle's engine before installing the unit.

Then attach it to your vehicle's nine-pin diagnostic port to align the lock ring arrow with a diagnostic port channel.

Finally, by turning it clockwise, you need to lock the ring into the diagnostic J1939 port.
Option 2 – J1708 Port
Turn off your vehicle engine before installing the unit.

      

Then, connect the e-log to the adapter cable's nine-pin side; align the arrow on the lock ring with the adapter cable's channel.

Turn the device lock ring clockwise to lock this into the cable of the adapter.

Then placed the adapter cable's six-pin side into the J1708 port.

Finally, lock it in the carport by turning the lock ring clockwise.
Note: The Garmin eLog compliant does not support trucks using the OBD2 protocol. Vehicles such as Volvo trucks with a 16 pin J1962 need an adapter cable from 16 pins to 9 pins.
#5  Is the Garmin elog compatible with Garmin dēzl GPS navigators?
Yes. There are as many as four Garmin dēzl devices that are compatible with the Garmin Electronic Logbook. 
Therefore, this makes it easier than ever before to keep an eye on the whereabouts of every single truck of your fleet at any moment in time.
Also, the fleet owner now can be sure that your drivers are always taking the best possible routes to save you money on fuel.
The four compatible devices include:
The dēzl 570LMT, 

The dēzl 580LMT-S, 

The dēzl 770MTHD, and 

The dēzlCamLMTHD
With these devices on board, in the same way, you can use the navigator's display to see the RODS and HOS information quickly.
#6  What does the Garmin eld device come with?
The Garmin ELD device comes with a 6-pin J-1708 adapter.
And this adapter will help you make sure that the device can easily connect to your truck's ECM. You may also want to review the Quick Start Manual to help you get started. 
However, If you don't already have a dēzl device, you can buy one separately. This investment is not a waste, as you will be able to get even more up-to-date information about your drivers.
Smartphone compatible with Garmin Electronic Logbook
The good news is that the Garmin Electronic Logbook's free app is compatible with any mobile device that has both Bluetooth- and GPS-capabilities.
And this includes most Apple and Android smartphones. In addition to being able to use a smartphone, you can also use a tablet. However, this is only possible if the tablet has Bluetooth and GPS-capabilities such as smartphones have.
And this is especially good news for fleet owners and drivers that prefer to use a designated Garmin eld tablet. The much larger display is oftentimes more comfortable to work with. This is especially true when it comes to data entry.
#7  Is the Garmin Electronic Logbook the right choice for me and my fleet?
The device is the right one for you if you're looking for an accurate device but you can live with the limited number of functions that Garmin currently offers.
Although the initial purchase cost may be pricey to some, over time this ELD has an affordable price tag.
We think this ELD device is most suitable for smaller fleets. 
The Garmin electronic logbook is no-frills but guarantees full compatibility without recurring fees. If this is what you have been looking for, then this device could be the right one for you.
However, it may not be the right one for you if you run a more extensive fleet.
#8  Is the Garmin Electronic Logbook the right choice for semi-trucks?
As mentioned above, this user-friendly stand-alone device supports both 9-pin J1939 and 6-pin J1708 diagnostic ports. 
So, as soon as you unpack it, it's ready to fit nearly any semi-truck. However, all you have to do is plug in the Garmin eLog device. You also need to download the free Garmin eLog app, and you are good to go.
Again, we should remember that Garmin eLog is not compatible with vehicles using the OBD2 protocol (SAE J1979). Also, Volvo trucks that have a 16-pin J1962 configuration will require a 16-pin to 9-pin adapter cable that sold separately.
#9  Is there live support?
Yes, Garmin offers live support over the phone, and also via online chat or email. 
And please note that chat and phone support is available Monday-Friday 7 a.m.-7 p.m. CST.
Moreover, if you need help outside their business hours, you can always send them an email. Monday is Garmin support's busiest day of the week. Consider calling from Tuesday-Friday to get to an expert faster.
If you need to troubleshoot connectivity between your Garmin device and your smartphone, you are advised to contact their support center from a different phone.
Technical Support
Should you ever need any help? You can visit the company's official website. 
Once open the home page, go to the Automotive section from the dropdown menu. From there, you navigate to Trucking and find your device. There, you will be able to watch a lot of free tutorial videos that will most certainly answer all of your questions.
Should you need any further assistance, we encourage you to visit the exclusive Garmin support website. 
The Get Help section looks like a forum where you can find answers to some of the most common technical questions.
Unfortunately, the Software section is yet to be populated, but the Manuals section is full of all the technical info you may ever need to access.
#10  Is there a warranty on my Garmin elog device?
Yes, the company states that all non-aviation products, including your ELD device, are warranted to be free from defects in materials or manufacturing for twelve months from the date of purchase.
Within this period, Garmin will repair or replace any components that malfunction during regular use.
Such repairs or replacement will be carried out at no charge to the customer for parts or labor, but the customer shall be responsible for any transportation costs.
Our Final Thought
When it comes to top-of-the-line e-logging devices with all the bells and whistles, the Garmin eLog undoubtedly not in this category. However, it still ensures compliance with the FMCSA ELD mandate.
This device a great option if you are looking for a long-term budget-friendly solution mainly designed for HOS recording. 
Please bear in mind that to start using this eld solution, you need to install the Garmin eLog app to a compatible smartphone or device with Bluetooth and GPS. 
No recurring fee is a nice benefit.
Most importantly: It will help you remain compliant under current ELD regulations.
If you find it almost impossible to choose the best appropriate ELD for your fleet, we are here to help you.  Kindly fill the form below for a free consultation.