(Last Updated On: June 6, 2023)
Azuga is one of the most sought-after fleet management systems and GPS tracking software available for fleet businesses. This is a cloud-based management system that lets fleet managers operate and govern their activities efficiently.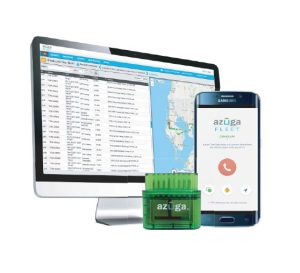 It is loaded with praise-worthy features that add to the efficiency of managers and drivers, leading to better profit margins. The best feature, however, is real-time tracking of the vehicles using GPS technology. Moreover, Azuga facilitates informed decision-making for business owners, which can greatly increase the company's profit margin. It also ensures vehicle safety and provides drivers with various protective measures.
In this article, we will discuss the features, benefits, and price packages associated with Azuga.
Cloud-Based Fleet Management 
Azuga utilizes cloud computing technology to monitor an entire fleet, eliminating the need for a local server. Instead, a network of servers interconnected through the internet handles data storage, usage, and processing, making these processes more reliable and convenient.
What happens through the cloud-based fleet management system is that all the data related to the fleet is stored on the cloud storage, and anyone can check it out at any time. This information includes everything from the maintenance schedules to performance metrics and from the driver information to the vehicle's location.
Another major benefit associated with it is that anyone can have access to this information if he has a stable internet connection. This can be done through the mobile application that the company offers. The cloud system makes things secure and safe. 
Another major benefit that the cloud-based management of the fleet offers users is the possibility to centralize all the data using a single platform. No matter the geographical location of the different vehicles of the fleet, they can always be tracked and administrated through this cloud system! This makes it possible for the fleet managers to look at the fleet's activities holistically. 
What sets the cloud-based management system that Azuga offers different from others is the fact that along with GPS tracking, it also offers route optimization. This way, it gets easier for the drivers to choose the routes that are best for them. It also augments the operational efficiency of the vehicles and the business overall.
This way, the businesses can expand as per the requirements and add more vehicles to the fleet. Flexibility and scalability become possible, leading to profit-driven results. 
Azuga significantly improves communication between all parties involved in fleet management, facilitating real-time interaction among drivers, fleet managers, and fuel providers. It eliminates the need for multiple software installations on phones, further enhancing convenience.
Free Custom Quote
Reporting And Analytics
Another major reason why fleet business managers opt for Azuga is the fact that it offers top-notch reporting and analytical tools. These tools provide essential insights into individual vehicle fuel consumption, driver behavior, vehicle maintenance reports, and scheduling. 
These reports are made against the set metrics. They aid businesses in making better decisions that are basically driven by original data. Alongside this, they let the fleet managers take actions that lead to cost reduction and augmentation of safety. The software also grades the drivers according to their performances. As a matter of fact, it's quite a beneficial tool that informs the business about lackings in a particular driver, which can then be managed through appropriate training. 
User-Friendly Software
Most of the time, the major reason why fleet managers avoid using software is the difficulty that they may face while using it. However, with Azuga, things are really different. The interface is extremely user-friendly. Alongside this, the whole process of installing it takes only a few minutes. 
The simple installation of this software leads to making business operations extremely easy. It doesn't only provide a comprehensive plan of fleet management but also ensures streamlining of the operations and reduction in costs. The features can also be customized as per the scale and needs of the business. 
Features
Azuga is loaded with amazing features. Some of them are as follows:
a. Fleet Management Reports
As mentioned before, Azuga gives comprehensive reports to the fleet managers to look into the performance in a logical manner. They also showcase the capabilities of the vehicles as well as of the drivers. For instance:
b. Key Performance Indicators
Azuga has set key performance indicators and evaluates the performance of drivers through them. It gives detailed reports on how the drivers perform. These KPIs include various elements, including the mileage covered, driver utilization, fuel utilization, and behavior of the driver. This way, the efficiency of the drivers gets easy to gauge. 
c. Fuel Consumption Report
Azuga provides detailed reports on vehicle fuel consumption. These comprehensive reports include everything from fuel economy to fuel consumption trends, helping managers make cost-effective decisions.
d. Driver Utilization
Azuga tracks all driver activities, including driving hours, working hours, and even time spent in non-driving activities. Idling time, which can be managed to save costs, is also part of this report.
e. Performance Evaluations Against Benchmarks
Another great feature of Azuga is providing performance evaluation reports against the set benchmarks. The software is able to make a comparison of a driver's performance on a monthly basis. Alongside this, it benchmarks the performance of the drivers and then ranks them accordingly. This makes it possible for fleet business managers to identify the best performers. They also come up with relevant performance improvement strategies as needed. 
f. Real-time Monitoring And Identification Of Issues
Azuga offers real-time monitoring of vehicles. This way, the fleet managers are able to get up-to-date information and data, making it possible for them to make quick decisions. Alongside this, in case there are any anomalies in the vehicles, they are sorted instantly, ensuring that no long-term issues are caused to the assets. 
g. Pattern Analysis
Azuga has historical data and can easily showcase trends and patterns for a given period of time. This makes it easier for fleet managers to evaluate the performance of the strategies they came up with. By making informed decisions considering the pattern analysis, they are in a better position to augment the profit margin for the business in the future. 
Free Custom Quote
Monitoring Drivers' Behaviour
Augza excels in monitoring driver behavior and generating comprehensive reports. Drivers are judged on various metrics, such as brake usage, accelerator usage, speeding, and cornering. These driver behavior reports enable drivers to self-evaluate and adopt safer driving practices if necessary.
These reports, which come after monitoring drivers' behaviors, are beneficial in reducing the risks of accidents and improving driver efficiency. Some of the significant metrics that Azuga monitors include:
Azuga sends real-time reports to fleet managers whenever it detects a driver exceeding the speed limit. Alerts are also sent when it detects harsh use of brakes and accelerators. This helps drivers adopt safer driving habits, and, consequently, overall accident rates decrease.
This software is so effective in performance detection that it monitors and detects harsh cornering and turning. Fleet managers, then, can identify drivers who frequently engage in unsafe driving behaviors and manage them appropriately.
Azuga also detects the usage of seat belts by drivers. It augments the visibility of the fleet managers, and they are better able to check out the actions of their drivers. Hence, it gets easier for them to promote an overall safer driving environment in the business. 
Calculates The Idling Time
One of the best features, and probably the most crucial for fleet managers, is the ability of Azuga to detect and calculate the time period for which the vehicle stays idle and stationary. As a matter of fact, it is the best way through which fleet managers can cut down on fuel consumption. Alongside this, it lowers emissions as well. 
This software is a great revealer of the habits of the driver. The fleet managers can efficiently help the drivers adopt better driving habits through effective coaching programs that will eventually lead to their improved performance. 
Reports Regarding Vehicle Maintenance
Maintenance reports provide fleet managers with crucial insights into the maintenance needs of individual vehicles, especially beneficial for those managing a large volume of vehicles daily. It's an excellent way to reduce vehicle downtime and extend their lifespan.
If you are wondering how does azuga work and provides authentic reports to the fleet managers, it is actually due to its amazing features. Some major features of these vehicle maintenance reports are as follows:
1. Maintenance Reminders
It's an obvious fact that fleet managers can't really take into account the timing for maintenance activities for each vehicle. Azuga fleet management software does that on their behalf. It tracks everything for all the vehicles, including the engine hours and mileage. It sends maintenance alerts to the fleet managers as well as the drivers.
It reminds them of oil changes and even filter replacements. Resultantly, the vehicles stay functional at all times, and there is no need to pay heavily for the repairs. 
The maintenance reports can easily be customized! Fleet managers can ask for some specific maintenance reports from the software, and they will be provided efficiently. Azuga also helps to connect all the parties involved in the process. These include vehicle drivers, fleet managers, and maintenance service providers. This way, it aids in making the whole communication process structured and coherent! 
2. Service Records
Vehicles need consistent servicing to perform efficiently over long periods. Azuga keeps a record of services and sends alerts to fleet managers when it's time for a new service appointment. These reports also include budgeting, planning, and maintenance aspects.
3. Diagnostic Trouble Codes And Reports
Azuga generates and maintains reports regarding DTCs, also known as diagnostic trouble codes. These codes predict and specify any issues that the vehicle may have to deal with in the future. As soon as a DTC gets triggered, the fleet manager gets an alter in the form of a notification on his phone. Hence, he can easily take a proactive approach and do something before the vehicle actually breaks down.
The DTCs reduce the downtime for vehicles by offering the opportunity to make repairs on time. 
4. Fuel Efficiency Reports
Another great feature associated with Azuga fleet software is its ability to track each vehicle's fuel consumption and then calculate efficiency. Any anomalies are detected by the software and reported to the fleet manager. Issues like fuel leakage are often readily detected by the fuel efficiency reports generated by the software.
5. Compliance Reports
All the fleet businesses operating in an area have to follow certain compliance rules. Azuga prepares compliance reports and informs the fleet managers whether the safety standards are being met or not! These include HOS, also known as Hours of Service, and inspection reports of the vehicles. There is also a possibility to get customized reports, including performance evaluation only on those metrics that interest the users. 
Route Optimization
Azuga offers a route optimization feature that drivers can use to enhance their efficiency. The software uses geofencing for this, aiding managers in setting up virtual boundaries for vehicles.
Azuga Pricing
Azuga fleet management software has several flexible pricing plans designed to cater to businesses of all shapes and sizes. Let's have a look at what they have on offer.
Firstly, the BasicFleet plan is the go-to for those just stepping into fleet management. It's a solid foundation, covering all your essential needs like GPS Tracking and Alerts and Notifications. The plan also includes driver-focused features such as Driver Scores and Driver Rewards. On top of this, it has handy tools like Reports and Geofence to help keep a close eye on your fleet.
Next up is the SafeFleet plan. Now, this one is a step up. It takes safety to a whole new level, offering everything from the BasicFleet plan along with additional features like Distracted Driving and Tire Pressure Monitoring. SafeFleet also introduces Fuel Card Integration and trip management features like Trip Logs and Tags, which could prove to be a game-changer for your fleet operations.
Finally, there's the CompleteFleet plan. As the name suggests, this one pulls out all the stops. It builds on the features of the other plans with advanced additions like FuelSaver, Custom Reports, and One-Minute Tracking. Plus, you'll get a Quarterly Fleet Review, which is a great way to assess and improve your fleet management practices.
Customized Pricing Plans with Azuga
Another fabulous thing about Azuga is how they handle pricing – it's completely tailored to you. You see, Azuga understands that every fleet business is unique. That's why they've got this interactive pricing module in place, just to get you a quote that's completely customized to your needs.
But that's not all. You'll also get to select from a robust list of Azuga's features that you're interested in. This ranges from GPS tracking, dual-facing dash cams, field service management software, asset tracking, and a fleet mobile app, to driver safety and gamification features, eLogs, insurance discounts, route optimization, and vehicle maintenance.
With all these plans, Azuga truly offers something for everyone. Regardless of your fleet size or specific needs, there's a package that's just right for your business. It's all about picking the one that fits your operations best.
Free Custom Quote
In Conclusion: Streamlining Operations with Azuga
Azuga stands as a transformative solution in fleet management. Its real-time vehicle tracking and wide range of insightful features cater to businesses of all sizes. The platform truly shines with its emphasis on enhancing safety and ensuring vehicle maintenance, promoting cost-efficient and responsible fleet operations.
Moreover, Azuga goes the extra mile with comprehensive compliance reporting and route optimization, aiding in adhering to safety standards and improving driver efficiency.
Whether your goal is cost reduction, better fleet control, or improved compliance, Azuga provides a versatile, robust tool to help you achieve it. With Azuga, you're not just managing your fleet, you're elevating it.