Rhino Fleet Tracking
From $21.95/month + $25 activation costs
(Last Updated On: July 15, 2023)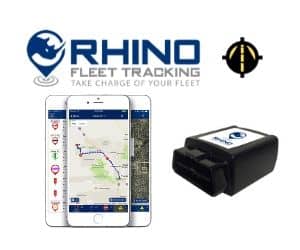 In 2007 Rhino Fleet Tracking started to provide fleet managers and owner-operators with an incredibly simple-to-use but fully-featured GPS fleet management solution for their businesses.
While the fleet management solution providers have advanced, no GPS tracking system is as user-friendly as Rhino.
The company uses Google Maps, which many fleet operators are already using in their everyday activities, and thus makes everything very simple.
While the product is one of the best Picks in the market, also, Rhino Fleet Tracking offers an intuitive software platform and compelling small business plans.
There are also no long-term contract conditions, and as a result, Rhino's telematics would quickly scale down to meet the needs of small fleet businesses as well as the needs of bigger fleets.
Services Overview
Rhino Fleet Management is one of the cloud-based fleet tracking systems that is ideal for any and all-size of transportation companies.
The Rhino software likewise offers tools for vehicle maintenance and is integrated with desktop and mobile devices.
The product uses GPS Tracking to monitor vehicle positions and also shows routes via Google Maps in real time.
Integrations of HOS and eLog help the users to decide how long drivers were on the road, and this helps them to be compliant with the FCMSA requirements.
Messages could be sent to a tracking device for a driver, too. And the solution is compliant with OBD II, or installed devices.
And also, the Vehicle maintenance features functionality to alert users when a vehicle is due for services, and the notifications can be sent by e-mail or text message.
The company provides standard, plug-and-play devices, allowing you to keep your trucking business functioning with minimal headaches to install Rhino Fleet Tracking. Larger fleets have more advanced equipment options.
Features Overview
Rhino Fleet Tracking has customizable GPS fleet tracking and management software that helps track vehicles and company assets and keeps them safe.
With innovative data collection and real-time data streams, Rhino Fleet Tracking's state-of-the-art telematics offers web-based tools to boost fleet productivity, all to enhance workplace efficiency and behavior.
Rhino Fleet Tracking is a technology for Fleet Management Software. The following features and functionality are available:
Maintenance Scheduling
Maintenance Management
Inspection Management
Maintenance Tracking
Employee Management
Dispatch Management
Incident Reporting
Driver Management
Mileage Tracking
Vehicle Tracking
Tire Management
Fuel Management
GPS Tracking
VIN Lookup
Routing
Rhino Fleet Tracking Pricing
Rhino Fleet Tracking is among the few fleet management solution providers we tested that don't require long-term contracts. Owner-operators and fleet managers can opt-in for this service and pay monthly subscription fees.
The Company offers two pricing plan packages.
Monthly Plan
Custom Plan
Although the industry standard is a one-to-three-year contract, however, Rhino Fleet Tracking enables fleet companies of all sizes to commit on shorter terms and to enjoy the flexibility of its services.
This fleet management provider also has clarity about its pricing. As for hardware, both its plug-and-play system (OBD II) and its more advanced version are $39.95 each.
Please, keep in mind that this Rhino Fleet Tracking Costs would not include recurring subscription charges or activation fees. The activation costs $25 per unit, and the service is $21.95 per unit per month if the fleet contains 1 – 4 vehicles.
These are competitive price points compared with a variety of other businesses we've reviewed.
The Rhino Fleet Tracking software refreshes once in two minutes, with the possibility of changing that to every 30 seconds. And with Rhino Fleet Tracking, there is no minimum vehicle requirement.




Products and Features
The system features ELD, IFTA, and HoS compliance.  The following are the advanced features of the product.
Maintenance
With the Rhino system, fleet managers can handle the fleet's health meaningfully, keeping abreast of impactful repairs as well as inspections, such as oil changes or even tire inspections.
The device has diagnostic features that can be used to test the engine of a vehicle and inform on its condition. Therefore, fleet managers can, however, set proactive alerts so that with each of the fleet's vehicles, they are on top of preventive maintenance.
Alerts
For multiple events, Dive and fleet managers can set up real-time alerts, like excessive idle time or speed.
There are already 15 standard reports from which you can choose, and these reports include the activity of your fleet vehicles and company assets or the overall statistics on fuel.
Alerts can be received via e-mail or text, depending entirely on what best fits your commercial fleet company.
Hardware and installation
Rhino Fleet management and GPS fleet Tracking offers both OBD II port and advanced hardware with plug-and-play devices, and it all depends on what your business needs.
The OBD II port is a simple self-installing device. Although advanced technology like this can require skilled installation with Rhino Fleet Tracking, you may do this by yourself.
Several GPS fleet tracking providers provide installation assistance, but it is unclear whether Rhino Fleet Tracking offers this service.
Fuel performance
Fleet managers can analyze idle times, speed, fuel consumption as well as route optimization using Rhino Fleet Tracking. Also, fleet managers get details about where drivers waste so much fuel, including how they can minimize those issues.
Safety
The device creates speed, hard braking, and acceleration data, as well as idling data. And also provides fuel consumption data and how it relates to driving activities, such as speed and idling.
Using those tools, fleet managers can manage their fleet's fuel efficiency better. They can also monitor the maintenance of the vehicles. You will learn more about the safety features of Rhino Fleet Tracking as you are reading this Rhino Fleet Tracking review.
Advantages of Using Rhino Fleet Tracking
The following are the benefits the fleet company will enjoy when switching to Rhino Fleet Tracking.
Fleet's Assets Theft & Waste are Eliminated
Rhino Fleet Tracking and GPS fleet tracking solution is one of the ultimate solutions for theft and waste elimination.
This technology solution tracks the usage of company resources by the vehicles and provides vital information about truck and asset activities to fleet managers. If this occurs, the Rhino GPS fleet monitoring system and the software will automatically locate where the vehicle or asset is to help with fast recovery from theft.
The device will help you discover Unauthorized Stops, Deviations in Route, and Spikes in Fuel Usage, Track Excessive Idling, Detect Real-Time Vehicle Speed, and Accurate Routing as well as Dispatch.
Help to Reduce Costs of Vehicle Maintenance
Unanticipated maintenance, as well as the time spent on the road, will result in a real toll on operating expenses.
If skipped, a necessary thing like changing the oil or tire check can result in vehicle damage and repairs, and therefore cost the company money, trigger delays, and eventually lower rates of customer satisfaction.
The real-time fleet monitoring solutions from Rhino Fleet Tracking will help a commercial fleet company reduce the high cost of vehicle breakdowns by ensuring that the fleet runs as effectively as possible.
Using the system offered by Rhino Fleet Tracking, you can schedule reminders to warn you when every vehicle is due for different maintenance services. You will get Constructive Inspection Warnings, Advance and Overdue Maintenance Reminders, and Easy to View Individual maintenance schedules and records using this system.
Help Decrease the Cost of Labor
Fleet managers acknowledge that improved efficiency can have a significant impact on profitability.
The Rhino Fleet Tracking enables fleet managers to know which drivers are getting in on time, following daily schedules, or taking long breaks for lunch. Every one of these problems surrounding personnel responsibility can be a complete nightmare for fleet managers.
When commercial fleet companies buy this GPS fleet management solution, the initial goal is to track vehicles effectively to reduce operating costs. However, several businesses soon discover that the improved visibility that vehicle telematics offers can also significantly reduce labor costs.
With Rhino Fleet Tracking, you are offered more efficient scheduling and reduced excessive spare time.
Help Improve Safety
Using GPS to enhance safety ultimately saves money for your company. Theft, misuse of vehicles as well as high insurance premiums can easily cripple any commercial fleet business.
Rhino Fleet Tracking device is tailored and built to match your specific needs and thus take care of your fleet safety concerns.
Track Unsafe Drivers Behavior
The U.S. Department of Transportation (USDOT) states that most accidents are caused by speed and risky driving patterns, such as quick stop-and-start.
Although monitoring employees in an office setting is simple, however, what about your drivers?
For the safety features of Rhino Fleet Tracking, you can choose to get warnings when vehicles are moving in an unsafe manner. The dashboard of the vehicle tracking system is filled with preset warnings for speed, fast start, and quick stop, so you can monitor your fleet vehicle and company assets from a single web page.
With Rhino fleet vehicle tracking systems, you can efficiently operate a fleet of any size that is directly in your possession.
Reduced Liability
The advantages, however, extend far beyond those of enhanced efficiency. Cost-savings from commercial fleet monitoring technology are essential.
The use of GPS monitoring, including telematics for driver safety and productivity, also bring premium discounts on insurance.
Several insurance providers are rewarding fleet companies with up to 15 percent discounts on premiums. However, this discount is only available for the fleet that integrates a GPS fleet tracking solution.
Many insurance carriers, including Zurich North America, Hartford, Liberty Mutual, and Travelers, offer their customers an array of potential discounts.
Help to Reduce Vehicle Speed and Safe Fuel Usage
As per the U.S. Energy Department (DOE), reckless driving (speeding, rapid acceleration, and braking) wastes fuel.
In addition, at highway speeds, good driving patterns can reduce your gas mileage by 33 percent and around town by 5 percent. Also, careful driving is better for you as well as others, and perhaps you'll save even more fuel money.
GPS monitoring systems help you gain considerable control of your fleet vehicles by sending alert warnings for risky driving activities such as speed, fast acceleration, and hard braking. Thus help to take full control of your fleet and save up to 33% on fuel.
Idle Times are Decreased
Indiana State carried out extensive research on vehicle idle times with diesel engines. And about one gallon of gasoline absorbs an hour of idle time."
The research also confirmed that long idle times end up causing substantially more wear as well as severe damage to the engine than normal driving, which directly translates into increased costs of maintenance.
Rhino Tracking devices for vehicles help to avoid this abuse of company capital. When unnecessary idling happens, the Rhino Tracking solution sends you automatic notifications, and all these alerts can be customized to any schedule you wish.
Routing Enhanced
Rhino Fleet Tracking finds all vehicles in the fleet with a high degree of accuracy, so your dispatchers can more appropriately manage the routing. And as a result, this helps make sure that vehicle drivers end up taking the most direct route, saving both time as well as fuel to their desired destination.
One of their customer, A.A. Limousine, uses the system to save over $1300 per year per vehicle.  And with 20 vehicles, those total savings of over $26,000 per year.
Another company that makes use of Rhino Fleet Tracking is Auto Rescue. The company uses the device to help find a service vehicle that is near to stranded customers.
As a result, more than 750 service vehicles are tracked, thus helping them to provide the business's fastest service.
More efficient dispatch, shorter routes, as well as less waste is vastly preferable to substantial fuel savings, thanks to Rhino Fleet Tracking.
User Reviews
Rhino Fleet Tracking is among the few fleet management providers we tested that scored an A+ with the Better Business Bureau and is also certified by the agency.
Some of the firms we tested were either certified, had low ratings, or had high ratings and were not approved. Also, the company had high scores on other review websites, which we evaluated.
The Tracking system significantly improves the efficiency of fleet companies of all sizes.
You can purchase the GPS Tracking System and monitor your fleet through a web browser or Rhino Fleet Tracking app, which is available on Android or Apple iOS devices with the online platform.
Rhino Fleet also has a channel on YouTube where you would learn more about the product and the services that the business provides.
Rhino Fleet Tracking even supplies a regular reporting library, as well as reports from IFTA. Customer support is available and provided via phone calls, text messages, and e-mail.
Pros
One of the best features and services
ELD, IFTA, and HOS compliance
Transparent pricing and fees
No long-term contract
Cons
No substantial negative review of the product
Conclusion
Google Maps supports Rhino's services, enabling all fleet owners of all sizes to use the same functionality on the Rhino user interface as they do on a Google Maps App.
Users of this tracking system can schedule routes, use Google Street View, and switch data between satellite and road map data.
Likewise, Users can choose to see current traffic conditions, though Rhino doesn't have a weather viewing option.
The software runs on tablets, smartphones as well as computer systems, and a user-friendly interface is provided.
Besides these features, companies can build geofences to get an alert notification when a vehicle enters and leaves a specific place.
The short-term contract ideal solution, cheap cost, and credible service provided by Rhino make it a perfect choice for a small fleet company looking to add fleet tracking to their company.
We all understand that one size does not fit all. If that is the case, kindly fill out our consultation form and see where we can assist you.