Choosing the best electronic logging devices suitable for your fleet can be challenging. This Electronic Logging Devices Comparison compares 6 different popular ELD brands.
If you have been searching for the best e-log devices suitable for your business need.
Look no further!
In this article, we bring you the best electronic logging devices comparison guide.
There are so many great options to choose from. We hope that this electronic logging device comparison guide will help you in making this critical decision.
All ELD devices described in this post will help you comply with the ELD mandate.
In addition to being compliant with FMCSA standards, having ELDs installed provides several additional benefits to your fleet.
Here is a comparison of some of the most popular types of electronic logging devices on the market today.
#1  KeepTruckin ELD (Now Motive)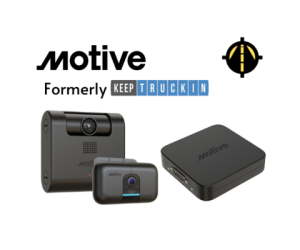 The Motive (formerly KeepTruckin) ELD device is one of the best on the market due to its ease of use and affordability.
And this makes it perfect for a smaller fleet or one looking to save money while still being FMCSA-compliant.
All you have to do to get started is connecting the ELD device and download the free app for a smartphone or tablet.
Its standard features include everything you need in an ELD device such as messaging, GPS locating, and basic HOS reporting.
If you're willing to pay more every month, then you can also access advanced DVIR reporting, IFTA reporting, and other advanced features.
However, if you don't need these extra features, you can save money by sticking with their basic plan.
Pricing
The price of the Motive (formerly Keep Truckin) electronic logs for owner-operators and fleet managers is by far its most appealing quality in this comparison.
There is no initial cost for the device or the installation, which means you only have to pay their monthly subscription fee.
Motive (formerly KeepTruckin) lets you find the right fleet solution for your business need.
Motive (formerly KeepTruckin) provides three various plans:
Free Package: e-logs, vehicle inspections, and messaging are included in the free plan.
Starter Package: This package is only $20/month and features everything in the free plan, including compliance with ELD, tracking, and alerts.
Plus Package: This package costs $30/month and covers everything within the starting plan plus IFTA fuel tax reporting, asset tracking, vehicle usage, vehicle inspection, and fleet safety and coaching.
Features
Alerts
Messaging
GPS tracking
ELD compliance
Electronic logs
Driver scorecards
Idle time tracking
Vehicle diagnostics
Vehicle inspections
IFTA fuel tax reporting
Check our Motive (formerly keep Truckin) ELD full review for further information…
#2  EROAD's Ehubo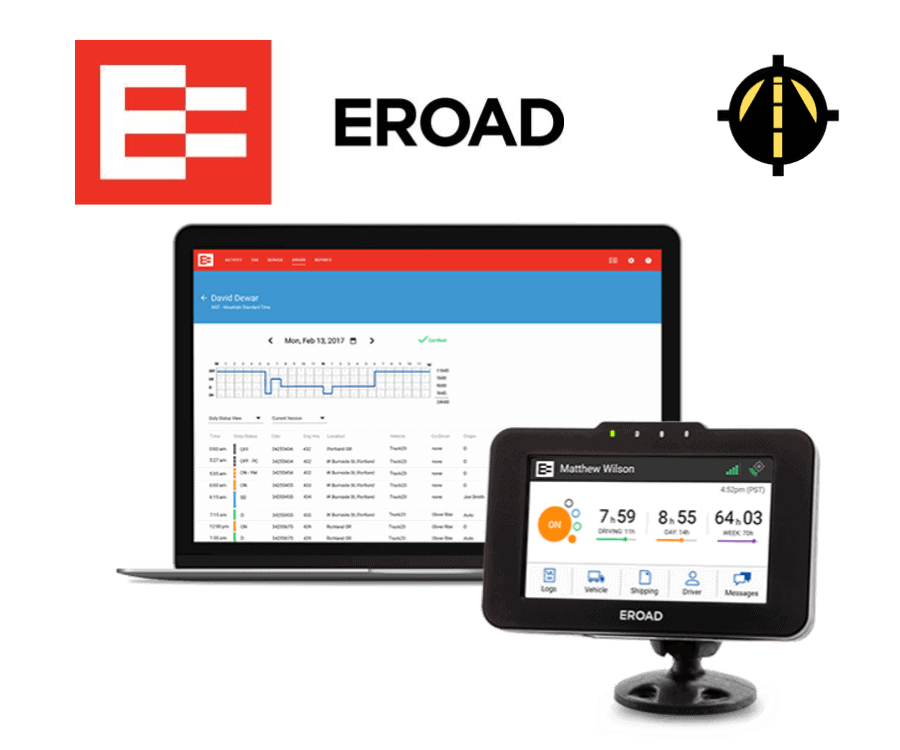 This ELD device is easily one of the best available today.
EROAD's Ehubo set itself apart by being affordable, providing sturdy hardware and easy-to-use, and having extremely accurate information.
Although this is not the most affordable option, nor does it offer as many advanced features as other ELD devices. However, it is certainly worth considering.
What sets EROAD Ehubo devices apart is that they weren't just self-certified to meet the FMCSA standards of the ELD mandate.
They went the extra mile by being certified by the PIT Group.
Since FMCSA doesn't verify that the devices on their certification list are actually compliant, this provides all the extra assurances that a fleet owner needs to know that they're choosing an FMCSA-compliant device.
Another thing that sets this electronic logging device apart is that it can be installed even in older trucks using the standard EMC connection or a 3-wire.
And this is especially good news for fleets that have older vehicles that are still in service.
They can be brought up to compliance, and they can have their whole fleet on the same system.
Advanced Features
EROAD Ehubo's many features include;
A daily recap of hours
Log transmissions
Maintenance tracking
Flexible geofences
Safety event notifications for harsh braking, speeding, etc.
The device was initially developed for fuel tax tracking, and it's one of the best for IFTA reporting.
Pricing
The features you want will determine the monthly cost of this device.
EROAD provides several different pricing packages based on the features you require.
For a basic ELD-only plan, prices start at $35/month and range up to $60/month for the TotalFleet package with all the features.
The total tax plan includes many of the most specialized tools for fleet management and is $45/month.
There is also a one-time $35 activation charge, and it costs $65 for the ECM cable.
The unit itself will not cost any up-front free if the consumer selects one of the lease packages, as mentioned above.
And customers who want to buy the hardware directly, however, can do so and pay a fixed monthly subscription fee.
All pricing plans include tech support and hardware warranty.
EROAD Ehubo ELD device has everything you want in electronic logbooks for truck drivers, and it's also one of the most affordable setups on the market.
Not only that, but the technical support you receive with any monthly plan is outstanding.
Grab EROAD special offer here>
Check our EROAD EHUBO ELD full review for more info.
#3  PeopleNet Display
If you're looking for an unbeatable ELD device in terms of reliability, durability, and features, you can't get anything better than the PeopleNet Display.4.
What holds most people back from this ELD device is its high price and lengthy installation process. However, if you can afford it, it's worth it.
In addition to being such a great device, the PeopleNet Display.4 has a simple, user-friendly interface.
And that makes it easy for drivers to learn and utilize.
The company is known for being one of the longest-standing companies in the electronic-logging business and for having outstanding customer service.
What also sets them apart is that this device supports 4G LTE cellular communication.
PeopleNet Display 4 Features
Some of the many features included in the PeopleNet Display.4 include;
Fault codes
Real-time safety alerts
Engine status monitoring
Tire pressure monitoring
Fuel consumption reports
Some advanced features that are hard to find in many other devices include integrated multi-directional cameras, ALK CoPilot navigation, and others.
Pricing
Because of the number of features that are included and the high quality of the equipment itself, there's a high cost that comes with it.
The initial price for the hardware and installation is $1200 per truck, one of the highest in the industry.
From there, you'll be paying $43 every month for their service plan.
If you want the best device with the most features, then PeopleNet Display.4 is the way to go.
Although the price is a hard pill for many fleet owners to swallow, however, large fleets that have used this system agree that it's the only way to go if you value quality.
#4  Blue Ink BIT ELD
Are you looking for the cheapest option when it comes to FMCSA compliance ELD devices?
In this Electronic Logging Devices Comparison, it doesn't get cheaper than Blue Ink's BIT ELD. The company only charges you for the device and installation.
After that, there are no monthly fees, allowing you to save more money the longer you use their devices.
Therefore, this option is particularly appealing to smaller fleets and independent drivers.
One of the things that makes Blue Ink's BIT ELD so inexpensive even with the initial costs is that it's a Bring Your Own Device (BYOD) option.
That means you will need to provide your drivers with a smartphone or tablet. Alternatively, they could use their own if they have one.
And, this does usually means paying monthly for a data plan to keep the smart device connected to the ELD device.
Easy Installation
Installation is incredibly easy. All you need to do is plug the device into the diagnostic port of the vehicle.
Then, download the app and connect the device to a smartphone or tablet to get started.
And this makes it one of the fastest and easy to installs all the available ELD devices. Unfortunately, it can also mean that if the Bluetooth connection is lost, data may also be lost.
The BIT ELD will help your fleet to be FMCSA-compliant, but it won't do much for you, which is why it's favored by smaller fleets that aren't worried as much about the extra features that you can get with other devices.
The features that are included are HOS recording, a built-in DVIR, IFTA reporting, and a maintenance schedule.
Overall, the Blue Ink BIT ELD can't be beaten in terms of price. Although it lacks many of the advanced features of other devices, however, it makes compliant simple.
And this makes it the perfect fit for owner-operators that want to be FMCSA-compliant but can't afford an expensive device.
Pricing
Among the few electronic logging devices (elds) on the market to adopt an unusual pricing model is the BIT ELD from Blue Ink Technology as the device comes with no recurring subscription fees.
You purchase the device for $295, pay for it once, and that's it — no contract or charges monthly.
These electronic logs for owner-operators and fleet managers become attractive to drivers and small fleets, hoping that most electronic log providers can stop ongoing service plans.
In the long run, pay-once pricing significantly makes BIT cheaper than almost any other system on the market.
Like many other BYOD solutions, you buy a Blue Ink dongle that plugs directly into the diagnostic port of your truck, then pair it with your mobile device. This e-log device required a cellular data plan.
Although many drivers have their own mobile devices, however, there will still be some extra costs for it if you plan to provide one for your fleet.
#5  Omnitracs IVG
The Intelligent Vehicle Gateway (IVG) is the flagship Electronic Logging Devices for Omnitracs in this comparison.
This electronic logbook for owner-operator and fleet managers is packed with features that make it an easy choice for any fleet.
And this device is marketed as a "one device, one cable" solution for fleets.
Features
Standard features include:
DVIR
e-logs
Messaging,
Engine diagnostics
Navigation etc.
Some other high-end advanced features are:
Tire pressure monitoring,
in-cab scanning, and
Dashcams
The IVG also has a voice command system so drivers can access the device without needing to touch it.
And in the future, it can be used as a wi-fi hotspot due to its smartphone compatibility.
Installation process
The installation process is simple and should only take around 30 minutes.
Although it is more complicated to install compared to some of the other ELD devices on the market, however, it is much simpler compared to many others.
Some of the dash panels will have to be removed for the back-plate to be installed for the screen mount. Then, the device is connected to the diagnostics port.
Pricing
As far as price is concerned, the IVG is one of the most affordable options on the market, especially for everything you're getting out of it.
The initial cost for the device itself is between $750 and $800, which is more than some ELD devices.
But it's also less than other devices that offer similar features.
Since the basic monthly plan is only $30, this device beats out several other providers in the long run.
Overall, this is yet another excellent product in the Omnitracs line that proves why this company is a leader in the industry.
It goes way beyond providing FMCSA compliance; it also offers fleets with innovative features, and easy installation, and reliable service.
And it all comes for an affordable price. If you're not already considering this ELD device, you should be.
Check our full Omnitracs ELD review.
#6  Garmin ELD
As a company well known for its focus on GPS tracking, navigation, data recording, and data sharing technology, Garmin is at the lead of the pack when it comes to creating integrated, high-quality ELD devices.
In the short run, Garmin will likely be more expensive, since the ELD comes fully loaded with all of the tools needed, without the need for extra fees or subscriptions.
Garmin eld solution is one of the most popular eld units. Furthermore, it provides an excellent eld option for owner-operators.
Many truckers prefer it as one of the best eld options.  In the long run, the Garmin may pay for itself—and its many other premium features may be worth your while as well.
Technical Specifications
The Garmin eLog™ will fit any standard 6 or 9 pin data port. Installation is simple, and it starts working as soon as you plug it in.
Besides the eLog™ being compatible with a range of other Garmin devices, the proprietary software also allows you to connect your eLog™ system to a GPS-enabled tablet or smartphone.
Garmin E-log Design and Compatibility
The device is designed to last. The 2.5 oz. The cylindrical device is in an A case with a sleek black outer shell.
And the device data is accessible both from USB and through Bluetooth for quick sharing.
The eLog™ also connects and can share driver data with a variety of Garmin GPS units from the dēzl™ series.
Therefore, the driver can receive personalized updates and reminders for breaks and remaining time, all integrated as well through the smartphone/tablet app.
Pricing
These electronic logs for owner-operators and fleet managers offer a one-time purchase, indicating monthly subscriptions are not applicable.
And this helps the Garmin ELD to become an appealing, cost-effective fleet solution. You only need to install the device after purchase and start driving.
There are no additional expenses or licensing fees that you will have.
By the way, for most consumers, the electronic logbooks for a truck driver are reasonably priced and affordable.
The eLog™ costs about $249.99 through the Garmin website.
While Garmin currently has only one model of ELD, there are several different Garmin GPS models compatible with the eLog™, each ranging in price from $299.99 to $499.99.
And this gives Garmin a highly personalized experience, giving priority to the driver with a friendly user-centered experience.
Check our Garmin ELD full review for more info.
Calculating the Real Cost of an ELD Device
When considering the cost that goes into an ELD device, you have to factor in more than the initial costs. These include the cost of the device itself and installation.
You also have to think beyond the monthly service fee.
If a device requires a Bluetooth connection with a smartphone or tablet, for example, you can expect to pay at least $15 per month for a data plan in addition to the monthly service fees.
Something else to consider is the long-term cost. However, if the device has a lower monthly fee, it can end up being more cost-effective in the long run.
The best way to figure out the average amount that you will actually spend per month is to spread out the initial cost over three years.
The Contract
Some ELD providers expect you to sign up for a contract. However, there is something else you need to consider.
Signing up for a 2- to 3-year contract means being locked into a specific price for a long time.
Some providers that don't charge initial installation costs do so because you have to sign up for a 2- or 3-year contract. Then, part of their monthly fees covers their prices for the device.
Signing up for a long-term contract can be a good option if you are sure that you have found the right ELD provider for you.
However, this can be a problem if you find that you don't like the device or the service.
Some devices will allow you to have a free or paid trial period. Then, you can try out their products and services to see how you like them.
Moreover, if you've taken the time to decide which electronic logging device is right for you but aren't entirely sure it will actually work for your fleet.
We are here to help you in this case, if this Electronic Logging Devices Comparison has not covered all your doubts, kindly fill our consultation form, and we will help you find the best ELD solution for your business need.
Electronic Logging Devices Comparison:
| | | | | | | |
| --- | --- | --- | --- | --- | --- | --- |
| | Motive (formerly KeepTruckin) | EROAD's Ehubo | PeopleNet Display.4 | Blue Ink BIT ELD | Omnitracs IVG | Garmin ELD |
| Initial Cost | $0 | $0 | $1200 | $295 | $750 – $800 | $249.99 |
| Monthly Fee | $20 (Starter) $30 (Plus) | $35 – $60 | $43 | $0 | $30 | $0 |
| Alerts | ✔ | ✔ | ✔ | Not specified | ✔ | Not specified |
| Messaging | ✔ | ✔ | ✔ | Not specified | ✔ | Not specified |
| GPS Tracking | ✔ | ✔ | ✔ | Not specified | ✔ | ✔ |
| ELD Compliance | ✔ | ✔ | ✔ | ✔ | ✔ | ✔ |