(Last Updated On: November 7, 2023)
You should understand the details and function of fleet fuel cards for small businesses before choosing the right type for your fleet. We personally reviewed fuel cards and did all the research for you. The answers to some questions on fuel cards, as well as how they work, are given below.
Studies have found that 95.2% is spent on operating expenses for every dollar earned by the average American trucking company. That means leaving only 4.8 cents of profit.
And you've probably heard many things from people in the transportation industry about fuel cards. However, they are not just for diesel fuel, trucking companies, and fleets.
What Is A Fuel Card?
Fuel cards are specialized credit cards designed for fuel-related purchases. However, fuel cards for fleets serve as a comprehensive solution for fleet management by providing a secure and efficient payment mechanism that goes beyond credit card capabilities.
These cards can be used not only for purchasing fuel but also for making additional purchases such as toll payments, lubricants, and carwashes. Fuel cards for trucks can be assigned to specific drivers or vehicles, and spending limits can be set to control fuel expenses and ensure that the fuel budget stays within limits.
With fuel cards for fleets, the fuel purchasing process is streamlined, saving time and reducing administrative burden. Fuel cards also offer features like detailed fuel consumption data, daily spending caps, and options for additional purchases, making them an essential tool for managing fleet expenses.
Who Uses Fuel Cards?
There are different types of users of fuel cards.  In commercial trucking users include: commercial carriers, less-than-truckload carriers, private companies, and owner-operators. These specialized cards cater to carriers of all sizes, from single rigs to those operating hundreds of vehicles.
You may be asking yourself, aren't fuel cards for truck drivers? The answer is NO! Other businesses that use fuel and/or fleet cards include delivery vehicles and fleets; construction vehicles and equipment; governments and enterprises like fire trucks, ambulances, and municipal vehicles and equipment; military vehicles and equipment; taxis, Ubers, and other people movers like buses and transfer services.
How Do I Use My Fleet Fuel Card?
*Note that the steps may vary by card provider and fuel station. Check the instructions and policies provided by the card provider for a smooth experience. But to use a fleet fuel card in general, these are the steps:
Choose a fuel station that accepts your card using the online locator or mobile app provided by your fuel card provider.
Swipe the card or enter card information at the pump or point of sale.
Enter mileage or VIN to link the fuel purchase with the vehicle.
Fuel up and select any additional services allowed by your card.
If required by your company, keep the receipt or take a photo for tracking and reimbursement purposes.
You can then monitor usage and expenses through the online portal or mobile app provided by the card provider.
The fuel cards typically work just like any credit or debit card, some even come with the exception that, with them, you can buy only fuel, while others include other goods related to motoring. And just like credit cards, the fleet company is directly charged, usually at the end of the month.
Where Can I Use A Fleet Card?
Fuel card issuers use different networks of fuel stations and service providers. Some fuel cards are limited to one gas station or to a supplier's network of stations. Others allow you to use any gas station or service center, but may not provide as good of discounts or rewards. Some even allow use at restaurants and supermarkets!
Some fuel cards come with fees, while others don't. And some cards do not charge interest on purchases but come with their own rules, restrictions, and or fees. Some fuel card providers not only offer fuel discounts for truckers, but they also may include discounts for related services like auto parts and accessories, washes, maintenance, and repairs, while some are restricted to strictly fuel purchases.
When choosing a fuel or fleet card, keep in mind the size of the network and restrictions on use.
What Are The Best Fuel Cards For Truckers?
Using fleet fuel cards for trucks can assist you in better managing the expenses associated with upgrading your fleet. Additionally, they can enable you to maintain better control over your workforce by providing you with detailed reports of purchases made by each driver or vehicle in your fleet. It is important to note that not all fuel cards for trucks are compatible with every gas station, and even if a particular fuel card offers great discounts, it may not be the best option for your fleet based on other features or fees.
Many companies continue to invest in fuel cards for trucks. In fact, roughly 73% of small fleet companies utilize fuel cards for small fleets in order to reduce fuel expenditures.
If you are interested in obtaining fuel cards for truckers, now is an opportune moment to do so, particularly for new businesses. After analyzing various options, we have identified some of the best fuel cards available for you to choose from.
1. Motive Card
The Motive Card has rapidly gained traction among fleets of various sizes due to its comprehensive range of benefits. It's growing popularity, benefits, and discounts offered are some of the reasons it's our #1 pick. We also love the seamless integration into the Motive fleet management system. More than just a fuel card, the Motive Card offers a suite of management tools designed to help fleet managers monitor and optimize their operations with greater ease and efficiency.
With Motive, you'll find integrated fleet management and spend management working together and providing shared data and visibility which unlock savings and improve productivity.
Accepted at an extensive network of fuel stations, the Motive Card provides convenience and flexibility for fleets on the move. Attractive rebate rates make this fuel card an excellent choice for businesses seeking to reduce costs while maintaining access to valuable resources and management solutions.
The Motive Card also offers additional services and benefits like savings on tires, labor, maintenance, rental insurance, travel assistance, and more.
Check out some of the benefits:
No application fee.
No membership fee.
No transaction fees.
No minimums required.
Tier 1 savings averaging 20+ cents per gallon at over 4,000 partner locations (and growing), including Love's, TA, and Casey's.
Spend, fraud and geofence controls.
Pros
Comprehensive management tools

Accepted at a wide range of fuel stations

Attractive rebate rates

Provide real-time reporting
Cons
Might have a learning curve for using management tools
2. Coast Card
The Coast Card is quickly becoming a popular choice for fleets seeking a fuel card that offers more than just fuel savings. It's our #2 choice for 2 reason: It can be used be small companies with fleets of 5 or 500. Also, there aren't many fees! They don't charge per-gallon admin fees, per-transaction fees, electronic payment or check-processing fees, low gas price surcharges, reporting fees, portal access fees, or inflated late fees for higher unpaid balances. 
Besides its primary function as a fuel card, the Coast Card provides users with the ability to make toll payments and purchases at service stations, adding a layer of convenience for fleet managers and drivers alike.
With acceptance at a large number of fuel stations across different regions, the Coast Card ensures that fleets can access fuel and other services without any hassle. Its diverse range of features makes it an excellent choice for fleets with varying needs.
Here are a few other benefits:
The customer service team is based in the USA and speaks English!

No personal guarantee required!

Track purchasing by driver and vehicle.

2¢ gal rebate on fuel (4¢ gal rebate at RaceTrac, Cumberland Farms, and at several others; 6¢ gal rebate at Casey's). 

1% rebate on all other purchases outside of gas stations.

10% off at PepBoys and Jiffy Lube. 
Pros
Offers customizable controls

User-friendly

Allows for toll payments and other forecourt purchases

Accepted at numerous fuel stations

Not many fees
Cons
May not have as many management tools as other options

Rebates and discounts may not be as high
3. WEX Fleet FlexCard
More than 400,000 fleet companies are using WEX fuel cards for truckers. That's an impressive figure. And this is partly down to their 3¢ per gallon rebate rate.
Those with lower fuel consumption per month are eligible for the rebate rate.
WEX provides a full fuel card fleet management reporting package in addition to a reasonable rate figure to enable you to keep track of your regular expenditure.
An app for finding gas stations that accept WEX fuel cards would be an additional benefit of the WEX package.
So why is WEX one of the best national commercial fuel cards for trucks?
The company's Telematics system allows an end-to-end fleet management solution and favorable rates.
And this helps to get grips with your fleet operation, fuel consumption, expenditures, and driver behavior. And this fuel card for fleets is one of the top fuel cards for truckers.
Pros
Suitable for a fleet of all sizes
3¢ rebate on every gallon of gas
The card accepted at 90% of fuel stations
4. Fuelman Universal Cards
Fuel cards for trucks aren't more customized than the selection of the Fuelman Universal Card. Five separate card choices are available from which to choose – one card for each trucker company scale.
Fuelman Universal Cards start with the basic Advantage Card, which at participating gas stations offers up to 6¢ rebates.
On the other end of the spectrum is the Platinum Mastercard, which guarantees the cash price for transactions on these prepaid fuel cards, plus a rebate of three cents per gallon – a great deal, when you can afford it.
Furthermore, Fuelman cards are safe on the road, in addition to offering fleet fuel cards that best match your company's fuel spending scale. Fuelman Universal Cards are one of the best fuel cards for owner-operators, fuel cards for a startup business, and also suitable for big fleet companies.
Pros
Robust back-office suite
Good coast-to-coast compatible gas stations
Plenty of fuel cards for trucks to choose from
Cons
A bit unreliable App
A few gaps in Lower 48 coverage
Check out more details about the Fuelman card here: 
5. ExxonMobil Business Fleet card
ExxonMobil fuel cards for trucks offer a 10¢ per gallon of rebate during the first six months. However, always remember that when the time has elapsed, you're back to the competitive rate of 6¢.
Nobody really loves the idea of hanging monthly charges over their heads – except when the benefits are worth it!
As one of the best fuel cards for trucks, ExxonMobil removes the monthly fees. The only issue is the ExxonMobil gas station's geography.
This fuel card for fleets is a good piece of plastic best fuel card for the small fleet company that operates across the East Coast.
Pros
Compatibility with Great East Coast gas station
No monthly overheads charges
Robust back-office suite
Cons
Sketchy Interstate coverage
6. Shell Fleet Navigator Card
It is the perfect fleet card for gas station coverage to use Shell Fleet Navigator fuel cards for trucks.
The fuel card is accepted at about 95% of U.S. gas stations; as a result, truck drivers will never be concerned about running dry.
Fleets now have access to this fuel card. As a result of Shell's partnership with Jiffy Lube, fuel card holders can take advantage of incentives on vehicle supplies.
The company offers an excellent back-office suite to help fleet managers reach their drivers in addition to their competitive rebate rates.
You can set purchase limits and customize your reports to reflect the data you would like to see if you want to tighten your fuel expenditures. Even opportunities to save cash will be flagged up.
Pros
Set a variety of limits
24/7 customer support service
Discounts available at Jiffy Lube locations
The system data points out opportunities to save
Cons
Differences Fees and rebate apply
Lower Rebate rate
7. BP Fleet Gas Cards
BP provides three cards to help fleets companies of all sizes to manage fuel costs.
The company offers outstanding fuel cards for fleets that operate in the East, but their Universal Card provides sufficient coverage if you move further afield. Finding any one of the 7,500 BP fuel stations on your pc is easy; however, users ought to be aware that BP currently does not have any locator app.
And while there are third-party apps that you can use, we cannot vouch for their reliability. In addition, BP's coverage on the west side of the Mississippi may be unpredictable, despite having numerous gas stations on both coasts.
Pros
No annual fee
25cent/gallon gas rebate for the first 90 days
Cons
Service is not available in 14 states (West and Midwest)
Mobile gas station locator app is not available
Do Fuel Cards Save You Money?
Some fuel cards for fleets offer rebates; however, that's not the only way they can assist you in reducing the cost of fuel.
Below are other ways in which fuel cards help your fleet company.
Specify Locations and Set Limits
Limit the amount of money that drivers or their vehicles can spend on fuel, and limit purchases to supermarkets rather than expensive petrol stations.
Facilitates Fuel savings and Efficient Driving
Many fuel cards for fleets offer comprehensive management reporting, and this allows fleet managers to identify unreliable drivers, expensive locations and poor choices of routes.
Driver performance can be compared across your company and drivers will be able to drive more efficiently as well.
Findings have already demonstrated that driving more efficiently can prove beneficial for fuel economy ranging from 10 to 40%.
Reduces The Chances of Expense Fraud
Detailed reporting of management allows you to know who spends what, where and when.
 In this way, employees are less likely to claim private mileage as a business expense.
Fuel Accountability
Fuel cards promote fuel use accountability – which means everyone has to use fuel more efficiently. All of the above taken together would make a difference in helping you to fulfill your green ambitions.
ELDs That Include Fuel Cards
1) Motive ELD
The Motive ELD system offers seamless integration with the Motive Card, providing an all-in-one solution for fleet managers. The integration helps track fuel usage, monitor driver behavior, and manage overall fleet expenses.
The Motive ELD platform also offers advanced analytics and reporting to help identify areas for improvement and optimize fleet operations.
2) GPS Trackit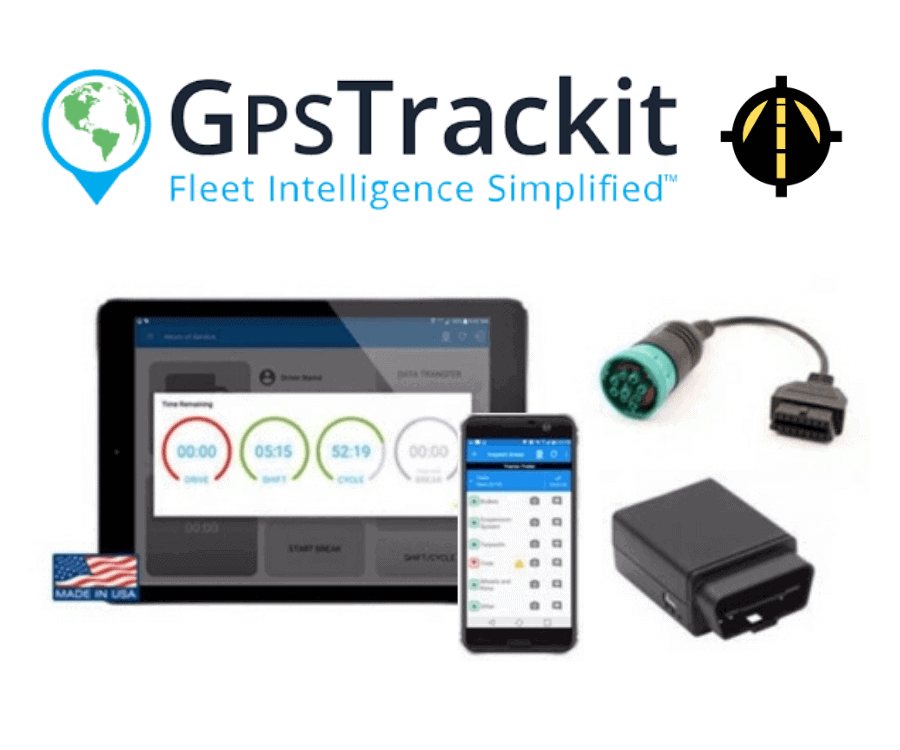 GPS Trackit has provided integration of fuel cards for fleets, and that is in addition to its vehicle tracking system. In addition to fleet management, this provider's flagship product helps companies manage their vehicles more effectively. The integration of the fuel card increases this capacity.
With this system, the Fleet pays for fuel using fuel cards for trucks at participating gas stations.
GPS Trackit fuel card function, much like a credit card, however, comes with an additional fuel purchase report which can notify dispatchers and fleet managers of possible fuel theft.
3) Verizon Connect
This ELD provider integrates the fuel card into its ELD solution. The main purpose of this feature is to enable you to track the fuel costs of your truck.
And this is done by collecting reports such as a report acquired from fuel purchased. These reports help fleet managers to understand how the fuel funds in the fleet are spent.
Detecting specific cases of fuel cards being used on vehicles that weren't at the fuel station will alert authorities.
The report on fuel efficiency would help you figure out which trucks are working efficiently and which vehicles do not comply with the requirements for efficiency.
4) Geotab
Fuel BI provides full fuel card integration for the Geotab platform as an add-in or web application. And this displays all the primary fuel KPIs
in the dashboard of your company and presents the fuel expenditures on a map. During fleet activities, over 14 different patterns are used to assign fuel cards to vehicles.
5) Fleetistics
Fleetistics fleet fuel cards for trucks offer an easy solution for fleet managers to control all the fuel costs associated with the vehicle through a convenient program. Fleet managers will have access to comprehensive gallon reports, fuel type, price per gallon, and nonfuel purchases with this solution.
Fleetistics can then integrate more insight into customer GPS data. Fleetistics receives data from WEX, and custom views of data are merged with GPS data. WEX data is shown in the Fleetistics Fleet Management Portal for convenience. Fleetistics also combines fuel data with WEX data to provide new insights into fuel use.
6) Simple Truck ELD
The Simple Truck ELD is designed so that motor carriers, as well as drivers, can comply with HOS requirements effectively. In this way, carriers can capture HOS information and ensure compliance with HOS best by using ELDs and relevant support systems.Vehicle Engine data is shared through integral synchronization with the ELD. The ELD is also tamper-resistant, so there will be no unauthorized manipulation of the data collected.
ELDs must meet or exceed the performance standards approved by the providers. Issued by Accutrac Capital, the Simple Truck ELD complements the features of its ELD with fuel cards for trucks, and this is another excellent solution to track fuel use.
This fuel card is a versatile payment system accepted anywhere EFS cards are accepted at more than 16,000 truck stops across North America.
Which Fuel Card is Right for My Fleet?
Choosing the appropriate fuel card for your fleet can be challenging due to the increasing number of options available each year, such as the recently added Motive Card and Coast Card. It is important to select the card that offers the most advantageous benefits and features for your business's specific needs.
Fortunately, regardless of the size of your fleet, whether it is small or medium-sized, there are fleet fuel cards available that cater to your requirements.
Putting It All Together
For fleet managers, drivers, fleet owners as well owner-operators, fuel cards make life so much easier. Drivers would no longer be required to pay cash for fuel, save any receipts, or fill out claim forms for expenses. Fuel purchase data is automatically logged into an online fleet management portal with a detailed tax-compliant invoice.
Analyzing each receipt is a tedious and time-consuming task; however, this will be a thing of the past with fuel cards for fleets. And thus saving fleet time when it comes to reclaiming VAT.
Fuel and fleet maintenance cards are indispensable tools for fleet managers, drivers, fleet owners, and owner-operators as they greatly simplify their lives. No longer will drivers need to pay for fuel with cash, keep receipts, or complete expense claim forms. Instead, fuel purchase data is automatically recorded in an online fleet management portal, providing a detailed tax-compliant invoice.
Analyzing and keeping receipts can be an arduous and time-consuming task. Fortunately, this is no longer necessary with the use of fuel cards for fleets. As a result, drivers and owners can save significant time with expense tracking and IFTA reporting.
We assist you in finding the best eld devices for fleets that provide you with the best coverage across your business routes.
So all you have to do is fill out our free consultation form with a few details, and we will help you to find the best suitable eld devices that suit your business needs.