(Last Updated On: November 23, 2022)
What are Driver Vehicle Inspection Reports (DVIR)?
If you are driving a fleet company commercial truck, you are mandated by law to fill in a daily formal driver safety Vehicle inspection report to ensure that the vehicle is safe to be on the road.
To ensure that your vehicle is in appropriate condition, it is important to conduct both a pre-trip and post-trip inspection.
And this not only helps you to keep track of defects or problems, but it also strengthens the commercial fleet company when it comes to the DOT law.
DVIRs must be kept on-site by the motor carrier for a minimum of three months after submission of the report.
How It Works
The FMCSA has built a pretty good system, and it is, therefore, no surprise that DVIRs stop approximately 14,000 accidents annually in conjunction with roadside safety checks.
So, the system is reasonably straightforward if you are a driver of a commercial truck.
We will state the procedures here:
Step 1 – Inspect the vehicles
A vehicle driver has to conduct a pre-trip inspection, and that's before you'll hit the road. The inspection includes assessing any defects and adequately examining how the vehicle functions.
A post-trip inspection then carried over into the next day.
Step 2 –  Report Defects
If any vehicle faults which would prevent it from having safe operation are discovered, they should be reported.
Step 3 – Sign The Report
When the Vehicle inspection reports are completed, they should be signed by the vehicle driver and forwarded to the fleet manager.
Step 4 – Certify Repairs
The fleet company has to have any repairs done soon before the vehicle could be used. And the repairs must be certified once repairs are done.
Understanding DVIR Regulations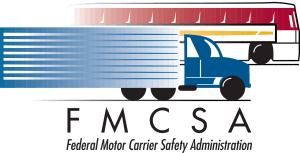 Under the US Federal Motor Carrier Safety Administration's law, all commercial vehicles are required to perform DVIRs every single day.
Moreover, in 2014, the FMCSA stated that if zero faults or defects are detected, single drivers will no longer have to submit reports.
However, if a vehicle needs to carry passengers, it is necessary to submit a pre-trip inspection report and also conduct a post-trip inspection, and the inspection data must be stored.
What Is the Purpose of Vehicle Inspection Reports?
A Driver Vehicle inspection report intends to remind the driver to observe the vehicle and its equipment for any faults or defects.
The report makes it possible for timely repairs so vehicles can maintain a high working efficiency. These also promote driver safety and provide safety for the general public.
However, for each trip, a driver is now mandated to fill out a DVIR form on paper, regardless of if there have been any problems that require attention.
The change began in 2011, when United States President, Barack Obama, directed government agencies to carry out reforms that would alleviate burdens on the private industry.
The FMCSA looked at the DVIR requirement once again and took into consideration that maybe this bit of excessive regulation causes much more trouble for drivers than most of its presumed value.
Then, the FMCSA found that professional truck drivers spent about 46.7 million hours each year completing DVIRs, even though there were no safety or technical problems reported in them.
Not only did this take a considerable amount of driver's time; likewise, but it also stuck the FMCSA with the 19th highest paperwork burden.
That's really a lot of paper, considering behemoths like the Veterans Administration, Medicare, Social Security, and Veterans Administration.
Consequently, the department revised the law to incorporate what is known as the No-Defect DVIR Regulation.
Since 2014, the vehicle inspection reports would not have to be filed by truckers whose pre-trip and post-trip inspections pose no equipment problems or safety concerns.
It certainly reflected a considerable achievement for drivers in reducing hassle. And complying with the dot rules will enable them to get dot annual inspection certification and get FMCSA annual inspection stickers. Thus making their business operation easier.
How Often Is A DOT Inspection Required?
The Department of Transportation (DOT) mandates fleet company commercial vehicles (CMV) weighing over 10.001 pounds each year to undergo an inspection and document Vehicle inspection reports to ensure that vehicles are in good working condition.
The DOT inspections have six levels that simply refer to which areas of the CMV would be inspected. So it is important to know how to fill out an annual vehicle inspection report.
It should also mention that DOT inspections are entirely distinct from the periodic inspections of vehicles, which must be carried out by the motor carrier.
Each summer, the CVSA carries out a 72-hour cycle of extensive truck inspections — a three-day window when DOT inspectors and state troopers search and test for violations and examine hundreds of trucks and drivers.
The DOT's primary function is to promote and encourage the safety and reliability of commercial drivers and CMVs. And more than 1.5 million highway inspections have happened in North America since the DOT rules were announced.
What Is Involved in A DOT Inspection?
The US DOT necessitates periodic CMV inspections each year. Many other states have almost the same yearly requirement, and there is reciprocity between the two authorities.
Therefore, complying with the State government-mandated DOT inspection also meets the federal requirement of the US DOT.
However, the yearly inspection of the DOT isn't the only inspection fleet managers need to be prepared for.
Roadside inspections may take place at some point, and the way they are conducted largely depends on the state DOT.
Many carry out inspections at designated weighing stations, others are at state line boundaries, and several states have DOT officers roving on patrol with the permission to pull over any CMV.
The six DOT-inspection categories are:
North American Standard Inspection
This has been the most detailed inspection because the DOT officer is searching for worn-out or broken parts from the vehicle.
The officer examines the braking system, battery, cargo securing, lighting, tires, and more.
The officer will also communicate with the driver to search for signs of alcohol consumption, narcotics, seatbelt use as well as proper paperwork.
In case of any violations, the inspecting officer may place the CMV out of service (OOS).
Walk-Around Driver/Vehicle Inspection
Level two of DOT Vehicle inspection reports is closely related to level one, with the exception that the official does not check vehicle parts that require them to get underneath the vehicle.
Instead, the inspecting officer simply looks around to look for something which goes wrong and then reviews the paperwork and credentials of the driver.
Driver-Only Inspection
This DOT Vehicle inspection reports level focuses entirely on the credentials as well as the paperwork of the driver. Due to this, keeping the following records current is crucial:
License
Record of Duty Status (RODS)
Driver Vehicle inspection reports (DVIR)
Special Inspections
The DOT Level four Vehicle inspection reports are uncommon and usually performed for research purposes as a one-time inspection of a specific item (such as driver paperwork or vehicle engine).
Vehicle-Only Inspection
Level five of Vehicle inspection reports uses the same requirements as level one, but there is no driver present. It typically happens during a compliance examination at the carrier's location.
Enhanced NAS Inspection for Radioactive Shipments
Level 6 of Vehicle inspection reports applicable to CMVs carrying highway route controlled quantities (HRCQ) of radiological shipments.
This DOT inspection is to check if the vehicle contains nuclear material, hazardous freight, or medical waste. These inspection processes include a level-one inspection improvement, enhanced OOS criteria, and radiological requirements.
How Can One Best Prepare for an Inspection?
Drivers must learn about the dangers of driving faulty vehicles and how maintenance issues can be identified and reported even before a more significant problem comes up.
The best approach to do this is to carry out a simple walk-around inspection before and after each trip. These include:
Tires
While tires occasionally blow out, they appear to gradually deflate until the vehicle can't be operated anymore.
Test every tire for air and then use a digital tire pressure gauge to check tires that appear deflated. Also, be sure to understand the standards and regulations regarding mudflaps in your state.
Many states have strict driver-vehicle inspection report requirements. On the vehicle's rear for mudflaps (it prevents spray and debris thrown by the tires from reaching the following traffic windshields).
Lights
Bulbs, electrical signals, and malfunctioning lights can present a safety hazard.
Also, make sure to test the brake lights, headlights, high beams, and low beams by switching the engine on.
Check Cracks
Each crack in the windows (even small, tiny chips) can get much worse quickly if they're not addressed immediately.
Make sure to keep an eye periodically for hairline cracks and stars resulting from flying gravel before you'll fill out your company vehicle inspection form.
It is crucial to know what the criteria from the inspection typically involve and how to be diligent in maintaining a safe CMV to ensure that you pass road inspections with flying colors.
And then fill out the vehicle inspection form. Also, some fleet management solution has a driver vehicle inspection report app.
What is the Importance of DOT Inspections?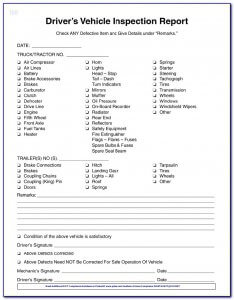 The U.S., as well as other authorities, focus on reducing the number of commercial vehicle accidents, deaths, and injuries.
DVIRs help make sure a vehicle is in a reliable and optimal condition for pre-and post-operation. It, therefore, provides the vehicle driver and anyone else around a safe working environment.
Motor Carrier Safety Assistance Program (MCSAP) inspectors in the United States are liable for conducting roadside inspections on all fleet company commercial vehicles and drivers.
Under the North American Standard Inspection Program guidelines, inspectors check the vehicles to see if they comply with federal safety guidelines and hazardous chemicals regulations.
Altogether in 2016, nearly 3.5 million inspections were performed across the country.
What Are My Responsibilities?
The fleet company must perform any repair, fix defects, or remove faulty and missing parts before the vehicle returns to operation.
And when repairs were deemed unnecessary to avert unsafe operations, the repair was not allowed to be certified by a carrier.
However, the vehicle driver should check and sign off the repairs before the operation. And the fleet company is required to keep DVIRs and repair certifications at the place of work for a minimum of three months.
Collect Electronic Data
Electronic data collection is often seen as a means of improving the speed of Roadside Vehicle Inspection Reports.
FMCSA encourages the use of e-log to collect inspection data electronically, and more states are implementing this approach because it makes reporting procedures even more efficient for drivers.
What Can You Expect During a Roadside Inspection?
You can be pulled over anywhere by a state trooper or DOT officer anywhere on the side of the road, at weigh stations, or at truck stops.
It is your duty, as a driver, to act professionally throughout the whole process. The DOT officer is alert from the moment you open the side door of the driver and engage in conversation.
The manner in which you conduct yourself as well as how you maintain the truck cab's inside would indicate the degree of inspection you will be subjected to.
And also, consider the fact that although some inspection officers pull over truck drivers for a reason, one isn't required — meaning you must always be prepared.
Can You Refuse A DOT Inspection?
The fleet company found to be in non-compliance with DVIR requirements is subject to sanctions or fines from the Department of Transportation ((DOT) official.
There are many other risks associated with noncompliance, apart from the fines imposed by an officer. If a fleet vehicle is found unsafe, it will be out of commission immediately until it is repaired.
A commercial fleet company can also end up losing additional revenue, in addition to the penalties, due to the unforeseen downtime they will face.
Furthermore, a CSA score from the carrier might take on a hit, which would cause business loss. Obviously, if you refused to comply with the FMCSA's rules, you will face a series of penalties.
The fleet company not taking DVIRs seriously are subject to substantial penalties from the Department of Transportation, and the officer's additional fines.
To avoid this, fill out our free consultation form and we will help you to find the best ELD with vehicle condition report app that is suitable for your business.
How Can You Get Back on The Road?
If a truck is found to be unsafe for road use, it will be put out of service immediately until repairs are made. And that could seriously affect the CSA score.
To return the vehicle to service, a commercial fleet company must repair all defects listed in a DVIR. The repair shall be recorded in writing by the motor carrier or by the shop that conducts the vehicle repair.
If a repair or adjustment is unnecessary, that should be documented as well. This repair documentation should be signed by the vehicle's driver or the person carrying out the repair.
Conclusion
During a roadside inspection, a DOT inspector may choose whom they wish to inspect and decide whether or not to give you a pass. Your time is precious, and any inspection carries the risk of fines or shutdown, which then reduces your earnings as a trucker.
Most of these details are something you already understand; however, you may have made a mistake in one area or two. However, keeping everything more organized before the DOT officer pulls you over for an inspection enables you to avoid penalties associated with DOT violations.
And thus enable you to make more effort to improve the way you conduct your business. Some e-logs all give you free printable driver vehicle inspection report form.
If you meet a DOT inspector whose behavior is out of line, just comply, and you're going to get on your way very soon. Apart from complaining to the DOT about such an inspector in your state, there is nothing you can do.
The Vehicle inspection reports and DOT safety checks are part of the transportation industry so they would not soon be going anywhere. Therefore, now is the time to know how to fill out a driver's vehicle inspection report.