Suitable for fleets
7.8/10
Features & Technology
7.1/10
Pros
Easy to install
No monthly fee
The ELD and its app are simple and it is easy to use
Accurate GPS
Comfortable Logs
Cons
Basic features
If you want extra features, be prepared to pay a monthly fee
Not suitable for heavy loads
(Last Updated On: December 1, 2023)
The Blue Ink BIT ELD device is one of the few devices you can find on the market today that adopt an unconventional pricing model.
With the Blue Ink BIT ELD, there are no ongoing monthly fees. You simply purchase the Blue Ink BIT ELD for $295 that is it.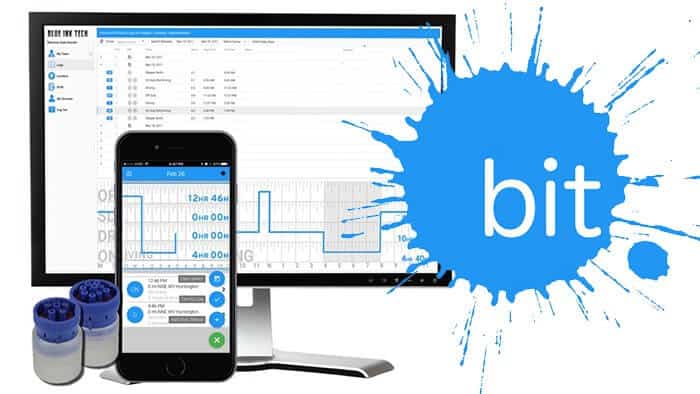 You won't have to pay any monthly or annual service charges.
There is no contract that you have to sign as well. This is a perfect electronic logging device for many independent truck drivers and small fleets. If you are trying to avoid the ongoing monthly service plans that are required by most electronic log vendors, the Blue Ink BIT ELD is going to be the device for you.
Yes, the initial price of the ELD is more than some devices out there. However, with no monthly service fees, your initial investment will save you a lot of money over time.
There are a high number of fleets and truck drivers who trust Blue Ink BIT ELD to meet their trucking compliance needs. The device is affordably priced and very easy to use. The standard 9-pin and 6-pin diagnostic ports are used for the plug-in. While the affordable price tag makes the device a fascinating choice, the Blue Ink BIT ELD is also a good pick because of its simple, easy-to-use app and easy installation process.
Overview of Blue Ink BIT ELD Features
The Blue Ink BIT ELD was explicitly developed for commercial over-the-road truck drivers like you. The device is a very affordable ELD and is easy for anyone to use (even if you have no other ELD experience). And it does not have a lot of bells and whistles as with other ELD devices, but it is a very economical and trustworthy ELD.
The Blue Ink BIT ELD is a user-friendly device that is perfect if you just want to ensure you comply with DOT mandates. The device is plain and simple. Below are the advantages of bit ELD.
Has no ongoing monthly cost at all – you purchase the device for $295, and that is it
The ELD and its app are simple and it is easy to use
The device is effortless to install
The Blue Ink BIT is geared first and foremost toward smaller fleets and owner-operators
The device tracks hours of service (HOS) logs and Driver Vehicle Inspection Reports (DVIRs)
Tracks state miles for IFTA reporting
Provides detailed GPS breadcrumb tracking
Tracks vehicle maintenance so that fleet managers can set up reminders and alerts for oil changes, tire replacements, and other routine maintenance tasks needed
Connects via Bluetooth to a cell phone or tablet to provide required information about your truck
The ELD can be moved to any truck to make your whole fleet ELD ready
It Will make you compliant with the FMCSA literally in seconds
The Blue Ink BIT ELD is not loaded with extra features, but what it does do it does well. Logs are comfortable for both the driver and home office staff to manage. Fleet managers are given one of the best tools for making suggested log corrections.
Blue Ink Technology ELD
It is one of the few devices within this price range that gets the job required by DOT mandates done. And this device is a vital ELD for independent truck drivers and small fleets that want to avoid the ongoing contracts and service plans charged by many ELD vendors in the market today.
The Blue Ink bit ELD complies with the Federal Motor Carrier Safety Administration (FMCSA) and the ELD Mandate. And in just a matter of minutes, you can plug the device into your truck and activate it to be used immediately.
The Blue Ink bit ELD gadget will plug straight into your diagnostics port. Once the device is plugged in, you can easily pair it up with your smartphone or tablet that you have in the truck. The BIT ELD Mobile App is also free to download on both Google Play Store and Apple App Store.
Bit ELD Advantages
One thing that you will like with this ELD is that it will offer you all of the basics without the bells and whistles you will get with other gadgets.
The Blue Ink bit ELD is straightforward for anyone to use (with or without any kind of ELD experience).
The ELD is going to record whenever the truck is moving automatically.
With this electronic logging device, you can edit your hours of service (HOS) log.
The device will also allow you to accept suggested corrections from fleet managers.
Features of Blue Ink BIT ELD
Driver Vehicle Inspection Report (DVIR)
Hours of service (HOS) logs
Maintenance Schedules
IFTA information
Web Dashboard
BIT ELD App
Fleet Visibility
No Monthly Plans
With the use of the Blue Ink bit ELD, you are not going to see any type of monthly service fees. You pay for the device, and that is it.
The Blue Ink bit ELD hardware is available for purchase at only $295. And the purchase price of the device is very affordable.
There are also no annual fees for the device. And you can manage your hours of service (HOS) to ensure compliance with DOT standards without any monthly service fee.
This ELD is an effective way of compliance. Cost of compliance is one of the major troubles for trucking companies, especially those that have smaller fleets to manage. Thus the Blue Ink bit ELD is a good option because of its cost-effective way of compliance.
Mobile Phone Capabilities
Like most bring-your-device (BYOD) options, you buy a dongle from Blue Ink that plugs straight into your truck's diagnostic port.
You can, then, with Bluetooth, pair the device with your smartphone or tablet. And, if you use the mobile phone option with the Blue Ink BIT ELD, you will need a mobile data plan.
While many truck drivers will have their mobile devices already, if you are planning on providing a mobile phone or tablet for your fleet drivers, there will be some added extra cost involved for the mobile phone or tablet and a price for the data plan.
Bit ELD App
The free driver app can be downloaded for Android or iOS platforms — so no matter what mobile device or tablet you have, it will work.
Signing up for an account is very quick and easy. The app is very simple for anyone to be able to navigate – even if you do not have any type of experience with ELD devices or trucking logs.
Your truck drivers can easily make manual log status changes with just the use of the mobile app.
If you do want to turn the system into a true ELD, you are going to need the Bluetooth dongle to record when the truck is moving automatically.
The mobile app currently supports the necessary hours of service (HOS) and a built-in Driver Vehicle Inspection Report (DVIR).
Truck drivers will also be able to make edits to their logs easily and accept suggested corrections from their fleet managers.
The Blue Ink bit ELD is going to simplify your work with truck drivers who are to comply with the ELD mandate.
And truck drivers can easily record their logs by connecting to their mobile devices.
Benefits of BIT ELD Mobile App
Blue Ink Tech's mobile app is among today's most popular no monthly fee ELD applications. The application is relatively simple and provides a wide range of compliance features for the FMCSA ELD requirement.
This app does, however, help perform several other important functions, such as:
Enables you to share logs by email
Facilitates routine vehicle maintenance
Makes changing duty status convenient
Send alerts when approaching breaks or overages
Ensure HOS logs are edited, viewed, and even certified
Makes it possible to track miles driven for IFTA reporting purposes
Display the number of hours on the road left at a certain particular time
Send in-app fault codes based on diagnostic data for possible engine problems
Features and capabilities of the Blue Ink BIT ELD Web Portal
The bit ELD system is suitable for owner-operators. And the solution offers a variety of back-office facilities and functionality specifically intended for managing a small fleet. For example, the BlueInkTech web portal is user-friendly and has many functionalities from which truck drivers and owner-operators can benefit.
For drivers, this system will enable you to accomplish things such as:
Keep track of your driving hours
Carry out routine truck inspections
View your driving logs obtained by the ELD app
Also, the web portal has a range of tools and apps that support fleet managers and owner-operators. You can use this online portal in your fleet to:
View your fleet drives logs
View route data of various vehicles in your fleet
Get updates on possible violations by the drivers
This web portal enables you to be proactive with vehicle repairs and maintenance. In this regard, from this portal, you can quickly obtain fault codes, DVIRs, and maintenance schedules for your fleet vehicles.
The Package and Benefits of Blue Ink BIT ELD
The product kit comprises:
ELD hardware
Blue Ink Tech ELD platform access
Blue Ink BIT ELD Mobile App (to be downloaded in the Google Play Store or Apple App Store online)
The bit ELD hardware comes with the whole kit, and it has no extra cost. And you are given full, accurate, and usable access to your fleet with this e-log solution deployment. As mentioned earlier, the ELD solution provides additional compliance functions for the FMCSA mandate and collects data such as:
Vehicle identification number (VIN)
The VIN is used to link the data with a specific vehicle automatically. When the device is moved to a different vehicle, it begins reading the new vehicle information automatically.
Engine hours
Much like the on-and-off status of the engine, the engine hour logs recorded by the Blue Ink bit ELD system automatically transfer to the ELD logs for the hours the vehicle engine is running.
Odometer mileage
The odometer readings are captured on your phone or tablet and immediately uploaded for processing to the Blue Ink BIT App. Odometer mileage loggings are essential to track speed and acceleration for a given vehicle.
On/Off Status of the Engine
The Blue Ink BIT e-log solution tracks the vehicle's on and off engine status. And the collected data is immediately loaded into your driver logs in the relevant fields. Such information is vital for tracking the movement of the vehicle for reference.
In-motion status
This device feature aims to record specific events in the vehicle automatically. And whenever the vehicle engine is switched on or off, the device would automatically updates a record to the ELD logs.
Internal Memory
Internal memory is available in the ELD unit. Such memory can be used when the ELD device is not connected to the bit ELD App to store events and logs. In this situation, the "Unidentified Driver" account is associated with the data collected.
Blue Ink BIT ELD Compliance Specifications
United States Federal Communications Commission:
The bit ELD device complies with Part 15 of the FCC Rules. It also complies with FCC radiation exposure limits set forth for an uncontrolled environment. The ELD must be exclusively utilized in a vehicle.
IC – Industry Canada
The device has been approved by Industry Canada to operate with the embedded chip antenna. Other antenna types are strictly prohibited for use with this device. This device complies with Industry Canada's license-exempt RSS standards.
Society of Automotive Engineers
Blue Ink Tech is registered with the Society of Automotive Engineers.
Bluetooth
Blue Ink Tech's ELD adapters are Bluetooth-qualified.
App Requirements for Blue Ink BIT ELD
The BIT ELD app runs on Android and Apple devices. Your mobile phone or tablet must support Bluetooth 4.0.You can simply plug in the ELD and activate it within minutes without using any truck mechanic or special tools.
Your device must be able to communicate over the Internet during a roadside safety inspection.
The device is durable and very compact.
Pros
NO ongoing monthly cost
Tire pressure and air scale sensors
Simple and easy to use the driver app
Easy installation
Cons
Lack of some advanced features
Not suited for a large fleet
Blue Ink BIT ELD Pros & Cons
Pros
Affordable One-Time Cost: The device is priced at around $295, a one-time fee with no ongoing monthly charges, making it a cost-effective solution for ELD compliance.
No Monthly Fees: There are no hidden or additional costs post-purchase, which is beneficial for budget-conscious fleets and owner-operators.
Ease of Use: Both the BIT ELD App and Web Portal are user-friendly, designed for simplicity in daily operations and compliance management.
Comprehensive Tracking and Compliance: It effectively tracks vehicle data like VIN, engine hours, and mileage, ensuring FMCSA ELD mandate compliance.
Flexible Hardware Connectivity: Offers different connection cables (9-pin or 6-pin) for compatibility with various types of diagnostic ports in vehicles.
Feature-Rich App: The app facilitates tasks such as HOS log edits, vehicle inspections, IFTA reporting, and alerts for driving hours and potential engine issues.
Cons
Additional Cost for Specific Connectors: While the base hardware is included in the initial price, an additional cost is required for an adapter splitter or an OBD-II connection if needed.
Limited Advanced Features: The device might lack some of the more advanced features available in higher-end ELD solutions, potentially limiting its appeal to larger fleets.
Focus on Small Fleets and Owner-Operators: Its design and features are primarily aimed at smaller operations, which may not meet the needs of larger fleets.
Reliance on User's Mobile Device: For full functionality, it requires a connection to a user's mobile device, which could be a limitation if drivers do not have compatible smartphones or tablets.
Conclusion
The bit ELD e-log solution is an attractive option for truck drivers to have in their trucks. Moreover, the device is handy for trucking fleets that are looking for a low-cost option to have, as well as it is effortless to install and in compliance with ELD mandates.
Their platform is designed to help carriers and drivers navigate, giving maintenance solutions. Also, providing the paperwork in real-time saves money and time for trucker drivers, increasing their revenue and allowing their company to run smoothly.
Overall, the extremely low cost to own the Blue Ink BIT ELD makes it worth a look for anyone, but especially for smaller operations hoping to get compliant without breaking the bank.
The ELD is a sensible choice for small fleets that don't need a lot of features for their over-the-road truck drivers. However, the BIT ELD-HS is not compatible with all OBD-II-port equipped vehicles, even if it claims to be. At this time, it is not designed to be used on vehicles with heavy loads or on vehicles that do not have CAN networks (generally, vehicles before 2008 or Fords before 2005).
BlueInk's goal is to provide its customers with the necessary help to build a better fleet with the products and services they develop. We all understand that one size does not fit all. If that is the case, kindly fill out our consultation form and see where we can assist you.
Please share your review below so that other truckers can have more information, thanks!