(Last Updated On: July 15, 2023)
More than 70% of freight transported in the USA is hauled by the trucking industry. It plays an important role the nationwide cargo transportation to different locations.
An industry of such a large scale is bound to face disruptions and other problems.
Recently, the trucking industry faced a shortage of carriers and drivers. When the problem was investigated, one of the reasons behind the shortage turned out to be the long detention time at the warehouse while loading and unloading.
This causes increased waiting time at the warehouse, inefficiency, and a low delivery rate on time.
Uber Powerloop provides a solution to this crisis by renting and linking them to the shippers. Already loaded trailers are available for truckers to haul so they do not have to wait. Truckers can haul more loads, save time, increase on-time delivery rates and thus improve overall efficiency.
In this Uber Powerloop review, we will discuss the Uber freight Powerloop's prospects and how it benefits truckers, owner-operators, and fleet companies.
What is Uber Powerloop?
In 2018, Uber Inc. introduced Uber Powerloop as a subsidiary company of Uber Freight.
Uber Powerloop is a limited liability company (LLC) of Uber Inc. that mainly leases trailers to carriers. It is affiliated with Uber Freight.
The introduction of Uber Powerloop enables any qualified carrier, no matter their size, to partake in the revolutionary trailer pool model. It solves the problem of waiting and reduces detention time at warehouses by providing pre-loaded carriers.
Currently, Uber Powerloop is available only in California, Texas, and Oklahoma. However, the company is planning to expand nationwide soon.
Uber Powerloop presents an efficient trailer pool model that leases trailers to carriers at an affordable rate. This allows them to take part in this revolutionary trailer pool model.
How Uber Powerloop Works
Uber Powerloop works efficiently in a simple process. With this program, truckers can easily pick up an already-loaded trailer from a pre-decided location.
It works both ways as truckers are able to drop off the load at a predetermined location without having to wait a long time. This reduces the time it takes to load and unload the trailers thus reducing the detention time. 
Uber Powerloop is branching to address the capacity crunch. And this crunch has long existed in the sector, especially after the ELD mandate was implemented. There has also been a limited number of total driver time available. Truck drivers have never been more important.
The focus on the shipper and carrier side has also been increased to make the whole freight system operate efficiently.
Uber freight looks at how traditionally the drop trailer programs function. And what the company noticed was that power-only or drop trailer operations were handled by large carriers owning properties that had power units with trailers.
And therefore, drop these trailers on a more dedicated basis at the shipper's location. However, the issue was that truckers who go there to pick up the trailers often drive back unloaded. Thus, raising the shipping costs for shippers.
Return to time efficiency!
For instance, if a carrier transfers trailers from Chicago to Pittsburgh; they would then have to pay for the deadhead miles as the truck returns from Pittsburgh to Chicago empty.
So, Uber Freight decided to build a versatile but dynamic model to ensure that such trucks would be loaded and unloaded through a periodic system. 
The trailers will be pre-loaded once truckers arrive at the warehouse and they will not have to wait for unloading time as well.
The carriers involved in this program enjoy it because none of their working hours are wasted. In round trips, they move around the network and spend all of their available hours in one day moving freight and getting paid.
What Are Uber Powerloop Requirements?
A carrier is required to complete an Uber Freight carrier packet and fill and agree to Powerloop's trailer rental agreement in order to be eligible to join the Uber Powerloop program.
When Uber Freight approves carriers then they are allowed to take part in the Powerloop program.
Carrier companies can also participate in the Uber Powerloop program if they meet Uber power loop requirements and are approved by Uber Freight.
The following are the Uber Powerloop Requirements
You will need Power only trucks to qualified for uber Powerloop. At the moment, drivers for Uber Freight must have either a 53′ dry van or reefer. Beyond that, the company is vague on the truck size for uber Powerloop.
To qualify for uber Powerloop, you will need to have a Power Only Truck. At present, Uber Freight drivers must have either a 53′ dry van or a reefer. Beyond that, the company is unclear on the size of the truck for uber Powerloop.
A carrier must operate in California, Texas, and Oklahoma, where Powerloop is currently available.
Uber Freight carrier packet, as well as the trailer rental agreement, should be completed by the carrier and approved by Uber Freights.
The powerloop is Currently available for all licensed carriers/truckers in Texas, California, and Oklahoma.
Uber isn't specific about what type of ELD devices you can use with Powerloop, but we have listed in this post some ELD devices you may use with the system.
One of the main benefits of Uber Powerloop is that it allows and facilitates the inclusion of carriers of different sizes and types in the program which makes any trailer to be accessible by any carrier on the Powerloop network.
We've noticed that this leads to better utilization of resources and can reduce the need to maintain the number of empty trailers.
Importance of Uber Powerloop
Currently, in the United States, there is a supply and demand gap for freight.
There is a need to enhance driver utilization to increase freight matching speed as well as secure, effective freight transportation. 
There had been a shortfall of 50,000 drivers in 2017, according to the American Trucking Associations.
The largest cause of downtime for carriers' company is detention, or even during the loading as well as unloading period; the time carriers spend in shipper location.
For this downtime, which usually lasts two hours or even more at each of the shipper and customer locations, carriers really aren't charged.
Powerloop has discovered this problem and provided a solution that included reduced detention time. More detention time means higher detention fees that can be avoided if trailers are preloaded in a pre-determined location for pick up. No downtime is spent waiting for live unloading and loading. With the Uber Powerloop program, this is very possible.
Avoid Detention Fees
The average detention fee that shippers usually pay is $50-100 per hour after the two-hour mark, depending on the shipper-carrier arrangement. Relevant to the circumstances the fee can be as low as $25 and as high as $250.
Electronic Logging Device (ELD) mandate in December 2017 has put more pressure on the industry. As driver hours are logged automatically, ensuring greater driver compliance with service restriction hours.
Conventionally, freight has always been live-loaded and live-unloaded, causing considerable downtime during which it is not used for driving by carriers.
With the Uber Powerloop program, trailers can be preloaded at the shipper location using dropped trailers for higher efficiency at the facility.
The vehicles are brought to the receiver location after the dropped freight is received from the shipper and can even be either live-unloaded (drop-live scenario) or dropped (drop-drop scenario).
Compared to conventional live-live freight, these two Powerloop scenarios of drop-live and drop-drop freight could boost on-time delivery. And is also enhance operation efficiency and eliminates detention fees by decreasing the downtime carriers spend at facilities.
What Do I Need to Be Part of Uber Powerloop?
Powerloop enables power-only carriers registered in the Uber Freight app to lease trailers. And also connect them to shipping companies in the Powerloop trailer pool model.
This way, shipping companies can handle more loads regardless of their size, thereby lowering the competitive pressure for trailer-pool programs.
Uber freight lease her third-party partner's trailers and afterward rent them out to carriers' company in their network.
As required to meet their load requirements, shipping companies can rent trucks.
In general, the amount of trucks that a shipping company can rent at a time is typically limited to the number of power units they have.
Most trucking companies do not have the money to invest in several trailers, and they can't secure relationships with shippers because a lot of them have fewer than six trucks.
They also have no partnerships with big corporate shippers. So, Uber Freight set up a new agency called Powerloop to meet the needs of both.
Uber launched the Powerloop program to lease trailers to carriers and allows any qualifying carrier to participate in a groundbreaking trailer pool model, regardless of their size.
Uber manages this revolutionary trailer pool model. However, it is only in the leasing business of trailers and afterward renting them to shipping companies.
Uber Freight drops Powerloop trailers at seller facilities whereby small carriers can have power without having even to own truck fleets themselves.
Shippers broaden their access to capacity as well as pay less for trailer pools than large fleets spend.
Uber Freight says that it will drop trucks at shipper locations, then lease them, loaded to ride, for $25 a day. The carrier supplies power and, therefore, only pays for the time it actually uses the trailer.
Uber aims to build a network that could broadly allow drivers to switch trips without loading or unload at either end.
The power-only service of Uber can involve any eligible small carrier or owner-operator. However, It needs insurance and operating authority.
Powerloop Advantages for Fleets?
It has been an excellent way for large & small owner-operators to find loads and encourage their company's growth since Uber Freight started in May 2018.
With its latest Powerloop operation, the ride-hailing company's Uber Freight subsidiary made another powerful leap in the trucking world.
Powerloop reduces the barrier to entry to trailer pool systems by renting trailers and allowing access to drop freight for carrier companies of all sizes.
And this is a game-changer in the transportation industry for all owner-operators.
As a result, this revolutionary trailer pool model helps to strengthen the entire supply chain.
And it also provides everyone involved with a win-win:
More miles for the driver due to shorter waiting times
Greater shipper operational efficiency
Less investment in assets by the fleet
Any qualifying carrier, irrespective of size, can participate. Through renting trailers instead of buying them. And thus, enabling carriers even to drive new enterprises.
Powerloop allows preloaded trailers to be accessed by a fleet company, reducing load time from hours to minutes.
And this helps free carriers' company at facilities from unexpected delays.
Through using Powerloop in contrast to conventional freight, shippers could theoretically save up to $16 a load in detention fees.
And in contrast with conventional freight, Powerloop theoretically increases the on-time packet delivery ratio by 2 to 3 percent.
Uber Powerloop Advantages for Truckers?
For carriers and shippers alike, one of the most significant pressure points in trucking is detention time. All losses if truckers are displayed at warehouses waiting to load or unload their freight. And these delays cost up to $1.3 billion in losses per year for truckers.
A queue of drivers lingering at the warehouses to load or unload causes delays and shortfalls in shipping companies' supply chains.
Qualified truckers can drop off and also pick up preloaded trailers with Powerloop. As a result, they can get back on course faster, boosting operations efficiency for the warehouse, the shipper, and the Trucker.
With Uber Powerloop, the days of looking for the next load endlessly are over.
Carriers are likely to locate backhauls as part of the Powerloop network more quickly. Therefore, Powerloop optimizes the use of drivers, helping both carriers and shippers.
Uber Powerloop Benefits
In regards to the fleet industry, the freight business is thriving, changing, and growing. According to the American Trucking Associations, in 2017.
Income from the fleet industry accounted for approximately 80% of the $910B generated by other forms of transportation," but this is not losing momentum.
The rise in e-commerce, higher consumer spending, and accelerated production processes have increased freight demand. That, combined with the effect of the ELD mandate, implies that shipping companies in decades are amid the most important capacity crunch.
More relevant than ever are truck drivers. Uber Freight offers the resources needed to keep up with the demands for shippers and carriers worldwide regardless of the size of business and how much funding they have.
The company seeks to change legacy business standards and create fresh avenues of opportunity by doing so. The conventional trailer pool model is one region that they have successfully archive through the Uber Powerloop.
As a result, costs decrease and help to eliminate waiting time for both shippers and drivers.
Drivers running power-loads through trailer pool programs spend less time at facilities waiting around and more time moving freight on the road.
Regrettably, these systems cannot be taken advantage of by most transportation companies across the country with the traditional approach.
Most trucking companies do not have the money to invest in several trailers, and they can't secure relationships with shippers because a lot of them have fewer than six trucks.
And that is why Uber launched Powerloop to leases trailers to carriers and allows any qualifying carrier to participate in a groundbreaking trailer pool model, regardless of their size.
As a result, Powerloop reduced the entry barrier for trailer-pool programs by building a shared pool of trailers.
The network of easily accessible Uber Freight carriers can be taken advantage of by shippers.
And this allows them to optimize the warehouse's operations by loading and unloading trailers when they are most convenient.
For the fleet industry, it's win-win and huge progress.
We have summarized the following benefits of Uber Powerloop:
Leasing trailers at an affordable price to small companies

Removal of entry barrier with a pool of trailers

Optimization of warehouse operations

Creating more opportunities and avenues for the trucking industry

Reduced downtime 

Increase efficiency
Why is Uber Powerloop Program Unique?
Wide Range of Eligibility

Eligible to a variety of carriers of all sizes

In Uber Powerloop's network, a carrier can access and reach any selected trailer. This enables more asset utilization and solves the problem of a large number of empty trailers.

Uber Freight and Powerloop work side by side with carriers to ensure freight is delivered from the warehouse to its destination and back.
In which states is Powerloop working?
Uber Powerloop is currently operating and thriving in California, Texas, and Oklahoma. Powerloop started its operation in Texas only.
However, soon it was extended to California, the fifth-biggest market globally, and house to the country's major ports in the United States.
The tool's purpose is to decrease dwelling times, which is the time spent on a facility by a truck and not just on the road.
The US Department of Transportation (DOT) reports that dwell times decrease US shipping companies' annual earnings by up to $1.3 billion.
Also, long dwelling periods may have a domino control over the supply chain of a business and trigger production problems or late shipments to clients.
Best ELDs For Uber Powerloop
Using Uber's Powerloop with ELD devices is positioned as an enabler that enables an asset-based fleet company to leverage on capacity.
It also provides shippers with a better experience, empowering them to thrive with this revolutionary trailer pool model. As a result, small to medium-sized fleet businesses can competitively perform their business with large firms.
The following are the ELD devices that can be used with the Uber freight Powerloop:
1. KeepTruckin ELD (Now Motive): best overall
Uber Freight Partnered with Motive (formerly KeepTruckin), to help fix the issue of accountability,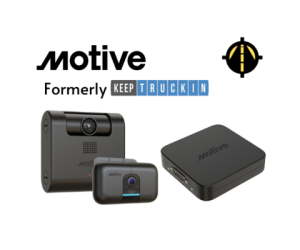 increase load visibility as well as enhancing load monitoring.
And this is done by integrating directly through an API with Motive (formerly KeepTruckin).
The fleet management system from Motive (formerly KeepTruckin) is the latest approach to manage a fleet company's operations.
Motive (formerly KeepTruckin) supports more than 50,000 fleets of all sizes, from field services to trucking, to do the following;
Reduce costs with actionable metrics of performance
Connect fleet to the Motive (formerly KeepTruckin) App Marketplace with built-in 4G LTE WiFi
Avoid injuries and disputes with Smart Dashcams that are entirely integrated

Provides a user-friendly interface

From a real-time dashboard, monitor and manage drivers, equipment, assets, and work areas
Streamline tasks such as compliance with IFTA and DVIR, communication and dispatch of drivers, and records management system
As a result, you can run a more effective, secure, smart, and reliable company with KeepTruckin.
There is a reason Motive is always on top of the list when it comes to ELD devices. Motive ELD provides all the mandated features and more at a reasonable price.
One of the main features is the easy-to-install hardware that does not even require a mechanic. The device can be set up in less than ten minutes. Or else the Motive tech support team is ready to offer services 24/7.
You can take a look at our unbiased Motive(formerly KeepTruckin) reviews here.
Get Your Motive ELD Here!
2. Samsara: Modern & Intuitive
Fleet routing, as well as dispatching, is a fantastic experience with the Samsara ELD. And with fleet management, Samsara is impressive, and it eliminates the need to call drivers to find out their precise location.
The Samsara at any given point in time provides immediate positions on all vehicles.
You do not have to buy a full FMS (fleet management system) to get the ELD-compliance hardware/software package. You can easily upgrade to one. 
Samsara offers one of the most comprehensive fleet management systems available.
Intuitive User Interface

Easy Installation

Upgrading to FMS is simple

Free Trial

24/7 Support

Serves fleets of all sizes
On February 26, 2020, Samsara started its collaboration with Uber Freight. This partnership helps to minimize compliance costs and improve productivity for shipping companies, drivers, and owner-operators across the country. 
Our review of Samsara ELD is available here.
3. Geotab ELD: Multiple Pricing Plans
Uber Freight partnered with Geotab, an industry pioneer in providing fleet solutions and services, on November 14, 2019, to deliver ELDs to small carriers.
To improve both software as well as engineering hardware, Geotab invests a lot in its products.
One of the main features of GEOTAB is the multiple payment plans. The payment plans differ in functionality and features, the details of which you can see in our Geaotab ELD reviews.
There is a basic plan that primarily focuses on service hours (HOS), DVIR, and IFTA.
While the ProPlus package offers more advanced features, such as active GPS monitoring and more.
Geotab ELD is dedicated to ensuring roads are safer, empowering companies, and technological advancement.
4. GPSWOX: An Affordable Choice
GPSWOX ELD solution offers to track a large number of objects, receive detailed alerts and notifications, create reports, and more.
This ELD provides a free trial GPS monitoring and fleet management device successfully used worldwide by several enterprises, government institutions, and private individuals. 
Under certain conditions, free versions of devices with a monthly fee are also available.
Many users have stated that GPSWOX is easy to set up and has many customizable options. 
It's easy to use; the user only needs to log in, add their GPS devices, and start monitoring your products in less than five minutes.
The GPSWOX app is compatible with most devices and operating systems. 
There is our extensive review of GPSWOX here.
5. Verizon Connect ELD: A Recognized Brand
Verizon Connect ELD is one of the best ELDs today, with almost 30,000 customers and more than 595,000 subscribed vehicles.
However, this is not the only reason you should invest in this electronic logging system.
Many users have admired the ability of Verizon Connect ELD to track vehicle locations and speed for safety monitoring. The device has an above-average rating on many popular review platforms.
Our Verizon Connect ELD reviews take discuss several advantages of providing service-based organizations with this fleet management model.
You will be able to monitor the vehicles and drivers in your fleet in real-time with that kind of a solution mounted in your vehicles.
You will also be able to monitor the various ELD components from the app.
And also tell your customers where the delivery vehicles are located, and whether or not they will arrive at a given time.
Conclusion
Through Uber Powerloop's revolutionary trailer pool model, at the initial shipper facility, the decreased detention period allows carriers to have a greater chance of getting on time to the recipient.
Compared to appointments, loads with window schedule forms have more incredible on-time delivery, as carriers have a more comprehensive range of time to arrive, making it easier for carriers to achieve higher operational efficiency.
Uber Powerloop offers a possible solution to this challenge and enhances shippers' freight efficiency.
In the coming years, Uber Powerloop plans to improve the whole program and manage to make a united and interconnected trailer pool system. A system that allows carriers of all sizes to move a loaded trailer to any location nationwide. 
The power loop program promises more benefits in the future and makes the power-only loads more reachable to the carriers.