(Last Updated On: March 2, 2023)
Despite our desire to have our fleet management solution run flawlessly all the time, whether or not it meets the requirements for ELDs, sometimes it will malfunction. If this happens to your ELD, you need to make sure that adequate procedures are in place. Alongside this, there is a need to train the drivers to understand precisely what to do to fix the problem whenever it happens.
Now let's look at the ELD malfunction reporting requirements below to ensure you're ready in the event of a malfunction or ELD failure.
Fleet companies have been required to plug in the ELDs and start logging hours electronically for quite some time. Despite your experience as a truck driver, one element you may not be prepared for is a malfunctioning ELD. In reality, even the most advanced technologies can occasionally malfunction.
However, the good news is… in case of ELD malfunction: the FMCSA has some straightforward options that can help everyone to continue driving while being compliant.
What Precisely Is an ELD Malfunction?
FMCSA requires compliant ELDs to track their compliance with the ELD technical requirements.
And these ELD requirements include the ability to identify malfunctions and anomalies in the flowing area.
Inaccurate data, location, and timing

Data transmission

Engine Power

Unidentified driver records

Data synchronization

data storage
According to the FMCSA's FAQ page, ELDs must discover these problems and alert the driver.
There have well-known two types of ELD problems that can be detected:
Data Diagnostic Problems
Data diagnostic issue means that there is inconsistency in the data, which may be due to a sudden loss of GPS, a wiring or connectivity issue, or the ELD being detached from the ECM.
As long as the truck drivers have their instruction manuals, they should be able to troubleshoot any of these issues.
Malfunction
ELD malfunction happens when the ELD senses a mechanical compliance problem, or the following issues may trigger it.
No power supply to the devices for longer than 30 minutes within the last 24-hour period

The device has been out of operation for an incredibly long time

The device throws off the operating frequency

The component is disconnected from the ECM

Hardware defects
These and many other critical problems can affect the driver's ELD records. In this situation, the drivers may not be able to track their hours on their ELDs and will have to alert the carrier and then use paper records instead.
What to Do If Your ELD Malfunctions?
As mentioned earlier, ELDs that fulfil technical FMCSA ELD requirements must identify malfunctions. Also, conduct data diagnostic events and visually notify the driver. As a measure of best practice, the driver can alert the motor carrier as early as they become aware of any fault.
If drivers cannot recover the previous 7 days of hours-of-service RODS and cannot report hours with their ELD, they can resume recording logs on paper and reconstruct logs for the last 24-hour cycle. Also, the previous 7 days, which they will need to demonstrate at a roadside inspection.
Without a doubt, this may be time-consuming and stressful. Therefore, before you begin reconstructing records, make sure you recognize what kind of fault or data diagnostic your driver is having. This will let you know if you can fix it on your own or whether you need to involve your ELD provider.
As part of the mandate, the ELD vendor can supply you with a diagnostic checklist that drivers can use in the event of an ELD malfunction.
ELD Malfunction Reporting Requirements – How Can A Driver Report Malfunction
Drivers are required to report malfunctioning ELDs to the carrier within 24 hours.
Have Access To Your Previous Logs
The driver should ensure to have access to the logs from the previous week. In case the driver can't get access to the logs over the last 24 hours or the last 7 days, then the driver has to reconstruct them on paper and keep them in their vehicle.
Maintain Paper Logs
The drive should continue holding paper logs daily until the ELD is repaired.
Also, the motor carrier must do the following.
It must be repaired, upgraded, or replaced within eight days of detecting a malfunctioning ELD.

A carrier should require the driver to keep a written record of duty status (RODS) until the ELD is repaired or replaced.
How to Avoid Out of Service Due to ELD Malfunction Reporting Requirements
It is crucial to consider what to do when the ELD device malfunctions to prevent being forced Out-Of-Service.
Please remember that you only have 8 days from when you discovered the fault (or were told of the malfunction) to have the unit repaired and restored to the vehicle.
If the device cannot be quickly repaired in time and obtaining a replacement is not an alternative, you must file for an extension. The FMCSA Division Administrator handles extension requests for the state where your principal place of business location. This request must be submitted within 5 days of discovering (or being informed of) the malfunction. When you file your request, you will be considered compliant with the ELD mandate before a decision is reached.
In the meantime, ensure you maintain paper logs to meet the hours-of-service standards. If this becomes a recurring issue for the ELD provider, check if they are on the FMCSA ELD Registry's revoked list. These are the ELDs that FMCSA has decertified as compliant products, so you'll need to find a new fleet management solution.
Which Are the Most Common Malfunctions In ELD?
ELD malfunctions and faults that are common include:
Data diagnostic incidents with missing necessary data elements

Unidentified driving reports diagnostic data incidents

Data transfer incidents for data diagnostics

Data transfer incidents for data diagnostics

Engine data synchronization test incidents

Data transfer incidents for data diagnostics

Engine synchronization compliance issues

Errors in data transmission compliance

Diagnostic events for power data.

Defects in power compliance

malfunctions in timing compliance

Errors in location compliance

Errors in data recording compliance
Which Road Inspection Penalties Can Be Solved by Malfunction Report?
Below are the key takeaways from the current out-of-service ELD malfunction reporting requirements:
Carriers and truck drivers are mandated to ensure that their ELDs are approved and completely compatible with FMCSA ELD requirements.

Regarding the CVSA, having a non-compliant ELD is the same as not having one.

Drivers who encounter technical problems with their ELDs must act immediately to get the devices working.
"Not getting enough time" to fix the problem would not be accepted as a suitable excuse for enforcement officials.
Drivers who are interested in remaining on the road must prevent citations or out-of-service orders by reporting and resolving any issues with their ELDs as soon as they occur. They need to get in the habit of logging in and out of their electronic logging systems as required by the ELD requirements. A faulty ELD cannot be used to prevent a breach, so a driver claiming they "forgot" to follow protocol would not help their case.
Which ELDs Are More Reliable?
The following are some reliable fleet management solutions we have reviewed:
EROAD allows companies to go paperless when meeting financial, regulatory, and driver criteria. It enables them to collect data automatically, generate real-time notifications, and also file taxes using a single platform. Therefore, this simple-to-use ELD solution makes it easy for companies to remain compliant, save time, and save money.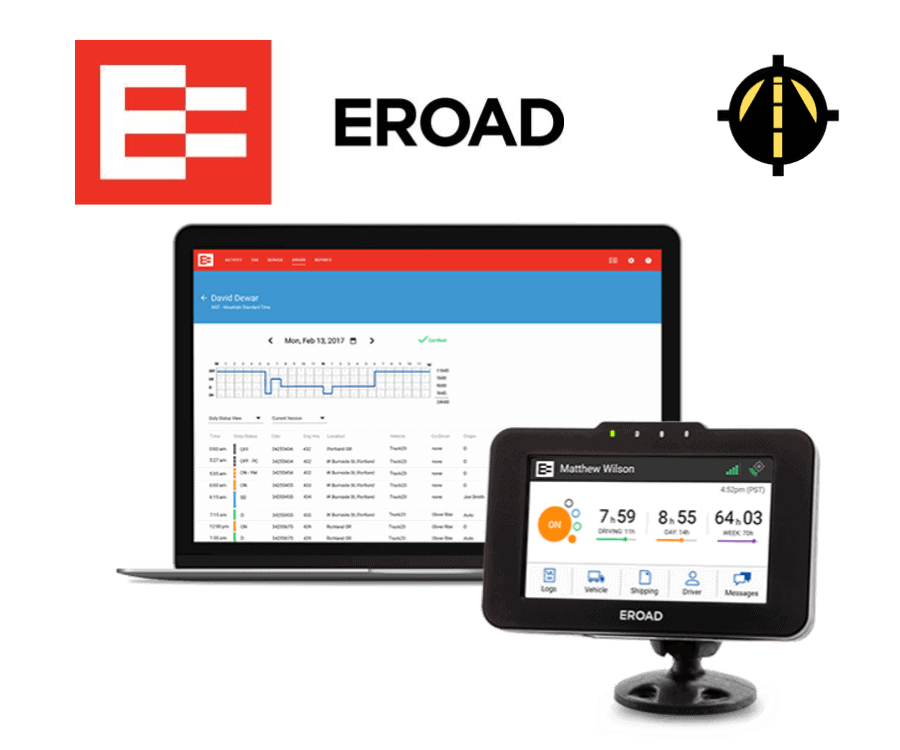 By eliminating paperwork and manual spreadsheets, the software increases productivity while reducing risks. EROAD important guide tools make it possible to comply with safety laws, lowering costs and risks in the company.
The EROAD fleet management solution is intended to assist companies in reducing downtime. And also lowering prices while ensuring accepted customer service standards.
Features
The comprehensive set of features and excellent customer support that EROAD offers make it the system of choice for fleet companies looking for monitoring and regulatory features as well as a return-to-base back-office solution. With such outstanding features and strong hardware, EROAD is undeniably one of the market leaders that gives you confidence.
The EROAD Malfunction and Data Diagnostic Guide are straightforward to use. This Diagnostic Guide contains graphs to enable truck drivers to understand which form of malfunction occurs. And whether it would be a quick repair or they will have to use the paper logs to record RODS manually.
Motive (formerly Keep Truckin) offers a free ELD app that is compatible and can be installed in seconds on the driver's Android or Apple mobile device.
The company also provides fleet managers with a free dashboard platform. And this helps them to access and review their drivers' logs in real time.
Motive (formerly Keep Truckin) ELD is the most basic and dependable ELD solution on the market today. It has proved to be the best ELD option in its class for experienced drivers and meets all FMCSA ELD requirements.
Features
The Motive (formerly Keep Truckin) interface is directly connected to the vehicle's diagnostic port (using the supplied 6-pin or 9-pin cables). The solution Logbook App connects to the ELD via Bluetooth and continuously tracks the driver's active hours.
In addition to creating vehicle inspections, keeping track of their records, and sending notifications, Motive's Logbook app enables drivers to perform vehicle inspections.
Omnitracs is a company that provides tracking services. Due to its cutting-edge solutions and services, it has been one of the best fleet management companies in the trucking industry for many years.
The company was also one of the early adopters of ELD standards, allowing the company to master the technology ahead of the competitors.
Omnitracs Intelligent Vehicle Gateway (IVG) is a completely self-contained device (no phone or tablet required). The IVG comes with an important advantage, a hands-free kit.
Features
The entry of all information necessary via the virtual keyboard is among the most time-consuming aspect of the FMCSA ELD requirements. This is why IVG voice commands are so convenient.
Aside from voice commands, IVG has a wide variety of innovative features. These features are only expected from a company specialising in fleet management solutions. The Omnitracs IVG is a fantastic unit but is more costly than any other ELDs. However, considering the device's advanced features, the $800 price tag is a little more reasonable.
Gorilla Safety is one of the most versatile fleet monitoring devices currently available today.
Using the Bring-Your-Own-Device platform as well as its integration with Gorilla Trax.
Fleets can increase their effectiveness and reliability by using existing drivers' and operators' smartphones and tablets.
Gorilla Trax, the company's proprietary solution, is available in addition to compatible versions of the Gorilla safety suite and ELD (Electronic Logging Devices). Gorilla Safety keeps the fleet vehicles at the point of convergence of technology to ensure consistent safety on the highways.
Features
This device is filled with amazing features. Gorilla Safety's GPS technology operates by adding a patented Gorilla Trax tracker to the truck or object. This further connects with the company's smartphone app when a driver is nearby. The Gorilla Fleet Management product portfolio has grown to satisfy the specifications of today's transportation fleet.
Each company solution module aligns with the ELD directive and satisfies all of the FMCSA mandate's criteria. The company aims to provide ELD-compliant solutions for truck fleets to capture IFTA miles, maintenance/repair systems, and accident records and more effectively handle company policies and procedures.
Unlike other ELD systems that only synchronize displays and engine data in the cloud. PeopleNet's eDriver logs connect displays and data locally to guarantee that users can view their protocol information independent of network availability.
Features
By using the eDriver Logs user interface, users can monitor their available hours and present their logbooks to road inspectors. Safety managers may also use the monitoring tool to review logs, make modifications, and collect information on their entire fleet's hours of service (HOS).
PeopleNet's eDriver logs are self-certified to suit the FMCSA ELD requirements. Fleets can use 4G LTE networking and a wide range of Android tablets with the fleet management solution. This way the efficiency in communication can be maintained and the drivers are able to manage their conversations in a very effective manner. 
Basic ELD Requirements That A Device Must Have?
The FMCSA makes it perfectly clear that the ELD requirements for a smartphone device are the same as those for a dedicated unit.
The ELD requirements stipulate that it syncs with the engine control unit to effectively monitor the vehicle's engine power status, vehicle motion status, and other data.

An ELD may be on a mobile or other wireless system if it satisfies the technical ELD requirements of the ELD mandate.
The FMCSA established a series of ELD requirements that certify a product as a qualified ELD.
Simply downloading a few applications on a smartphone may not get it up to those ELD requirements specifications.
Fleet management systems must satisfy various ELD requirements to be used on a smartphone. KeepTrukin, for example, recommends the following devices for their fleet management system.
According to the company, these are the phones that have proven to be successful when used in conjunction with the Vehicle Gateway and Motive (formerly KeepTruckin) Driver App:
Phones
iPhone 6, 6s, 7, 8, X, XR, XS, 11, 11 Pro, SE

Samsung Galaxy S7, S8, S9, S10

Samsung Note 8, 9, 10

Motorola Moto Z

Google Pixel 2

Motorola E4
Tablets
Apple iPad 5th, 6th Gen, 7th Gen

Motorola Moto Z² Force Edition

ASUS ZenPad™ Z8s, Z10

Samsung Galaxy Tab A
There's more to it. The mobile phone, however, must offer fair assurance that the device functions as expected if it is to be used as an ELD unit replacement. In this way, the smartphone does not compromise the accuracy and reliability of the telematics system.